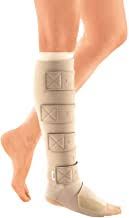 Since its creation in the early 90's, Velcro has been one of the most versatile fasteners globally. Manufacturers have used Velcro on all manner of viable products, ranging from batting gloves to compression socks. They are believed to be easier to use and maintain than zippers. Although they are scarcely used on compression socks, you will find them on other compression garments like compression wraps, bandages, and compression sleeves. You will learn more about them as you read on.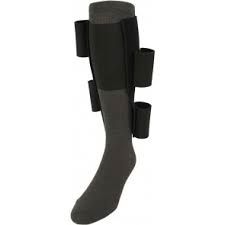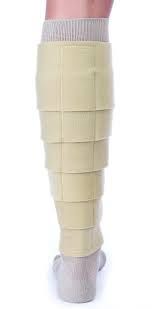 Compression Socks with Velcro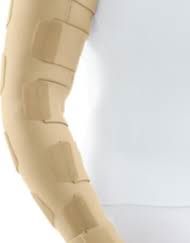 Velcro compression socks are often adjustable and made using short-stretch materials. These materials are applied like straps that wrap around the foot, ankle, calf, knee, thigh, or limb. Velcro fasteners with a hook and loop are then used to secure the compression garment.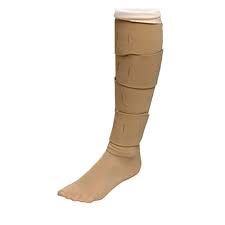 The design of these socks allows you to easily apply or remove them whenever you want to. With the short-stretch material that is incorporated into the socks, you will enjoy a therapeutic compression profile. This compression profile has to do with low resting pressure and high working pressure.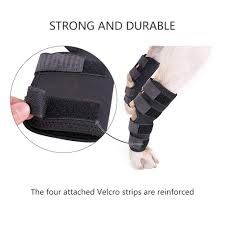 It is quite clear that this compression profile is the best for the following:
Reducing venous hypertension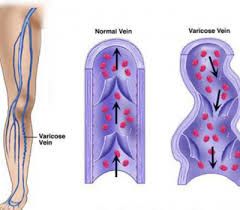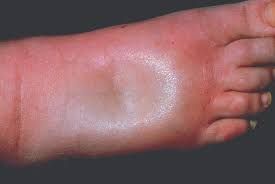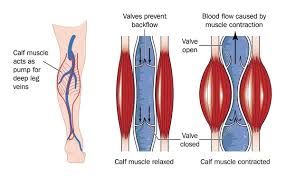 Promoting wound healing irrespective of your level of activity as a patient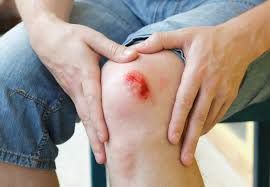 Advantages of Using Compression Socks with Velcro
The major advantages that compression socks with Velcro have over other compression garments are: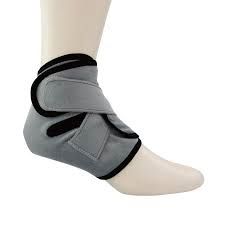 Self-application
Adjustability
Product conformability
Cost
Self-application
One of the best advantages of compression socks with Velcro is ease of application. This advantage is for both the healthcare providers and patients alike. Unlike compression bandages, these compression socks do not have to be applied by trained healthcare professionals. You can teach the patients themselves or non-healthcare trained individuals to use and care for the compression socks with Velcro.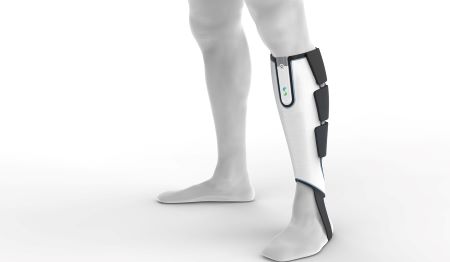 Self-application makes self-management of dressing changes possible whenever it is necessary. Cases involving excessive drainage, regular skin care or hygiene, and need for application of topical treatment can be performed by anyone.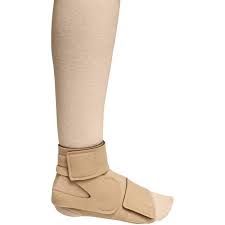 Adjustability
Basic training is all that is needed for modifying compression levels of compression socks with Velcro in case the patient starts experiencing pain. You do not need a trained healthcare provider to modify compression levels without removing the compression completely. If, however, you use traditional compression bandage stockings or systems, you will not be able to adjust compression levels when the limb reduces.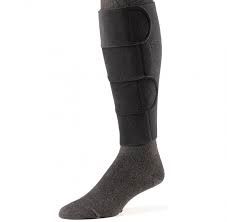 Compression socks with Velcro are unique in the sense that they can be reduced by either the patient or the caregiver without going back to the healthcare professional. Hence, patients can self-adjust from time to time to fit their current compression needs. This will have a positive impact on the patient's compliance with compression, pain, and general effectiveness.
Product conformability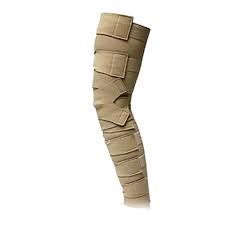 Compression socks with Velcro fastening comes in different pieces and sizes that allow easy customization of compression. This can also be done without having to customize the socks. With Velcro compression socks, you can manage edema even when it occurs on the entire limb. There are coverage options that are separately sized for your feet, knees, thighs, and legs. Even in cases where your limbs do not conform to normal shape patterns, these socks allow for easy conformability and customization of compression on your limbs.
Cost
If you decide to use compression socks with Velcro as your compression continuum, you will save money for yourself and for healthcare professionals too.  These socks can be used in treating the intensive phase and the maintenance phase of your circulation-related problems. Thus, it completely eliminates the costs of purchasing different sizes of compression socks to suit your changing limb size. Also, you will not have to buy disposable wraps or bandages for your leg injury.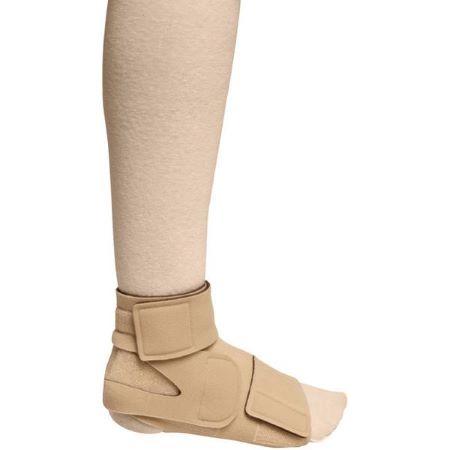 As soon as the patient understands how the compression socks with Velcro work, he or she can make self-adjustments at home. As a result, a healthcare professional will not have to visit so often.
Why Use Compression Socks with Velcro?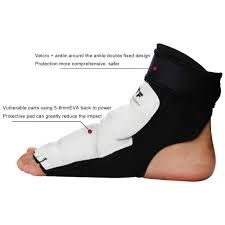 Velcro is one of the most constantly upgraded fasteners because of its user friendliness and versatility, in part because of its loop design and meshing. This could be one of the biggest inventions that simply makes life easier for users.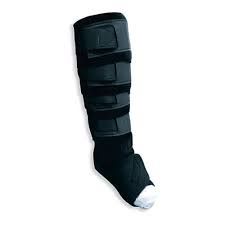 Velcro, which is now made up of nylon and polyester, was initially made using cotton, which was not practical. This hook-and-loop fastener is now made of two components: a strip of lineal fabric with tiny hooks capable of temporarily attaching to another fabric strip that has smaller loops. If not pulled apart, Velcro can stay fastened for a very long time.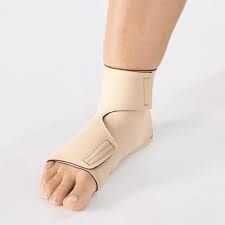 A recent study showed that compression devices with adjustable Velcro are more effective in reducing venous edema than inelastic bandages. With the primary aim of reducing edema, 36 patients were closely studied. The secondary outcome parameters used were interface pressure of the compression garment in both supine and standing positions, as well as the comfort of the compression garment.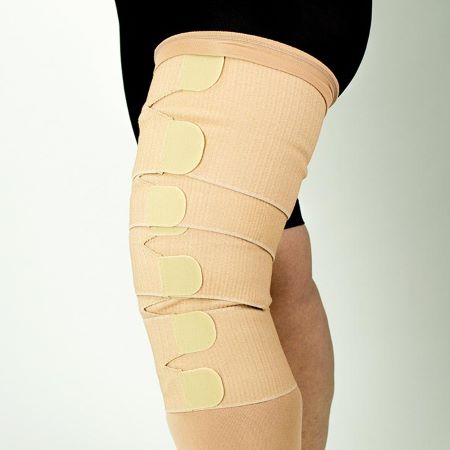 After dividing the patients into two groups, it was reported that patients using adjustable compression socks with Velcro found it easier to wear shoes and were more comfortable. It was concluded that these compression socks save more money, do not require the supervision of specialized medical staff, and are more effective in reducing chronic venous edema.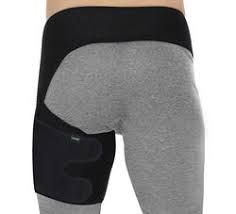 Types of Velcro
There are different types of Velcro as made available by the manufacturers. The essence of having more than one type of Velcro is to meet the needs of different individuals and businesses. Compression socks or wraps that need to incorporate Velcro in their design can choose from any of these types.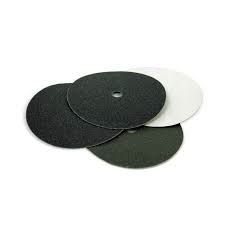 Pre-cut hook fasteners
Pre-cut adhesive dots
Sew-on (soft, flexible, and snag free)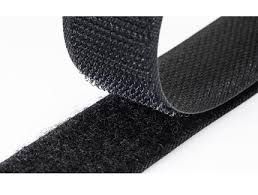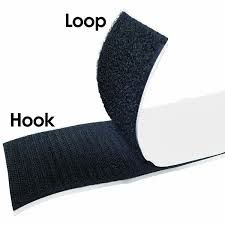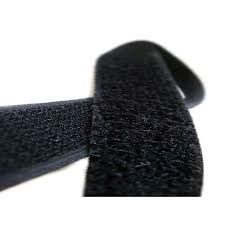 Factors to Consider When Choosing the Right Compression Socks with Velcro
One of the most common styles of Velcro used in compression socks and other compression garments is the hook and loop. This fastener system is made up of two strips of fabric, with one having tiny hooks and the other having tiny loops. By design, they form a strong bond when placed face to face.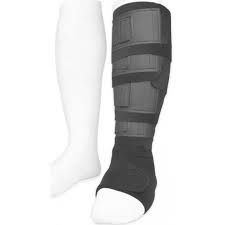 Choosing the right Velcro to go with your compression socks is not always an easy task. Here are some qualities of Velcro to put into consideration before making a decision.
Closure strength
Closure strength is one of the most vital aspects to look at when picking compression socks with Velcro. Here are some factors to consider with regard to the closure strength of your Velcro: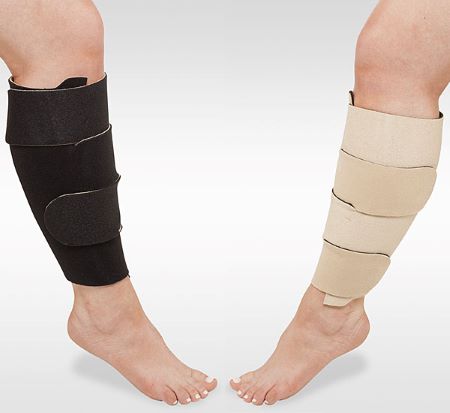 Peel
When the material is separated at 180 degrees, how easily does it disengage? Does it disengage in succession like unzipping a jacket?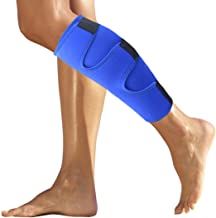 Tension
When you pull the Velcro fasteners apart, how strong is the resistance of the material to being pulled apart, vertically and simultaneously?
Shear
This has to do with the strength of the bonds when you move the pieces in opposite directions, laterally.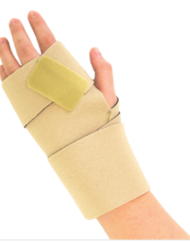 Cycle
This has to do with the number of open-closure cycles your set of fasteners can endure. Your compression socks with Velcro or wraps will need to have high-cycle hooks and loops.
Type of Velcro material
Velcro can be made using different types of fabric, each with its own advantages:
High-Tech Hooks (HTH)
This technology was developed by VELCRO. It makes use of advanced polymers to form personalized hook and loop systems. It can also be made to serve particular custom applications when you adjust the shape and size of the hooks and loops.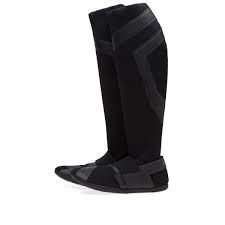 Woven
This is the most common hook and loop fastener, and the most versatile. It offers a long cycle life, is easy to dye, and very easy to sew.
Non-woven
Non-woven hook and loop systems are made by arranging fibers in a kind of web that looks asymmetrical. They are great for lamination purposes and low-cycle applications.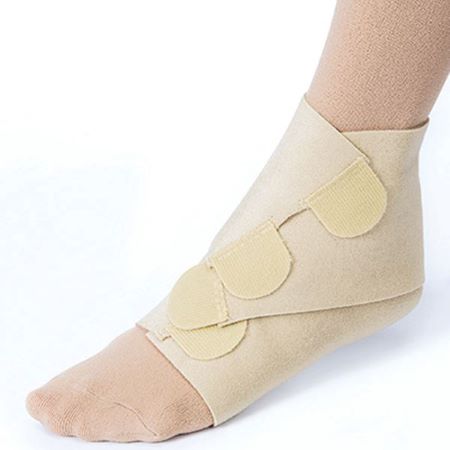 Knit
This type of material is preferred for applications requiring disposable and very lightweight material. It is also used when there is need for a very wide area of hooks and loops.
How to Manage a Patient Needing Compression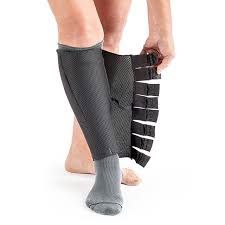 Managing a patient who needs compression is not exactly the easiest task in the world. This task requires some level of skill and competency on the part of the healthcare providers. They also have to pay attention to every detail and follow the patient up closely. There are a couple of factors to consider when managing a compressed patient who is making use of Velcro compression socks. Here are some of these factors:
Hygiene and skin care
Each time the patient visits the clinic, thoroughly inspect the legs. Ensure they are washed thoroughly and moisturized. This is an essential step for your skin health as well as the wellbeing of the patient.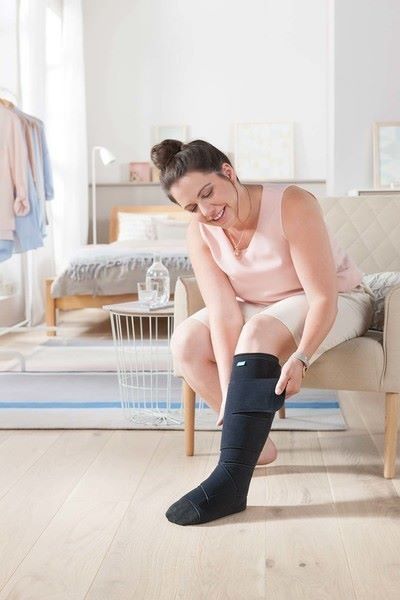 Constant assessment
Edema changes in levels and, during its early treatment, has high potential for causing ulcers. This often requires the patient's leg and ulcer to be assessed frequently. You may need to schedule care visits twice every week at the beginning, then progress to a weekly basis. However, you may not need to do this if the patient can get home health care with the right type of wrap and nurse who has the right skill level for changing wraps in a home setting. During each visit, your calf and ankle measurements will be assessed to be sure of the adequacy of your edema management.
Footwear
Some wraps prohibit people from wearing some of their shoes. One inexpensive alternative is to have standard post-op shoes. This has a way of providing safe ambulation and protecting your foot. You can do this for the duration of treatment.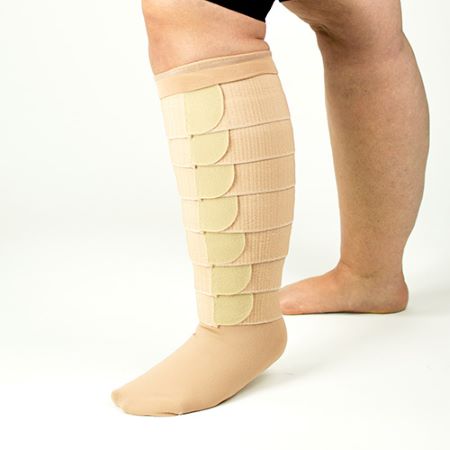 No wrinkles
Some of the things compression socks with Velcro may cause are discomfort, rubbing, and blistering. Any of these could result in an iatrogenic injury, which in turn, could lead to further ulceration. Your healthcare provider may instruct you to dorsiflex your foot while applying the compression garment. This could help put your foot in an ambulatory position which will allow the healthcare provider to don the garment smoothly. Your tibial areas, metatarsal heads, Achilles tendon, and anterior ankle will be well protected if you use foam dressings to pad them up. This will also increase your comfort levels.
Avoid sliding
Multilayered wraps are usually heavier and thicker than other compression garments with Velcro. As a result they are more likely to slide as a unit, especially if you have legs that are irregularly shaped. To reduce this effect, you have to wrap the leg with enough tension, then apply a thick ointment. The ointment will make the cotton layer of your compression garment stick better and reduce slippage. Doing this also keeps your legs well moisturized.
Bathing and showering
Compression garments like wraps can be worn for up to a week as long as it stays dry. This drastically imposes on personal hygiene. As a way of considering your condition for bathing, your healthcare provider will consider your stability, strength, and exact suggestions. You could always bath at a sink or try getting into a bathtub and ensuring your leg stays out, but these options requires you to be mobile and have considerable strength in their upper bodies.
You can also choose to cover your wrap with something else while showering. There are devices specially designed to make sure your dressings and casts stay dry. Such designs also come with a non-slip surface around the foot area. If, however, you want to shower and tape a plastic bag over your compression garment, ensure there is provision for pointed safety education to prevent falls.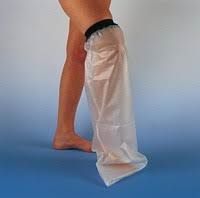 You can either ensure there is someone to help you when you get out or you can place towels on the floor to cover the slick surface and reduce the risk of falling.
Have a contingency plan at all times
Healthcare providers must ensure that they provide adequate patient education to people who want to use compression therapy. The success factor of the therapy depends largely on whether a patient will wear the Velcro compression socks or wraps for the prescribed duration so as to maximize the therapy. Taking the compression socks with Velcro off too often and too early can negatively affect the therapy you have been undergoing for several days.
Compression socks with Velcro or wraps can be sticky
Sometimes, the Velcro compression socks come with a cohesive layer that can be sticky at times. Things like dirt and lint can adhere on it, while your pant legs may cling too often to the Velcro. When lying down, your bed linens may also restrict your movement while wearing your compression socks with Velcro. It is important to apply a plain stockinette as a way of alleviating this problem. It will also make it easier for you to put on shoes without catching onto the Velcro.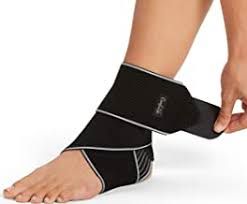 Conclusion
Velcro compression socks are inventive for compression therapy, and work best in cases where you have problems donning the usual compression garments. They are made to reduce edema in different parts of the lower extremities. Also, they help to reduce symptoms of venous insufficiency, chronic edema, and lymphedema. These socks increase interstitial pressure in order to relieve the tension on venous walls. The result is facilitation of calf-muscle pump system and, subsequently, improvement in lymphatic drainage and venous return. You can count on compression socks with Velcro to provide adequate support for your legs at all times.