Last Updated June 11, 2022
Heard of the "Rose Toy?" You're not alone.
TikTok is blowing up with women talking about the rose sex toy. Orgasms that normally take 5, 10, or 20 minutes happen "in seconds."
One woman claimed: "My legs locked up. I almost put my hand through a wall I was bracing so hard."
With reviews like that, I can see the appeal. Or at the very least, a slight curiosity. That's why you're here after all, isn't it?
Unfortunately, like most things that seem too good to be true, the Rose Toy has an untold story that most people don't know about.
What is a Rose Toy?
The Rose Toy is a sex toy used for sexual stimulation. It can be used solo or partnered by one or more people.
The Rose Toy Is Flower Shaped – It's Discreet
Its most distinguishing feature is its shape. The Rose Toy is made is the shape of a rose bud, and usually colored red or pink. The whole Rose Toy can fit in the size of your palm.
According to reviews, it's about more than sexual wellness. The rose is about seeing your soul depart from your body or divorcing your husband because it feels so good.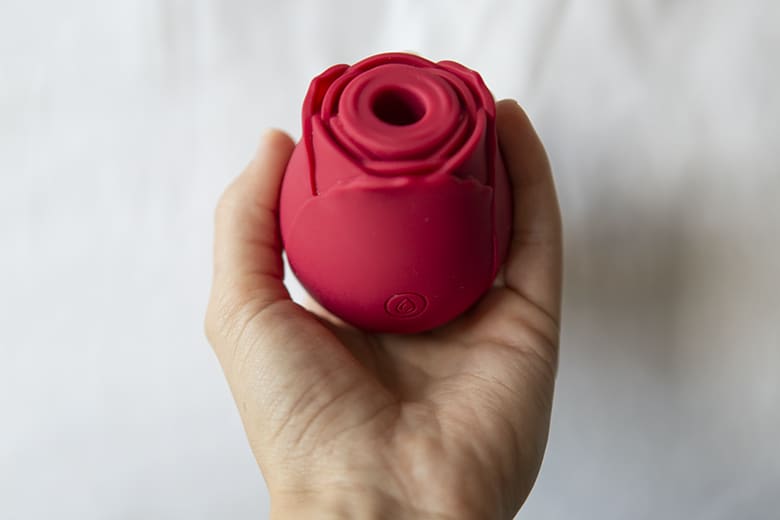 The Original Rose Vibrator
Many companies have tried to recreate and claim the title "Rose Toy" as their own, but the original design had both a vibrating and suction feature that you could control with one button.
The center or top of the Rose Toy had a hole that was intended to fit around a woman's clitoris and provide a suction sensation to stimulate said area. At the same time, the entire Rose would vibrate.
It's Less of a Vibrator and More of A Clit Sucker
It had multiple settings and speeds that you could change with the push of a button. And the best part was that it was completely waterproof, easily washed, and could be charged magnetically on a USB docking station that it would sit upon.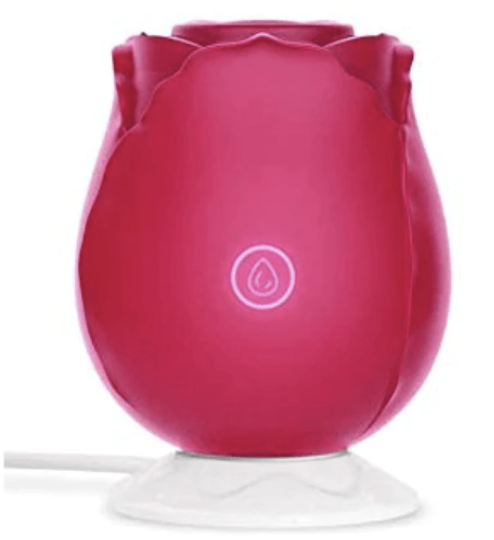 Don't get too excited just yet. Most of the reviews you see on TikTok are women who personally sell the rose toy, usually through poorly researched drop ship agreements with some random Chinese sex toy manufacturer.
Yes, a quality sex toy will feel good. But not so good your head explodes while using it.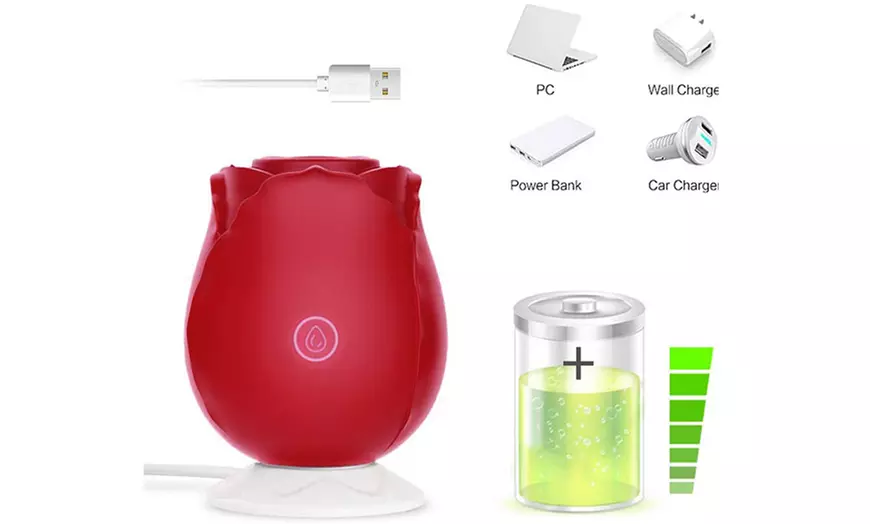 Why Can't I Find a Rose Sex Toy to Buy?
Have you tried looking for the original Rose Toy on Amazon or other competing websites and turned up empty handed? There's a reason that it's become so hard to find.
Patents Are A Thing (Especially for any Clit Sucker)
The Rose Toy actually breaks patent laws and that might be why it's so difficult to find one to purchase. Once Amazon is notified of a patent infringement, that listing is taken down. Similarly with other websites. It's not worth the lawsuits for them.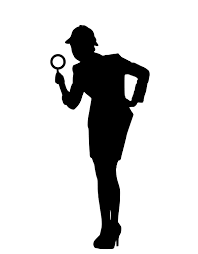 What's a Patent?
A patent is a legal or exclusive right to an invention. This invention is either a new product or new process that implements a new way of doing something.
It's given to a person or entity (business) and no other person or entity can replicate it.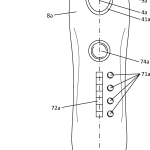 The utility patent is for a clitoral sucker device with a closed chamber (a sucker that uses air to stimulate the clitoris, while moving air in both directions like a vibrator, but without letting in outside air).
This sex toy patent covers the original rose sex toy style (a clitoral sucking toy). That's why you can't find the rose sex toy. The original rose is patented.
A Bavarian company named Womanizer invented and patented a very specific type of clitoral stimulation. It's called Pleasure Air™ Technology.
Basically, it stimulates the clitoris without directly touching said area by sitting around it and using suction.
Sound familiar? That's because that's exactly what the Rose Toy also does. Unfortunately, that's patent infringement.
More About Womanizer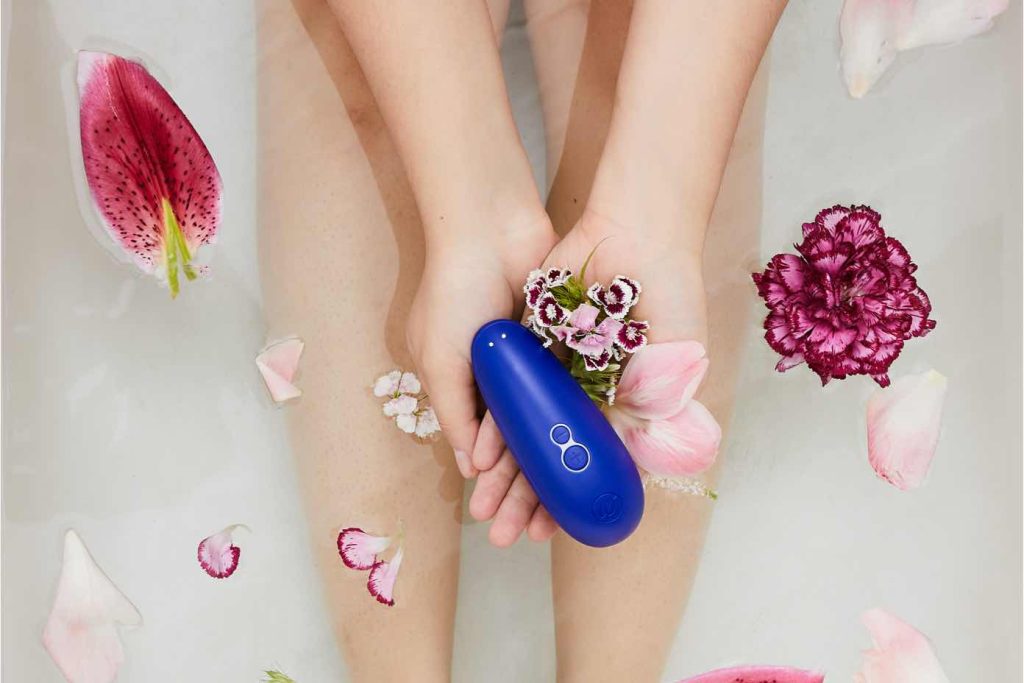 A man named Michael Lenke and his wife were sick of the outdated sex toy market and decided it needed major adjustments.
As it is now, about 10% – 15% of women have never had an orgasm. Even more have trouble having one.
The Lenke's wanted to change that. And in 2014, after the couple's hard work, they finally got their wish when the world's first WOMANIZER™ was introduced.
Their patented innovative technology, Pleasure Air™, "stimulates the clitoris without direct contact," avoiding "over-stimulation and the desensitizing effect."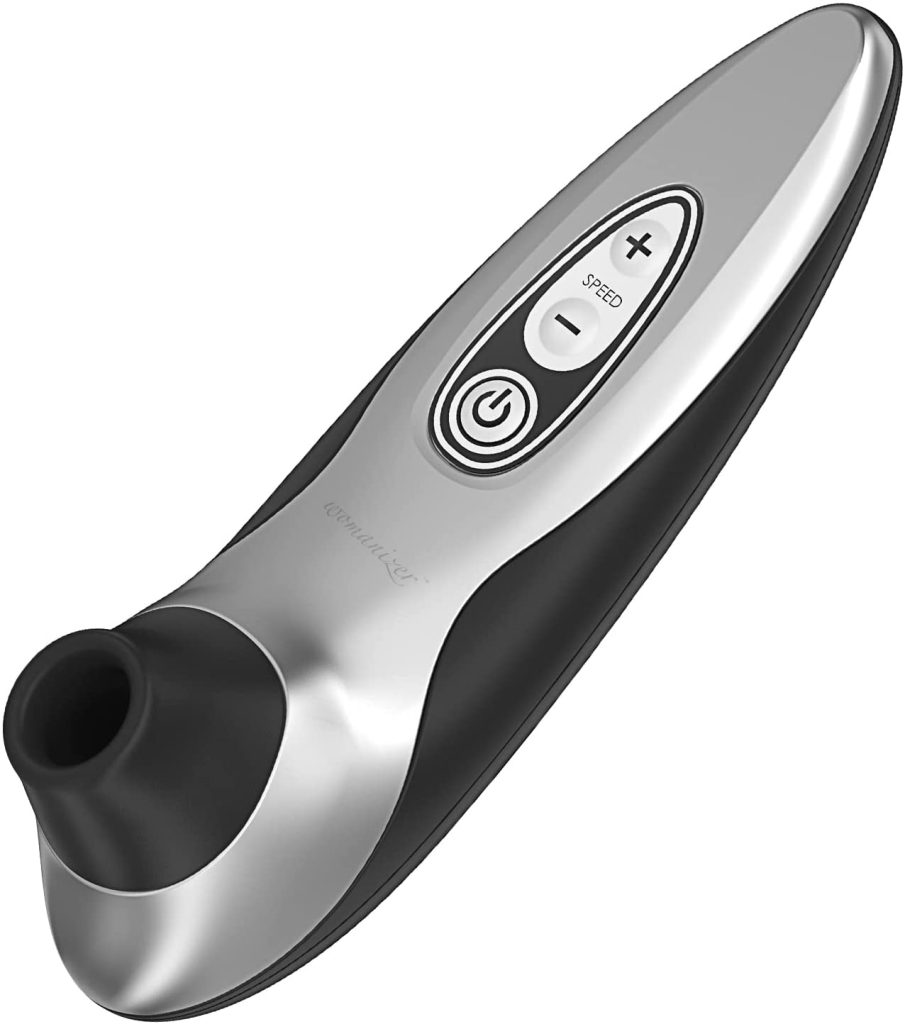 What About the Satisfyer Toy?
To make matters more confusing, another company patented a similar design back in 2016. The company is named Satisfyer, and they have a similar story. Their mission? For everyone to "experience sexual wellness."
They patented the "Air Pulse Technology," which is another touchless clitoral stimulation using pressure waves.
Satisfyer's Connect App allows you to personalize vibration programs or mix and match programs using their touch controls. You can even use up to four adult toys at the same time if you wanted to.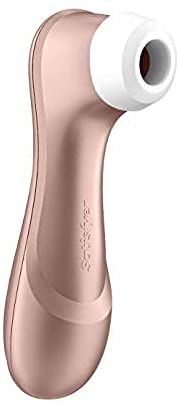 Are Satisfyer and Womanizer Products Better?
Both the Satisfyer – Rose Toy Style Suction Toy and the Womanizer – Rose Toy Style Suction Toy get just as good reviews as the Rose Toy, if not better! In fact, singer Lily Allen is Womanizer's own spokeswoman, with her own special co-designed product named "Liberty."
And then there's Satisfyer Pro 2- Rose Toy Style Suction Toy, which is Amazon's top seller in the vibrator category.
No, they're not shaped a like a rose. But here's the best part. They're shaped to be held solo or during intercourse. Tell your man not to be jealous of this little toy. You can have sex while he watches you get off. (Be careful if you actually say that. He might just buy it before you can!)
Both Womanizer – Rose Toy Style Suction Toy and Satisfyer – Rose Toy Style Suction Toy have raving reviews that out-do the Rose Toy any day. See for yourself:
Looks pretty similar, if not superior, to reviews you've seen on TikTok about Rose Toy, doesn't it?
Can You Trust the Rose Toy?
Unfortunately, the "Rose Toy" is imported from companies mainly based in China where the quality-control isn't as intensive as it is in other countries like the United States or Germany (both of the above suction toys are made in Germany).
The original rose (the Chinese version) toy is a lower quality toy than the Womanizer or Satisfyer.
Think "German Engineering" vs "Cheap Chinese".
The Rose Toy starts on setting "High" and only goes up from there.
This may sound good, but a clit sucker is not a sports car.
Faster isn't always better.
Vibrators (including sucking vibrators) should have slower speeds. The 2 companies that own the clitoral sucker patent have speeds ranging from low to surprisingly fast.
Avoid Scams – Let's talk about actually getting your product.
Trying to get your hands on one of the original clit suckers requires risking your money and possibly never getting your product.
Getting those sucking rose toys (the one's all over TikTok) from a reputable website is quite an arduous task as it is.
Not to mention, if you wanted it right away, you might have to wait several weeks for it to ship from China and go through customs.
We originally bought 15 different models of rose toy from China (before we realized the rose toy was patented). Most rose toys took over a month to arrive.
Some never arrived.
(Actually, quite a lot never arrived)
Nothing beats Amazon, where you can click buy now and it shows up before you can walk to your front door.
Other Sexual Wellness Toys to Check Out
Not into the sucker toys? Can't blame you. Sometimes the trusted ol' vibrator just does the trick. And why mess with a good thing?
For sexual wellness, nothing beats a good vibrator. Purchase from a reputable seller and get one that's waterproof (because who doesn't like orgasms in the shower?).
If you don't already have a favorite vibrator that reliably delivers orgasm after orgasm, here's our #1 choice: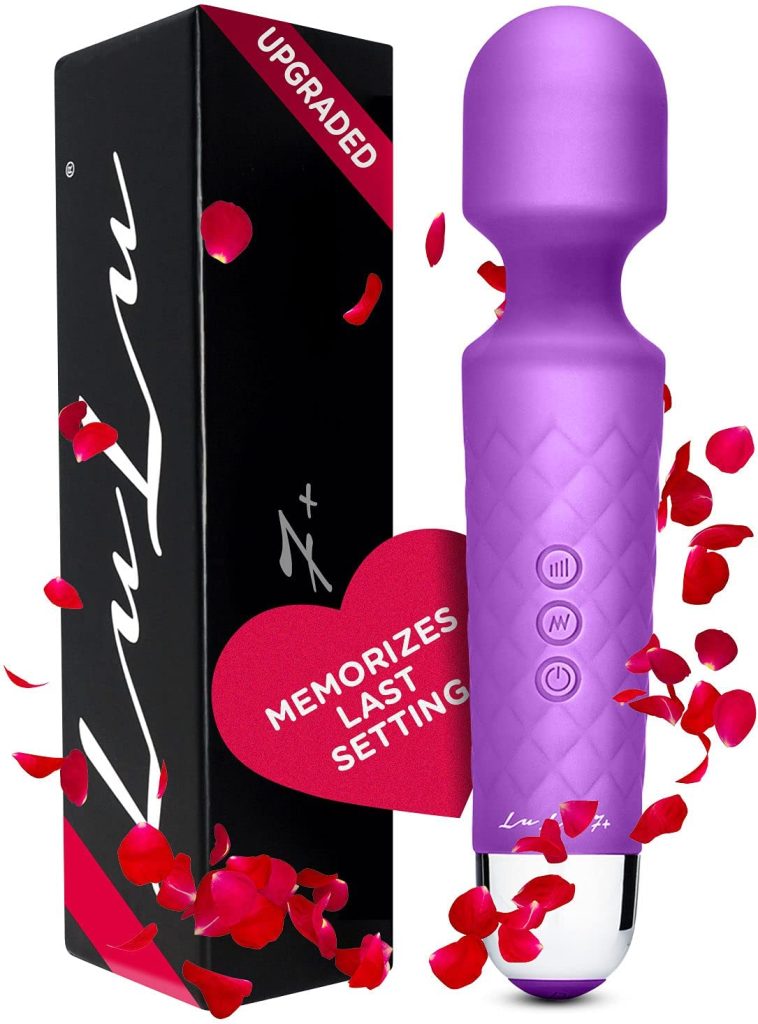 The Lulu 7+ Vibrator Toy is pretty much the standard for vibrators these days. From personal experience I can say it's the #1 toy in the drawer. (Of course, that's subjective. You may like the Rose Toy style suction toys better than a vibrator.)
Each person will like different options. That's why we suggest owning a vibrator like the Lulu 7+ Vibrator Toy first, then trying a suction toy like the Womanizer – Rose Toy Style Suction Toy or Satisfyer Pro 2- Rose Toy Style Suction Toy after that.
Can't get away from that Rose Toy look? Than why not go with this tongue licking version!
It doesn't break any patent laws and it includes a special vibrating egg that can stimulate your g-spot (or other areas) while using the tongue licking feature. Some women really go crazy for a good g spot vibrator toy.
Chinese sex toy manufacturers are very quick to adapt. When the original suction rose toy got taken off Amazon the sellers quickly pivoted to the tongue versions. It still looks like a rose, but there's no suction. Just a toy to mimic oral sex. So if you just can't get enough oral, this could do the trick!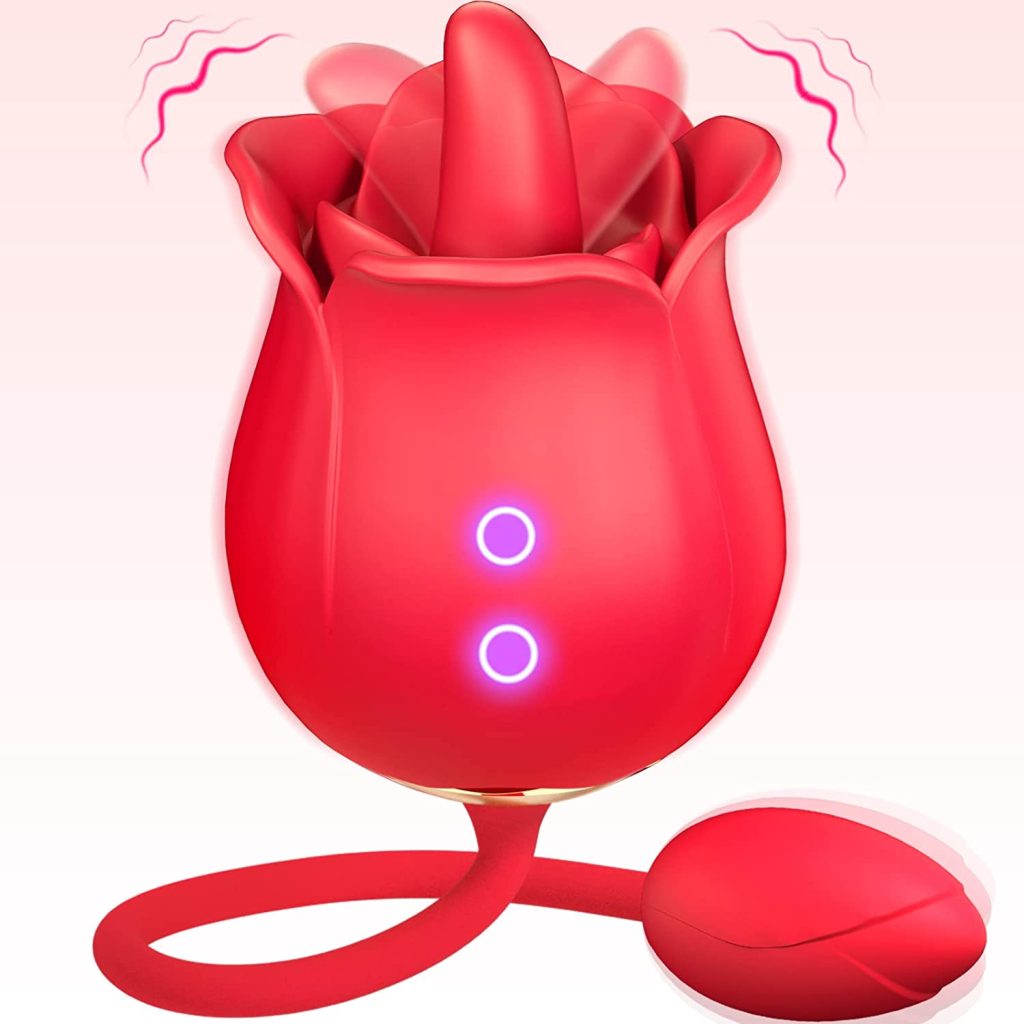 Final Thoughts
Rose Toy
The rose toy is a suction toy that works like vibrators do, but uses suction instead of direct vibrator contact.
The original sucking version of the rose toy is patented so they're impossible to find on Amazon, at sex toy stores, or really at any legitimate seller.
It's impossible to find a reputable seller for the patent infringing suction version of the rose toy.

Any suction rose toy you find is shipped from China and takes 3-5 weeks to arrive.

There's never a phone number.
Contact forms and emails go unanswered.
Some orders never arrive.
You're never really sure if the sex toy material is food grade silicone or some unsafe plastic mix the factory used to save a few cents.
As a friend of mine says: "Bump That!"
We recommend buying the original suction toys instead:

These feel the same as the Rose Toy, but are both a much higher quality toy.
There's a rose shaped toy that's a licking toy.

A rose shaped licking toy is not patent infringing (because it's not a suction toy), so you can get a licking rose toy on Amazon.
We've included the rose shaped licking toy because it's a fun alternative to vibrators and it's still shaped like a rose.
Get a vibrator before you purchase a rose toy, suction toy, or licking toy.

50% chance you'll like a vibrator better than a rose toy style suction toy anyways.
Sexual wellness is important.

You want an orgasm.
Your partner (optional) wants to watch you have an orgasm.
Get a sex toy!
Rose Toy Alternatives – The Original Suction Toys
Womanizer Pro 40 – Rose Toy Style Suction Toy
Satisfyer Pro 2 – Rose Toy Style Suction Toy
Vibrators
Rose Shaped Toy
Bottom Line
Keep in mind, like me, you may not like rose toy style suction toys at all. (Gasp! Could ladies hawking products on TikTok be wrong about your personal preferences?)
If you don't already have a vibrator, get one first. We recommend the Lulu 7+ Vibrator.
You may have to try a few different sex toys before finding your favorite. But once you do…
😳😳😳🚀🚀🚀💖💖🚀🚀🚀🤯🤯🤯🥳🎉🎆🎉🥳👍
Enjoy!