Perhaps you've heard about the "professional, anti-fatigue compression sock sleeves" that supposedly "reduces swelling, eases heel pain, soothes achy foot, and boosts circulation." All in a one-size-fits-all nicely wrapped package.
But are Dr Sock Soothers really the best solution for foot pain?
Unfortunately, no. As nice as it sounds, a one-size-fits-all approach are not the way to go when searching for foot pain relief.
Foot Pain
The condition of your foot, ankles and lower extremities say a lot about your health in general.
Often times, a podiatrist can tell if you have circulatory problems, arthritis, diabetes or other health issues just by looking at your feet.
Recent breakthroughs in podiatry have led to the manufacturing of professional quality compression socks that can be a solution for foot pain and support.
Many companies have been capitalizing on the public's demand for these socks and hosiery.
One such company known as Dr. Sock Soothers, has garnered a lot of attention–but for all the wrong reasons.

We researched:
SockSoothers Compression Socks – The Product Itself
Soothers Advertising – The Marketing Behind the Brand
Claimed Benefits for Running, Walking (and other Exercises)
Claimed Benefits for Circulation, Plantar Fasciitis, and Fatigue Management
Dr Sock Soothers Ankle Socks vs Other Compression Socks
Consumers Complaints
Unmet Claims
How to Naturally Help Cure Plantar Fasciitis, Circulation, Fatigue, and Foot Pain (Hint: It IS what you think, but with a twist!)
…and Finally – Several False Advertising Complaints, Rumors of Unauthorized Credit Card Re-billing, and Problems with Returns
Hundreds of people claim to have been scammed.
Is it true?
Let's find out…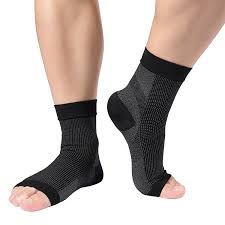 Dr Sock Soothers Don't Live Up to the Hype
Unfortunately, the brand known as Sock Soothers™ seems to be nothing more than marketing and hype.
Complaints and Accusations of paid reviews, fake testimonials and untrue claims about Dr Sock Soothers have recently surfaced.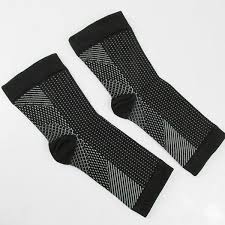 Dr Sock Soothers still appear to still be selling these type of socks, even in Walmart. However, the mediocre quality of their Sock Soother socks has resulted in a plethora of bad reviews, complaints and nearly putting them out of business.
Customers complaints as well as accusations that the website of fraudulently charging their credit cards and avoiding refunds.
We recommend buying only high quality compression socks to ensure you receive an effective product.
At ComproGear, we want to offer you a trustworthy alternative as you look to purchase compression socks online. Please take a look here:
ComproGear aims to create high quality compression socks that out-perform other brands and come in a variety of sizes for a customized fit.
Not only that, but ComproGear also offers a lifetime guarantee with unlimited free returns, so you never have to worry.
But before we get into more serious matters, let's give Dr Sock Soothers a chance. These socks are available at Walmart. Here is a basic overview of what they have to say about their "Sock Soothers" brand of compression socks.
Dr Sock Soothers: In Their Own Words
Promising claims are made on the website regarding the positive effects their socks have.
The use of "Compression Technology", the ability to "Prevent Plantar Fasciitis" and "One Size Fits All" are the core promises given to consumers.
Here are some of the other benefits CLAIMED by the makers of Dr Sock Soothers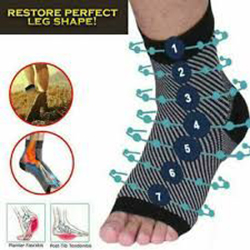 Limits swelling.
Provides long-lasting comfort.
Will leave you fatigue-free all day.
Relieves muscle soreness in the legs.
Naturally elevates the arch of the foot.
One size is available and it will fit everyone.
Provides structural pressure during activities.
Improves poor circulation associated with the aging process.
7 "targeted zones" and 3 "levels of compression" which provide compression across the foot.
Dramatically reduces recovery time for those with plantar fasciitis (when combined with stretching and exercises).
And it seems that, according to the onsite reviews, some customers are indeed happy with the product.
Here is an example of a positive onsite review of the Dr Sock Soothers
"As a parent who deals with three wild boys, you can imagine my feet are always in severe pain running around. I needed do so something about it, so I tried Dr Sock Soothers. WOW! I wish I had these on sooner! Now I have enough energy feeling fresh on my feet for ballroom dancing and yoga. The best part is, my feet don't hurt anymore. This truly is a miracle!"
-Mary Hopkins from Quebec
The review sounds great.
But the three reviews visible on the Dr Sock Soothers website are all positive, which has raised suspicions since so many customers have had complaints and negative experiences with the product.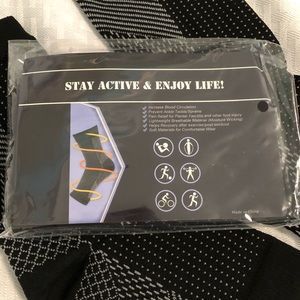 When searching for reviews, you would like to look into third-party business accountability websites, or based on pictures as authentic customer reviews don't seem to be making it onto the Dr Sock Soothers website.
Here is a collection of actual customers based on experiences, most of them relating to frustration around the "one size fits all" they come to claim:
"I purchased these socks on line on 26/08/2019. They were delivered on 07/09/2019. They certainly were not one size fits all and were very painful to wear." – Reviewer via BBB.org
"I had thought the socks would be the answer to my husband's foot problems – and maybe they would have been, if he could even get them on!" – Reviewer via highya.com
"After waiting over 2 months only to be shorted 3 pairs of socks and the 'free gift' that I had to pay $9.95 postage for…I was unable to leave a message on the website so am still in limbo without a way to get a refund…" – Reviewer via scamfinance.com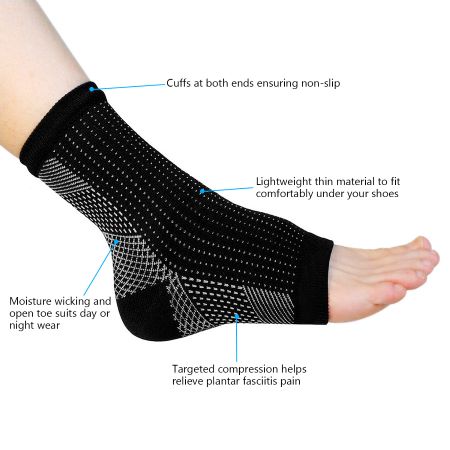 Currently, the Better Business Bureau (BBB) has issued an alert for the business Dr Sock Soothers.
Despite pictures of promising accurate information on health claims the company is making about their Sock Soothers compression socks, it seems that the product is rarely able to live up to such standards and had complaints in the Better Business Bureau.
---
Popular Articles on ComproGear.com
---
What Should a Quality Compression Gear Do?
Please take the following information, a quality compression sock or ankle support sock should have:
Ankle stability
Reduction of cramping in the calf muscles
Reduction of pain from plantar fasciitis in the arch
Improved blood circulation to aid healing in the immediate area
General reduction of muscle soreness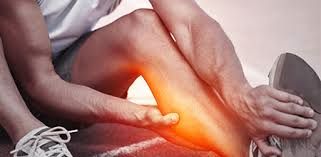 What Health Conditions Benefit From the Use of Compression Garments?
The soothing action of a good pair of compression socks or compression hosiery can be felt as soon as you slip them on. Here are some information based on the health conditions that require the use of these socks …
Edema.
Plantar warts.
Varicose veins.
Flatfoot and weak arches.
Itchy feet, including athlete's foot.
Fractures of the ankle, foot or toes.
Sprains and injuries of the soft tissue.
Ligament problems in the ankle or foot.
Inflammation caused by plantar fasciitis.
Diabetic foot damage such as neuropathy and diabetic foot ulcers.
Foot pain related to problems such as blisters, bunions, calluses, corns, hammer toes, heel spurs, neuromas and spasms.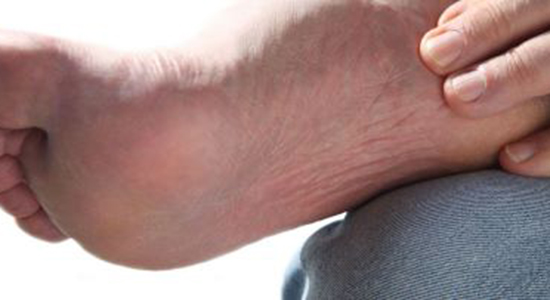 If you struggle with any of the above medical issues or begin to notice pain, it is important to check your feet, ankles and legs each day.
Apart from wearing shoes that fit you properly, ensure your lower extremities enjoy complete care at all times. When any of your foot suffers, you suffer too.
Many people will experience pain in their arch, ankle, heel or plantar fascia at some point throughout their lives. These episodes are common since most people spend a lot of time either in one position or on their feet.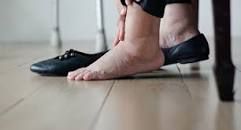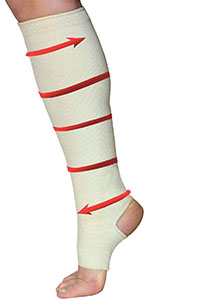 Regardless of how long or short these episodes last, it is important to determine the root cause before comorbid issues such as varicose veins begin to arise. The appearance of the varicose veins suggests that your heart is working overtime to pump enough oxygenated blood to all parts of the body, including your feet.

Common Causes of Leg Fatigue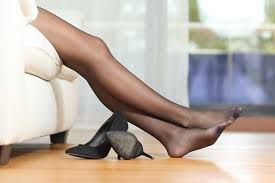 Leg fatigue is accompanied by cramping, pain or soreness.
They come in many factors that can cause your legs to become fatigued, and knowing what these are can help you manage and reduce leg pain.
Let's take a closer look at what causes leg fatigue:
Hypokalemia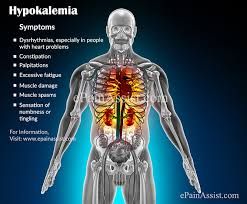 Hypokalemia is caused by very low potassium levels in the bloodstream.
Leg cramping, constipation, weakness and fatigue can arise as a result. Some medications and medical conditions can also cause hypokalemia.
Multiple Sclerosis (MS)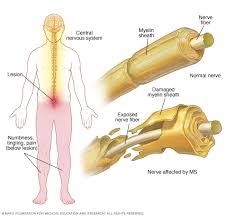 Muscle fatigue is one of the symptoms of MS and is often described as "heavy legs."
Humidity and heat can cause MS-related fatigue to worsen. Other symptoms of MS include muscle spasms or pain, tingling sensations or numbness, a loss of or blurring of the vision, sexual difficulties, bladder issues and trouble concentrating.
Overuse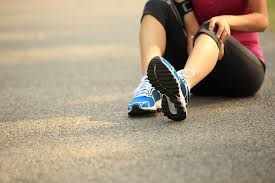 Overuse of the legs can be the cause of muscle cramping and leg fatigue.
Allowing your legs and body to rest for sometime will allow the symptoms to subside.
If your job requires that you stand for long hours, such as teachers try taking several small breaks throughout your shift. Should your symptoms persist or become more severe, you may want to reach out to your family doctor.
Exercise
Similar to overuse, moving your body in new or novel ways when exercising can contribute to temporary leg fatigue.
Athletes will be especially prone to muscle fatigue during training.
There are tips that can help you can reduce fatigue by slowly tapering up the intensity of your exercises, taking regular days off and partner with eating a balanced diet.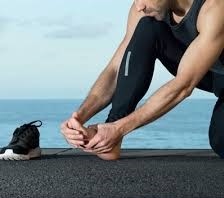 Poor Circulation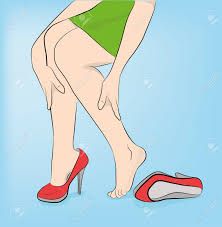 If blood does not circulate properly through your body, your legs may begin to feel fatigued.
The blood will accumulate in your legs, ankles and foot, causing dizziness and leg fatigue.
You can improve your circulation by moving more, managing underlying conditions like diabetes and incorporating the use of circulation socks into your routine.
Pregnancy
Hormone changes, increased pressure on the veins and fluid retention can cause swelling during pregnancy.
This tends to make the legs feel tired and uncomfortable.
Such tips include wearing support socks provide help during pregnancy. In fact, reviewers frequently state that compression socks provide decrease fatigue, stop swelling, increase circulation, and naturally relieve foot pain during pregnancy!
Try sleeping on your side to lessen the pressure on the veins circulating blood to your heart from your lower body. If you have serious swelling, try our specially developed compression socks for pregnancy.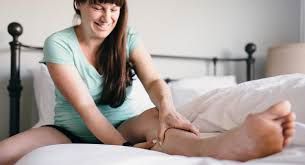 Underuse
Just like OVERuse, UNDERuse and lack of movement can cause leg fatigue.
If you are sitting for a very long time, try standing and get active for about five minutes each hour.
You could also try some leg exercises and stretches if you must stay in bed for extended periods of time.
If you must sit at your desk for work all day or have a limited ability to move, you may benefit from compression socks.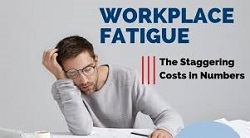 Here's our review of the best compression socks for sitting all day.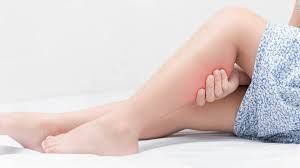 Compression Socks Work. Sock Soothers Do Not.
But… You have to get information on a good quality pair of socks that fit properly. "One Size Fits All" is an advertising scam used to trick consumers into buying something that doesn't work.
How Do Compression Socks and Compression Hose Work?
Compression socks and compression sleeves, which are meant to provide firm, sturdy support for your foot and legs.
By constructing the socks out of stretchy and thick fabrics, the sock can be slipped on before it begins to compress the foot.
It gently squeezes your lower extremities to boost circulation and flow of blood, driving the blood upwards throughout the body to prevent pooling.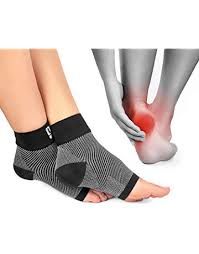 Most of these socks are not measured like prescription compression sleeve or garments, but they can still richly benefit the wearer.
If you do suffer from a serious medical condition, acquiring a prescription for snug-fitting compression socks or a compression sleeve with a higher mmHg rating is important.
Compression Socks Can Benefit You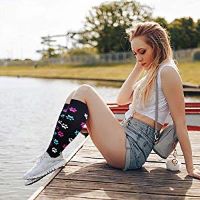 If you have a condition that will benefit from the use of fatigue compression or sock sleeves, consider trying out a pair.
Especially if you spend long hours on your feet or are prone to having varicose veins, compression socks will be the perfect soothing footwear for you.
People who will benefit from using compression socks include…
People who are prone to plantar fasciitis.
Diabetics, especially those with diabetic neuropathy.
Runners and other athletes who feel pain in their lower extremities when exercising.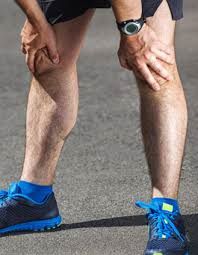 If you're looking for a high quality compression sock, take a look at ComproGear's line of compression socks.
We work hard to make the best quality 20-30 mmHG knee-high compression socks on the market.
Unlike Dr Sock Soothers, we plan to be around for our customers for the long haul. We welcome you to reach out and contact us should you require further information, assistance or have any questions.
Long Story Short. Skip Dr Sock Soothers – There are better options available…
This page last updated December 14, 2022