If you're looking for compression socks or gout friendly socks, you've most likely heard the recent growth of Dr Sock Soothers, AKA Doc Socks.
They claim to offer anti-fatigue compression and prevents plantar fasciitis with all the benefits at a simple, one-size-fits-all and insanely affordable cost.
Does it sound too good to be true?
That's because it is. They have been verified as a giant scam.
Please take the time to read on to learn more about how you can really seek improvement for your leg and foot health for less, in the long run, using properly fitted, high-quality gear.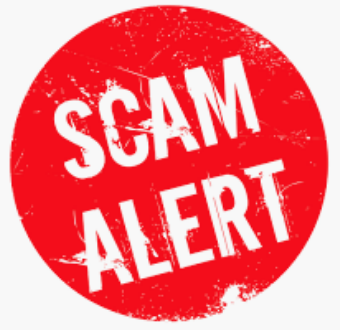 Is it a SCAM?
Quick! Google search "Dr Sock Soothers" or "Doc Socks." Notice that many of the results include the word "scam". It's similar to the the rose vibration rose toy product going around on TikTok.
These results in such searches should matter and be a huge red flag.
This gear also masquerades under the name of Doc Socks. No, this isn't a cute nickname for the Dr Sock Soothers brand. It has been verified that they have two different websites under two different domains.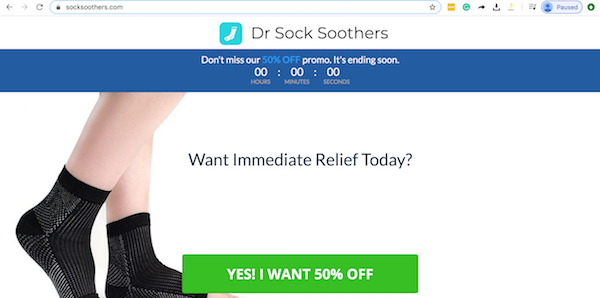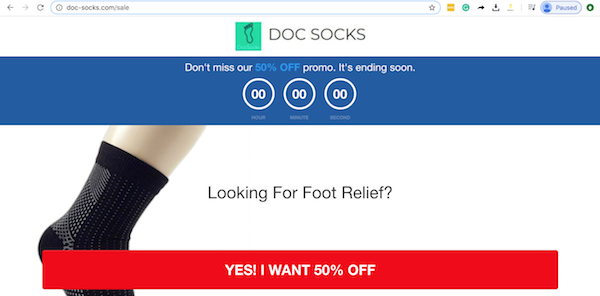 See how the layouts of the websites are almost completely the same?
If you had a successful brand of support stockings, would you take advantage of that brand name or instead market your product under another name?
You know the answer.
The multiple brand names indicate that they have poor quality gear and a lack of confidence in their own brand name
Looking to Buy a Pair of Quality Compression Socks instead?
ComproGear Compression Socks come in 9 unique sizes (Small, Medium, Large, XL, 2XL, 3XL, 4XL, 5XL, 6XL) to fit every body shape.
Every pair is sold on Amazon.com and comes with a lifetime guarantee.
If they don't fit, you get a full refund. If they ever wear out, just contact us and we'll send a new pair at no cost.
If you're interested, just click here and read hundreds of customer reviews for yourself.
What are the Claims for Dr Sock Soothers?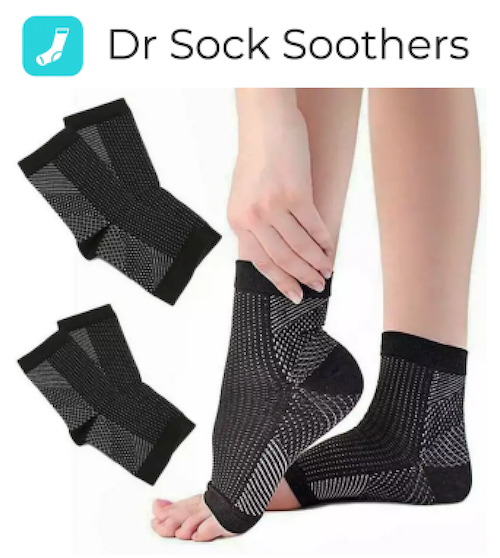 Claim they have professional anti-fatigue compression sock sleeves that will supposedly:
The Three Main Features
Compression Technology Socks
Socks that has Anti-Fatigue Compression Sleeves and Prevent Plantar Fasciitis
One-Size-Fits-All Socks
They are supported by unnamed podiatrist. They include targeted pressure in a one-size-fits-all product? Hmmm…
While a real, fitted compression sock can indeed do those things, a cheap, unfitted one cannot.
Look at any compression stocking size chart and you'll see there are, get this, multiple sizes.
Doc Socks Review – Their So-Called "Verified Customer Testimonies"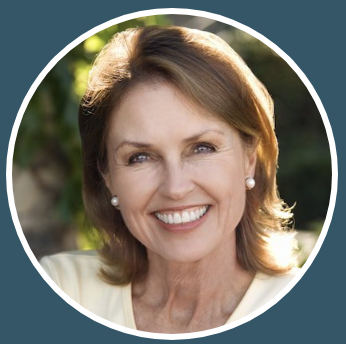 "As a parent who deals with three wild boys, you can imagine my feet are always in severe pain running around. I needed to do something about it, so I tried Doc Socks. WOW! I wish I had these on sooner! Now I have enough energy feeling fresh on my feet for ballroom dancing and yoga. The best part is, my feet don't hurt anymore. This truly is a miracle!
– Mary Hopkins from Boston, MA
Does this Doc socks review sound like a verified cookie-cutter review to you? Is this face just a public domain image found on hundreds of similar scammy websites?
Yes and yes. Don't believe this is a real recent review rating for one second.
Want to see actual customer reviews for a legitimate compression sock company?
Just click here to see ComproGear Compression Socks Amazon page with hundreds of customer reviews. Not all the reviews are amazing 5-star "OMG this product made me poop rainbows".
The Buying Process

You're looking for socks for swollen feet and you stumble across the Sock Soothers website.
As you scroll down to the bottom of the site of Dr Sock Soothers, you will find this massive green button set up as click bait.
It takes you to their check out page directly!
They would like you to buy quickly. There are no left and right features on the site available so you can learn more about it. It's just one home page and every button visible sends you a checkout page.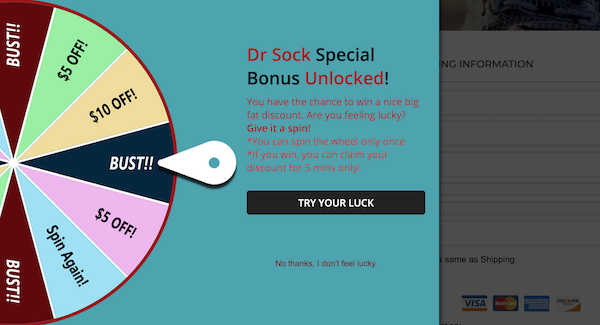 Then, this ad will pop up literally 10 seconds after you land on the checkout page, urging you to "test your luck".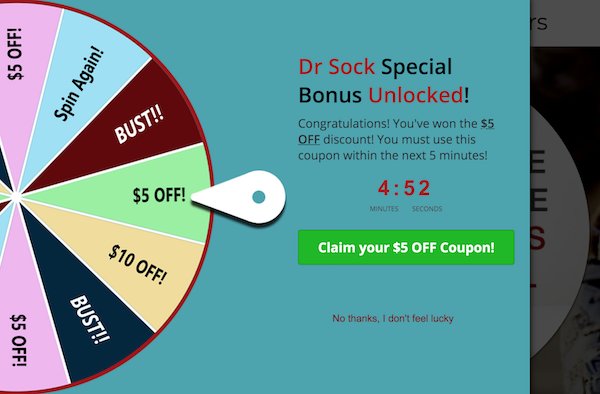 Try it out.
If you land on a $5 off discount, for example, Dr Sock you will get a 5-minute timer counting down.
This is just another marketing tactic trying to get buyers to purchase and purchase quickly.
If you're buying something from a legitimate website, you won't get this kind of "carnival marketing" nonsense.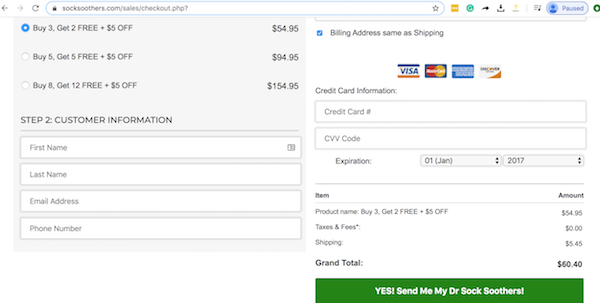 How is this applied? On the checkout page, you will see "Buy 3, Get 2 Free + $5 Off", which brings the total to $60.40 cost to buy 5 pairs of their socks.
Looking to Buy a Quality Pair of Compression Socks instead?
Now, let's question the same process of their second purchase channel – the website.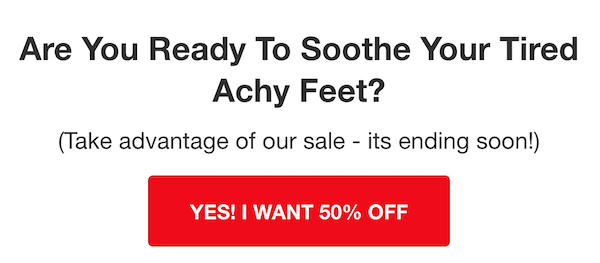 At the bottom of the page, the same call-to-action button is available. It's only slightly different in its phrasing and color.
Once again, clicking bring you to the checkout page.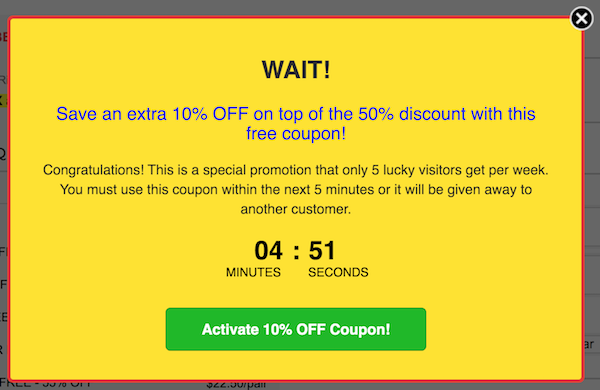 Instead of making you spin the wheel of mythicality, the discount pop-up on this site is more straight-forward. This is what happens when you click to "Activate 10% Off Coupon!".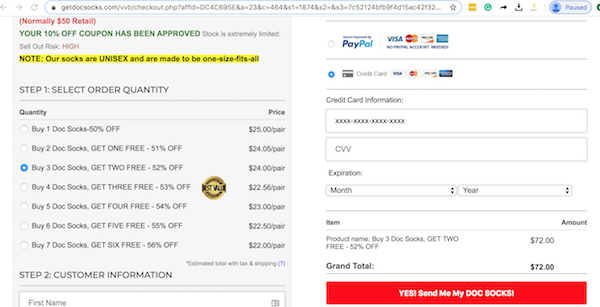 After the 10% discount is applied, the total is $72 including shipping cost for 5 pairs of Doc Socks.
If you compare this with the Doctor Sock Soothers site, you will see it is much more to purchase these socks on the Doc Socks site ($60.40 compared to $72).
But this is the same product! For the same low quality socks, you are paying almost $12 and shipping more!
At the end of the day, this is just yet another sign of an unreliable seller.

Customer Support
There are two other things worth mentioning: their customer support and their return policy.
These three tiny buttons are at the very bottom of the two websites, and this is what shows up if you click onto "Contact Us".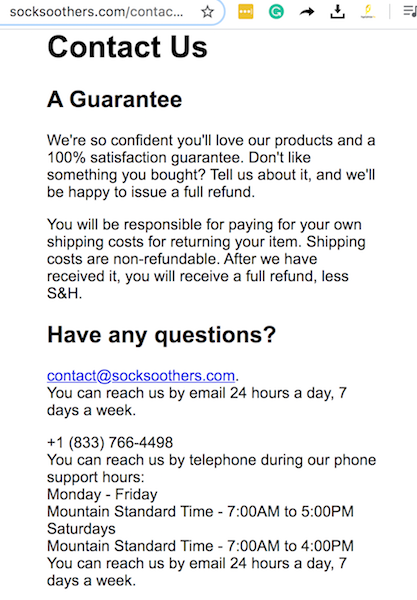 Spoiler Alert: The Money-Back Return Policy is a Beep Scam!🙅
There is evidence in the description to back this statement up, unfortunately. 😏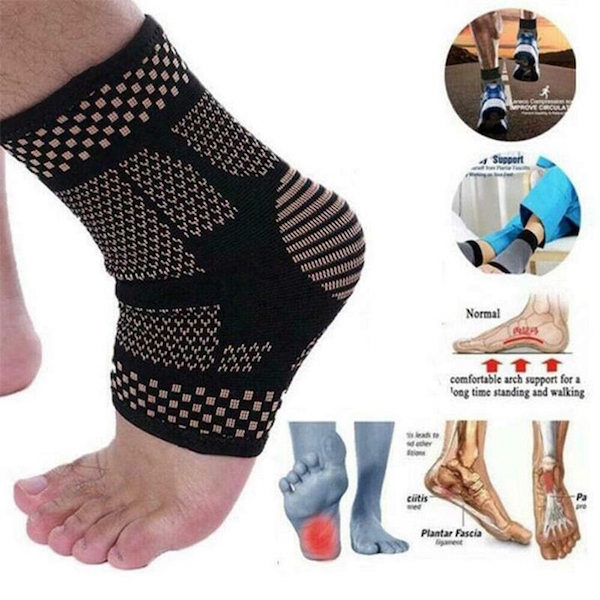 There is nothing wrong with selling products through sale-driven websites.
But this is different. When you are selling a product that is directly responsible to the health of every single individual buyer out there, you have to be a responsible seller.
Do Not make false advertisements and fake 5-stars reviews that ease foot pain
Do Not drive and mislead people into buying a product they don't need like some sort of treatment, improvement or prevention to health-related medical conditions
Do Not claim non-existing health benefits that are beneficial to the consumers or wearers
Unfortunately, Doc Socks failed to adhere to the three rules of being a responsible seller, and their customers are the ones who lose out.
Waste of Money
First, the amount spent on purchasing their falsely advertised product is wasted. You will eventually also have to go get yourself some real, effective treatments with your hard earn bucks. Those marketing campaigns are created with one goal and one goal only – GET YOUR MONEY.
Waste of Time
Secondly, the time you spent trying to make their products work is gone for good. This could be 2 weeks, a month, three months, or longer! The time it took for you to notice that the product doesn't work is essentially prolonging your suffering.
Waste of Effort
Finally, the wrong treatment can actually worsen some health conditions! And, when you start to notice this, it might be too late. Save yourself the trouble and get effective treatment right off the bat.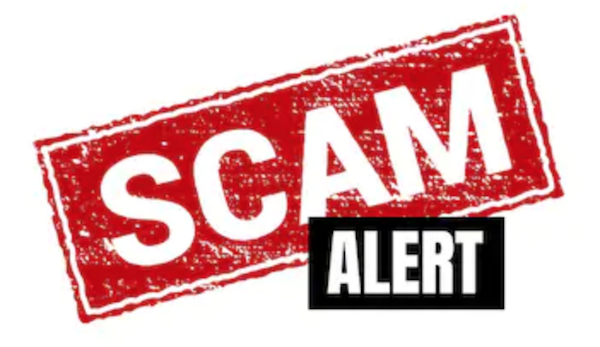 And most importantly, every word, every claim above, is backed up by the most important source: the growth of negative reviews left by Dr Sock Soother's own customers. This also have a better business bureau below rating.
Looking to Buy a Pair of Compression Socks?
The Scam – Verified Negative Reviews and Unanswered Complaints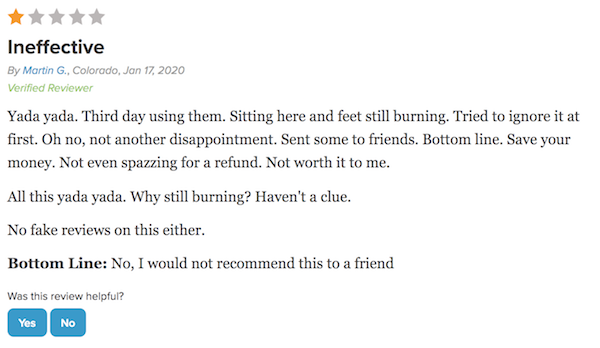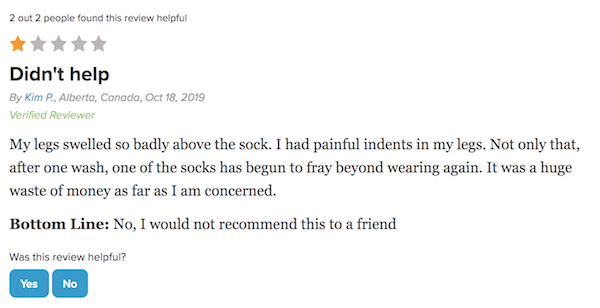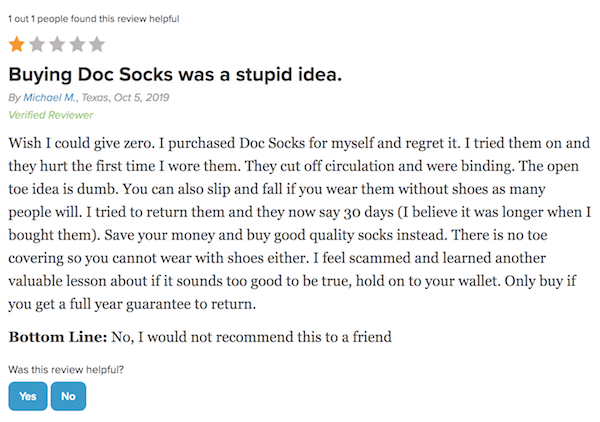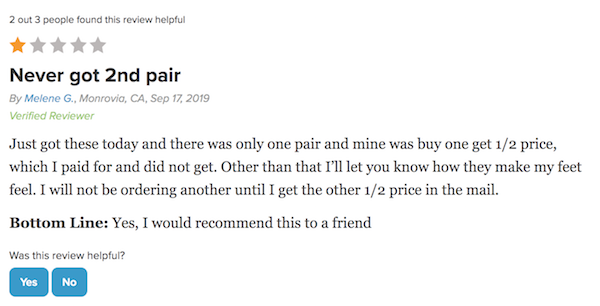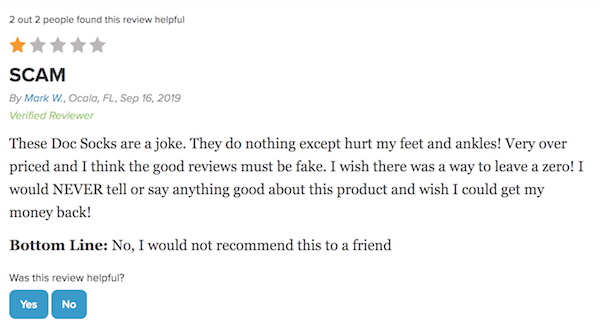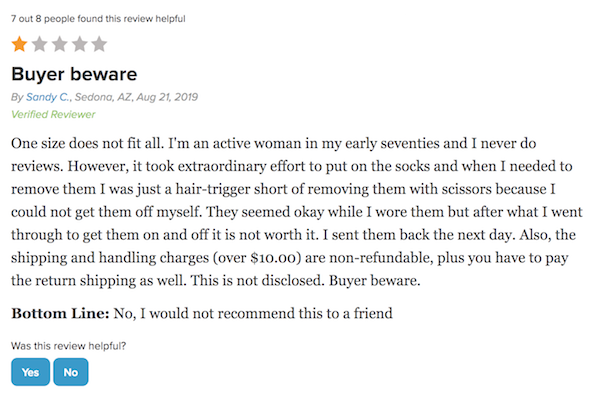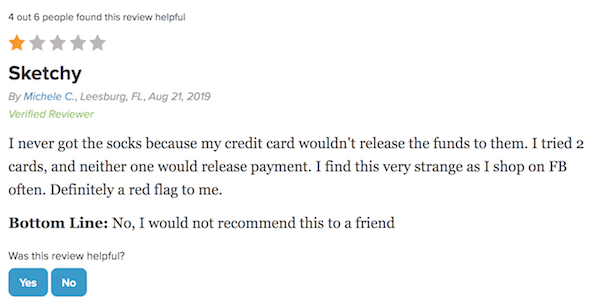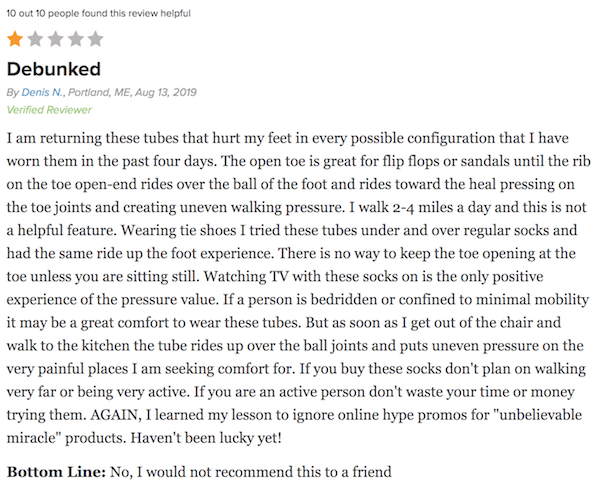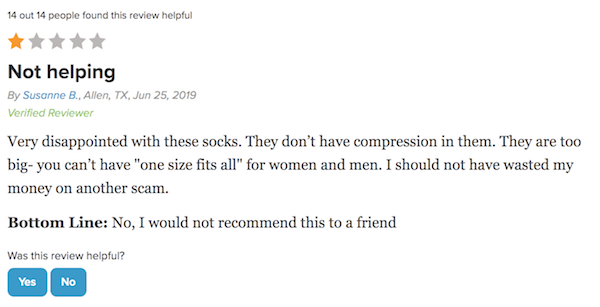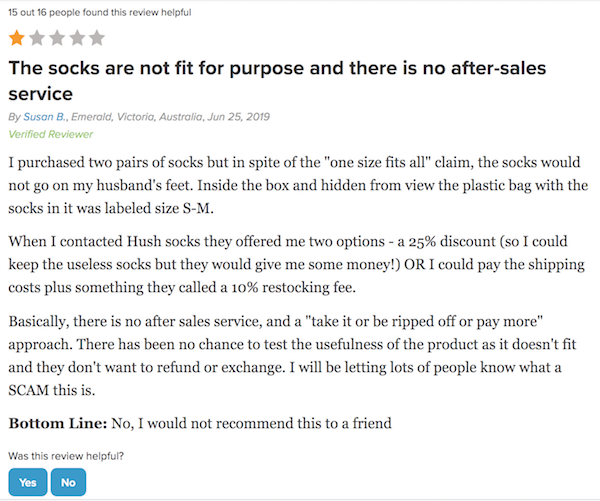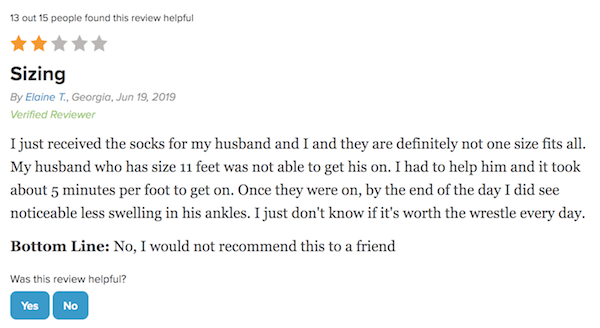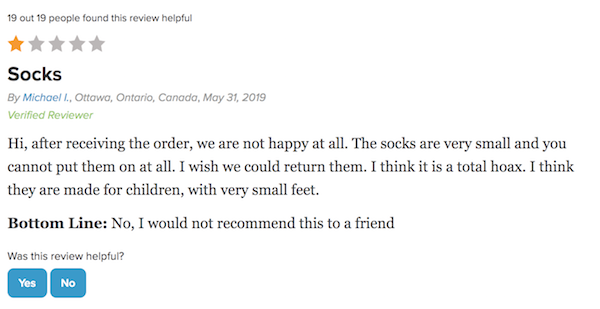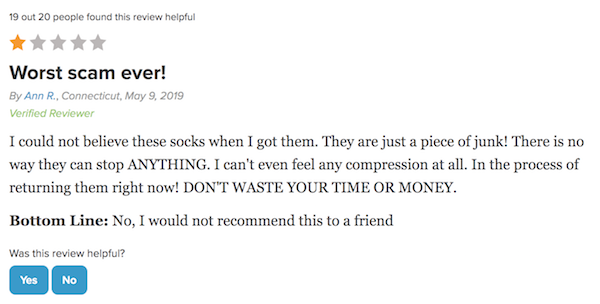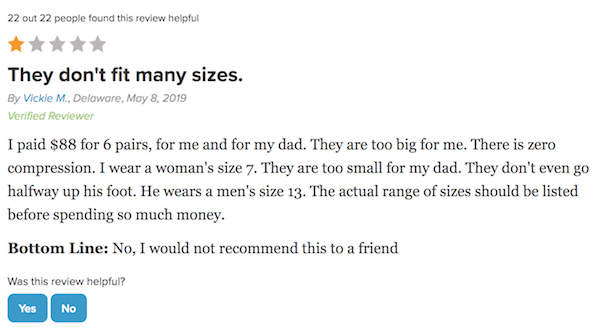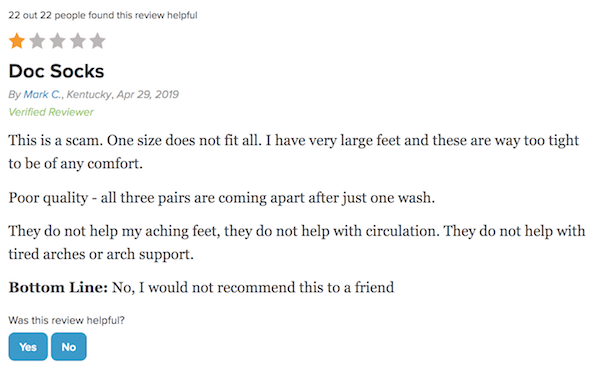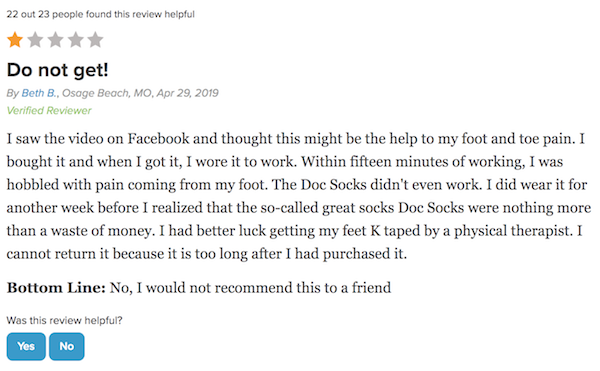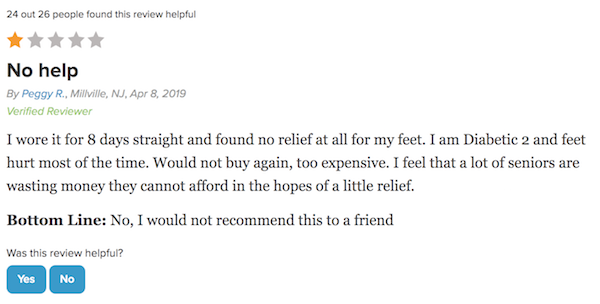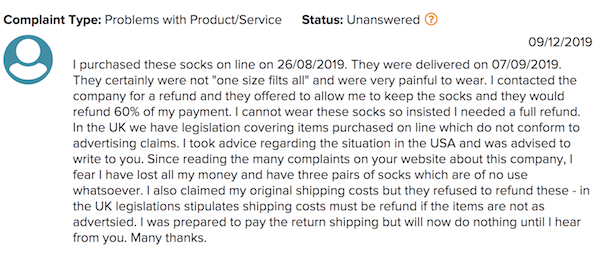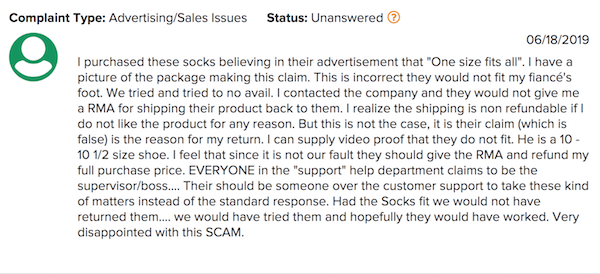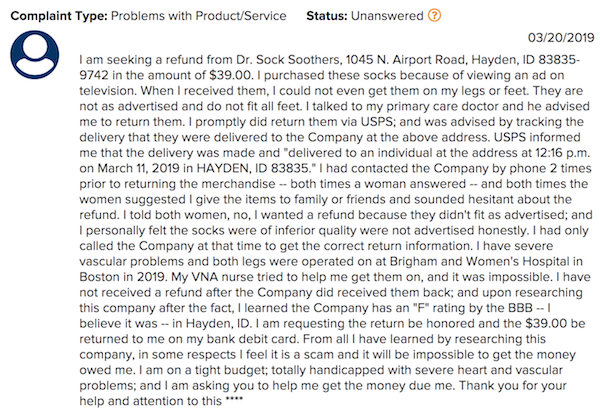 My dear readers, these reviews and description are not even one-third of the complaints available through reliable sources online.
This is the quick summary:
One Size Fits All socks do not work
The durability of the socks is "fragile"
Socks not received but the amount was charged
Customer support sucks (Literally)
Customers' cards were overcharged
The refund policy is a scam
Complaints and negative reviews unanswered
The complaints, 1-star rating and reviews speak for themselves!
This is clearly a scam.
A Little Education on What Compression Socks Actually Do For You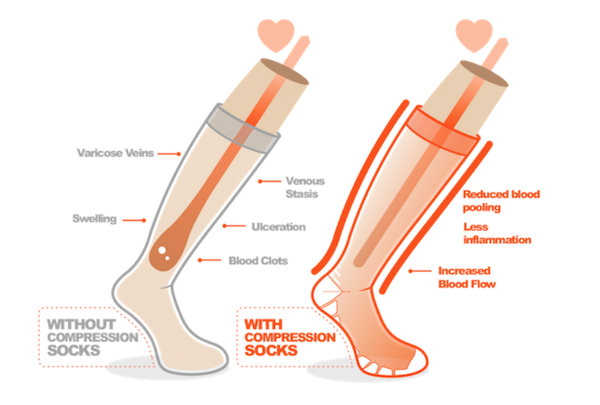 To wear compression socks or any other legwear are medical devices created and developed to treat and prevent unhealthy leg conditions. (This is why they're often called "nursing compression socks") They exert pressure on your lower legs, calves, feet, and ankle to help push blood upward towards the heart against gravity in order to accelerate better blood circulation.
This is why compression socks for swollen ankles are one of the most prescribed garments today.
Poor blood circulation in the legs is the number one reason why mild leg conditions can manifest into severe leg diseases with could be both cosmetic and health concerns.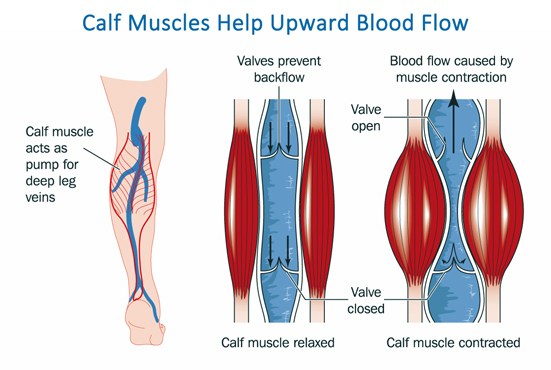 These socks come in 4 standard degrees based on the severity of the leg conditions.
Utilizing these socks that exert too high of pressure may cause your legs and feet to suffocate and the consequence could be blood disruption in the lower limbs; too low of pressure will not be effective in any treatment the patient is looking for. It is important, therefore, to speak with your doctor about the right level for you.
The moral of this statement is even if there were a sock that was "One Size Fits All", there is no way on earth there is a "One Compression Level Fits All" sock.
Wrongful application of pressure can be VERY harmful to health. This is not something you can take lightly. Blood disruption in the lower limbs can cause disruption to the entire body if your heart is unable to get the supply it needs. This means it will not be able to properly distribute oxygen and nutrients to the rest of the body.
This can then cause many other severe health conditions.Yes, my dear readers, a series of a health crises CAN develop from purchasing these wrongfully advertised socks.
Doctor Socks Soothers Review – The Closing Chapter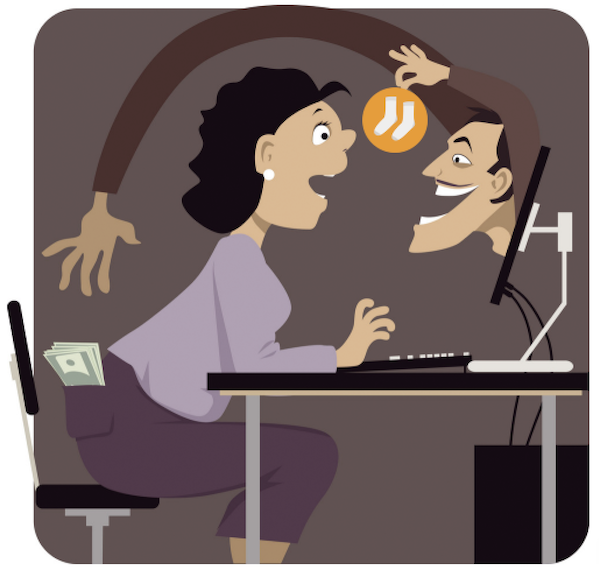 Sorry! A Scam is a Scam! 💁
The take away is that Doc Socks:
To wear these socks and sleeve that does not work
The description does not have a clinical trial to back up their claims on anti-fatigue compression sleeves and the therapy their socks provide
Have a 100% money-back guarantee policy is merely for show
Practice shady rebilling to their customers' credit card
Have customer support that is as good as "non-existent"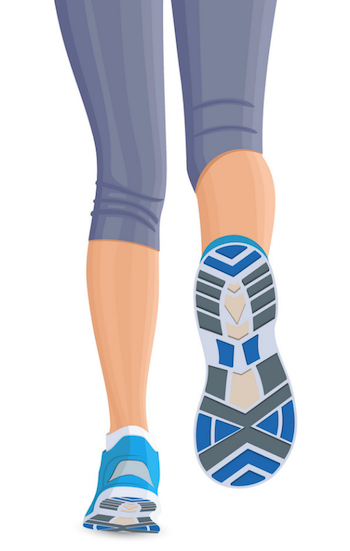 Last but not least, save the hassle of going to Please make one of the entities a link with the following link code: Walmart. If you are looking to wear comfortable real alternatives with 5-Stars quality to help with circulation in the lower extremities or to simply ease the achiness and swelling of the feet and legs, click the link below to see ComproGear Compression Socks.
Most importantly, we REALLY practice an honest money-back guarantee policy with ZERO hassle for our beloved customers! Without a question, it is absolutely our mission to help every individual in the world achieve better leg health, and we cannot be more thrilled to be a part of your journey to wonderful leg health!
Remember: Happy feet, happy life!
Looking to Buy a Comfortable Pair of 5-Stars Quality Sleeve and Compression Socks to wear?
This page last updated December 10, 2022