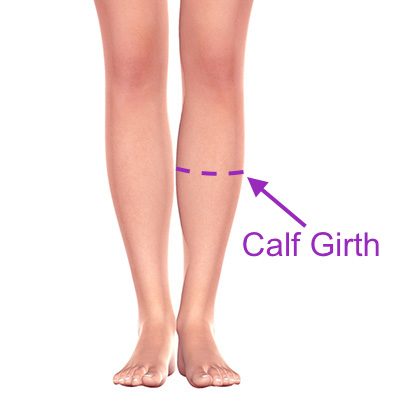 After reading extensively on compression socks, shopping for a pair of compression hosiery, stockings, or other compression gear is the next action. But how easy? Sadly, it's not always easy. Deciding the right compression sock sizes requires proper knowledge!
Finding a guide or deciding the proper way to size compression socks is no easy feat. This is because there are different brands, different leg sizes, and many other factors contributing to the difficulty. To clear the confusion and have a smooth process deciding the compression sock sizes to choose, I've written this guide for you.
There are several subheadings in this guide that will help your understanding of compression stockings sizes. We'll begin from the level of compression you are required to wear, and this knowledge will help us identify the compression sock sizes that you need, compression measuring guide, why measurement is important, who should measure, what complications come from the use of compression stockings and when to consult your doctor.
What Level of Compression Socks is needed?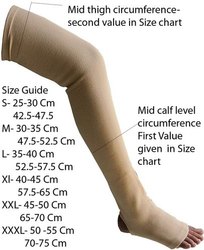 Measurement of graduated compression socks are done in mmHg (millimeters of mercury), and there are five different levels of compression.
A lower number signifies less compression; on the other hand, higher numbers indicate increased compression.
To break it down, check this below:
Compression Level: 8-15mmHg (Mild Compression)
This is the least level of compression
It may relieve or reduce the soreness in aching and tired legs.
It could be useful for minimizing swelling legs, feet, and ankles.
It could be efficient for short trips, mild relief, desk, or stationary workers.
Compression Level: 15-20mmHg (Moderate Compression)
Offers a mild level of compression
One of the most common compression levels used
It might be recommended for those who need relief from swollen ankles and legs during pregnancy.
It is potentially vital for minimizing the risk of DVT (Deep Vein Thrombosis)
It could offer relief and limit the pain that comes from spider and varicose veins.
It's recommended for folks who sit or stand for an extended period, offering smooth blood circulation in the legs.
Compression Level: 20-30mmHg (Firm Compression)
Offers a firm level of compression
One of the most common compression levels used.
It can relieve from moderate to severe spider and varicose vein
It is usually prescribed for folks with abnormal swelling and edema
It can minimize or prevent the risk of deep vein thrombosis in a long haul flight.
It can minimize the immediate drop in blood pressure in the leg that stems from prolonged inactivity and standing.
May be recommended for post-surgery patients.
Compression Level: 30-40mmHg (Extra Firm Compression)
Offers an extra firm compression
It is usually used when under strict medical supervision
Assist in relieving edema, lymphedema, and severe spider and varicose vein
It could provide relief from Acute venous insufficiency
It could also be suggested by a doctor to ease thrombosis or post-thrombotic syndrome
It can be used by post-surgery patients too
Compression Level: 40-50mmHg (Extreme Compression)
The highest level of compression
Recommended by a doctor to patients with severe venous insufficiencies
Individuals with this condition are bedridden patients and lack consistent mobility of legs.
It could be used for post-surgery patients.
Now that you've identified the varying levels of compression and the prescriptions, what's next is determining the size of compression socks that you should purchase.
What Compression Sock Sizes Should You Purchase?
In order to determine this, you would need two essential things:
Measure your leg: On measuring your leg, there are several questions, this include:
Who should measure?
How should it be measured?
What time should it be done?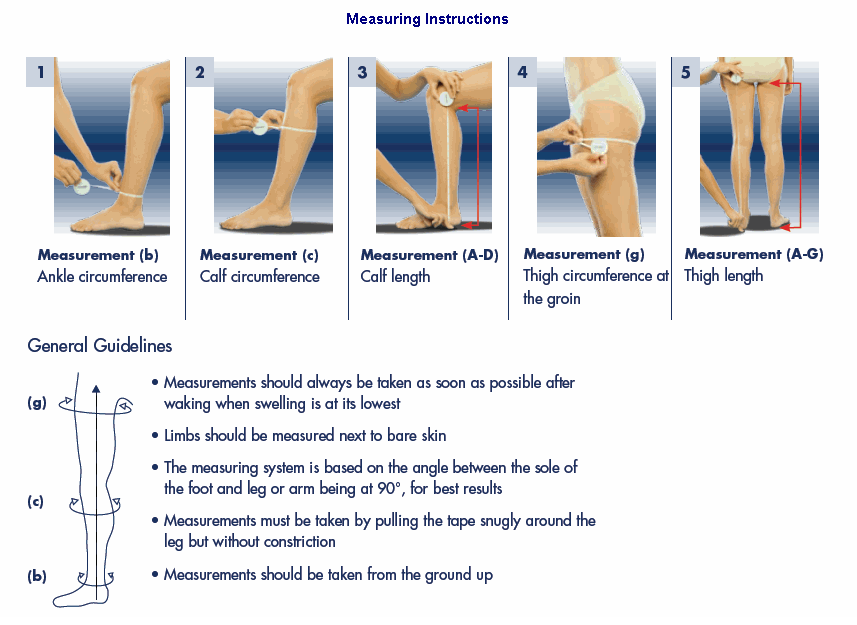 Identifying where the exact pain point is: Identifying the pain point would be useful in deciding if you should only get a tight, sleeve, or stocking. It is essential to note that compression gear can vary when it comes to sizes across brands. Therefore accurate measurement is an incredible step in selecting the best size when you decide to get one for yourself.
Simple measurement of size, weight, and height might determine the dimensions of light compression stockings; most compression socks demand the measurement of the circumference of the leg at a needed point.
It is often required to make use of a tape to carry out the measurements. A string and a ruler would be a handy tool too. The string will be used to take measures while the ruler will be used to verify the lengths in centimeters. So now let's get to the steps:
Step 1: At each circumferential point, the thigh, ankle, or calf, mark the leg with a non-toxic, non-permanent marker.
Step 2: Measure the length of the leg right from the ground to the marked circumference point and take out the measurement and write it down.
Step 3: Search for the narrowest point of the ankle, then measure the circumference and note it down as "Ankle Measurement."
Step 4: Find the largest part of your calf and measure. Write it down as "calf measurement." You might need to measure the base, middle, and the peak part of your calf to determine the largest part of your calf.
Step 5: Pull off your sandals or shoes and measure the whole length of the leg from the ground to the area below the bend of your knee. You must measure the length of your leg correctly since compression socks can be ineffective or uncomfortable when they are excessively long or excessively short. Write down the measurement of the length and dub it "length measurement." If you require knee-high compression stockings, you would not require any measures at all
Step 6: If you need thigh-high compression gear, you will require accurate measurements of your thigh length and circumference of the whole leg. Stick with the procedure analyzed from step one to step four. When you are done with step four, measure your thigh circumference by selecting the widest part of your thigh, often, it is the areas right below your buttocks and measures the circumference. Pen down the length and label it "thigh circumference."
Step 7: Accurately measure the length of your leg right from the ground to the top of your thigh. Write down this measurement. Then compare these measurements with any appropriate sizing chart that you find to determine the size of compression that you need.
Of course, it must be noted that sizes may differ due to differences in brands of compression stockings available. But do keep in mind that individual manufacturers of compression stockings have their compression socks sizing chart. For instance, a medium-size in a brand might not be the same in another firm. Some brands offer petite lengths, while some do not. That is why identifying your measurement is undoubtedly a vital step to get the right compression sock size.
Now let's analyze the typical compression stockings size chart

Ankle circumference: This is between 7″ – 10″ Inches
Calf circumference: This is between 11″ – 17.5″ Inches
Men's small: This is between 4″-6.5″ Inches
Men's medium: This is between 7″-9.5″ Inches
Men's Large: This is between 10″ -12″ Inches
Men's Extra Large: This is between 12.5″ -14″ Inches
Women's Small: 5-7.5" Inches
Women's Medium: 8-10.5" Inches
Women's Large: 11-13.5" Inches
Women's Extra Large: >14" Inches
Wide Fit Compression Stockings Size Chart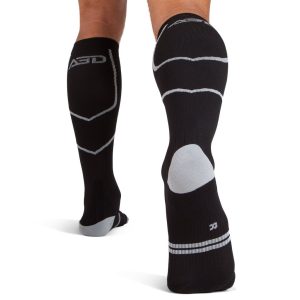 Ankle Circumference: 10-13″ Inches
Calf Circumference: 14-23″ Inches
Men's Wide fit Medium: 7-9.5″ Inches
Men's Wide Fit Large: 10-12.5″ Inches
Men's Wide fit extra-large: 13-15.5″ Inches
Women's Wide fit medium: 8-10.5″ Inches
Women's Wide fit Large: 11-13.5″ Inches
Women's Wide Fit Extra large: >14″ Inches
Whenever you are choosing from the compression sock sizes, essentially measure the circumference of your calf and circumference of your ankle. Well, what if your measurement falls in between sizes, what should be done?
Try smaller sizes closer to you; don't opt-in for sizes higher than you. Undoubtedly, the comfort and benefits of a compression sock will be improved if you are on the correct size or something near it.
Incredibly, you can efficiently do better by enhancing certain aspects of your life. These aspects include things like exercise, getting proper clothing, posture, and wearing the right level of compression socks.
Additionally, since compression is usually firm around the ankle and reduces up the leg, it would be essential to seek the size that fits the circumference of your ankle if you are in between two sizes. Often, the foot of the stockings might be too small or large, but you will be able to identify this immediately you are wearing the stocking; nevertheless, if the foot size is three times lower, not larger than your standard size, opt-in for socks with an open toe. But who should measure, and when should it be done?
It is often advisable that you let trained medical personnel measure for you. Regardless, it might be a necessity to personally determine your size yourself if you will be purchasing it online, or you just desire to make adjustments to the one you currently have after undergoing a weight loss management or you gained weight recently.
Also, regarding when measurement should be taken, it must be noted that measure must be done early in the morning, at that time; the leg is at its smallest size.
Having seen this, are there more reasons for measuring before you purchase compression stockings? Yes! Let's examine them.
Why You Must measure Your Leg Size Before Purchasing Compression Socks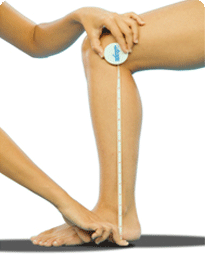 Selected compression socks must adequately fit. Else, it won't maximize the success of the therapy. And since most manufacturers have varying sizes, without the measurement, it would be challenging to figure it out. Selection will be a whole lot easier when you have your measurement handy. Also, your knowledge of your size might mandate the use of custom made stockings.
Incredibly, compression socks are safe and come with a relatively low rate of side effects. Nevertheless, when compression stockings are incorrectly worn, they can result in severe complications and add to a person's discomfort. That is another reason why correct measurement is required.
All the complications that come with the application of compression socks can be avoided if you get the right size and stick to the procedure of wearing it. If you notice any discomfort while wearing compression stocking, you might ask a trained professional to retake the measurements. You could even consider replacing a lower compression level to a different one.
However, if you develop an acute allergic reaction to the material of your compression stockings or you experience pain, swelling in the leg, oozing, pain and skin damage, consult your doctor for immediate help.
When a compression sock isn't prescribed for you by a therapist to intervene in a clinical condition, it could be easy to stop wearing them, nevertheless if your doctor specifically prescribed compression socks for you, before you decide to stop wearing your compression socks, consult your doctor.
Many conditions could lead to non-adherence to the wearing of compression socks. These could include skin irritation, appearance, cost, and discomfort. All these could be solved by replacing the stocking material and lowering the level of compression. Are you bent on purchasing compression socks that could be expensive? Obtain a prescription from your doctor. On the flip side, if you are glued to the appearance of your compression socks, discuss it with your doctor too. He might offer you a better one and who knows, he could give another prescription.
Conclusion
I'm profoundly convinced that this guide has satisfactorily handled any questions you have regarding compression sock sizes. Most importantly, before you purchase compression stockings, be sure that you will have your measurements with you.
While this guide, as a sensitive and incredible part of compression stockings is to be considered as a fundamental review, it must not be viewed as an alternative for medical advice.
Instead, it must be viewed as a tool to smoothen your consultation with your doctor. If you are buying online, ensure that it is from a reputable firm and that they have customer care support in case you want to make further inquiries.