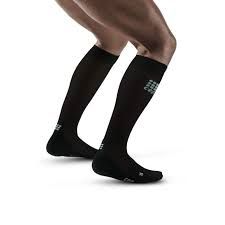 Yes! There are compression socks that are designed for men, and men alone! Women are not the only ones who need relieve from aching legs, varicose veins, or other leg health problems. It's about time men put aside their "Ego" and protect their leg health and general well-being. In most cases, women are comfortable wearing compression socks as such designs are already incorporated in their everyday clothing. For men who are still finding it difficult to wear these socks, this article will encourage you to adopt the idea. Improve your state of health with a pair of 20-30 mmHg men's compression socks.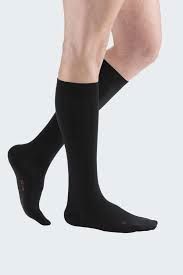 What are Men's Compression Socks?
Generally, compression socks are designed with the science of graduated compression in mind. These socks are made of a synthetic blend of materials woven in a way that allows specific and directed pressure level to be placed on the muscles, joints, and skin it covers. This makes the blood and fluid circulating around the vessels that the socks cover to be more guided and move efficiently through the body.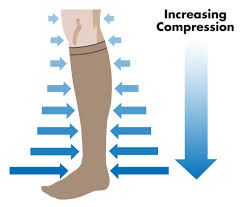 As these socks promote blood flow, toxins are removed from affected areas, and then discarded before being filtered throughout the appropriate organs. Also, nutrients and oxygenated blood will be carried to areas that need them.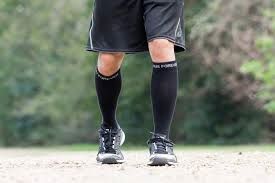 20-30 mmhg men's compression stockings are specially designed to give men some boost in their little lower-limb blood flow. If you wear the right level of compression socks, you will enjoy comfort, high quality, and extra support for your hard training, long flight, or leg health. These socks will aid your blood flow from your hips to your toes using graduated compression, hence easing your movement and increasing your comfort.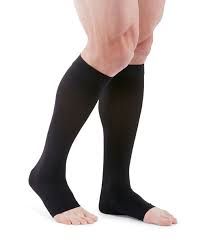 20-30 mmhg compression socks come in different styles, including anklet socks, work socks, dress socks, trousers socks, and sport performance socks. Made with a wide range of fabric like microfiber, cotton, and wool, men's compression socks are designed to offer maximum comfort to men of different classes and professions. If the socks are made with breathable material, they will easily and quickly absorb moisture, which will make them dry faster. You can wear compression socks all day long and your feet will be comfortable and dry when you take them off.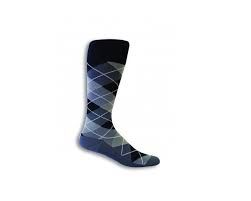 Advantages of Wearing Men's Compression Socks
The support you will enjoy from 20–30 mmhg compression stockings is enough to help to prevent and treat different venous disorders. Here are some of the different aspects wearing men's compression socks can be an advantage: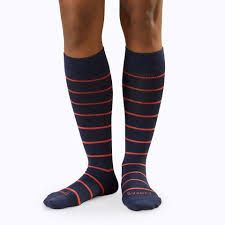 Helps to treat venous disorders: Men who are suffering from venous disorders usually experience improper vein valve functioning in the lower extremities. This can result in symptoms like skin changes and swelling. A viable way to treat this is by getting men's compression socks 20-30 mmHg.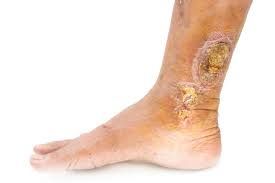 An advantage of wearing these socks when you start experiencing symptoms of this venous disorder are many. As these socks help to reduce inflammation and swelling, they also reduce the appearance of varicose veins on the skin. While the compression socks encourage blood flow to the legs and from the legs to the heart, the medical condition will improve drastically.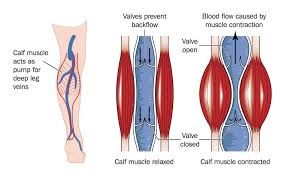 Minimizes risk of blood clots: There are a couple of factors that can increase your risk of having blood clots. These factors include improper circulation of blood, surgery, and certain medications. You could be saving your life by wearing men's compression socks 20-30 mmHg because they help to prevent formation of blood clots. As you wear your compression socks, they will enhance blood circulation which minimizes the risk of having blood clots.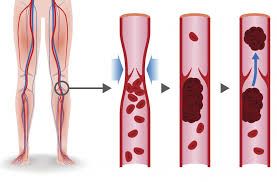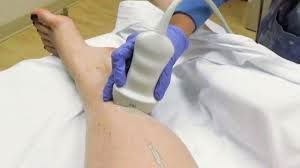 Provides support for the muscles and joints: Men's compression socks are great for all men, whether you are very active or having issues resulting from aging joints and muscles. The socks can provide the much-needed support for the muscles and joints that are within your limbs. They compress some of the muscles and joints in your legs, so that you can enjoy more support in going about your daily activities like walking, sitting, running, or working. Apart from assisting the joints and muscles to move accordingly, the compression socks also help to align them so they move in the proper range of motion.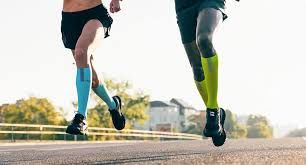 More so, the graduated compression these socks provide ensure you have optimum blood circulation. This fuels the muscles and joints in such a way that they can easily move or be repaired.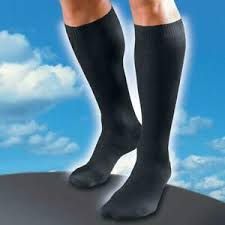 Can promote comfort: Comfort is important to everyone. Compression socks can help to increase the comfort of your limbs by improving blood circulation. You will need this comfort if you sit for too long while traveling or working. It is important for your circulation to be smooth as immobility can cause discomfort and swelling.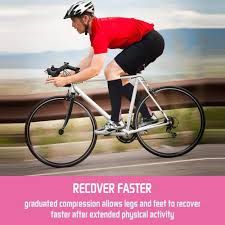 Quickens recovery: Most of your body weight is borne by your legs and feet, especially if you spend most of your time on your feet. Therefore, you need to give your legs and feet a lot of time to recover and repair from time to time. Since men's compression socks 20-30 mmHg help to increase circulation, blood cells that are tired and lacking oxygen and nutrients, will be carried away from the overworked feet and legs. While this is going on, nutrient-rich and oxygen-rich blood cells will flow into the lower limbs. Compression socks aid this process to quickly repair muscles, and ensure your legs feel less tired even after strenuous exercise. Your legs will be more refreshed when you are ready to get back on your feet.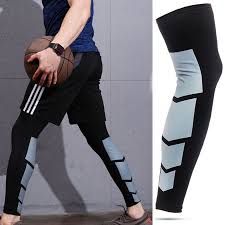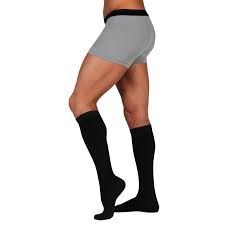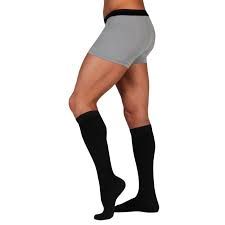 Protects the limbs: Compression socks offer additional protection for men's legs, especially if you work in a thorny area or a you are a trail runner. People with diabetes, for instance, are more prone to feet and leg infections. Such people need something to protect their legs from nicks, bumps, or any other thing that may cause infections. Compression socks for men can offer protection from elements of weather and climate, as well as other external factors. They will ensure your limbs stay warm in cold weather, and protect your legs from the direct ultraviolet rays of the sun in the summer.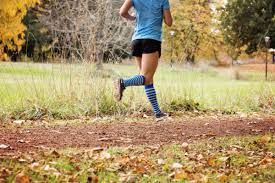 Increases stamina during exercise: Men who exercise regularly need compression socks. The design of these socks allows more oxygen to get to the limbs, which helps to reduce the need for lactate as an energy source. While working out, the limbs will need more oxygen, and men's compression socks 20-30 mmHg is a perfect way to provide your muscles with the oxygen and energy they need.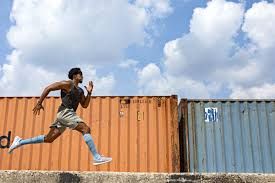 Improves overall health and well-being: Having optimum blood circulation and limbs that are functioning optimally shows that your overall health and well-being will also improve. Men's compression socks 20-30 mmHg offer maximum benefits and get you started in a way that focuses on improving your circulation. With improved circulation, the body will deliver all the necessary nutrients as well as blood cells to all the right body parts such as your legs and other parts of the lower extremities. This will give your organs the necessary sustenance that will make them function very well.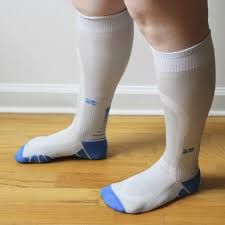 Improves circulation: Wearing men's compression socks can also help to boost circulation of fluid and blood throughout the body, with focus on the legs. The boosting of circulation in the legs also helps to signal the body to optimally circulate blood throughout the body. Blood, as well as lymphatic fluids, will be pumped to all the right places, which can result in a positive ripple effect. This ripple effect can improve circulation around the body.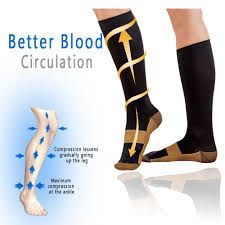 Reduces leg swelling: Many men are known for smelly feet. This can be caused by a lot of factors including lymphedema, ankle injury, muscle tear, recent surgery, or painful symptoms of swelling. By wearing men's compression socks 20-30 mmHg, one of the advantages you stand to enjoy is a better chance to reduce leg swelling. Compression socks help to carry built-up fluid in the limbs away from the areas that are affected. This, in turn, will reduce the swelling and make you more comfortable.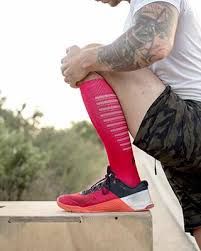 Reasons for Wearing Men's Compression Socks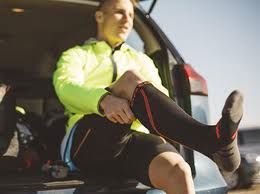 There are numerous reasons why men should wear compression socks. One of the most common reasons is because of medical complications such as diabetes and lymphedema. They are also helpful when a man suffers from problems relating to poor blood circulation. If your legs always feel tired and achy, you need a pair of men's compression socks. If you travel often, men's compression socks will help to prevent issues like the economy class syndrome. Men who are involved in physical activities also need to enhance their performance. Most male athletes and runners are more comfortable wearing compression socks while playing or training, especially when recovering from injury. During physical activities, men's compression socks 20-30 mmHg will provide support for key muscle groups, and at the same time, increase the flow of blood and oxygen. As a result, you will experience less muscle soreness, recover faster after tireless exercise, reduce injury, and have healthier legs.
Women with wider calves can also go for men's compression socks 20-30 mmHg. There are also styles that are not so traditional and can be worn to any occasion.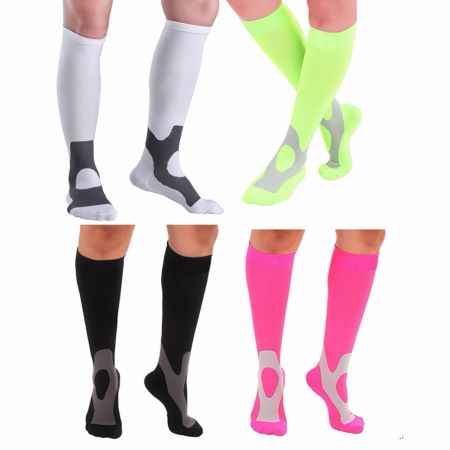 Overview of 20-30 mmHg Men's Compression Socks
Men's compression socks with a compression level of 20-30 mmHg are, without mincing words, the most readily available compression socks. They are great for treating different medical problems and are to be used intraoperatively. Offering first medical grade compression, these socks come in different styles and designs that will look great on any man. The firm compression of 20-30 mmHg men's compression socks are great for managing leg swelling, spider veins, varicose veins, long distance travels, sports, and post-surgeries. You can also choose to wear them just to improve your overall leg health, especially if, by virtue of your job or circumstance, you are prone to having circulation problems in the legs.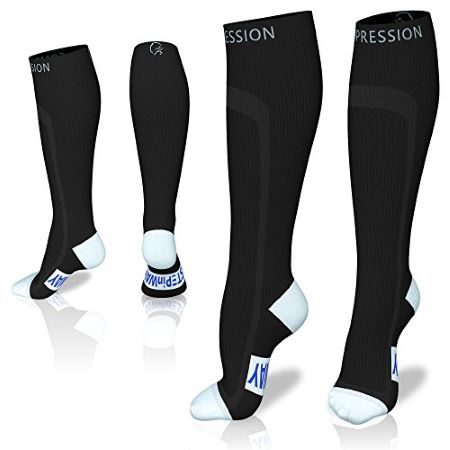 Inasmuch as compression socks with a compression level of 20-30 mmHg offer many advantages, they can also be very lovely. ComproGear ensures there are compression socks for every man, since men are quite sensitive about wearing these highly beneficial socks. Here are some of the styles: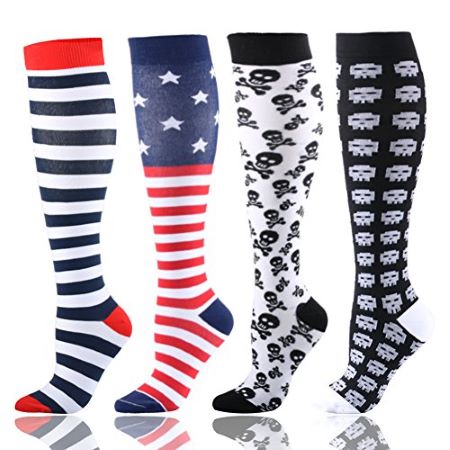 Fashion styles
Sports sock styles
Dress sock styles
Opaque styles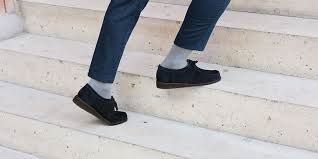 Others are:
Ankle-high
Knee-high
Thigh-high
Panty-house
Health Benefits of 20-30 mmHg Men's Compression Socks
The benefits range from improving the return of venous blood to reducing swelling in the legs. These socks provide graduated compression with different degrees of compression that decreases upwards from the ankle. Here are some ways men's compression socks 20-30 mmHg can benefit your health: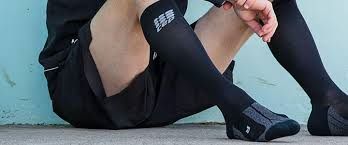 Diabetes: If you have diabetes, one of your symptoms will be swollen legs. Another symptom is that you will be very prone to injury and infections. To reduce the swelling of your legs, you have to wear men's compression socks 20-30mmHg, which is the perfect tool for treating this health who. What these socks help to do is improve the sensitivities of the nerve so as to prevent swelling. On the other hand, they protect the legs from cuts and bruises in order to make sure you do not get infected.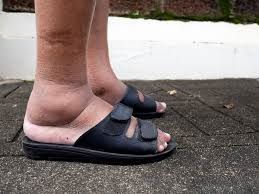 Recovery from surgery: Men's compression socks 20-30 mmHg are also used to minimize the risk of having blood clots after a surgery. Immobile patients who have just gone through a surgery are at risk of having blood pool in their legs. Staying immobile for a long time can make it very difficult for blood to circulate. Due to prolonged immobility, the veins may also need added support to help pump blood to the heart. Men's compression socks with compression of 20-30 mmHg offer gentle compression that will improve blood flow back to the heart from the legs.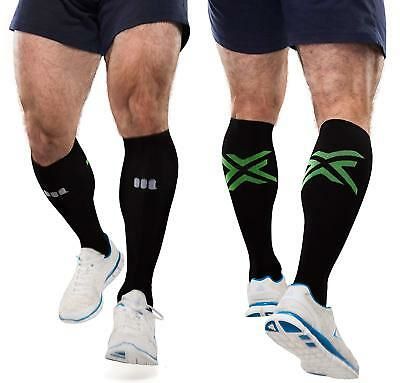 Edema: Edema is a very painful condition that makes the areas around your calf and ankle to swell. This condition also makes the skin look shiny and stretched. Most people cannot walk with edema because of the intense pain. Men's compression socks 20-30 mmHg can help to improve blood flow in the legs and prevent build up of fluid in the tissues. As a result, the swelling in the legs will reduce and you will have relief from the pain.
Lymphedema: Lymphedema is a medical condition that causes retention of fluid and swelling of leg tissues. As a way of treating this condition, you will have to drain the excess body fluid, apply bandaging, embark on skin care, then be consistent with your physical therapy. In order to increase the effectiveness of this treatment, you should also use men's compression socks 20-30 mmHg. Using a pair of compression socks will also help to prolong the results of the treatment and prevent reoccurrence.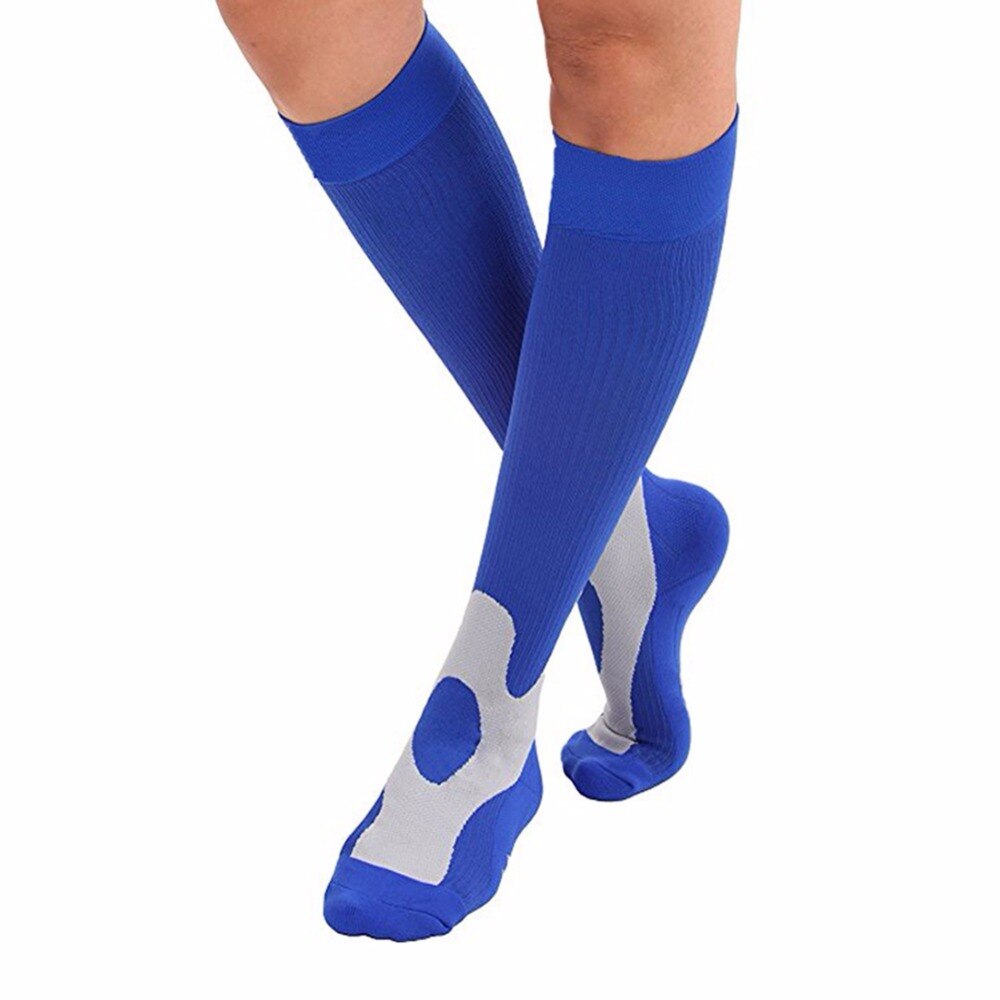 Cardiovascular disease and other heart defects when traveling
Economy class syndrome is one of the challenges of embarking on long flights, especially if you travel often. Sitting in one place for far too long slows down the flow of blood in the legs and could cause cramping as altitude changes. This will cause clots to form in the lower extremities, thereby putting you at risk of having stroke or dying.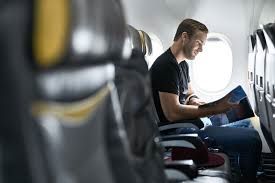 Men who already have a heart defect or some form of cardiovascular disease are more prone to having stroke on a long flight. You should, therefore, not ignore any sign of leg swelling in their ankles when they are flying. Also, you should not forget to go on board with your medication and ensure the airline officials are aware of your pre-existing condition before you board a flight. Additionally, you should always use men's compression socks 20-30 mmHg to help enhance blood circulation and push oxygenated blood back towards the heart.
Conclusion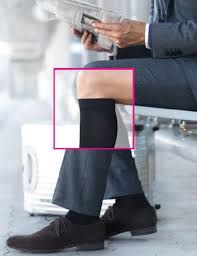 Men's compression socks 20-30 mmHg are great for men at home, on the field, in the office, or on a plane. Many men are too proud to wear men's compression socks 20-30 mmHg even when they have medical conditions that only these socks can help. You can find a design that fits your lifestyle and personality and ComproGear has got you covered. You can choose the best for your unique needs and maintain healthier leg health.