What is Egg Protein Powder?
If you know anything about eggs, then you know that they are packed with protein. In our fast-paced world, it can be hard to eat a balanced diet, and that can mean that you are not getting enough protein. The solution can be egg white protein powder.
While eating lots of eggs can give you lots of protein, it also supplies you with lots of fat too (thank you very much, yummy yolks). And, eating egg whites alone is no fun, so many people are turning to egg protein powder to supplement their diets.
In essence, egg protein powder is the isolated protein taken from eggs and made into a powder. This powder can then be added to your diet in a variety of ways. A classic way to use the powder is to add it to your shakes, especially after a workout. You could also add it to your oatmeal, salads, soups, stews, and even eggs. As the finished powder does not have an overpowering taste, you can add it to almost anything.
The best part is that this powder is all-natural.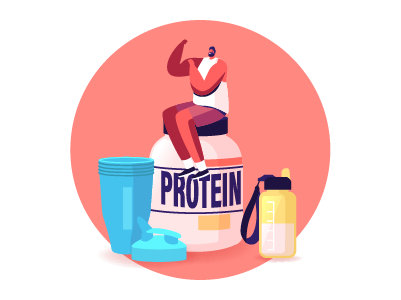 How is Egg White Protein Powder Made?
Most egg white powders are made in the same way, with the main difference being whether or not they are stored liquified for a period of time and what, if anything, is added to the protein powder.
Everything starts with separation. The eggs are cracked open, and the whites are separated from the yolks. There may be times when you can find egg protein powders that are made with both the yolk and the white, but you will mainly find a powder that is created exclusively with the whites.
The whites of the egg are then pulverized and dehydrated. The egg whites are either stored in this state or liquified for easier storage and shipping. At this point, additives can be added to the liquid or powder, depending on the use—the less processing that takes place, the better.
Before being sold, the egg whites are turned back into powder form (if they were liquidized), and that powder is yours to use as you wish.
Why Use Egg White Protein?
We all know that protein powder can help you to achieve a balanced and healthy diet, especially if you are looking to build muscle or are lacking protein sources, but why, specifically, should you use the best egg white protein powder?
A Good Source of Protein
As you would expect, egg protein powder is high in protein, but that is only because eggs are such a good source of protein. In fact, when you take all protein-rich foods, eggs are right there near the top. And not only that, but they are also rich in amino acids, great for muscle health.
In essence, eggs pack in more protein per gram, and the protein is high-quality.
Performance Booster
Not all protein powders are created equally, and studies have shown that egg white protein can give better strength and resistance performance compared to other protein sources.
Dairy-Free
The main alternative to egg white protein powder is whey. The main problem with whey is that it contains dairy, and many people cannot consume dairy. Step in, egg protein, to take care of that problem by not having any dairy.
Low-Calorie
While eggs can be high in calories, those calories are mainly contained in the yolk. By using only the whites of the egg, this type of protein powder is packed with protein and low in calories too.
If you are trying to lose weight, or want to add to your diet without adding additional calories, then egg white protein powder is perfect.
Low in Fat and Cholesterol
While fats are an essential part of your diet, and you never want to cut them out entirely, you also don't want to consume too much.
Again, the fat and cholesterol are mainly contained in the egg yolk, so you can add egg white protein powder to your diet without worrying about adding extra fat and cholesterol.
Is Egg White Protein Powder Safe?
The main concern with using egg white powder is all of the risks that come with cooking raw eggs. So, the question is, is egg white powder cooked? And, is it safe to use raw?
To put your mind at rest, know that egg white powder is pasteurized before it is sold. This means that the powder is heated to a minimum required temperature to kill off all the nasty bacteria that can often live in eggs.
So, egg white powder is fine to be used in powder form. Feel free to add some water and use it, or add the powder to your other dishes, cooked or uncooked. If you are ever worried about the egg protein powder, then go ahead and cook it into a dish.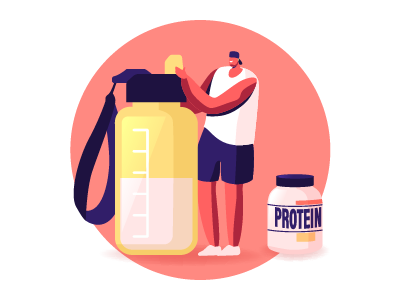 Best Egg White Protein Powders

1. Jay Robb Unflavored Egg White Protein Powder
Low carb, keto, vegetarian, gluten-free, lactose-free, sugar-free, no fat, no soy, non-GMO, and no artificial flavors. Is there any diet that this cannot be used with?
Each bag contains 24oz of unflavored egg white protein powder, and that means that you can add it to anything without even knowing it is in there, a perfect way to get your much-needed protein. Each serving contains 24g of protein, zero fat, and 4g of net carbs.
The eggs used come from chickens that are not treated with growth hormones, and the protein is flash pasteurized for extra safety, so you don't need to worry about using the powder without cooking it. The egg white protein powder is designed to build muscles faster than other protein powders, and, along with nourishing your body, the powder will support your metabolism too.
Great for all the family, this powder is safe for adults and kids and can help everyone achieve a balanced diet. Blend it with juice or milk, use it in smoothies, or add it to anything else for a nutritious addition to any meal.

2. Judee's Egg White Protein Powder
If you are on the keto diet and are not getting enough protein, then you are going to love this egg white protein powder. Each serving of powder has 20g of protein and only 100 calories, and each bag contains 40 servings.
The powder instantly dissolves in water, making it great for adding to any liquids, allowing you to add it to shakes, smoothies, soups, and almost anything else. The powder is naturally low in carbs, so you can consume it on the keto diet without having to worry about coming out of ketosis.
The powder is unflavored, gluten-, soy-, dairy-, and nut-free, and is also made exclusively in the USA. You also have a standup resealable pouch to preserve freshness, and you can have it sitting on your countertop for easy use.

3. Source Nutrition Egg White Protein Powder
If you are looking to build muscle, then this protein powder is going to help you to get there. Shakes are great after your intense workout at the gym, and this powder comes in a delicious vanilla cream flavor, though there are others to choose from too, such as milk chocolate and strawberry. Give your bland shakes a flavor and protein boost by adding a scoop of the powder.
The powder is naturally flavored, so you don't have to worry about unnatural chemicals and additives, and there are no sweeteners, too, so you know exactly what you are getting in your shake, without having to worry about unnecessary calories.
This product will give you the protein boost that you need to help build lean muscle, having the 9 essential amino acids that the body cannot produce on its own and that are integral to increasing strength.
Next time that you head to the gym take a dose of this egg white protein powder along with you.

4. MRM Natural Egg White Protein Powder
If you are looking for a natural dietary supplement that can give you an extra dose of protein, then look no further. Yes, this powder is vanilla flavored, but know that everything that is added is all-natural.
Each portion (23g) has the protein-boosting power of 6 egg whites, taking all the protein of eggs with none of the extra fat and cholesterol. The powder is low fat, packaged with essential amino acids and sulfur, and paleo-friendly. Yes, those cave people of an era gone by might have consumed protein powder if they had the know-how to craft it, but they certainly consumed eggs as part of their diet.
The egg albumen in this powder, along with the specific Digest-All blend, helps to support your digestion and helps you to absorb nutrients. You can also use this delicious blend to support lean muscle gain too, improving your bodily strength.
A wonderful powder to use as part of a balanced diet.

5. Smart 138 Egg White Protein Powder
If you want to go as natural and additive-free as possible, then opt for the egg white protein powder that only has two ingredients. You have, of course, a ton of egg white, and you also have lecithin. You will find lecithin in almost all egg white powders, and it is used as an emulsifier while also being good for your body.
With over 99% of the bag made up of egg white powder and no added flavors, you have an unflavored powder that can be added to anything and incorporated into your diet in a variety of ways. Add it to your smoothies and shakes, or even add it to your coffee!
Each portion gives you 27g of pure protein with no gluten, soy, or dairy. Perfect for the keto or paleo diet, what you see is what you get with this protein powder.

6. Bulk Supplements Egg White Protein Powder
You can mix up your routine with this protein powder, starting with a 15-gram dose and moving up to 30 grams when you need it. You can also vary the dose on a day to day basis, depending on what your needs are.
This makes the powder perfect for someone who has a varied routine. The supplement is great for supporting and building muscles but works equally as well with aerobic exercise and in aiding recovery. Just adapt the dose to your needs, taking as much or as little as is needed.
Rich in vitamins and minerals, this is a fantastic protein powder for helping you to maintain a daily workout routine and a balanced life.

7. Healthy' N Fit 100% Egg Protein
If you are looking to bulk up or just want to use the same protein powder that thousands of others use for building muscle, then this protein powder has been tried and tested.
The powder is naturally flavored to give a rich chocolatey taste, perfect for your smoothies, and is naturally sweetened with stevia, so you don't have to worry about added processed sugar. The protein is easy to absorb and gets started on building lean muscle as soon as you consume it. There is zero lactose, sugar, artificial sweeteners, dyes, fat, and cholesterol. There are also no GMOs, and no chickens that are used for their eggs are given any growth hormones.
This is a natural and pure powder that comes backed by technology. If you are looking to bulk up, then this might just be the best powder on the market.

8. Now Sports Egg White Protein
This family-owned and operated business has been in operation since 1968, and all of the protein powder is packaged in the US. The NPA A-rated GMP certification means that every aspect of the manufacturing process has been examined, from the testing to the final production, and this protein powder has passed with flying colors.
Each serving contains 20g of protein, naturally flavored to give a creamy chocolate finish, amazing on its own or as part of a shake or dessert, and the high quality means that you are getting first-rate protein along with all the amino acids that come along with it.
An excellent addition to your diet if you are looking for a homegrown brand that you can trust.

9. Muscle Egg Protein Powder
There are a variety of flavors available, all packed with the goodness of egg whites, but that is not what makes this protein powder delicious and special. What elevates this protein powder above others is the manufacturing process.
There are no fillers or high-temperature drying. Instead, a freeze-drying process is used to super-cool the eggs and remove all of the moisture. This helps to lock in the freshness, flavor, and nutrition, and it also means that it lasts a lot longer too, while remaining fresh and delicious.
With the flavor locked in, this is a great protein powder to take traveling with you without having to worry about storage. When you are ready to use it, simply add water, and use it however you would use eggs.
10. Gaspari Nutrition Proven Egg
Want to add some pure egg white protein powder to your diet, but want something a little different? Want to ditch the bland powders and invest in something that is packed with protein and flavor? Well, prepare for a salted caramel or chocolate explosion when you choose this powder (depending on which flavor you choose).
Not only is each portion packed with 25 grams of egg white protein, but it is packed with flavor too. Mix up the powder by itself to get a drink that is packed with salted caramel flavor and is naturally sweetened with stevia. Each portion will give you half of your recommended protein for the day with almost zero carbs and no added fat.
The powder is amazing on its own, and you can use it to elevate your baking and desserts too. Who said that egg white powder had to be savory? Finish your workout or exercise and kick back with a freshly made muffin or cake packed with this protein powder. Of course, be sure to use natural ingredients and sweeteners in your baking, too, to maintain a balanced diet.
Egg White Protein Powder vs. the Rest
When it comes to getting much-needed protein, there is a multitude of options. Obviously, you can get it from your food, but it is often hard to get enough, especially if you are on a special diet. So, many people turn to protein powder.
The question is, how does egg white protein powder measure up to the other contenders?
Egg White vs. Whey
Both egg white and whey contain the 9 essential amino acids that the body needs, and they are also both complete proteins, which makes them the top two protein powders out there. So, which is better?
Both are pretty similar, but egg white powder is more allergy-friendly, so consider egg white protein powder if you have allergies to dairy. Egg white powder is also cheaper than whey, which, in our book, is always a great motivator. You'll also find that egg white powder is also lower in calories, perfect if you are watching your intake.
While both are similar, we recommend choosing egg white protein powder.
The Other Contenders
Talk to most people about protein powders are they will likely respond with something about egg whites or whey. These two types of protein do dominate the market, but there are some other options out there, even if they don't quite measure up.
Casein powder comes from milk, so it's not a good addition to your diet if you are lactose intolerant. This powder has been shown to be very effective in overweight men, so consider it as part of a weight-loss routine.
Pea protein is completely plant-based, so a great addition if you are looking for a vegan alternative to egg white. Not a lot is known about pea protein, but it has been shown to lower elevated blood pressure levels.
Hemp protein is also plant-based and is rich in omega-3 fatty acids. The main drawback of this protein is that it has low levels of some amino acids, so it is not considered a complete protein.
There are some other protein powders out there, such as brown rice protein and mixed plant proteins, but they are incomparable to egg white and whey.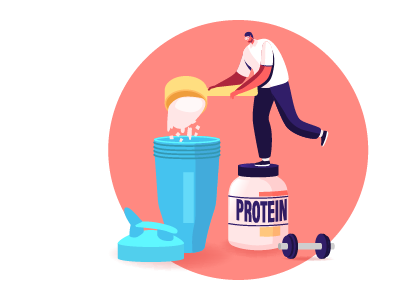 How to Make Your Own Egg White Protein Powder
If you'd rather go down the homemade route, then you can make your own egg white protein powder at home. That way, you will know exactly what is in the powder. Spoiler alert, it will be 100% egg white.
Step by step guide:
Boil a dozen eggs until they are hard-boiled.
Preheat oven to 130F.
Run the cooked eggs under cold water and peel them.
Separate whites from yolks (you can use the hardened yolks for whatever you wish).
Break up the egg whites into small pieces and arrange on a non-stick baking tray, making sure to space the pieces out.
Bake for 8 hours.
Take out the oven when they are crisp and resemble pieces of toffee.
Let cool.
Place in coffee grinder or food processor and grind until you have a fine powder.
Store in the refrigerator for up to a month.
Use as you would use store-bought protein powder.
Who Should Use Egg White Protein Powder?
In truth, the answer is, everyone!
Well, that's not strictly true.
If you are getting enough protein through your diet, then you don't need to add any extra. If you are not getting enough protein, or need to add more protein for a specific reason, then you should wholeheartedly add egg white protein to your daily routine. Let's take a look at some of the reasons to add it in.
Maintain Weight
Egg white protein can help you to lose weight and then maintain your weight once you have lost it. Protein-rich foods help you to stay full for longer, leading to less snacking and smaller portion sizes. Along with that, healthy protein, and a healthy diet, can help to lower blood pressure and cholesterol. And, seeing as you are only consuming the egg whites, you are not adding the cholesterol that is packed into egg yolks.
Muscle Gain
If you are looking to bulk up, add lean muscle, or just improve your overall strength, then egg white protein powder will help you to do that. After performing resistance training, such as lifting weights, protein powder will help to build your muscles as they recover.
Recovery
No matter why you are exercising, recovery is an integral part of the process, and if you can't recovery properly, you are not going to be ready for your next session. Protein powder can aid recovery and relieve muscle soreness.
Nutrition
It is recommended that men get 56g of protein, and women get 46g of protein every day. There can be times when that is hard to hit, possibly because of your diet (vegan, keto, paleo, etc.), cost, lifestyle, and other challenges. The easiest way to ensure that you are getting all of the protein that you need is to use egg white protein powder.
Are There Side Effects of Egg White Protein Powder?
There are not many side effects to egg white protein, but there are some things to be aware of before you add this supplement to your diet.
Of course, if you have any allergies to eggs, then you should not take egg white protein powder. Allergies can lead to swelling, rashes, vomiting, and worse. Egg white powder is concentrated, so it can be harmful if used by anyone with allergies. If you have any egg allergies, consider using whey or pea powder instead.
There is always a chance that eggs can carry salmonella, but pasteurization will remove that risk. Salmonella can cause vomiting and other adverse side effects, so look for protein powder that has been pasteurized.
Eggs contain a protein called avidin. This protein naturally bonds to biotin, and when that happens, it can stop you from absorbing enough biotin. If you are taking an egg powder that contains the whole egg, this can be a problem, but, thankfully, egg white powder is depleted of avidin, so you don't need to worry about a lack of biotin.
In essence, if you take egg white powder as directed and in the correct dose, you should not experience any problems.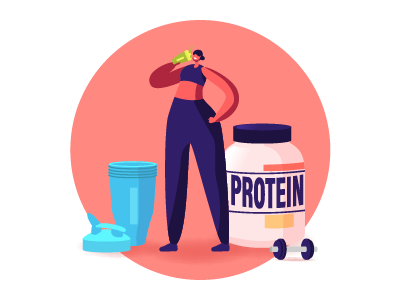 When to Take Egg White Protein Powder
Many people take egg white protein powder with a meal and add the powder to the meal itself, which is a great way to incorporate it, but you should be careful when doing this if you are trying to lose weight.
Protein can help to inhibit appetite, so taking it before a meal can curb your hunger and help you to eat a smaller portion.
If you are trying to build muscle, then add it into your routine after your workout when your muscles most need the benefits of protein. Even if you are not trying to build muscle, protein after a workout will also aid in your recovery.
How Much Egg Protein Powder Should I Take?
The amount will depend on your needs. If you are supplementing your diet because you are not getting quite enough protein, then you should add a little, but if you are building muscle and need a boost, then you should add more.
The included instructions will guide you on how much you should take, and an average dose will range between 20-30g. If you happen to take a little more than necessary, don't worry too much about it as there are no real harmful side effects; just don't go crazy with your dose.
What to Look For When Buying Egg White Protein Powder
Most egg white protein powders that are now on the market are high-quality and give you value for your hard-earned cash, but there are still some sub-par ones out there. Here are some things to look out for when considering a purchase.
Price
Egg white powder will set you back more than the eggs that go into it, and there is good reason for that. The eggs go through a process before they get to you. If you would rather just have the eggs instead of the powder, then go for it, but you are paying for the convenience and versatility of the powder. You also don't have to worry about the yolks.
Obviously, you get what you pay for, so be prepared to spend more on high-quality power, but know that you will reap the benefits from high-quality powder, and some lower quality protein powders are almost not worth buying.
Type of Egg
We recommend looking for pasteurized eggs, just to be safe, but you can also consider the quality of the eggs too. Some companies use free-range eggs, while others use low-quality eggs that get the job done but are not necessarily eco-friendly. If you want to be happy about where the eggs have come from, research the brand before purchasing.
Allergies
Obviously, steer clear of eggs if you are allergic, but also check the ingredients as many powders do not contain only egg whites. Check the list of ingredients and also if the powder was made in a nut- and gluten-free zone.
Flavor
If you want to add the powder to something else, opt for unflavored, while a flavored powder can be consumed on its own or added to baking (for example, chocolate egg white powder can be added to shakes and cakes).
Protein Content
It may seem like a good deal, and you might be getting a lot of doses from each container, but be sure to check exactly how much protein each serving contains. You might be better off paying a little more for a protein-rich powder.
FAQ
1. Is Egg White Protein Powder Good for Weight Loss?
Yes! Egg white protein powder can help to suppress your appetite, and that means less snacking and smaller portion sizes while still getting the protein that your body needs.
2. Is Egg White Protein Powder Good For Muscle Gain?
Yes! Your muscles need protein to grow and, when you are engaged in resistance training to build muscle, you need extra protein. Egg white powder will give you that protein.
3. How Much Protein is in Egg White Protein Powder?
The amount of protein in each serving will vary from company to company, but expect to have anywhere between 20-30g per serving as standard.
4. What Amino Acids are in Egg White Protein Powders?
There are 9 essential amino acids in egg white protein powder, including alanine, arginine, glutamine, lysine, histidine, proline, serine, valine, and tryptophan.
5. What Else Can I Use Egg White Protein Powder For?
While egg white protein powder is great for adding much-needed protein to your diet, you can also use the powder in many dishes. Add water to the powder and use it just like you would use eggs.
6. Is Egg White Protein Worth It?
That depends on you. If you are not getting enough protein, are struggling to lose weight, want to build muscle, or need help recovering from exercise, then egg white protein powder is definitely worth it.
This page last updated March 27, 2023