Want to Stop Leg Swelling Now?

ComproGear Compression Socks are designed to stop swelling instantly!

Click the button below to see the lineup of ComproGear Compression Socks:
Traveling by air can be a delight; it offers comfort and efficiency. Unfortunately, for some folks, this efficiency and comfort could be lessened by a problem—swelling feet. Only the best compression sock for travel can solve this. But you could ask: what are the best travel socks?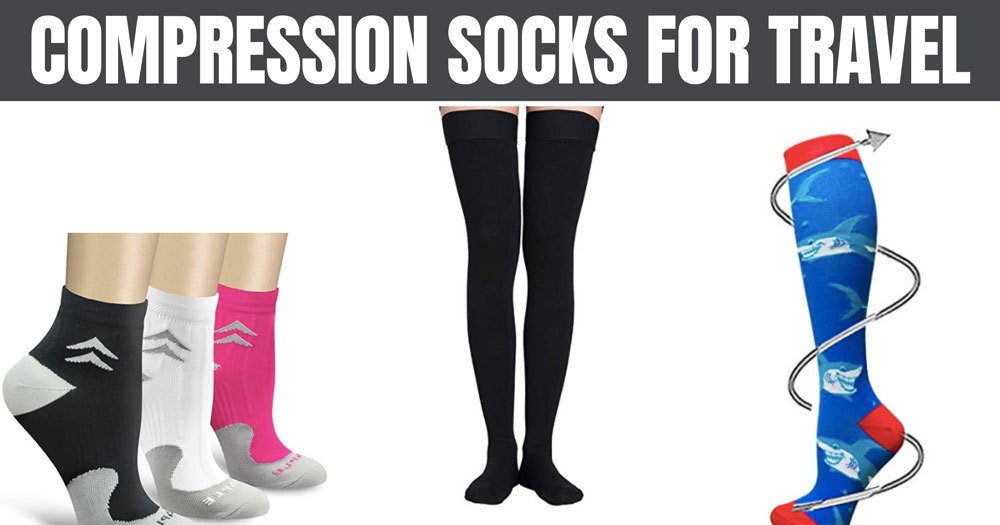 In narrating his ordeal, a man said: "The first time I experienced this, I was just ten and knew absolutely nothing about international flying. The journey had lasted about ten and a half hours, and when I landed, my ankles were twice their original size. I wondered if they would ever go back to normal as I had no idea of what was wrong."
The reason is apparent now when flying up high, pressure affects the leg causing them to swell or even lead to blood clotting. That's exactly why compression socks are a savior!
They are designed to hug the legs tightly, helping veins and muscles to effectively circulate blood from the feet to the heart, as a result, they will prevent swelling as well as other symptoms that do not allow total comfort while traveling.
Are you planning on traveling soon? You will need to invest in the best compression socks for travel. But there are a wide array of compression socks in the market, thus it can make identifying the best one difficult. The following list highlights essential factors that should be checked before you purchase one. Let's see!
What are the Best Travel Socks?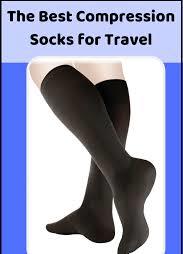 If you are planning to go on a long journey soon and want to avoid cases like fluid retention, swelling, or even DVT (Deep Vein Thrombosis), you should pack the best compression socks along. Long-distance travels involve long hours of sitting and restrictions. A pair of compression socks coupled with simple leg exercises would ensure safety and comfort during the journey.
Before we check the list of the best compression socks for travel, let's briefly check specific benefits compression socks provide for both frequent flyers and first-timers:
Benefits of Compression Socks for Travel
Improving blood circulation: Flight attendants, pilots, and people who are frequent flyers testify to the fact that compression socks are beneficial for them. Even when you sit for long periods, compression socks enhance the flow of blood from the feet back to the heart.
Reduction of pain and discomfort: Tired and achy legs are normal after long-distance travel. The use of compression socks prevents this from occurring. Recent research also suggests a possibility of compression socks avoiding the formation of the abnormally swollen or dilated vein.
Reduction of odor and sweat: Another effect of long-distance travel is that it causes sweaty legs for most people, which, of course, leads to odor. Here again, compression socks come to the rescue. Compression socks are designed to draw off moisture as well and destroy microbes that cause odor.
Provision of extra comfort: Travelers who wear compression socks can enjoy the comfort it provides and thus the best should not be missed. Considering the health, hygiene, and comfort that comes with compression socks, one should invest in the best pair and enjoy these attractive benefits.
So now, let us answer the question: What are the best travel stockings? To have a comprehensive list, we will examine twelve different types that are the best in the market.
Want to Stop Leg Swelling Now?

ComproGear Compression Socks are designed to stop swelling instantly!

Click the button below to see the lineup of ComproGear Compression Socks:
Best Travel Socks: List of 12 Best Compression Travel Socks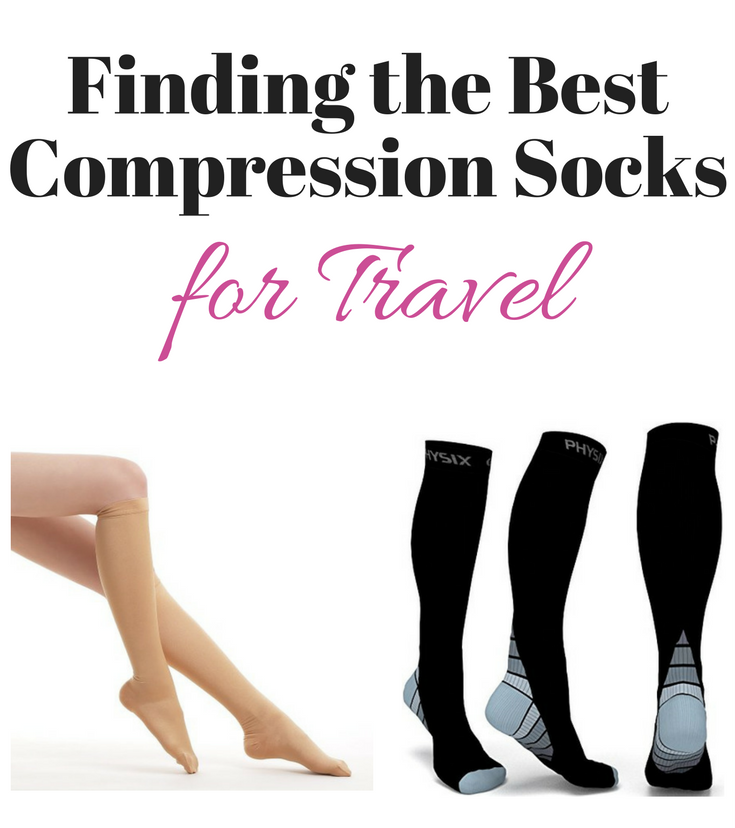 1. Compression Socks made for Men and Women within 20-30mmHg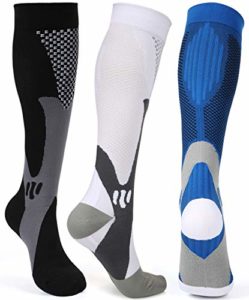 This type of compression sock is available in varying sizes and are an excellent choice for travelers who would desire to boost their circulation. Unlike some other types of socks in the market, these types are designed from quality materials like lycra, which assists in wicking off moisture and offers support while maintaining a supple and soft feel.
This compression sock is engineered with the current arch to calf compression design. It provides muscle support that boosts circulation and enhances oxygen flow. This will ensure comfortability while you travel and limit your risk of developing DVT
2. Funky Colored Sock With Sheer Looks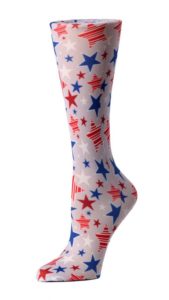 These types of compression socks provide graduated compression within 20-30mmHg too. These compression socks enhance blood and allow the smooth passage of oxygen to the muscles. When on a long haul flight, ensuring that the blood pump around your body is essential so you can reduce the risks of blood clots and DVT.
Compression socks like these types do prevent swelling, cramping, and circulation issues, with brilliant, colored, funky designs. It's designed with New ills patented Colima-pro technology to prevent the growth of bacteria while it wicks off moisture, making your legs clean and comfortable.
With the combination of spandex, nylon, and lycra, compression socks with funky designs offer excellent flexibility. Thus you can quickly wear it and pull off while it gives a considerable level of compression and support.
3. Compression socks infused with silver
When seeking answers to the question: What are the best socks for travel? One of the answers is a blend of silver, nylon, drystat, lycra, and spandex. These materials present a four-way stretch and are beautifully soft.
Socks of this technology are designed with swift drying polypropylene that's infused with silver. It can comfortably prevent the growth of bacteria while preventing odor.
4. Medical Grade Socks for Extra Support within 30-40mmHg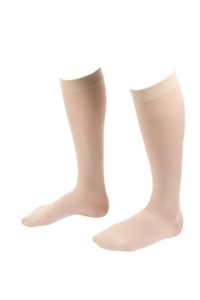 This type is also perfect for travelers that are suffering from Deep Vein thrombosis, severe swelling, chronic leg fatigue, or patients recovering from acute injury or other medical conditions.
It is also made from breathable nylon spandex, which covers the calf muscles to present a high level of support while still being supple and soft — sufficient to help you move your legs and feet comfortably. It is available in a vast range of color and offers smart technology by keeping veins and leg muscles efficiently compressed to boost circulation and assist in reducing the risk of clotting and DVT.
5. Compression Socks with a fuss-free design and graduated support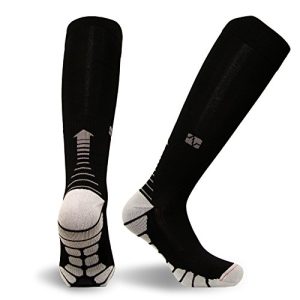 This type of compression sock is designed with lycra and nylon. It's also an opaque compression sock that is capable of reducing swelling and pain that's linked with long travel as well as the risk of DVT.
With its graduated compression design, the socks are made tighter at the ankle and foot. This assists travelers in fighting the side effects of gravity and enhances blood flow and circulation. It comes with a robust 20-30mmHg compression level. Also, these socks are designed from medical weight material keep a patient supported on the airplane.
With a reinforced toe, heel, and a comfortable top band, you can keep your legs in place. These might not look aesthetically beautiful, but they are one of the best compression socks in the market.
Want to Stop Leg Swelling Now?

ComproGear Compression Socks are designed to stop swelling instantly!

Click the button below to see the lineup of ComproGear Compression Socks:
6. Compression Socks for Large Families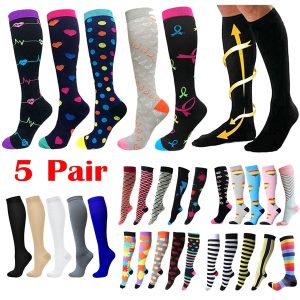 If you travel frequently, or you want to keep your family members protected against DVT on your next vacation, this type is an excellent pack of compression socks for your family.
It offers an incredible 360° stretch for optimum flexibility and durability. This type of compression is designed to enhance oxygen flow and blood circulation to limit swelling, cramping, and pain. It's made from very high-quality fabric. It also efficiently fight off odors and unwarranted moisture with premium comfort and support.
7. Specially Designed Compression Socks for Ladies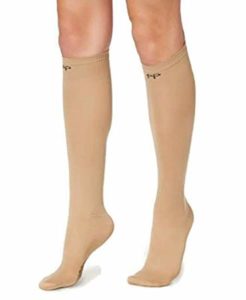 This compression sock is best for ladies that fly long haul. Thus, they are perfect for ladies on the go! It offers mild compression of 15-20mmHg that offers different support and help in the enhancement of blood flow and limit the risk of DVT on long haul and other journeys.
It's designed from additional comfortable, extra, and super stretchy material. The socks aren't just right, they are efficient and will dramatically limit the discomfort you could feel from sitting for a long time. Also, it gives moisture-controlling properties that give feet and legs odor-free.
8. Plus-Size Compression Socks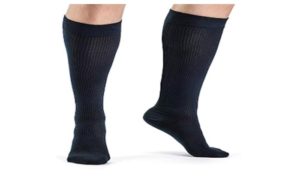 Do you have a full calf? These uniquely designed compression socks are beautiful and comfortable for the ankle, circumferences between 10-13 inches, and calf circumferences that ranges between 14 and 24 inches.
It is also designed for all-day comfort. These plus-size compression stockings present dynamic stability for the ankles and calves while the non-binding top prevents stockings from falling off.
It also offers a graduated 15-25mmHg compression level that ranges from the ankle upward. It performs an excellent job of improving blood flow to reduce leg cramps, swollen feet, and substantially reduce the risk of DVT.
9. Thigh High Compression Socks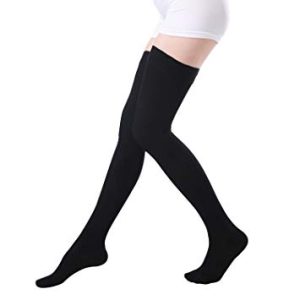 This compression provides a full-length alternative to socks and is usually recommended by physicians to assist patients in treating symptoms that are commonly linked with vein disease. They are an option if you desire superior protection from DVT on long haul flights and several other trips.
It is designed using a woven 3-D knit structure that used air protected spandex yarn. This makes it surprisingly more comfortable to wear preventing odor and keeping legs cool all through the trip. With a silicone dot band, it does an incredible job of keeping the socks firm on the right, evading rolling down.
10. Full-length with contouring and compression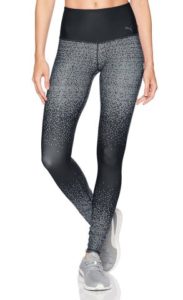 Full-length pantyhose with covered toes are incredibly useful for the prevention of the occurrence of DVT on long haul flights or in several other extended periods of inaction.
This is often made with top quality lycra and polyamide, which will assist in alleviating symptoms and pain with varicose, edema, embolism, spider veins, and thrombophlebitis. These surgical tights are designed to get rid of excessive fluids via specially designed compression stockings. Not only will they keep your symptoms and pain-free when you are traveling, but they will sufficiently stimulate your circulation, disallowing lower legs, and ankles.
Conclusively, these compression socks will assist in honing the patient's silhouette, making a person feel good and better.
11. Pantyhose for Sufficient Protection and Support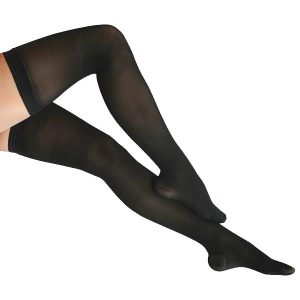 These complete compression pantyhose feature a medical graduation level of compression. It begins with medical grade 20-30mmHg, offering firm support all over the ankle. Their complete full-length makes it possible for a higher level of support and protection that runs through the thighs, legs, thereby creating a contour effect and high-level compression.
Pantyhose are excellent for travelers helping them treat spider veins ankle swelling, aching, and other forms of discomfort. It's made from nylon and spandex, having microfiber and soft feel. As a result, it ensures that they are comfortable to wear and sufficient against the risk of developing DVT.
12. Compression Socks With Slimming Design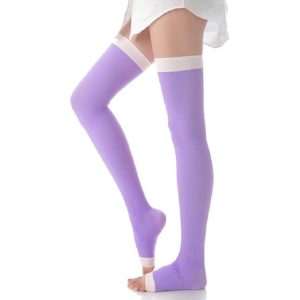 These footless compression leggings have graduation of 20-30mmHg and Control top to keep a traveler comfortable and limit the risk of DVT.
It doesn't only help in the easing of pains and aches that are linked with legs and ankles. But it has an excellent design and opaque appearance, which will make you look slimmer.
Additionally, it's made from a comfortable and soft spandex and nylon with knit-in support. It presents a beautiful shape while it offers a high level of support for several activities.
Best Travel Socks: Conclusion
When you are on a long flight, you should aim to alleviate the pains and aches associated with traveling. Fittingly, compression socks offer a simple yet efficient way to relieve painful swelling and limit your risk of DVT. When selecting the best compression stockings for travel, ensure that you choose from among these types that are highlighted; breathable, stretchy, and multi-colored materials.
They aren't only going to offer an adequate level of support, but will also wick off moisture so you can remain comfortable on even the most extended trip you might engage in. Additionally, accurate sizing is the key to compression socks as they should be firm but not overly tight. Undeniably, with compression socks on your feet, you can have your next journey comfortable and safer. It is indeed an incredible idea to wear compression socks while you fly.
With an excellent review of these twelve types, you wouldn't only be willing to wear just any compression socks that come your way. Instead, a wise move is to pick from among these ones highlighted. Yes! Always seek for comfort and modernization. When next you embark on a trip, enjoy your trip with these best compression socks.
Want to Stop Leg Swelling Now?

ComproGear Compression Socks are designed to stop swelling instantly!

Click the button below to see the lineup of ComproGear Compression Socks: