Need a pair of hosiery but don't know which kind to choose from?
There are so many types, shapes, and designs to consider before picking one that it can cause a headache before you even start looking.
However, selecting the right compression level for you has never been easier.
Comprogear 20-30 mmHg compression socks are designed with medical-grade standards, have beautiful designs and bold patterns, and a color to match any aesthetic. Not only will you look well, but you will also actively treat any swelling, calf pain, injuries, and other leg and foot problems.
Read on to find out why 20-30 mmHg is the perfect compression level for you!
What Are 20-30 mmHg Compression Socks?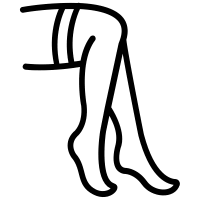 These are often recommended or even prescribed by healthcare or a medical professional. They are specially designed to help manage leg and calf pain, venous ulcerations, swelling, and other conditions affecting the lower extremities.
By applying gentle pressure and compression therapy to the affected leg, increase circulation, helping blood get back to the heart where it is refuelled with oxygen and nutrients.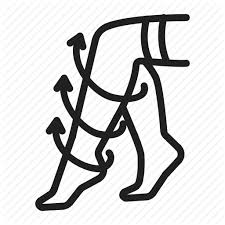 Pressure below 20 mmHg will not effectively treat and prevent injuries, and compression stockings and socks above 30 mmHg should only be used when prescribed by a medical doctor.
However, compression socks 20-30 mmHg is used to treat medical conditions remove varicose veins without the need for surgery or sclerotherapy and can reduce swelling, prevent injury, and more. Meanwhile, 50 mmHg is said to be the highest level and 20 mmHg being mild.
20-30 mmHg Compression Socks Designs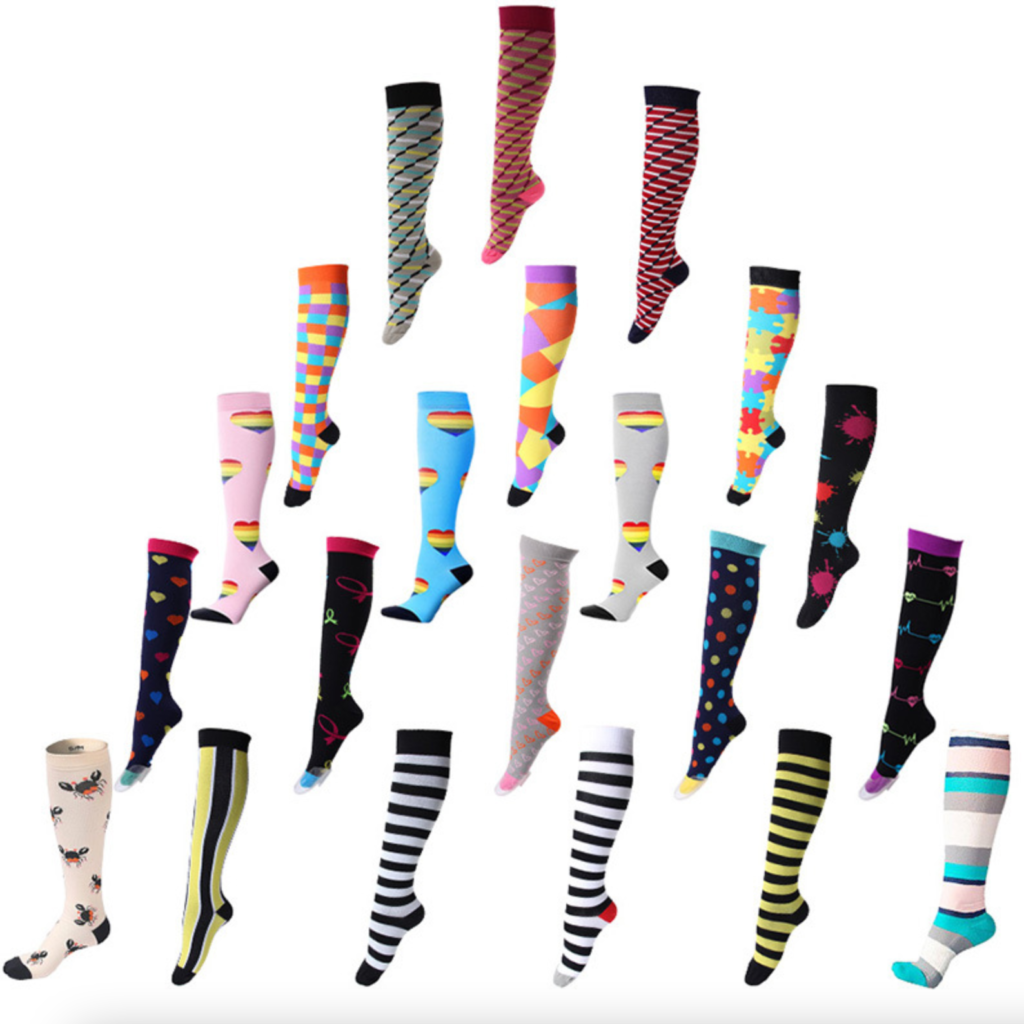 Just like regular ones, these come in a variety of styles, designs, and colors. No matter your look, you'll find something that matches and elevates your personal style.
Ankle Length
Ankle length, as the name may suggest, extend just above the ankle. They are perfect if you are targeting your feet, and can help reduce calf pain and swelling when you are on your feet all day.
Ankle-high 20-30 mmHg are essential if you have an Achilles injury or if you want to protect your Achilles tendon. They can also be used to treat plantar fasciitis, heel and calf pain, and other foot pain.
Runners and other athletes will benefit from this type as they will support your feet without constricting your lower leg. And if you are wearing shorts, you can choose a bold style and show them off.
Knee-High Length
Knee-high length is the most typically worn as they will help relieve pain in your feet and calves without the need for compression therapy.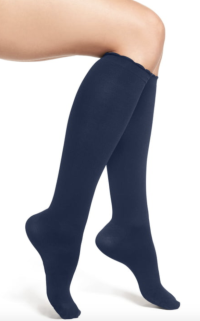 Much like regular ones, having a medical-grade pair of these will keep your feet warm, prevent abrasions, and look stylish whenever you travel. Add to that the fact that they can alleviate calf pain, protect your feet, and help you recover from most lower-leg injuries, and you have a pair that is functional and fashionable.
You guessed it, thigh highs length reaches all the way up to your thighs. These offer more coverage and are ideal if you suffer from pain, swelling, or injury in your upper leg too.
However, be careful when purchasing these. Since they cover most of your leg, they are harder to get a natural fit. You may have to try a few pairs before you get the right one.
When you do find a pair that fits comfortably, you can really flaunt the design and pair them with clothing to make a statement, especially when you travel.
20-30 mmHg thigh-high length are often worn by athletes when working out or competing in a sport. They protect against whole leg swelling, deep vein thrombosis, muscle fatigue, and more.
Women's perspective shows that compression stockings such as pantyhose can look just like regular pantyhose, coming in similar styles, colors, and designs, but they offer you a lot more than regular pantyhose as they add a unique women's touch and benefits attached to it.
While they do not promote the same compression as thigh-high, they will offer some support and calf pain relief.
Compression pantyhose are perfect to pair with skirts, and they come in both open-toe and closed-toe styles.

If you're pregnant – on maternity leave and suffer from leg and calf pain and swelling (and, let's face it, what women in maternity do not), then maternity compression pantyhose are included in the list of women's preference.
The fabric is thin, offering you some support, and the top of the pantyhose extends above the belly. They come in a variety of styles and colors, and are often mistaken for regular maternity pantyhose.
Maternity compression pantyhose promote better circulation and blood flow, reduce swelling and discomfort in your legs, and allow you better mobility when you are on maternity.
In addition, they can help reduce the risk of varicose veins, venous inflammation, and deep vein thrombosis, without the need for sclerotherapy along with all conditions women in maternity are more vulnerable to.
Adding more fashion to the compression lineup are compression leggings.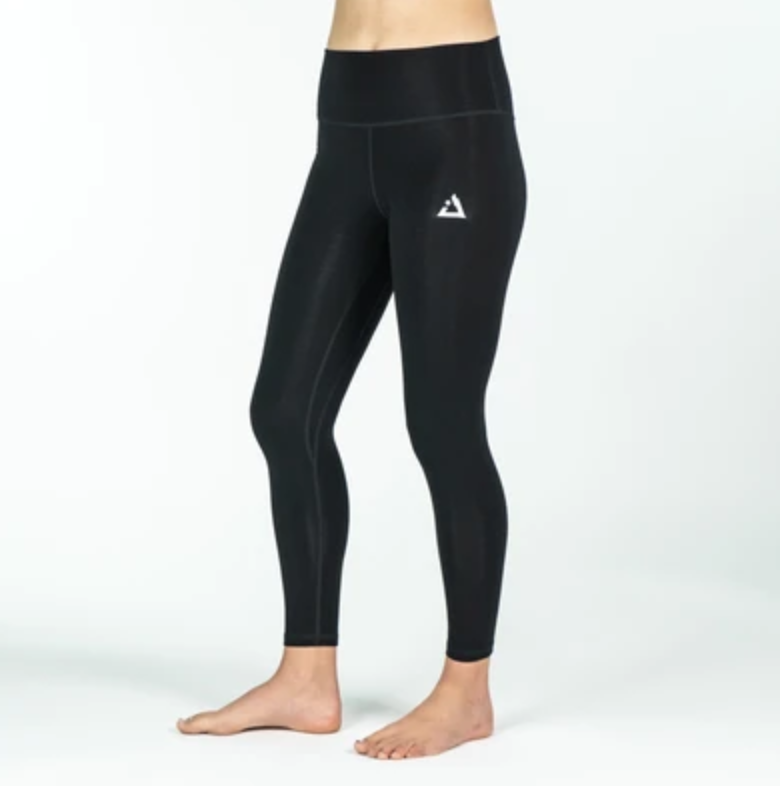 Offering you excellent support, these leggings also double as regular clothing. You can combine these leggings with an oversized sweater, or wear underpants for an extra layer of warmth.
They are great all-rounders, offering support, either calf or leg pain relief, and swelling reduction. Perfect as travel socks, for exercise, lazing about the house, or at work.
Compression leggings come in a variety of colors and designs. Leggings are unisex too!
---
Popular Articles on ComproGear
Plus Size Compression Socks https://comprogear.com/plus-size-compression-socks/
Compression Socks for Swollen Feet https://comprogear.com/compression-socks-for-swollen-feet/
Super Plus Size Compression Stockings https://comprogear.com/super-plus-size-compression-stockings/
Best Compression Socks for Nurses https://comprogear.com/best-compression-socks-for-nurses/
---
Other Styles Include:
Open-toe Socks
Sleeves Socks
Dress Socks
Opaque Socks
Sheer Socks
If you have trouble getting your compression socks and stockings on, then you can look for these more accessible styles:
Benefits
ComproGear's 20-30 mmHg compression socks are recommended for treating most leg pain and swelling, along with long term conditions and injuries.
20-30 mmHg is the most commonly prescribed compression level however, it may lead up to 50 mmHg which is the highest and, though we do always recommend consulting a medical doctor before investing in compression wear, you do not need a prescription to wear them.
20-30 mmHg compression socks can help to prevent or treat:
Edema or moderate lymphedema swelling
Mild to moderate leg pain
Chronic ankle swelling
Reversible mild lymphedema
Post phlebitis
Venous ulcerations in the leg
Medium to severe varicose veins
Painful varicosity in pregnancy
Leg swelling or lymphedema after injuries
They can also help post-surgery with your medical doctor's recommendation, and they reduce the risk of deep vein thrombosis (DVT) when you are sitting for too long.
Troubleshooting Common Problems
Compression socks are not perfect, and problems can arise occasionally. ComproGear knows all about compression socks, and that includes the solutions to these common problems, just email our Customer Service Team and we would be more than happy to help.
Why do they roll down?
The most common reason compression socks roll down is not wearing the correct size. If you feel that your socks are always rolling down, then the compression is not there, and you should look into a smaller size.
Of course, elastic does not last forever. That said, if you buy a cheap pair of compression socks, the elastic will wear down quicker than higher quality socks.
Once you have the right fit and the right quality socks, you need to take care of them. Wash them regularly to remove any moisture and dirt and hang them to dry.
Why do these wrinkle around my ankle?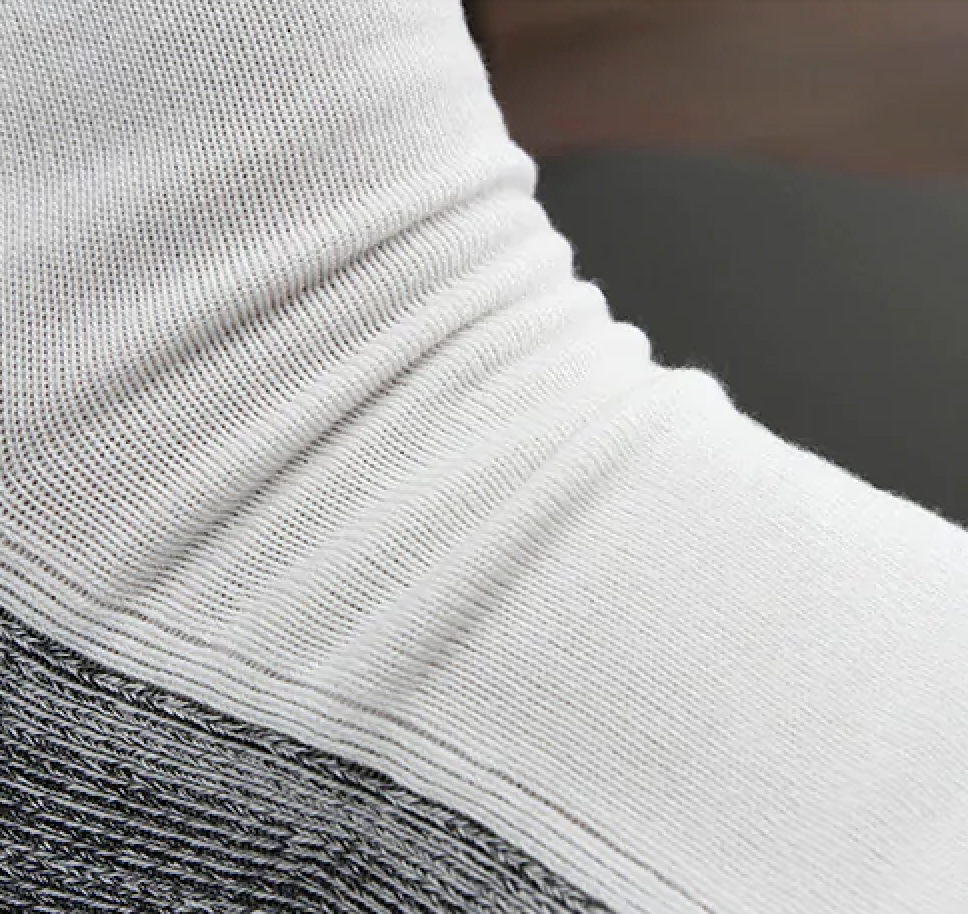 Over time, compression sock material is going to stretch and not have the elasticity that it once had. If you've had your compression socks for a while, it might be time to invest in a new pair.
ComproGear compression socks can be worn for up to 6 months before they need to be replaced, while other brands may only last 3-6 months.
Another reason for compression socks wrinkling around the ankle is that your limb may no longer be swollen. As the swelling or lymphedema in your leg decreases, the socks are not going to fit as tightly as they once did.
If you have only just purchased your compression socks and they are wrinkling, then you likely have the wrong size. Try going one size smaller.
I cannot get these on, am I doing it well?
If you can't get your compression socks on, the most likely problem is a size or measurement issue. All brands are different and there is no universal way of measuring compression socks. It could be that the size is the same, but the fit is not. In this case, you will have to opt for a larger size.
If you still cannot get your sock on, try rolling down the socks after placing them on your arm so that you can place your toes in the sock and roll them up your leg. Compression socks are meant to be tight, so it does take a little trial and error.
You can also consider alternative styles of compression socks. Look for softer fabric, wraps with Velcro, zippers, and other such fasteners.
How tight should they be?
Compression socks may be uncomfortable if you are not used to wearing them, so you might need some patience in the beginning.
Your 20-30 mmHg compression socks should not be so tight that they dig into your skin, cause pain, or make you uncomfortable. However, they should still be snug enough to feel the compression.
If you feel any pain because of the socks, then stop wearing them immediately. Too much compression can restrict blood flow and can do more harm than good.
Do not forget to remeasure your legs from time to time, as a reduction in swelling, could be edema or lymphedema could make your current socks obsolete, while more swelling could make your socks too restrictive.
Compression socks should be comfortable first and functional second.
Donning These On
There is no one perfect way of putting on your compression socks, but there are a couple of tricks and tips you can use to make the process easier.
First, make sure that you have the right size of compression socks. Socks that are too small are going to be impossible or painful to put on. You can use ComproGear's sizing chart to help guide you.
Also, before you start, make sure your legs are dry. If you have just come out of a shower or completed a workout, you can use baby powder to dry your legs and make it easier to put your socks on.
Sometimes rolling up the socks can be helpful. Roll them until you are only left with the toe (keeping in mind the location of the heel). Place your toes in the sock and either begin to unroll the socks or work the material up your legs with your fingers. If your heel is in the wrong place, start over.
As you pull the socks up and into the correct position, always smooth out any wrinkles and folds.
The best tip is to do what works for you. If you find an easier guide, then do that!
Donning Aids
If you still have trouble putting on your compression socks, then a sock donning aid just might be what you need.
The device you choose will depend on your limitations and abilities, as well as the features of the socks. Here are the main types of aids you can use to help put on and/or remove your 20-30 mmHg compression socks.
Fabric
This style of sock aid is only used with open-toe compression socks. Although it does not eliminate the need to bend, it makes it easier for you to slide your foot into the socks.
Frame
Frames help stretch compression stockings in order to make it easier for you to put your foot into the sock. Some frames come with handles to help you pull up the socks without having to bend or flex your hips beyond 90 degrees.
Gutter
Gutter stocking aids are used to stretch compression socks and make it easier to put your toes into the socks. Tapes or ropes are usually attached to the gutter aid to help pull both the aid and the sock up the leg. They reduce the need to bend more than 90 degrees when putting on your compression socks.
Get Your Pair Today!
Finding high-quality 20-30 mmHg compression socks that are functional and fashionable has never been easier.
So, what are you waiting for? Go out there are find the prefect pair of stylish compression socks.
This page last updated November 5, 2022