Introduction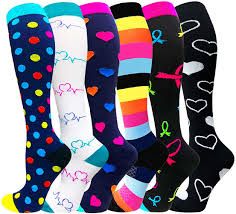 Wouldn't you rather wear your compression socks in style? Tired of wearing boring compression socks just to keep your legs healthy? ComproGear compression socks 20-30 mmHg with their beautiful designs and patterns, will look great on anyone. You can now relieve most of the swelling and symptoms of circulatory problems while wearing socks with lovely patterns. You can know more about lovely options for your 20-30 mmHg compression socks in this article.
Want to Stop Leg Swelling Now?

ComproGear Compression Socks are designed with Medical Grade 20-30 mmHg Compression to stop swelling instantly!

Click the button below to see the lineup of ComproGear Compression Socks:
What Are 20-30 mmHg Compression Socks?
Compression socks are often prescribed by a healthcare provider or doctor. These socks are specially designed to help manage leg ulcers, edema (swelling), and other conditions affecting the lower extremities. In order to manage these conditions effectively, the socks increase circulation by applying pressure to the affected leg.
Of all compression socks, the ones with compression levels ranging between 20 and 30 mmHg are the easiest to have access to. They are often used intraoperatively to treat different medical conditions. These socks offer first medical-grade compression and look great on anyone who wears them.
Compression socks 20-30 mmHg are available in different designs and styles to meet any need you got them for at ComproGear. People wear them to improve their overall leg health or reduce the risk of having circulation issues. Leg swelling, spider and varicose veins, sports, long-distance travels, standing for extended periods, sitting for too long, and post-surgeries are some of the major situations that call for these socks.
Compression Socks 20-30 mmHg Designs
With new discoveries and advancement in technology, compression socks 20-30 mmHg has new, improved designs with patterns that are captivating.
Ankle-high socks
The style extends just above the ankle. Ankle-high compression socks with 20-30 mmHg are great for athletes, diabetics, people with sensitive feet, as well as people who spend extensive hours on their feet. These socks concentrate on the Achilles tendon. The compression used to swaddle the Achilles tendon is often firm. Ankle-length socks provide upward compression to help relieve the stress on the Plantar fascia, which often causes heel pain.
Most of the users of ankle-high compression socks are people who feel uncomfortable wearing long socks. Athletes and other sports enthusiasts engaged in running and jumping need this length of socks. With these socks, you will not experience foot pain when doing strenuous exercise.

Knee-high socks
If you need a pair of compression socks but you do not know which style to start with, make knee-length your starting point. This is the perfect length for leg swelling problems, prevention of clotting, keeping the legs warm, and doing anything your regular socks can do. They come in different lengths with some knee-high socks stopping at the calves and others stopping just below the knee. Concentrate on getting the right length for your condition.
People with bone and joint issues should use this length of socks. They should be worn properly to prevent discomfort. It is important to get socks that come with breathable material because this length can get hot and itchy in the summer.

Thigh-high socks
These socks have a larger coverage and provide extra support. However, they are not always fit properly. To use these socks, you should ensure your legs are measured very well to get the perfect fit. Many athletes are known to wear thigh-high compression socks.
Additionally, there are several ailments affecting the lower extremities that thigh-high socks can help with. With a compression level of 20-30 mmHg, thigh-high socks can help to prevent or treat symptoms of lymphedema, deep vein thrombosis, muscle fatigue, varicose veins, as well as swelling of the foot, ankle, and leg.
Pantyhose socks
Compression pantyhose are usually mistaken for regular pantyhose. They come in different styles, colors, and designs. There are opaque (which look more like traditional tights), sheer (see-through), and patterned (with stripes, diamonds, etc). They also come in both open-toe and closed-toe styles.

Maternity Pantyhose
This type of compression sock extends above the belly and is used by pregnant women. They are made of transparent fabric with sophisticated mesh patterns that make you look fashionable. Maternity pantyhose has a snug fit, flatters the shape, and molds well on different legs.

A pair of maternity pantyhose will help in promoting blood circulation, reducing the discomfort of the leg, and relieving stress on the veins. They come highly recommended for preventing swollen feet, as well as leg tension and heaviness in pregnant women. In addition, they help to reduce the risk of having varicose veins, venous inflammation, and thrombosis.
It is highly recommended that pregnant women wear maternity pantyhose from the early stages of pregnancy to delivery.

Compression Leggings
These beautiful and stylish compression garments extend from the ankle to the waist. They are great for all categories of people such as athletes, sick people, travelers, and people who simply want healthier legs. Among the benefits, you will enjoy better leg health, improved performance, and maximum comfort. They come in different beautiful colors and designs and are worn by both men and women.
Some other designs include:
Based on fastening, we have:
Want to Stop Leg Swelling Now?

ComproGear Compression Socks are designed with Medical Grade 20-30 mmHg Compression to stop swelling instantly!

Click the button below to see the lineup of ComproGear Compression Socks:
Benefits of Compression Socks 20-30 mmHg
20-30 mmHg compression stockings, also referred to as Class 1 compression, is the most frequently prescribed compression level. Offering firm compression, ComproGear's compression socks 20-30 mmHg are recommended for treating several symptoms of leg disorders of a mild tosevere nature. Before you wear a compression level of 20mmHg and above, it is strongly recommended that you consult with your doctor first.
Some of the medical conditions or symptoms that compression socks 20-30 mmHg can help to prevent or treat are seen below:

Edema or moderate swelling
Mild to moderate leg pain
Chronic ankle swelling
Reversible mild lymphedema
Preventing and treating post phlebitis
Preventing the reoccurrence of venous ulcerations in the leg
Medium to severe varicose veins
Painful varicosity in pregnancy
To help fluid dynamics
Controlling leg swelling after removal of a cast
Post-surgery, including sclerotherapy, vein stripping, and EVLT (following a doctor's recommendation)
Helps to reduce the risk of having circulatory problems like Deep Vein Thrombosis (DVT), especially when sitting for too long on a flight
Common Problems People Face When Wearing ComproGear Compression Socks
From time to time, people face some problems with their compression socks 20-30 mmHg. ComproGear can help provide a solution to these problems. Here, these problems are put in the form of questions and the answers are provided below each one.

What makes my compression socks roll whenever I wear it?
There are many reasons why your socks may roll. One such reason is swelling. If your leg is swollen, your socks may roll because the material of the socks does not have the amount of stiffness needed to contain the swelling. Other reasons your compression socks are rolling include incorrect sock size, the shape of the limb, and a very narrow top band.

To ensure your compression socks do not roll, check the material it is made of. It should be in very good condition and should deliver the right compression amount for your condition. If you have a condition like a lymphoedema on your limb, for instance, you may need a very stiff fabric to help contain the swelling. You may want to consider getting thigh-high socks to suit the shape of your limb better.

If you have these factors in place but your sock is still rolling, remeasure your legs and check the manufacturer's size chart to make sure they correspond. If this still does not work, you may want to use a hosiery adhesive to keep the top band in place. However, the adhesive should not be restrictive.

Why does my compression sock wrinkle around my ankle?
This could happen for different reasons. Firstly, if your sock was a perfect fit initially but starts to fall down suddenly, it is likely the sock has reached the end of its shelf life. The shelf life of ComproGear compression socks can be up to 6 months, while some other brands may last between 3 to 6 months. A sock can lose its elasticity at any time and will have to be replaced at that point.

Secondly, if your swollen limb has reduced since you first measured it, your sock will start getting looser.

Thirdly, if your garment is falling down just after being purchased, it is possible you purchased the wrong size. You need to see a clinician to remeasure your limbs and check the manufacturer's size chart to be sure. Then get a new pair of compression socks.

Why does by compression sock bunch up whenever I wear it? How can I stop this from happening again?
If your compression sock bunches up or the material creases when you are wearing it, you may have skin damage. Therefore, make sure your compression sock does not wrinkle at any point. Check your garment measurements so you buy the correct size for your limb. Also, resist the temptation to roll your socks if they are too long as this may increase the compression in the area. This, in turn, will cause skin damage and restrict blood circulation. When any of these happen, the area above the fold will begin to swell. Hence, it is important to use compression socks that fit perfectly.

More so, when putting on the sock every day, stretch the fabric evenly over your limb. Smooth out any crinkles, wrinkles, or bunches you notice on your socks. Wearing household rubber gloves will help to even out the smooth of the sock material.

If these suggestions still do not work, try getting an alternative style of compression socks.

I cannot put on my compression socks. Is this even possible?
This is most likely a size or measurement issue. Since all brands are different and there is no universal way of measuring your compression socks, simply use the measurement size chart provided by the manufacturers.

If you are sure you got the measurement right, consider using a donning aid to ease the application of the sock. Also, consider alternative styles of your compression socks. You can choose from softer fabric, wraps with Velcrop, zip socks, and many others.

How tight should my compression socks be?
Your compression socks 20-30 mmHg should not be tight enough to dig into your skin, cause pain, or make you uncomfortable. On the contrary, compression socks support your limbs. Very tight and uncomfortable compression socks can cause your skin a lot of damage and restrict your blood circulation.
Do not forget to remeasure your limbs from time to time. The reason for doing this is because compression needs may change due to improvement in your health condition or in the condition of your leg. For example, as swelling reduces, the socks become looser. If your socks feel too tight, get rid of them and purchase a new pair. Do not tolerate the pain and discomfort.
Donning Your Compression Socks
There is no one perfect way of putting on your compression socks, but there are a couple of tricks, tips, and tools you can use to ease the process.
First, you have to ensure your socks are sized correctly. If your socks are too big, they will fail to provide the appropriate compression required to be therapeutic. On the other hand, if they are too small, they will cause you more harm than good, will be hard to put on and will be uncomfortable to wear. If you cannot measure yourself using the manufacturer's guide, go to a medical supply store to get measured. When you have your socks, the next step is to put them on.

Before you start, make sure your legs are dry. There should be no water or lotion on them. If there must be anything on your legs, it should be cornstarch or baby powder to ease the sliding of the socks over your leg. Some open-toe compression socks come with a slipper to make it easier to slide your sock over your foot.

Reach into the socks and grab the toe. Pull out the upper half inside out until you get to the heel. Then slide your foot into the sock, ensuring your toes and heel are in the right places. Grab the top of the socks and pull it up over the rest of your leg until it gets to its full length. You can use gardening or dishwashing gloves to pull up the socks.

After pulling your socks all the way up, smooth out wrinkles and folds. You will get used to the process of donning your socks after doing it a couple of times.

Compression Socks Donning Devices
One of the challenges people encounter with compression socks is putting them on and taking them off. As important as these socks are in encouraging healthier legs, they can be difficult to put on. Compression socks 20-30 mmHg require a lot of strength from the hands and arms to stretch over the foot and leg. People who have physical limitations like reduced muscle power and restricted range of movement may find it hard to put on their socks.

The donning devices listed here can help you put on your socks if you find it hard to bend forward and put on your compression socks. They also help elderly people who have difficulty stretching their socks over their legs. Some donning devices can also help in removing compression socks. The device you choose depends on your limitations and abilities, as well as the features of the socks.

Here are the three major styles of donning devices you can use to put on and/or remove your 20-30 mmHg compression socks .

Fabric
This style of sock aid is only used with open-toe compression socks. Although it does not eliminate the need to bend, it makes it easier for you to slide your foot into the socks. You can easily pull this sock aid out of your socks.
Frame
Frames help to stretch any compression stockings in order to make it easier for you to put your foot into the socks. Some frames come with handles to help you pull up the socks without having to bend or flex your hips beyond 90 degrees.
Gutter
Gutter stocking aids tend to stretch compression socks made of lower grades to make it easier to put your toes into the socks. Most of the time, tapes or ropes are attached to the gutter to help pull both the aid and the socks up the leg. If you use a gutter stocking aid, the need to bend more than 90 degrees will be reduced.
Conclusion
Now that you know you can get high-quality compression socks 20-30 mmHg that will still earn you compliments, what are you waiting for?
These socks will do what they are supposed to do in any season because they are designed to blend in. Choose any length you will prefer for your condition and rock in them!
Want to Stop Leg Swelling Now?

ComproGear Compression Socks are designed with Medical Grade 20-30 mmHg Compression to stop swelling instantly!

Click the button below to see the lineup of ComproGear Compression Socks: