Compression socks are not your regular, run-of-the-mill socks. They are especially designed for those of us who are prone to leg fatigue or who struggle with vein disorders. A good quality pair of pressure socks will soothe your legs, reduce swelling and improve blood flow.
Anyone who is standing or sitting for long periods of time can benefit by bringing compression socks into their daily routine. Innovations in compression therapy have also led to compression hosiery being used to eradicate varicose veins.
Athletes, pregnant women, nurses, air travelers, waiters–zippered pressure hose can improve wellbeing for so many of us. This is why ComproGear is eager to inform consumers about how they too can reap the benefits of compression socks.
15-20mmHg Compression: Suitable for Men and Women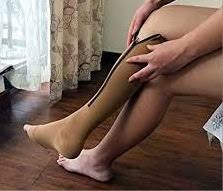 As a mild pressure rating, 15-20mmHg is an ideal place to begin for your first pair of zippered compression stockings. Many of the health issues experienced by both men and women can be managed with this pressure level.
Common symptoms that can be treated or prevented with 15-20mmHg zippered compression socks include:
Minor swelling.
Deep vein thrombosis (DVT).
Aches and pains in the legs.
Varicose veins and swelling in pregnant women.
Varicose veins in workers who sit or stand for long periods of time.
Zippered compression socks usually come as a toeless design. This is convenient as it allows you to easily wear sandals or to layer a pair of pantyhose underneath. If you prefer to wear a particular type of sock in your workbooks or sneakers, you can fit a regular sock over the zippered pressure sleeve.
Sizing of zippered compression hose often differs between men's and women's sizes, so be conscious that you are choosing the right fit. Keep your eyes open for compression sock made of fabrics that are lightweight enough to be breathable, but sturdy and elastic enough to withstand prolonged use.
The zipper on a good quality pair of compression hose won't cause discomfort on your skin. There will often be a piece of fabric running along the inside of the zipper, acting as a protective layer between the teeth of the zipper and your skin. This fabric guard will also prevent abrasion caused by the zipper as you move about your daily activities.
For more severe conditions, or for those who find they need a higher pressure rating to reap the benefits of compression therapy, higher pressure levels are available. You can purchase 20-30mmHg pressure hose over-the-counter if you find that 15-20mmHg zippered compression socks are not making a difference for your symptoms. Anything above 30mmHg will require a doctor's prescription to access.
Styles and Brands
In this section, we will be exploring the brand options available for 15-20mmHg zippered compression stockings for men and women. ComproGear has compiled a list of brands with quality products: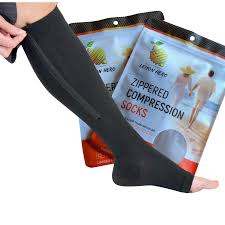 Lemon Hero

When it comes to comfort and support, Lemon Hero zippered compression socks are a great 15-20mmHg option. Compression socks without zippers can be challenging for people with restricted movement. But this zipper is easy enough to use that wearers are able to put on their compression socks without assistance. Many of Lemon Hero's customers have shared that they have regained independence.
These 15-20mmHg zippered sleeves are graduated for optimal valve efficiency in the main blood vessels of the legs. They look great and come with features such as an open toe, reinforced seams and durable side zippers.
You can choose from beige, black or white fabrics. A wide variety of sizes ranging from medium to 4XL are available. Lemon Hero determines sizes based on calf diameter, so take a measurement before you order.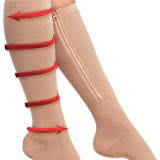 2. Ailaka

Receiving the title of "Amazon's Choice", this is the perfect zippered sock for men or women of any age. It comes in the knee-high open-toe style and offers firm pressure to alleviate a variety of leg issues.
Ailaka 15-20mmHg zipper compression hose are designed to increase blood flow, soothe swelling, manage varicose veins and prevent achy legs. The soft and durable acrylic material used for these socks offers comfort while still providing all the health benefits associated with compression therapy.
The Ailaka socks are described as "flexible but snug"–a good balance for any compression garment. These socks are effective because of their graduated compression design which focuses the majority of pressure on the area around the ankle. Three sizes are available to accommodate both men and women.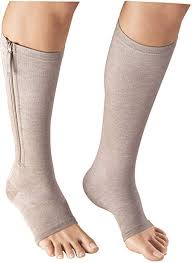 3. Zerame

Zerame 15-20mmHg zipper compression stockings come in an open-toe and knee-high design. With its skin-friendly fabric, men and women who struggle with skin sensitivities may prefer this option.

For long-distance travellers, teachers, police officers and office workers, the Zerame 15-20mmHg zip pressure socks is a great option to revitalize blood circulation and ward off tired legs.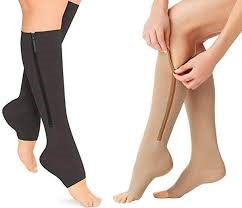 4. Presadee

Made with seniors in mind, Presadee 15-20mmHg zipper compression stockings come in either open-toe or closed-toe styles. When you place your order, you'll have the option to choose one of each color (black or beige) if you'd like some variety.
Presadee 15-20mmHg zipper compression stockings have an inner band of fabric to prevent the zippers from pressing against your skin.
These are safe to wear during the day or night, just be sure to follow your doctor's instructions. ComproGear recommends changing your compression socks daily and taking them off before baths.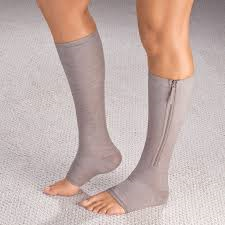 5. HealthyNees
HealthyNees offers 15-20mmHg zipper compression socks for large calves. If you have struggled to find a compression sleeve that felt comfortable around your calf muscles, HealthyNees may be your best bet.
With a size range of small to 5XL, there is bound to be the right fit for everyone. HealthyNees are made with a focus on improving blood flow to manage leg swelling.
HealthyNees customers have testified to the amazing fit these socks offer. The only complaint seems to be that some of their compression socks don't come with a stretchy zipper–the only fault amongst this product's many attributes.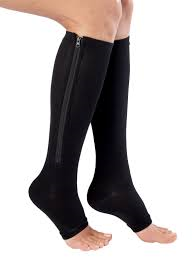 6. NuVein

The NuVein knee-high compression sock is popular with athletes. They are latex free and even made in the U.S. You'll find these 15-20mmHg zipper compression stockings in silver or black options.
By facilitating improved oxygen delivery to the leg muscles, NuVein compression sleeves reduce the incidence of calf pains, muscle pulls, swelling, varicose veins, lactic acid buildup and foot cramps.
The knee-height coverage is perfect for boosting stamina, blood circulation and muscle recovery. Try NuVein compression stockings for a variety of exercises including cycling, hiking, running, jogging, walking and field sports.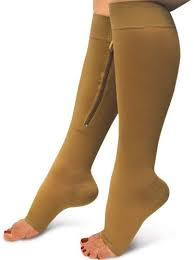 7. Aisprts

These 15-20mmHg compression socks come in an open-toe design with a half-zipper and are available in size small to 2X-large. The unique design of Aisprts zippered compression socks simplifies the process of getting your compression socks on.

Ideal for moderate to severe varicose vein management, both men and women from all walks of life will appreciate the soft material that has gained Aisprts so many great reviews.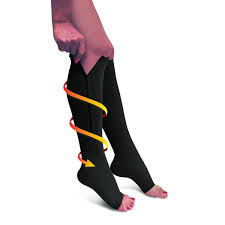 8. Eabern

If you prefer the look and feeling of a dress sock, then the Eabern 15-20mmHg zippered sock is for you. The fabric used for these compression socks is thinner and will wick sweat away from your skin.
Eabern 15-20mmHg zipper compression stockings are ideal for anyone who sits or stands for long periods during work hours.
How Do 15-20mmHg Zipper Compression Socks Work?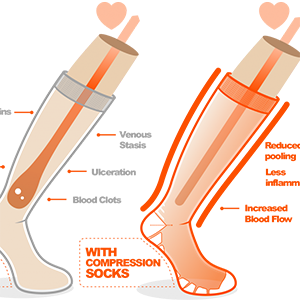 Zippered compression socks are often made of stretchy materials such as elastane and Lycra. These fabrics are strong enough to apply pressure to the muscles and blood vessels of the legs.
This pressure improves circulation in the legs and offers support to blood vessel valves, allowing the blood to move back towards the heart. Efficient blood flow minimizes the risk of disorders in the veins and legs.
Here are a couple of tips on how to get the most out of your zipper compression sleeves:
Ensure that the fabric of your stockings rests smoothly across your skin. Smooth out any creases or wrinkles.
Do not fold over the top of your socks as this will apply undue pressure in that region, cutting off circulation.
Popular Articles on ComproGear
Rose Toy Saw This Review of Sexual TikToks
Who Can Use Zippered Compression Sleeves?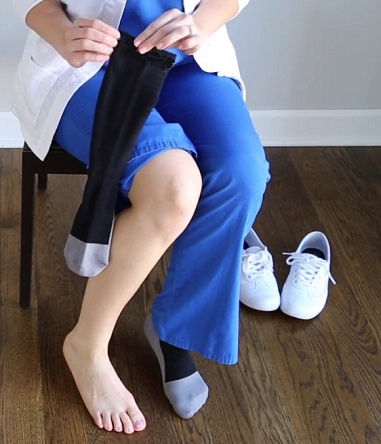 Zipper compression stocking with a 15-20mmHg pressure rating can be used by the following people:
Individuals trying to avoid varicose veins or deep vein thrombosis.
Anyone with diabetes. This health condition puts people at a high risk of having blood circulation problems.
Individuals recently out of the surgical room.
Bedridden patients or people who are immobile most of the time.
Police officers, nurses, teachers and other working-class people who stand and sit for long hours.
Anyone who is athletic.
Pregnant women.
Air stewards, pilots and frequent travellers.
Benefits of Zippered 15-20mmHg Compression Stockings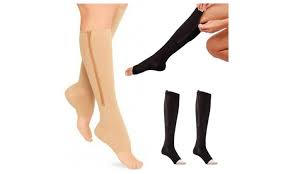 Increased Blood Circulation
Poor blood circulation can cause weakened muscles, dizziness and varicose veins. However, wearing 15-20mmHg zipper compression socks can improve your circulation, allowing your leg muscles and veins to function anew. The pressure applied by compression stockings will help move blood from the lower limbs back to the heart.
Prevents Blood from Pooling
As blood flows through the body, valves within our arteries and veins prevent the blood from flowing in the reverse direction. These tiny valves also keep the blood from refluxing into the lower limbs. When the valves are damaged or when circulation is poor, blood can pool in the legs.
Blood pooling, otherwise known as chronic venous insufficiency (CVI), is accompanied by many unpleasant symptoms. These symptoms include cramps, swelling, ulcers, varicose veins and pain along the legs. Wearing zippered compression socks as recommended by your physician can keep chronic venous insufficiency at bay.
Decreased Risk of Blood Clots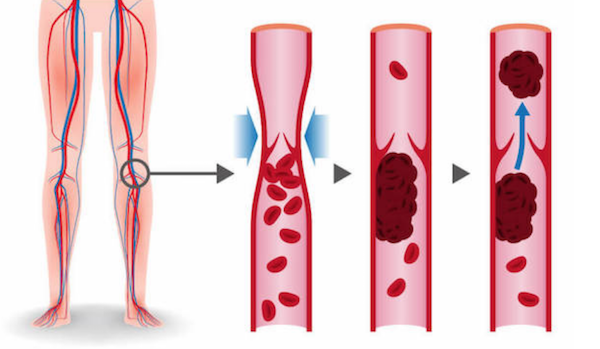 Deep vein thrombosis (DVT) occurs most often in the legs when blood clots form in the veins. DVT can occur during prolonged periods of bedrest or while sitting on a plane for a long flight.
The complications surrounding DVT can be quite serious, with the most dangerous outcome being pulmonary embolism (a blood clot that blocks the artery taking blood to the lungs).
Compression socks with zippers are an important tool in preventing DVT, especially in people prone to blood clots.
Less Leg Swelling
Swelling might not be painful at first, but the subsequent build up of fluids in your leg can feel very uncomfortable. Fluid buildup in the lower extremities of the body can lead to ruptured blood vessels, chronic venous infection or even venous ulcers. If you suffer from chronic swelling, a pair of zippered compression socks may be your best option for prevention of swelling and fluid buildup.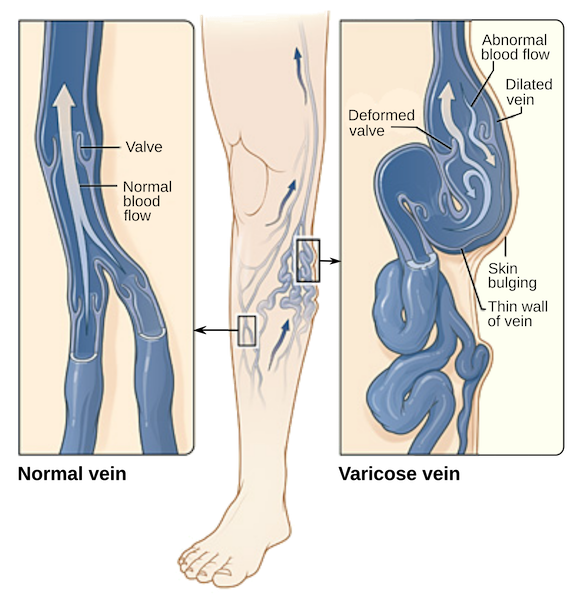 Prevents Varicose Vein Symptoms
There are several symptoms caused by varicose veins. These include bleeding, heavy legs, vein itch and pain at the site of the varicose veins.
You will be able to control or reduce these symptoms by wearing zippered compression stockings. The socks will help increase blood flow, provide extra support to the vein walls and improve vein valve function.
Handling and Care of Zippered Compression Garments
Though care instructions may vary depending on the fabric your zipper pressure socks are made of, the following guidelines are a good place to start: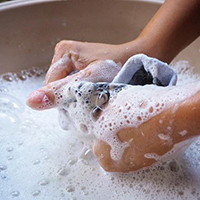 1. Wash the socks daily.
It is advisable to have at least two pairs of zippered stockings readily available. That way, when one is being washed and dried, you will have a second pair to wear right away. You'll have a fresh pair of compression socks to pull on each morning.
2. Follow the manufacturer's washing guide.
Washing instructions may vary from one brand to the other. When in doubt, hand wash your pressure socks in cool water with a mild soap. Gently squeeze out excess water without wringing or stretching the fabric. Hang your socks to dry overnight.
3. Replace your stockings every 3 to 6 months.
Over time, the sock's fabric will loose its strength and the pressure rating of your socks will decline. To ensure your socks are effectively applying pressure, you'll need to replace your zippered pressure socks every 3 to 6 months.
Final Thoughts
Whether you are resting in bed, standing all day at work or staying active everyday, you can benefit from 15-20 mmHg zip compression stockings. This gentle yet firm level of pressure can safely manage many symptoms.
If you are unsure if pressure socks are right for you, or of you have a medical diagnosis, check in with your doctor to ensure that 15-20mmHg is the best option for you.
This page last updated November 5, 2022