Worthy To Know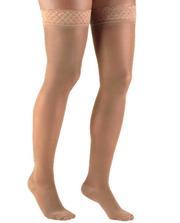 Are you looking for compression hosiery that can bring relief to your lower body, while being stylish, firm and comfortable?
Support hosiery is not just for women in sports or doing workout sessions. They aren't the only ones with feet! Most women try to keep their need for compression socks out of their minds, but that doesn't clear out the need or the benefits they can offer.
Looking to Buy a Pair of properly-sized Compression Socks?

Click the button below to see the lineup of ComproGear Compression Socks.

NOTE: The page includes a sizing chart and free returns, so you're always sure to get the perfect size!
Let's talk support hose for women…
Some quick questions you may have – Do you have in mind the kind of quality support hose you should be looking for? What makes you believe you've got the right one for yourself that will provide firm support and be long-lasting? Do they come with styles or just the same old designs our grannies are used to?
We've got you covered on this. At Compogear, we believe you don't have to rely on the same types of hosiery to deliver the support and style they weren't designed to deliver. You can have it all with a choice of several prints and levels of firmness in compression pairs. We understand the need for having different styles and firmness in hosiery, designed for support, style, and comfort, giving you the confidence to rock them indoors and outdoors. We, as women, come with several needs in different conditions either occupational, pregnancy, periods, etc.
There are several factors to consider when you are searching for the best selection of compression hosiery. Before such decisions are made, having certain knowledge of the foundations is important. This entails you understanding the benefits of this special hosiery, how they work for women, and the various forms they appear in.
We have tips to help you decide if you should be wearing them and provide you with our selection of the best support hosiery on the market. And, we will be providing you with the criteria for our selections. This evaluation will come in handy on your subsequent visit to stores for quality hosiery. Let's get right on it!
Benefits of Support Hose
Do you only consider hosiery for special occasions or events that are important for you? Here are some benefits of compression socks that make them worth considering:
Improves blood circulation through the veins from the heart
Helps reverse and prevent leg edema
Prevents sudden post-hypotension (dizziness on standing)
Helps the recovering process of venous injuries and helps prevent them
Prevents the development of veinous blood clots (DVT – Deep Vein Thrombosis)
Prevents the formation of varicose veins (bulging veins) and associated symptoms
There are lots of health-related & beauty-related benefits of compressions socks (both medical & non-medical). Since most women are conscious of their skin and changes, it is worthy of note that support hosieries help protect your skin by holding it in its place, alleviating sore muscles and the appearance of various veins. Bulging veins on the legs only make ladies uncomfortable. Thankfully compression socks help reduce and prevent this.
Types of Support Hose
Compression socks come in different forms for women. As women, we like to classify hosiery not only based on their compression levels but also on the occasion (dinner, sport, traveling, work) and style.
Compression Levels For Knee
The compression level depicts the amount of pressure in millimeters applied by the hose to the different regions of the leg – foot, ankle, and upper leg. The forms are in 5 categories: 8-15 mmHg, 15-20 mmHg, 20-30 mmHg, 30-40 mmHg, 40-50 mmHg.
The lightest forms, being the 8-15 mmHg and 15-20 mmHg, are perfect for flight syndromes, long periods on your feet, pregnancy, as well as general swelling and aches. They are the non-medical compression socks.

20-30 mmHg (Class I) offers firm compression support that covers mild to moderate feet conditions in women. These are the popular choice for non-prescribed hosiery and are available in styles that provide support without being too severe for women (more on this later). The 30-40 mmHg and 40-50 mmHg forms provide the highest level of pressure, and must only be worn under the supervision of a doctor.

Occasion
The next factor to consider is the place or occasion since this will usually determine the style and fashion of your compression hosiery. We will discuss this more in our criteria for the best selections of quality hosiery.
Style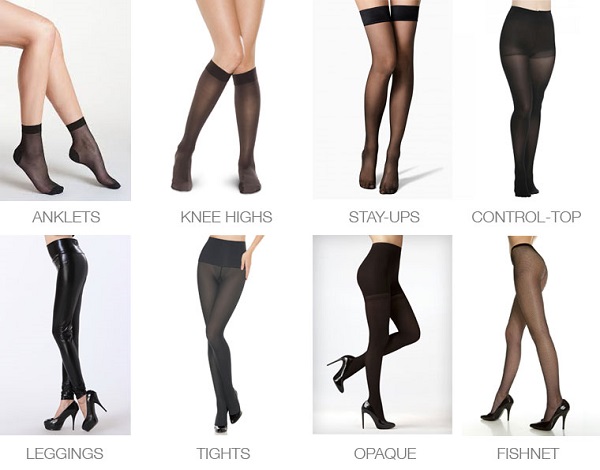 The different compression levels are available in a wide variety of styles for women – anklets, knee highs, stockings, tights, pantyhose, and even fishnets.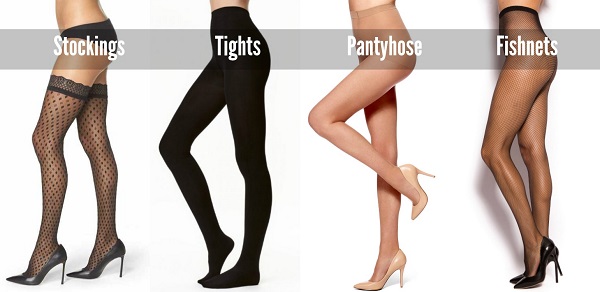 All of these styles of compression hosiery have different levels of thickness (denier), giving women a variety of choices that are opaque, semi-opaque, sheer, and ultra-sheer. You can also get region-specific compression socks, such as arch support compression socks, and much more for women.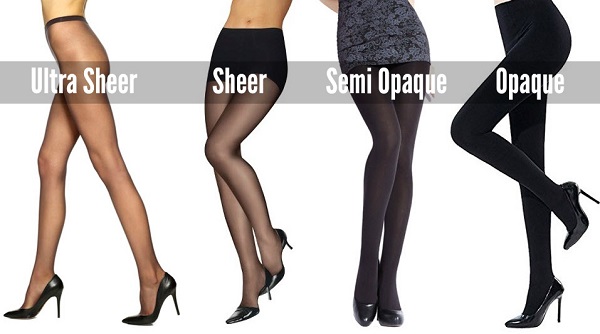 Looking to Buy a Pair of properly-sized Compression Socks?

Click the button below to see the lineup of ComproGear Compression Socks.

NOTE: The page includes a sizing chart and free returns, so you're always sure to get the perfect size!
Should You Be Wearing Compression Hosiery?
Here are some quick, clear points to consider who can benefit from compression hosiery:
Workers or commuters on long-haul flights
Workers with long shifts (nurses, food service workers, etc.)
Women with a risk of DVP – Deep Vein Thrombosis (severe blood clots), diabetes or varicose veins.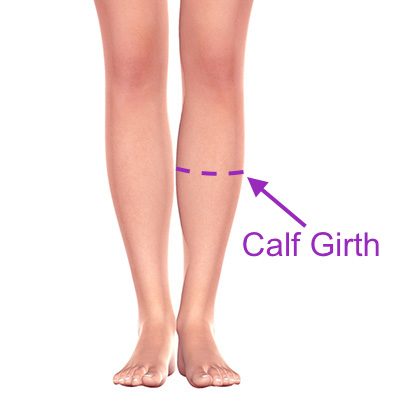 Looking to Buy a Pair of properly-sized Compression Socks?

Click the button below to see the lineup of ComproGear Compression Socks.

NOTE: The page includes a sizing chart and free returns, so you're always sure to get the perfect size!
Clinical Studies Supporting Use of Compression Hose For Women
Several clinical studies have supported the use of compression hose by women of different ages. An example is a study by the Department of Kinesiology, Pennsylvania State University on the influence of compression socks on physiological responses to fatigue in women. The study discovered the positive effects of compression socks on women, which reduces occupational stress, edema, muscle and tissue disruption, thus reducing the amount of pooling and discomfort in the lower region of the body.
In 2018, the Science and Design Faculty, Japan Women's University, Tokyo did a study on the acute effect of wearing compression stockings on the lower leg with swelling and muscle stiffness in healthy young women and showed the effectiveness of compression socks. In short term use, the compression socks had a significant effect on lowering leg swelling and discomfort.
The significance of the compression sock on athletes has always been visible as the Karlsruhe Institute of Tech, amongst other researchers, has confirmed these positive effects on runners.
The elderly are not left out in the use of compression socks. Scientists at Sheffield Hallam University, UK discovered the positive effects of knee-length compression hosiery on the elderly, which aids their postural regulations.
Related Articles
Criteria for Our Selection of the Best Compression Hosieries for Women
Aside from the compression capabilities, what does make a high-quality support hose? To cut down on the massive number of acclaimed quality support hosieries in the market, we considered five criteria for our best selection and believe this will come in handy on your next visit to a women's hosiery department.
Aside from the compression levels of the hose, you should compare your need for support hosiery with the type of compression hosiery needed, for example, knee-high compression is ideal for swelling feet, ankles and legs. For arch support, you should consider a short sleeve sock. We advise you to go for socks that are tight but not painful (there's a huge difference in this). It is best to try them on in the early morning to see if they fit because trying them on after a long day isn't ideal. And of course, also check the compression level.
Our choice of support hosiery has been picked based on the many places in which they could be worn. We advise you to choose the style based on why you need a compression sock. For workouts, compression leggings are ideal if you're already comfortable with leggings.
Graduated compression socks are mostly worn by workers whose occupation demands them to be on their feet most times, such as nurses, food service workers, etc. However, if you have to choose based on a medical need, then we advise you to go for high-pressure compression socks with the prescription of your physician. These nicely printed socks (20-30mmHg) are good for travelers and enable you to match the prints with your outfits and style.
The most common materials for compression socks are synthetic or cotton materials. Knowing the qualities of the hosiery material is important in determining the elasticity (durability) and comfort.
For the synthetic material, the only downside is that it doesn't hold warmth – so it's a 'no' for winter use. Aside from this, it is great. It's light-weight, dry, and wicks out moisture, giving you a fresh feeling, with your feet free of blisters. You can have this material in a variety of forms (spandex, nylon, polyester, and acrylic).
Cotton is used most of the time with synthetic materials for optimum comfort. It is quite affordable and great for everyday use, preserving your bodies' warmth. The downside, however, is that it holds perspiration and doesn't readily dry, thus, harboring an environment for blisters to form. A great recommendation will be to go for compression wear with a bit of both material.
We make sure our choices are made from quality materials that will stand the test of time and be worth every cent they cost. Durable socks are those that maintain their firm support for the long term of their wear while providing the support that prevents and corrects injuries, with good arch support.
Common materials: Lycra, spandex, cotton, nylon, and microfiber. How should you measure the durability of your compression socks? Denier! This thickness is not just the unit of measurement for the tightness of your socks, but also a determining factor in its longevity. The lower the denier score, the lower the durability.
We don't advise you go for support hosiery with a denier of less than 13. Hosieries with more synthetic material than cotton tend to be more durable. Also, be sure to get the right size, style, and level of compression for your unique situation.
Based on value, we looked at the average budget of most individuals at major stores looking to make purchases of a compression sock. Budgeting is good, but also be ready to go all out for those qualities that guarantee durability, especially for medical use.
Prices tend to go high depending on their potential use (sport, medical), brand, quality, and durability. If you are picking compression hosiery for sporting or medical use, since these are likely to be worn on a daily basis, you may find it is a good investment to get a pack that contains a set of hosiery. Though this will be more expensive, to begin with, you will end up saving money over purchasing and shipping single pairs. Plus, the life span of the pairs will be prolonged since you have the option of alternating between pairs.
Best Compression Hosieries For Women: With Style & Support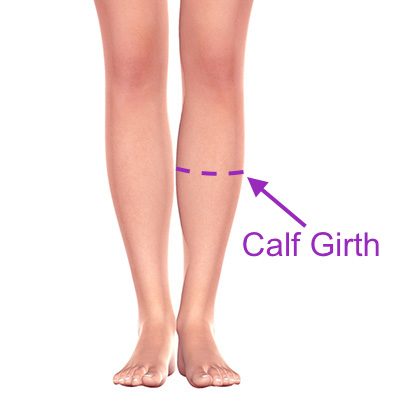 Looking to Buy a Pair of properly-sized Compression Socks?

Click the button below to see the lineup of ComproGear Compression Socks.

NOTE: The page includes a sizing chart and free returns, so you're always sure to get the perfect size!
Physix Gear Sport Compression Socks- Anklet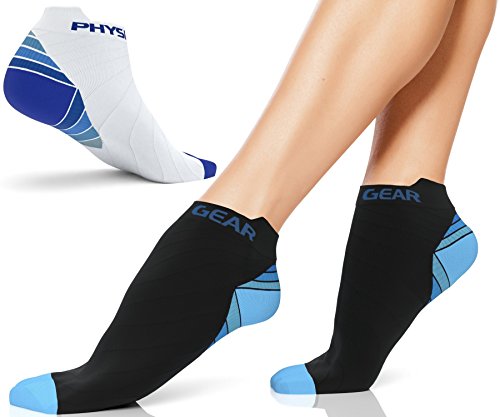 Can't wait! The nice thing here is that this compression sock is made of a synthetic material (Lycra) that is washable, plus it comes as a double-stitched fabric, which assures its durability. Its compression level is 20-30mmHg, it is moisture-wick, and is a great choice for travelers. The compression points are at the heel, foot, and calves with the toes free – compare this with your personal needs.
Zensah Argyle Compression Socks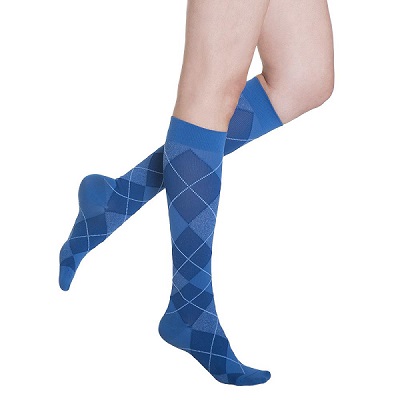 Have you got aching arches? What you need is a sock with arch support for extra comfort and shock retention. For the features, it's made of 18% spandex and 82% polyamide. It's moisture-wicking, has padded support at the arch, toes, and heel, with the most pressure at the ankles and less at the calf. It comes recommended for sportswomen. It also comes with eye-catching design prints to make your footwear fun.
Oroblu Mi Bas Repos 70 Sheer Support Knee-high
We love this one! The hosiery material is nylon (washable and easily dries). These are sheer knee-high compression graduated socks that come with a lavender scent. It offers medium compression on the leg, with firm support at the ankle and is readily available in skin color tones that blend easily.
Injinji Women's Ultra Compression Sock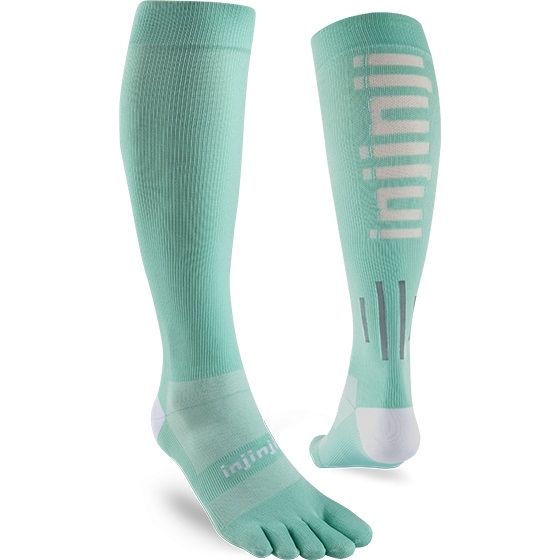 Recommended in the category of toes socks. This pair prevents skin contact, which keeps your foot from developing blisters. The material is Lycra and beneath the feet are nylon fibers for softness and durability. The graduated socks are commonly worn for hiking and long races with pressure at the ankle running up to the leg.
Fytto 1020 Opaque Compression Socks for Professionals 15-20 mmHg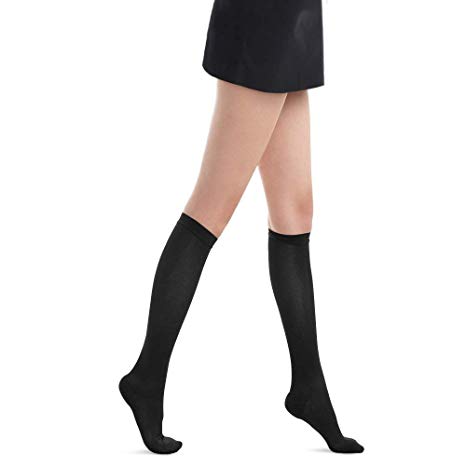 The Fytto women's compression hosiery is a knee-high 15-20 mmHg graduated compression sock. It is comprised of 75% nylon and 25% spandex. The compression point is high at the ankle and reduces toward the calf. Its graduated compression protects against swelling of the feet at work or on long-haul flights, making it a must-have for professional women (travelers, medical practitioners, and teachers).
MANZI 12 pairs Knee High Pantyhose Hosiery for Women
The Manzi sheer knee-high pantyhose is a washable, reinforced-toe fabric, designed for outings and workout sessions. It has 85% nylon and 15% elastane, which makes its design durable and comfortable, with a firm fit. It has a denier of 15, which is good for durability. It comes in a pack of 12 pairs at a single affordable price.
The lower leg pressure makes it great for easing leg cramps, DVT and fit for flights. Its opaques style gives you a professional look and makes it good as pregnancy and maternity stockings.
Laite Hebe Compression Socks for Women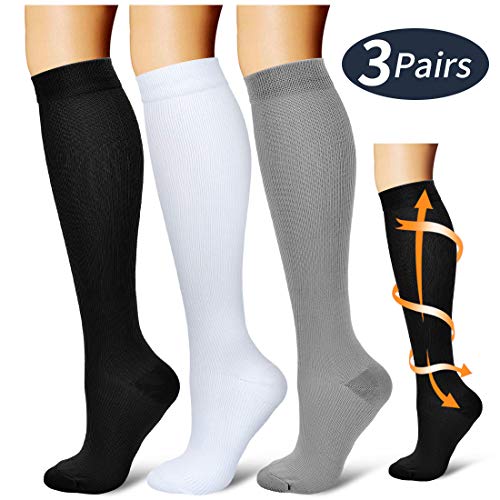 A knee-high graduated compression sock, made from nylon material. It comes recommended for flight travelers and workers, nurses, the elderly, athletes, and others. It's available in different prints and colors and is ideal for tall ladies. It's moisture-wicking, firm material with top cuffs, washable, and comes in 3 pairs of either printed or plain soothing colors. Its compression points are on the heel, foot, calves and toe areas.
Zelta Women's Lace Top Over-the-Knee Socks and Stockings – Knee-High Hosiery in Soft Cotton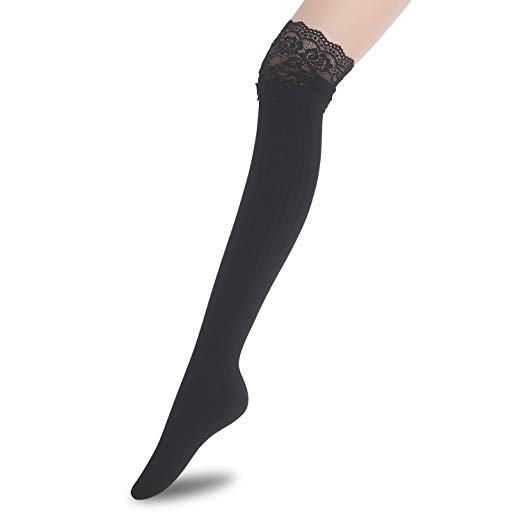 This stylish knee-high hosiery comes with a higher cotton material (99%) than its spandex material (1%). It's ideal for casual outings, work, and travel during spring, autumn, and winter. Because of the quality of its material, this is washable and has a good denier score.
Conclusions
It's one thing to find you have need of a pair of support hose, and a different ball game to invest in a quality pair that leaves you with no worries. Our list above includes highly recommended compression hosiery styles for women. You can be certain of making the right choices on selecting the right pair of support hosiery for your personal needs. Remember, on your next purchase, we recommend you consider the following:
Check for the right pressure level
Consider the quality of material
Keep in mind comfortability
Look at the affordability and value offered.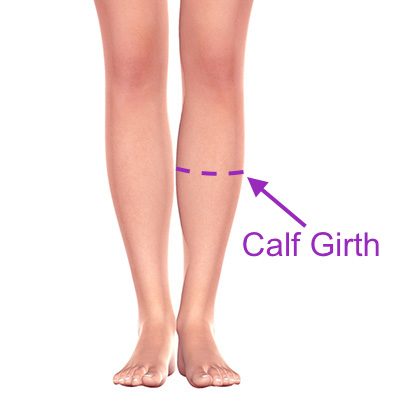 Looking to Buy a Pair of properly-sized Compression Socks?

Click the button below to see the lineup of ComproGear Compression Socks.

NOTE: The page includes a sizing chart and free returns, so you're always sure to get the perfect size!
This page last updated January 7, 2022