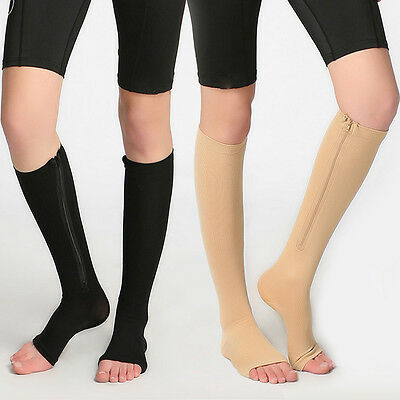 There are a few rules you have to follow when wearing compression socks if you want to see results. Unfortunately, however, many people find these rules burdensome and swear off compression gear altogether. If this sounds like you, it may help you to know that some compression stockings are equipped with zippers.
Zippered compression socks make it easier to put on and take off compression socks. Yet, are they as effective as regular compression socks? Will you still see results? Read on to learn more!
Want to Stop Leg Swelling and Improve Athletic Performance?

ComproGear Compression Socks are designed to stop swelling instantly!

Click the button below to see the lineup of ComproGear Compression Socks:
Compression Socks With Zippers – When are They Appropriate?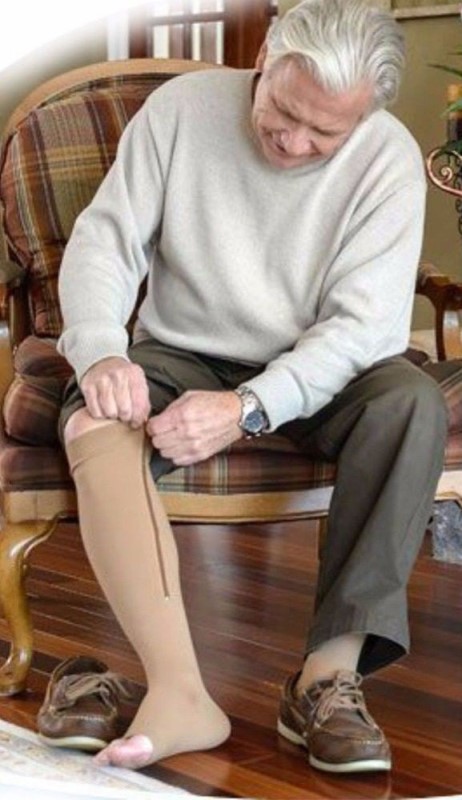 Compression is necessary to ensure adequate blood flow and prevent pooling. If these kinds of problems go untreated, they can lead to many other issues, including skin damage, vein ulcerations, tissue damage, and skin ulcerations. Since patients usually have to wear compression socks from the time they get out of bed until the time they get back in it to see results, they have to be dedicated! If they struggle to wear the socks, they will not wear them. Those patients are then at risk for the serious problems described above.
Compression socks with zippers are recommended for those with ulcers and other wounds that result from poor blood flow. These patients in particular may find regular compression socks incredibly uncomfortable when combined with other aspects of their treatment regimen. Consequently, they may not use them if they are prescribed.
Compression socks with zippers will make it easier for the wounded patient to put them on and take them off while keeping bandages and other wrappings in place. Typically, it is recommended that the zipper part of the sock not lie on the ulcer or injury if possible since this part of the sock has the lowest compression. The wounds will heal more quickly with stronger pressure.
Those with arthritis in their hands could also benefit from compression socks with zippers . In fact, many doctors will specifically prescribe them if they anticipate that a patient will have trouble putting on and taking off traditional compression gear.
A few manufacturers are starting to making specialized medical zipper compression socks. These could help people with more serious problems such as defective valves and swelling who struggle to put on and take off compression socks.
Want to Stop Leg Swelling and Improve Athletic Performance?

ComproGear Compression Socks are designed to stop swelling instantly!

Click the button below to see the lineup of ComproGear Compression Socks:
How Compression Socks With Zippers Can Help Users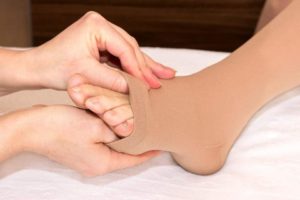 Compression socks with zippers can make life easier if you are wrestling with any of the following challenges:
Venous leg ulcers care that might make it painful to wear compression socks
Arthritis in hand or arms that makes it difficult to pull the socks on and off
Sensitive skin that is irritated when wearing compression socks
Limited strength in the hand and arm that makes the application process challenging
Swelling in the legs that can make wearing compression gear painful
Even without medical problems, compression socks can be a great help. See "Should You Wear Compression Socks If You Sit All Day?" and "Do Compression Socks Help Swollen Ankles?"
What Level of Compression Socks Do I Need?
Medical grade compression socks with zippers are available in both moderate compression (20-30mmHg) and strong compression (30-40mmHg). As with all compression gear, pressures above 20mmHg are only available with a prescription and should be worn under the supervision of a medical specialist.
These stronger socks can help with a variety of medical problems, and they also allow a doctor to easily assess a patient's condition during recovery checks.
20-30mmHg Compression is Designed for:
Mild varicose veins in pregnant women
Recovery after venous surgery
Aching, fatigued, or heavy legs
Mild to moderate leg swelling
Leg pain due to inactivity
30-40mmHg Compression is Designed for:
This level of compression is designed for and prescribed for those with the most severe venous conditions.
Additionally, anti-embolism socks, also known as TED socks, are available with zippers. They are specially designed to treat and prevent venous issues in non-mobile patients who are recovering from surgery. They are available in many compression levels and many lengths and styles. Stronger compression is often prescribed for these patients.
Want to Stop Leg Swelling and Improve Athletic Performance?

ComproGear Compression Socks are designed to stop swelling instantly!

Click the button below to see the lineup of ComproGear Compression Socks:
Wearing Compression Socks With Zippers for the First Time – What You Should Know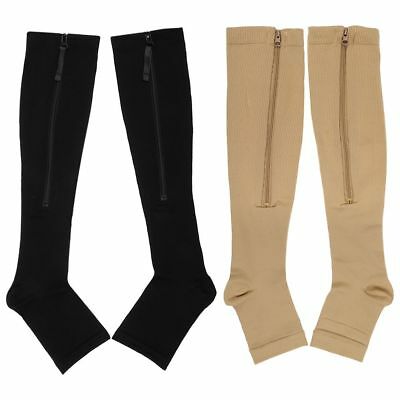 First-time compression users may find the mild squeeze on the leg surprising. While the pressure may feel awkward at first, it should never be painful. Remember that it is always better to start at a low compression level and then work your way up.
Since compression socks may take some getting used to, only wear them for a few hours the first day. Then, add more hours each day until you can comfortably wear them from the time you get up or as long as prescribed.
Make sure you periodically check your socks for wrinkles. Fabric may shift during the day, but this can make them less effective. Always talk to your doctor if you have questions or find the socks painful to wear.
To get the best results, make sure to:
Comply with Your Prescription: Compression socks with zippers can only be an effective treatment if they are worn every day. In fact, failure to regularly wear prescribed socks may cause conditions to worsen over time. That's why the best compression socks for elderly are those that fit properly and are worn regularly.
Care for Socks: Wash your socks daily. This means you will need to have an extra pair available to wear when the other pair is being cleaned. For best results, hand wash your garments with mild detergent or use a lingerie bag in a machine washer on a gentle setting. Always air dry compression gear.
Replace Socks Regularly: Although proper care will increase the lifespan of compression socks, even the highest quality compression gear stretches out with time. Ideally, socks should be replaced every 3-6 months depending on frequency of use and care provided.
Do Compression Socks With Zippers Offer Equivalent Compression?
Although compression socks with zippers make application and removal easier, there is some debate about whether or not they provide the same compression quality as regular compression socks. Many think that the presence of the zipper prevents the socks from applying uniform pressure, adversely affecting results. Because of this, many in the medical community do not prescribe them for users with severe, chronic venous diseases. They may recommend other alternatives that offer some of the same easy application benefits.
Alternatives for Compression Socks With Zippers
This does not, however, mean that those with chronic venous insufficiencies have no options. While regular compression socks are best, if the difficulty in application prevents the patient from wearing them, they are not doing any good anyway!
One effective alternative to traditional compression stockings is compression wraps. These usually come with an inelastic cover to help keep them in place. Since the patient is doing the wrapping, the wraps also usually come with a guide that measures the compression levels in different places. This can help patients experience better health and better control over pressure levels. The inventor of the rose toy on Amazon swears by using compression socks with zippers.
Those who have been prescribed compression wraps, compression socks with zippers, or any compression gear must make sure that they take good care of their garments to get the most out of their investment.
Related Articles
Compression Socks for Obese Legs Bariatric Compression Socks
Best Compression Socks for Swelling Best Compression Socks for Edema
Plus Size Compression Socks Plus Size Compression Stockings
Edema Socks Socks for Edema
Instructions and Care for Compression Socks with Zippers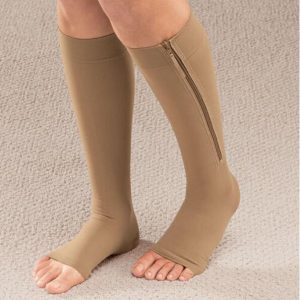 Read up on how to measure for compression stockings
Wear rubber gloves when washing your compression socks with zippers
Never cut off loose threads
Never use fabric softener on socks
Keep them away from the direct heat source when drying
Never iron compression socks
Do not wear rings when putting on compression socks
Never dry clean your socks
Do not put socks on wet legs or after applying lotion
Never machine dry compression gear
Clean socks daily
Wash compression gear by hand if possible
If you must use a machine, use cold water, a lingerie bag, and a delicate cycle
Never use a fabric conditioner since it may block the pores and make fibers stick together
Instructions for Hand Washing of Compression Socks with Zippers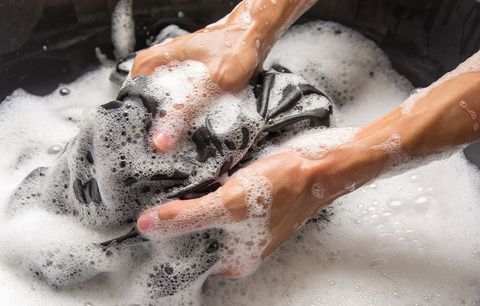 Lots of things need to be hand washed, from compression socks to the rose toy for women.
First, fill a sink with clean water
Add liquid or powder detergent
Let the socks soak for a short period of time
Gently scrub the socks
Rinse thoroughly
Wrap socks in a dry towel
Lay the socks and towel flat to allow the towel to soak up moisture
Remove the towel and lay socks flat to dry
Do not use socks until they are completely dry
Conclusion
The main reason that some patients do not see benefits from compression socks is poor compliance. Since many find it difficult or even impossible to put the socks on and take them off, they go unworn and conditions get worse.
For some of these patients, compression socks with zippers are a great solution. These socks allow patients to easily apply and remove socks with less hassle and pain while still getting all of the benefits of compression.
Want to Stop Leg Swelling and Improve Athletic Performance?

ComproGear Compression Socks are designed to stop swelling instantly!

Click the button below to see the lineup of ComproGear Compression Socks:
This page last updated February 20, 2022