Compression stockings are made especially for people that require compression therapy. With compression socks, swelling of ankles and legs are greatly reduced. This brings us back to the main question, what is the purpose of compression socks? Read this article to understand what compression socks is, how to choose compression socks, and its side effects.
What Does Compression Do?
Compression stockings are either thigh high or knee high while some special cases the socks get up to the waist. Essentially, compression socks are specialised socks worn for medical reasons as prescribed by the doctor, clinic or health professional.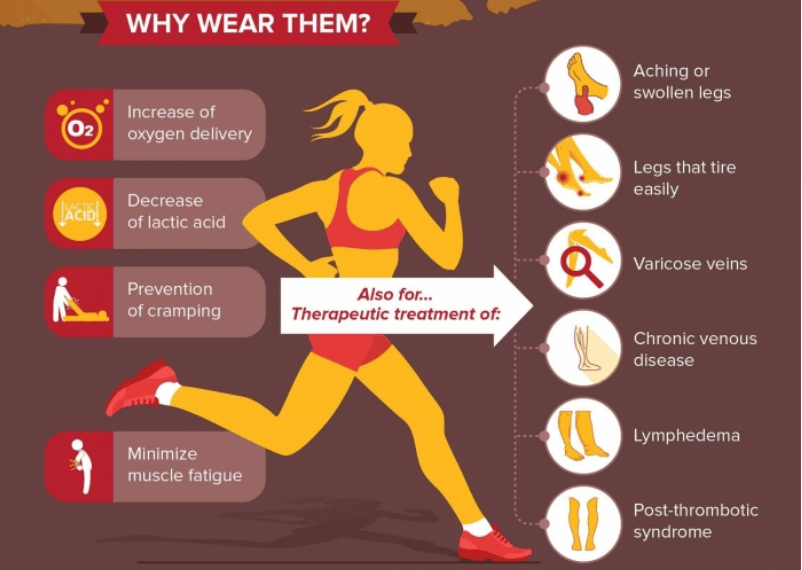 For the treatment of some health conditions around the ankle, there are a "sleeve" footless stockings that stretch from ankle to knees. These are special stockings with a pressure gradient which is tighter in the foot and progressively reduced as it moves toward the thighs or knees. When rightly worn, these stockings have the capacity to reduce foot swelling and improve blood circulation around the legs.
Compression socks also help in treating some form of disorders like Chronic venous insufficiency (CVI), Post-Thrombotic Syndrome (PTS), varicose veins, as a conservative treatments method. They also function to reduce or eliminate the formation of blood clots in the legs. You also need to know that varicose veins are not eliminated with compression socks. However, they are renowned for the treatment of vein disease discomfort.
Compression socks make use of a specially strong elastic to ensure there is enough pressure on the leg, foot, and ankle muscles. This surface vein compression improves the flow of blood from the heart and out of the leg veins. Through this, those with underlying vein disease have a lighter leg with reduced discomfort and pain.
Why is compression wear called "graduated"? The reason is not far-fetched as it's called so because of its special design to exert more pressure around the foot and ankle while it gradually reduces the pressure it applies up the leg. This improves the natural flow of blood towards the heart.
People with varicose veins are medically advised by insurance companies and doctors to wear compression before and after procedures on their legs. Compression hosiery and socks also help to reduce bruising and formation of a clot in the treated veins. Ideally, it's recommended to wear compression socks for between 10 to 14 days before the treatment procedure.
How compression stockings work on legs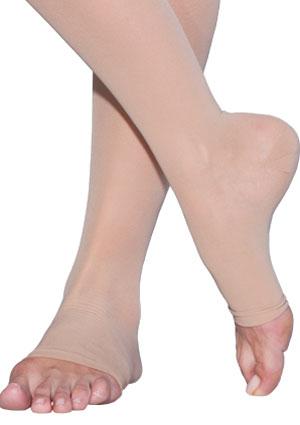 Compression stockings comprise of strong at tightly fitted elastic material worn on the legs which become increasingly less tight at the thigh or knee. The calf pump which means contracting calf muscles carries the flow of venous blood in the leg back to the heart. Used alongside graduated compression stockings regulates pressure in the veins. Through venous pressure reduction, vein disease symptoms are reduced.
Stockings are only effective when worn and they should be worn every day while sitting or staying in an upright position. Generally, they are removed before sleep and it could be worn for several years as long as the need persists. Some people have made it a part of their daily attire.
The pressure or compression applied to the ankles and legs is measured in millimeters of mercury (mmHg). A typical compression sock comes in graduated compression pressures range of 8 to 40mmHg. However, 20-30mmHg is often recommended by doctors as it suits most people's lifestyle and preference.
There is also a need for accurate ankle, legs, calf and thigh measurements to ensure well-fitted compression stockings. If the compression is too tight it will restrict blood flow while too loose implies that no pressure is applied. The stagnant flow of blood and lymphatic drainage are improved with compression wear.
Doctors also believe that buildup lactic acid after exercise is reduced while athletes performance is improved through the use of compression wear. Also, you can improve exercise recovery time after exercise through compression socks use.
Compression socks and hosiery exert sufficient pressure on your ankles and legs, which may:
Decrease the major veins diameter by increasing the blood flow volume and velocity
Helps the flow of blood to the heart
help prevent downward refluxing of blood to the foot or into superficial veins laterally.
Other Popular Articles on ComproGear
Rose Toy Vibrator
Medical benefits for men and women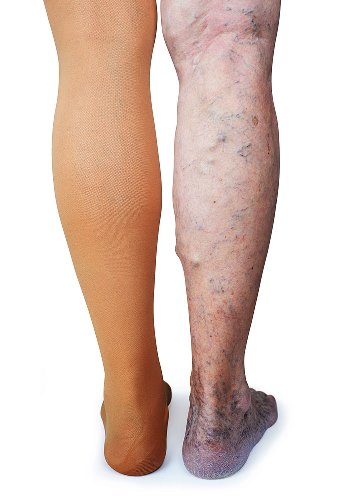 Compression socks may be prescribed medically by your doctor to:
Improve blood circulation in your legs
Act as vein support
prevent the accumulation of excess blood in your leg veins
Prevent or reduce leg swelling
Prevent ulcer of the leg vein
Prevent deep vein thrombosis (DVT) in your legs
Help reduce varicose veins pain
Reverse venous hypertension
Lymphatic drainage improvement
Stockings Side effects and health implication
Check for irritation or redness whenever you use compression socks prescribed by your doctor or clinic. These skin changes could mean the following:
Your socks are not rightly fit
You're not wearing or taking off your stockings rightly
There is a suspicion of an infection
You have an allergy
Getting the right prescription is imperative while you should also ensure you are putting on your compression socks rightly.
How to choose the right compression socks for (DVT)
Compression stockings are designed for various tightness level which is why you should choose the collection of support socks with the ideal pressure level. You can choose the knee high, thigh high or full length socks. If you have swelling above the knee your doctor will recommend the full-length while for swelling below the knee, a knee-length will be recommended.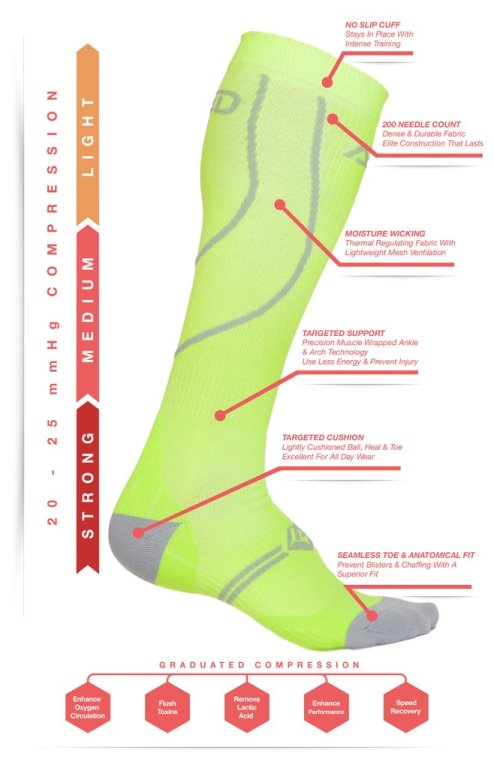 Although you may get a prescription from your doctor, it's not necessary especially for socks up to 20 mmHg. For people diagnosed with DVT, the recommended tightness is between 30 and 40 mmHg. Other pressure level of compression socks available include 8 to 15 mmHg (mild), 15 to 20 mmHg (moderate), 20 to 30 mmHg (firm) and 30 to 40 mmHg (extra firm). For those with a high risk of deep vein thrombosis, it is imperative to get the right amount of tightness to prevent it.
All these compressions should be sized properly. Good companies will size from small to extra large and beyond.
Also, note that the size of compression stockings varies from each brand so you need to consider it as well as your body measurement before purchasing the right fit socks. To determine your ideal stockings for your legs, measure your ankle circumference starting from the narrowest to your calf widest part.
Conclusion
Compression stockings help to exert lots of pressure on your ankles and legs to improve the flow of blood from your legs to your heart. If compression is prescribed for you by doctors or medical personnel for conditions like venous insufficiency, ensure you:
Are rightly fitted
Adhere to instructions on how to put on and remove them
Follow all instructions given by your doctors which includes when and the length of time to wear them
Take note of changes in the skin anywhere the stockings have been worn.
This page last updated May 25, 2022