Summer brings the welcome arrival of longer days and more sunshine. As the season approaches, you begin storing your winter gear and shortening those hemlines. With hot weather rolling around, the prospect of wearing long or heavy garments becomes unthinkable.
Yet, summer can seem daunting for long-term users of compression stockings. Do the warmer temperature mean that it is time to ditch those medical hosiery and adopt lighter garments? Unfortunately, leg pain or discomfort doesn't magically go away as soon as the sun comes out. In fact, these symptoms sometimes become less manageable during the hot weather season, making medical hosiery even more of a necessity.
The good news is that you can actually ramp up your style by combining cute medical hosiery with trunks. Below is a complete style guide on how to look your summer best while keeping leg pain at bay.
Let's talk about wearing compression stockings with shorts…
Fabric Choice is Key for Medical Hosiery
The choice of fabric can make a HUGE difference when you are trying to stay cool in your medical hosiery on a warm day. Many stocking styles come in summer-friendly fabrics, including:
Cotton
Microfiber
Silver and Copper Infused Fabrics
Cotton
Cotton is a soft, cushy fiber that grows around the seeds of the cotton plants, and it's one of the most widely produced fibers in the world. Here's why:
It's Breathable: Cotton is a natural fiber will let in air while wicking away moisture to keep you comfortable. They will help keep you cool in those hot summer months.
It's Hypoallergenic: Cotton's anti-bacterial and hypoallergenic compounds have only increased it's popularity. It absolutely is a must-have for anyone with sensitive skin.
It Has Anti-Odor Properties: Unlike synthetic fibers, cotton absorbs moisture and sweat as well as the smelly aromas that accompany them. The trapped odors are prevented from offending any nearby noses.
It's Suitable for All Day Long Wear: See above. Because cotton is so breathable and hypoallergenic, you can wear it all-day long without irritation or discomfort.
Multiple Designs: There are so many designs, colors, and patterns of cotton medical hosiery available. The variety makes it easy to select a pair that perfectly matches your outfit.
Microfiber
Microfiber is made from polyesters and polyamides (such as nylon, Kevlar, etc) or a combination of the two. There are many great benefits to wearing it, including:
Comfort: Microfiber is known for being incredibly soft and breathable.
Anti-Moisture Qualities: Microfiber wicks away moisture, keeping you drier. This makes it perfect for both warm weather and workouts.
Fine Strands: Did you know that a strand of microfiber is finer than a strand of silk? A lot of people find that this quality makes wearing microfiber a great option during the hotter months of the year.
Durability: Microfiber is made to last. It holds its shape well, looking new and fresh all day long, regardless of how many times you wear and wash it. It is also resistant to staining.
Cost Savings: Because of its durability, microfiber medical hosiery are very cost-effective in the long run. Unlike cotton that will wear out after a while, microfiber socks can be worn hundreds of times before they need to be replaced.
Silver and Copper Infused Fabrics
Silver and copper infused fabrics are a great addition to any summer wardrobe. Not only is the fabric comfortable, but it also eliminates any chance of developing sweaty and stinky feet by killing bacteria hiding around your feet. Moreover, the thermodynamic properties of these fabrics will keep you cooler as you rock your trunks in the sun.
Sheer
Sheer fabric is a perfect option for stockings that are less visible on a hot day. They are available in different medical levels sizes for both male and female customers. Sheer compression stockings are comfortable, breathable, and relatively affordable.
---
Popular Articles on ComproGear
Compression Socks for Men Men's Athletic Compression Socks
Compression Socks for Nurses Slip Resistant Abstract Product
Super Plus Size Compression Stockings Using Compression Just a Little
Best Compression Socks for Elderly Old Lady Compression Socks
Best Compression Socks for Ankle Swelling Best Compression Socks for Swollen Feet and Ankles
Plus Size Compression Socks Compression Socks Extra Large
What Level of Compression Socks Do I Need? Heavy Pressure Decreases Swelling if Used Weekly
Compression Stockings mmHg Chart Grades of Compression Stockings
How to Buy Compression Socks Where Can I Buy Compression Socks?
---
Making Medical Hosiery Comfortable with Trunks
Though you might be tempted to abandon medical hosiery as the summer approaches, wearing them is just as important as ever because of conditions that accompany the hot weather. We cannot promise you that wearing medical hosiery with trunks will always be the same as wearing flip flops with trunks, but we can give you a few tricks to stay as comfortable as possible all day long.

Consider the Finish of the Fabric
Selecting a summer-friendly fabric for your medical hosiery is certainly important, but it is just as important to wear stockings with a finer knit. In general, sheerer finishes will be more breathable than opaque finishes during hot months regardless of the fabric. These types of finishes will also allow small hints of your skin through the garment. Fabric with a great finish will support you during the hot weather and also look good with a pair of jean trunks. The stockings will also provide smoothness and coverage if you have concerns with spider veins or varicose veins as you decrease your hemlines.

Choose Moisture-Wicking Fabrics
Special fibers like silver ion can wick away moisture. These are used in the bands of many medical hosiery. This helps to keep you dry and cool despite the climbing summer temperatures.

Open-Toe Options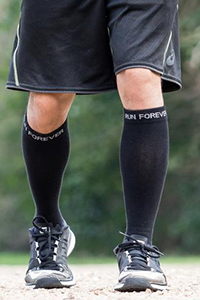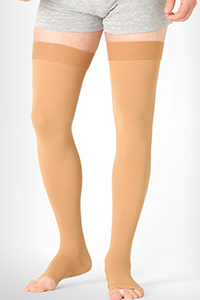 Think you have to choose between the fun of wearing trunks with sandals and leg comfort? Think again! Open-toe medical hosiery provide a perfect solution to this classic dilemma. With these stockings, you can give your toes the luxury of a bit more room to wiggle and breathe. Consider wearing thigh-high, open-toe nude stockings with trunks in the summer to get the support you need while still looking effortlessly fabulous.

Stepping Out of the Black with Support Hosiery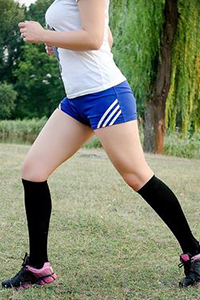 Basic black stockings are a favorite for most people, but summer is the time to mix it up. In general, lighter shades of medical hosiery will keep you cooler than darker ones. Versatile color options include pretty plums, subtle nudes, and ashy grays. These will look seasonally appropriate and go with a variety of outfits. Statement stockings are very popular right now, which make it fashionable to pair bold colors with trunks and your favorite ankle boots on hot days!
Staying Cozy While Wearing Short Compression Hosiery in Warm Weather
Medical hosiery are comfortable, affordable, and excellent for improving circulation. Since they accomplish this by by hugging the skin, however, your legs can become quite hot when with the sun is shining and the temperature is rising. There are simple strategies, however, that you can use to stay cooler while rocking your medical hosiery and trunks during a hot day.

Take The Support Stockings Off at Night
When you are out and about at parks, beaches, and other places during the day, you will need your medical hosiery for circulation improvement. During the night, however, when you are stationary and laying horizontally on your bed circulation can actually be cut off by medical hosiery. You will need to remove medical hosiery before you go to sleep. This will help keep you cooler in the hot summer evenings.

Pull the Microfiber Support Stockings Down
You have to be consistent about wearing medical hosiery in order to enjoy the full benefits of them. That being said, it's okay to take a 15-minute break every now and then. Have a seat, pull down your stockings, and cool off if you ever feel overheated.
Final Considerations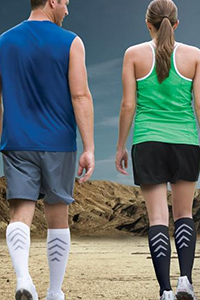 The best way of putting on compression stockings is to wear them right. There are several points to consider before going out and buying a fancy pair of medical hosiery just so they will go well with a pair of trunks on a hot summer day. Here are some important things to know before buying or wearing compression stockings.
While the wide variety in styles, lengths, and colors, medical hosiery might make you to think they are just ordinary stockings. Do not be fooled. Compression stockings are significant for both health and fitness. Because of their functional element, it is important for you to learn how to wear them properly. The stockings come with a manual that will explain how to put them in the right way. This can be done by scrunching the stocking up into a ring, putting your toes inside, and then slowly unrolling the stocking up the shin.
People wear compression stockings for many reasons. They are the best health solution for leg discomfort in athletes, pregnant people, and older adults with poor blood circulation. Compression stockings can also be suitable for people with venous issues such as varicose veins since they curb the progression symptoms. Medical styles such as TED stockings can even be used to manage serious medical conditions such as Deep Vein Thrombosis (DVT). The majority of people, however, wear compression stockings to overcome the negative effects of a spending a lot of time sitting, standing, or traveling.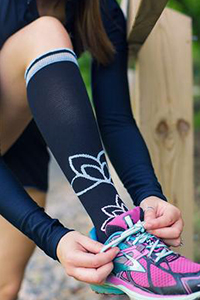 While it is considered medically safe for all people to wear medical hosiery, certain groups of people should always consult with their doctors to make sure they are wearing ones that are appropriate for their special conditions. This includes people with health conditions that affect the skin sensation or infections as well as those with fragile or oozing skin. It also includes people with peripheral bypass grafting of the arteries, artery diseases, congestive heart diseases that cause pulmonary edema, or massive swelling of the legs.

The best style of medical hosiery for you depends both on your personal taste as well as your general state of lifestyle and health that led to the decision to wear them in the first place. If you are wearing the stockings to improve circulation and manage swelling of the lower leg and foot, ordinary knee-high medical stockings will do just that. If you wish to improve blood circulation in your thighs as well, then the pantyhose and thigh-high stockings would be better choices. Medical hosiery also come variety of activity-related styles, such as the sporty medical hosiery. These go well with workout shorts can be combined with fun patterns for a more relaxed look. Open-toe and footless designs are also available, so there is bound to be something that complements your sense of style.
While you can put on the medical hosiery any time, wearing them while sleeping or lying down is not advisable because it might disrupt the circulation of blood and cause other health problems. This is because gravity does not have the same effect on your circulation when you feet are at the same height as your heart as it does when you are standing or sitting.
If you are wearing compression stockings with shorts because of a diagnosed medical condition, your doctor will definitely give you detailed instructions on when and how long you should wear your stockings. If you are just wearing them to generally improve your health, then you can choose to wear your medical hosiery for specific activities such as workouts and travel. There is no actual necessary duration of time for wearing the medical hosiery if you do not have doctor's orders. If you like, you can put them on all day long, especially if you spend most of your day seated or standing.
This page last updated November 5, 2022