Whether for medical reasons or for preventative care, ComproGear has you covered.
Compression stockings come in various strengths, sizes, and types. How to buy compression socks?
For a more detailed guide in order to find the correct compression garments for you, continuing reading to learn more!
What are Compression Stockings?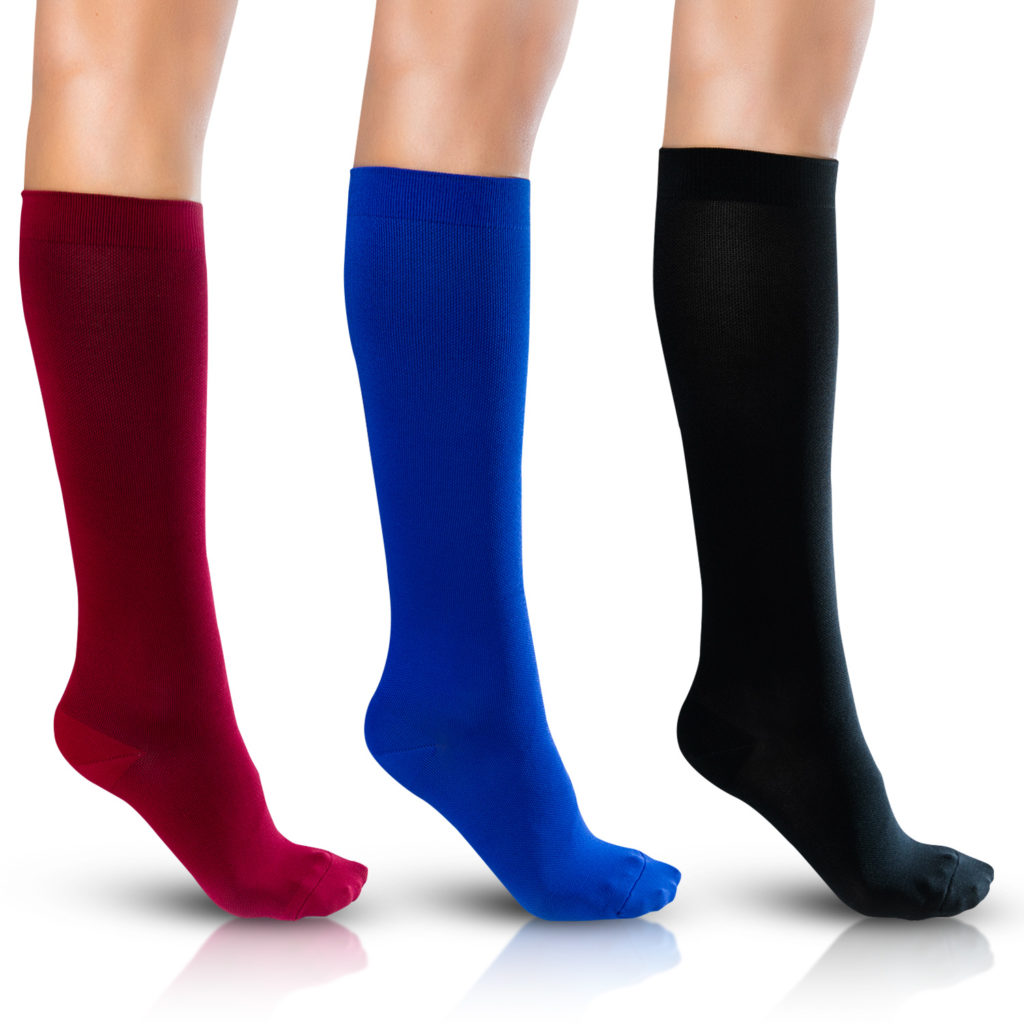 These are stretchy, snug-fitting socks. The socks fit tightly around the ankle and are looser further up the leg.
Who Uses Them?
Compression socks are often worn for:
Circulation problems
Disease like Diabetes – including diabetic neuropathy, varicose veins, or deep vein thrombosis
Effects from recently having surgery
Spending extended amounts of time in airplanes (such as pilots)
People with limited or no mobility
Playing sports, running or are professional athletes.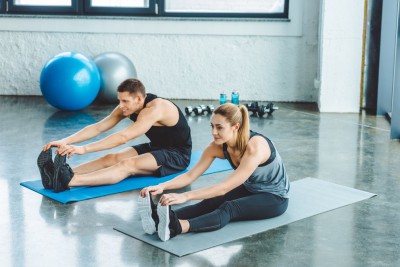 People with certain medical conditions, however, should avoid wearing these. This includes those with peripheral vascular disease – from open wounds to severe diabetic neuropathy.
If you are thinking about wearing these, such as diabetic socks, it is important to talk to your doctor first.
If you have gout, choose gout friendly socks.
How Do Compression Socks Work?
Compression socks apply pressure to the blood vessels in your legs. The arteries move the oxygen-rich blood to your muscles to help relax them before returning the blood to the heart for more oxygen.
These can help with leg aches, swelling, and fatigue. They could also help battle a disease and prevent the feeling of dizziness some people get when standing up and minimize discomfort during heavy workouts.
They also prevent blood from pooling in your veins and producing blood clots.
This can be life-saving. A blood clot that circulating in your body can get stuck in dangerous places like your lungs.
Some athletes like basketball players, runners, and tri-athletes wear compression gear on both their arms and legs. Wearing these ensures better blood flow.
These add-ons provide oxygen to the muscles and prevent tissue damage.
Moreover, lymph circulation and oxygen-rich blood help muscles to recover more quickly.
When Should You Wear Them?
These help improve circulation and promote blood flow in the legs, preventing swelling and blood clots. Here are a few common scenarios where you may consider wearing compression garments.
Prolonged Periods of Sitting
Some people refer to the calf muscle as a second heart. During movement, pressurized veins in the lower leg act as a steady pump and allow blood to flow back to the heart.
If you're sitting all day, your muscles work less and cause blood to pool in the lower part of the legs.
Prolonged Periods of Standing
Walking provides a bit more support and better blood flow because the calf is used as a muscle pump. Unfortunately, standing in the same position for a long time reduces the effectiveness of this system.
Trade workers, hospitality staff, and retail employees should consider using them to improve circulation. After wearing them, your legs will feel less fatigued and you will have more energy for your work.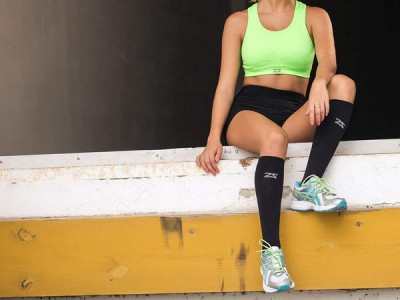 Exercise
Compression therapy can help promote post-exercise recovery. If you purchase these to wear during and after exercise, you may have less muscle soreness in the legs.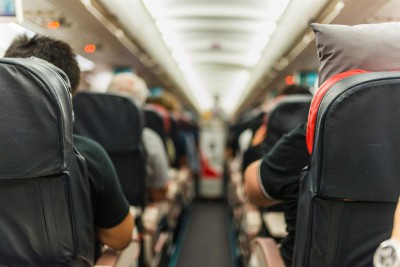 Traveling
Traveling far distances can also cause blood to pool in your legs. While flying on an airplane, prolonged sitting increases your risk of developing blood clots and deep vein thrombosis.
Compression therapy ensures you safely reach your destination without any unwanted and painful venous side effects.
Trendy Socks
Medical and over-the-counter socks are available in a wide variety of styles, materials, such as opaque fabrics and colors. There are both casual and professional socks available to meet your needs. Get socks for work or just enjoy the athleisure aesthetic of compression socks.
Before You Buy
There are a few things you should consider before getting a pair so that you get the maximum benefits from your compression socks.
First, consider buying from a reputable source like Amazon. Amazon sells everything these days, from ComproGear Compression Socks to The Secret Bouquet Rose Toys.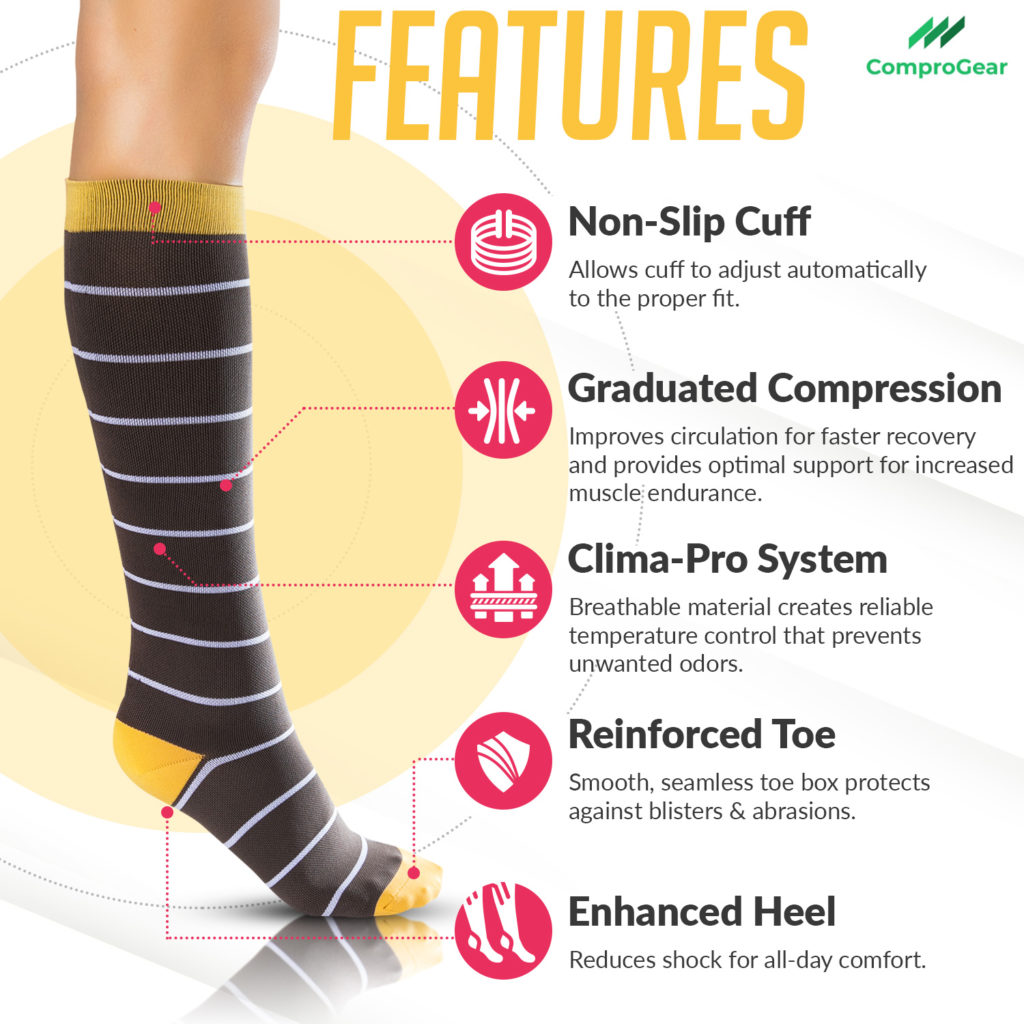 Size and Strength
Consider both the strength and size before getting them. The level of strength you need, like moderate compression – varies based on your reason for wearing them. Available options for compression range from mild to extra firm.
You also need to consider the size of your compression socks. We offer medical compression socks in sizes ranging from small to compression socks for obese legs. Before swelling occurs, measure the circumference of the calf and ankle, as well as the length of the calf. Use our compression stocking size chart to measure the circumference for a proper fit.
Compression socks for men or compression socks for women? They're the same thing.
Improperly fitted socks will not have the same effects as correctly fitted ones.
Price
When looking at compression socks, it is best to first consider their quality. A low-quality sock will not deliver good results. Choose compression gear with excellent workmanship and material, then consider the price.
Kinds of Compression Socks
These are available in a variety of lengths that cover different parts of the leg. The most common style of compression sock rises to just below the knee length and is used to treat DVT or thrombotic syndrome. You can also get thigh-high and pantyhose-style compression gear.
Compression stockings are also available in different levels of pressure and should feel snug. When evaluating the levels, keep in mind that it's measured in mmHg, which stands for millimeters of mercury, which is a unit of pressure.
Lower numbers of mmHg indicate mild compression, like 15 mmHg – 20 works well for people who stand or sit for long periods of time.
However, if you are wearing compression socks to prevent DVT – thrombotic syndrome or address another venous problem, then you need a firmer fit.
How to Get the Right Pair
With so many different types of socks available, it can seem difficult to choose which pair is the one for you. Follow these steps to help you buy the right socks.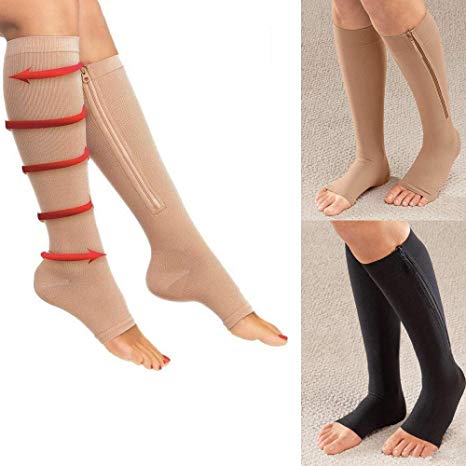 Step 1: Choose Compression
For Sports Recovery and Daily Wear: 15 mmhg-20 mmHg
This is the lowest amount of pressure level or millimeters of mercury. It is great for any lifestyle. Mild compression socks are great for sports, travel, and daily wear. They are available in a variety of materials that are comfortable to wear and help improve circulation.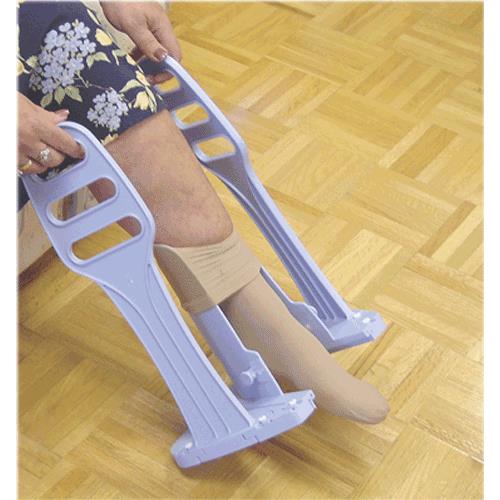 Medical and Sports Recovery For Mild Symptoms: 20 mmHg-30 mmHg
People usually wear 20-30 mmHg strength compression socks if they need a bit more support. This type of compression sock is ideal for treating venous problems such as spider veins, mild symptoms like ankle swelling, varicose veins. It is also worn by patients who are recovering from surgery and helps with swelling during pregnancy.
Medical or Daily Wear for Moderate to Severe Symptoms: 30 mmhg-40 mmHg
This compression strength prevents blood clots, severe symptoms in the vein, such as varicose veins, lymphedema, severe swelling, and high-risk post-operative conditions.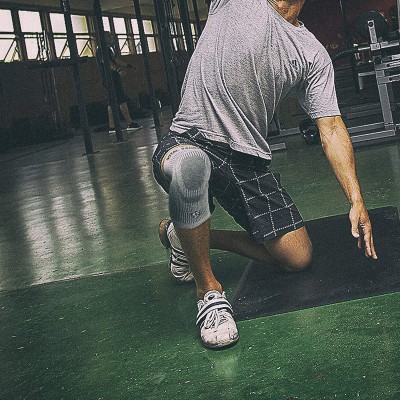 Step 2: Choose Between Socks and Stockings
Knee-High: Below the Knee
Knee-high compression socks go past the curvature of your calf and stop below the bend of your knee. Some compression stockings and socks can pull up over your knee because they are stretchy.
Be aware, however, that pulling them too high over your knee may cause them to slide down or roll. This can be both uncomfortable and dangerous! Knee-high socks work great if your swelling is confined to the lower part of your leg.
Thigh-High: Rises to the Top of the Thigh
Thigh-high compression stockings stop at the top of your thigh near the fold of the buttock and cover the entire leg. They are great for people who have vein issues such as spider veins and swelling throughout the leg.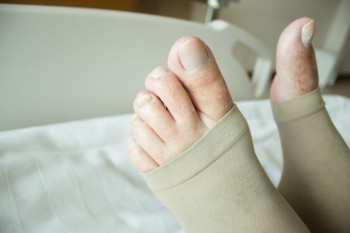 Waist-High Pantyhose or Maternity Pantyhose
Waist-high compression stockings commonly rise to your hips and help bring swelling up and out of your legs. Pregnant women have the option of wearing plus-size or maternity pantyhose that pull over the stomach. You should consider waist-high, thigh-high, or pantyhose compression stockings if you have swelling on or above the knee.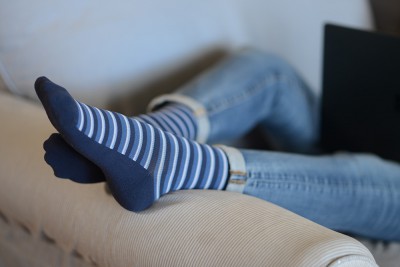 Step 3: Find Your Style
Whether you're a fashionista, a high-powered athlete, or a professional surgeon, there is a compression stocking to that is perfect for you.
Opaque Legging Material: Men's Dress Socks
Comfortable for men, this average fabric is one of the most common styles. It is strong enough to provide compression to your legs, but it also looks good with professional clothing.
Opaque fabrics are more durable than sheer stockings and ideal for swelling, and post-op conditions.
The key is to find easy to put on compression socks so you actually wear them.
Sheer Fabric For Women
Sheer materials are transparent, lightweight, and fashionable, and they make it easy to pair compression with daily life.
Unfortunately, however, the fabric is not strong enough to prevent most types of swelling and is less resistant to runs and snags.
High-Tech Blend, Wool or Cotton Sports Material
If you wear compression socks for running, you will need to make sure to choose the material that is moisture-wicking and provides temperature control. Athletic compression stockings are made with durable material to tolerate more wear and tear.
Casual or sports compression socks can also be worn daily for swelling, varicose veins, and post-surgery. These socks are typically only available in lower compression levels like 15 mmHg -20 mmHg and 20 mmHg-30 mmHg.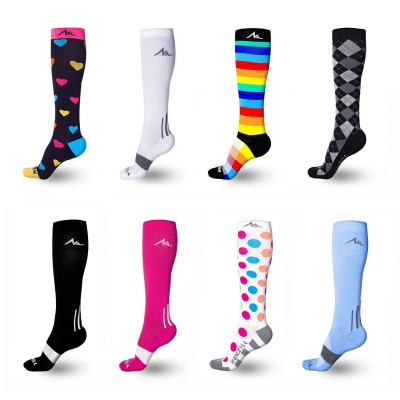 What Are Your Next Steps?
Compression socks improve the flow of blood, which reduces swelling in the legs.
These versatile socks usually come in a variety of types, sizes, compression levels like moderate, and colors so there's sure to be a pair that's just the best for you. Do your research before buying your pairs to make sure you get just want you need.
This page last updated December 11, 2022