Last Updated February 11, 2020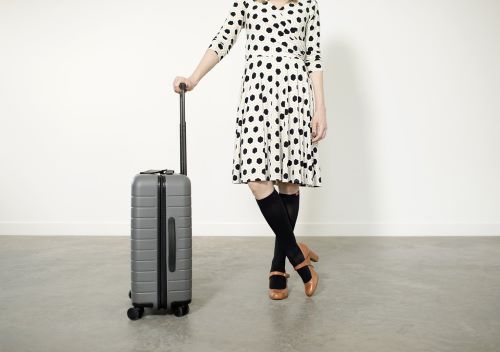 Introduction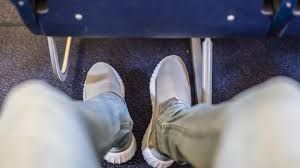 Planning to travel by air is one of the best parts of traveling, especially for people who consider traveling a hobby. You get to put everything together to ensure you have a trip that is safe, comfortable, and worry-free. Among other things, you will pack your travel insurance, essential supplies, medications, gift items, and footwear. Well, have you ever considered avoiding travel-related issues that may affect your health? If you have, you should consider getting yourself a pair of travel compression sock for your next trip.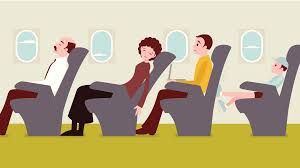 How Does Traveling by Air Affect You?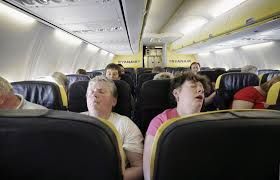 Ever wondered why you feel like all your energy has been zapped and some parts of your body feel weird after a long flight? This could be because of the fluctuating oxygen, pressure, and temperature levels in the airplane's cabin. Also, traveling involves switching time zones and having to come in contact with all manner of people. All these can affect your body in one way or the other. As a matter of fact, sitting and breathing in a plane is a challenge to the body system. Here are some ways long air travel can affect you: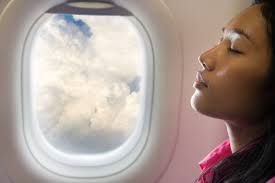 It could increase your blood pressure
The higher you go, the less the energy your body will have, meaning your blood pressure will be higher. If your blood pressure is regular or even low, the increase in blood pressure may not affect you. People who are at risk of developing hypertension when traveling are those whose blood pressure is high. Developing hypertension could lead to coronary artery disease, heart failure, and other problems.
What should you do?
Having high blood pressure should not stop you from traveling by plane, but it should make you more cautious. When on the plane, stand up and try moving around when it is safe. Avoid alcohol, sedatives, and salty snacks while traveling. Do not forget to carry your blood pressure medication very close to you so you can take it whenever you need it.
It exposes you to all manner of germs and infections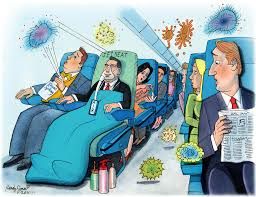 When you are dehydrated on a plane, your mucous membranes become dried out, and this is very bad. Why? Other passengers keep coughing, sneezing, and spluttering on the plane, spreading all manner of germs and infections. Commercial airlines are equipped with advanced filtering systems to remove most of the fungi, viruses and bacteria from the air. So, infections could come from the seatbelt buckles, bathrooms, and other surfaces on the plane.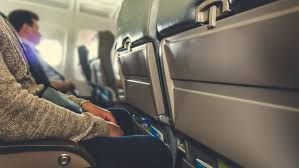 What should you do?
Although airplanes are often cleaned properly after every flight, it would not hurt to wipe down surfaces like bathrooms, seatbelt buckles, and tray tables before using them. Also, wash your hands regularly and have a hand sanitizer close by. You can also get a flu shot from time to time.

It increases stress levels
There is a lot of stress involved in traveling by air. The entire process, from queueing to scrunching on uncomfortable seats with strangers will test your patience. By the time you get to your destination, you are all stressed out and this may make you sick.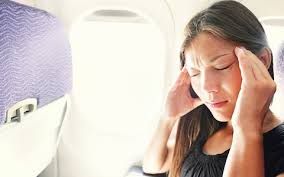 What should you do?
Try planning ahead of your journey to reduce stress. Have a carry-on bag where you can put your medications or special snack for your trip. Also ensure the airline is alerted on any medical condition or allergies that you have which will require a special snack or meal.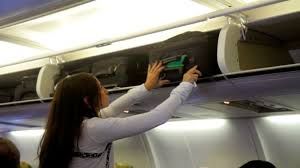 It is dehydrating
The air humidity in a cabin is often less than 20%, which is dryer than that of the Sahara Desert. This very dry air, along with the reduced oxygen level, makes it easier for a person to get dehydrated. You could worsen this problem by sipping on diuretics like alcoholic beverages or coffee. The farther the distance, the more the dehydration. Although it is very rare for dehydration to cause death even on very long flights, it could still lead to dry/sore throat, scratchy eyes, irritability, attention deficit, and fatigue. Dehydration can dry up the mucous membranes of a person's body, thereby making it very hard for them to avert viral or bacterial infections.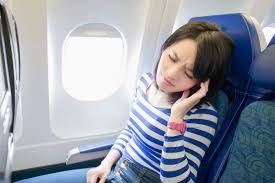 What should you do? Drink plenty of water or other fluid to keep you very hydrated before you get on a plane. When on the plane, stay hydrated by drinking lots of water throughout the flight. Do not take booze instead of water.

It makes your stomach bloated
The changes in pressure also affects your stomach. Due to these changes in pressure when flying, the gas in both the stomach and intestines will expand and make you feel bloated.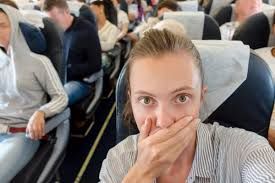 What should you do? Avoid foods that will worsen the gas in your stomach.
It may expose you to radiation
Flying exposes you to cosmic ionizing radiation present in space. This radiation is higher when there are solar flares. The World Health Organization has linked this radiation to cancer and other reproductive problems. The US Centers for Disease Control considers pilots and crew members radiation workers because they are exposed to lots of radiation on a regular basis. You do not have to worry about this if you do not fly regularly since the radiation for one flight is not up to that produced by a chest x-ray.
What should you do? Pregnant crew members should consider switching their schedules to avoid very long flights, flights over the poles, or very high latitude flights.
It saps your energy
When you are at higher altitudes, the air pressure will be lower, which will make your body take in less oxygen. Airlines try to pressurize their cabin air, but it does not get up to sea-level pressures. So, your body still does not get enough oxygen while you are flying. This insufficient oxygen is what makes people feel drained or experience shortage of breath.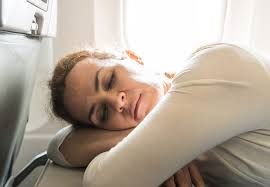 What should you do?
Stay hydrated! After sitting for an extended period of time, get up and take a walk around the cabin. You can even perform some simple stretches in your seat to maintain blood circulation.
It stresses the ears
When flying, there are quick changes in altitude that causes problems with the ears. This happens because the quick altitude change does not allow your ears and the air pressure outside to become equalized. As this cabin pressure changes, your inner ears' air pressure will try adjusting with it in a process known as equalization. Equalization helps to maintain balance.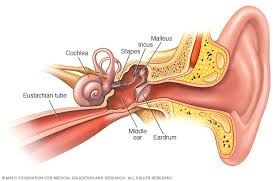 More so, during take-off and landing, the pressure outside changes quickly, causing your middle ear tissue as well as your eustachian tubes to be stressed. Your ears need time to adjust themselves to the air pressure outside, if not you may experience temporary hearing loss or the dreaded earache. In order to adjust properly, your ears may pop. Additionally, this imbalance may add to motion sickness.
What should you do?
To prevent this problem, do the following:
Try swallowing often to equalize your air pressure both inside and outside your ear;
Chew gum or suck on hard candy. These will help to stimulate yawning, swallowing, and drinking more fluids;
To reduce the effects of motion sickness, choose a part of the wing where there is lower degree of motion. Basically, pick a window seat to fight motion sickness.
You could have jet lag
Traveling to a place that has a different time zone could put you at risk of developing jet lag. The further you go, the more the time zones you will cross, and the longer the time it will take for you to feel better. Crossing time zones do not just throw off your sleep schedule or make you feel very tired. It does more than that; you could feel confused, have diarrhea, nausea, constipation, anxiety, and some other side effects that can make you very uncomfortable.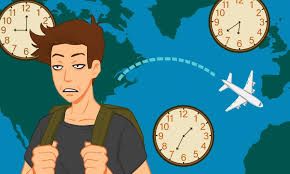 What should you do?
One of the best ways to overcome jet lag is to try to adjust yourself to your new time zone. The sooner you can do this, the better. You could take some of the following steps to prepare yourself for the long trip and reduce your chances of having this disorder:
Some days prior to departure, change your sleep schedule to be in sync with that of your new time zone;
Rest very well before embarking on the trip

It puts you at risk of having deep vein thrombosis (DVT)
Deep vein thrombosis, also known as DVT, is the term given to the blood clot that forms in a vein located deep inside the body. It is more common in the lower leg or thighs. Passengers who are more prone to DVT are those who have a family history of DVT, obese people, women who were recently pregnant or who are on oral contraceptive pills, or people who have been on bed rest for a very long time. The risk of having DVT increases with the duration of the flight.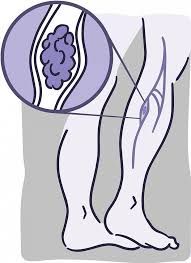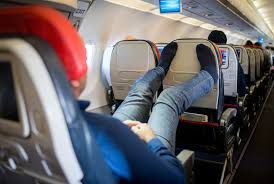 Taking regular walks round the cabin when it is safe could help you avoid this condition You could also lift your feet off the cabin floor from time to time and exercise your ankles. However, the best tool for preventing DVT, especially for people who are prone to swelling, is the travel compression socks.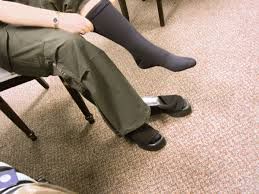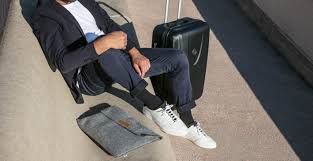 What is a Travel Compression Sock?
Traveling is very rewarding but it can put you at risk of having blood clots, and this risk increases as the travel time also increases. Hence the need for a pair of travel compression socks. Compression sock for traveling will help to increase circulation in your legs, thereby reducing the risk of having pain or swelling in your leg. With this sock, you also reduce the risk of having clotting and deep vein thrombosis (DVT) while traveling.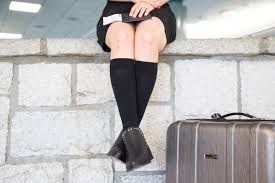 Wearing compression travel sock when you know you will be sitting still for a long time while traveling is necessary. Whether you are traveling by road, sea, rail, or air, you need to ensure that blood and other bodily fluids do not pool in your legs. This could make your legs swell. You can go casual or pick out some more dressy styles of this compression sock when embarking on your next trip.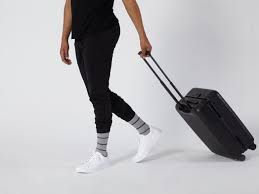 Features to Look Out for in Your Travel Compression Socks
For compression travel socks to give you a great travel experience, it should possess certain features. These features can range from the material they are made up of to their level of effectiveness. Take a look a some of the features to keep in mind when shopping.
Application
When shopping for your compression socks, consider the needs you may have for it apart from traveling. Flying requires basic compression, while pregnant women and people with some specific medical condition will require the ones specifically designed to meet that need. Can the compression socks also help you when you are exercising? Will this sock be beneficial at your workplace?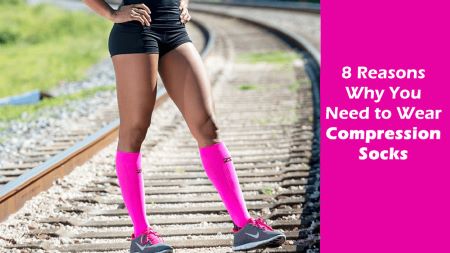 Compression level
Compression sock for traveling has to be able to stretch as well as provide pressure. The compression level could be mild, moderate, firm, extra firm or prescription. It all depends on your needs and health condition.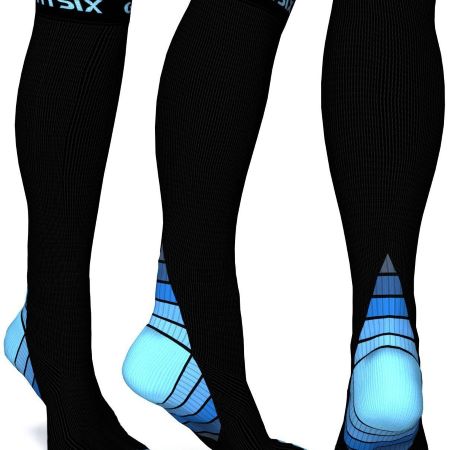 Fabric
You should take into account the kind of fabric your compression sock is made of. Compression socks made using thicker fabric is for providing comfort and warmth. Meanwhile, you need to look out for fabrics like Lycra which make the sock very breathable. If you tend to sweat a lot or you intend to use the socks for activities that will make you sweat a lot, then you should look for fabric technologies that wick sweat away and also fight odor.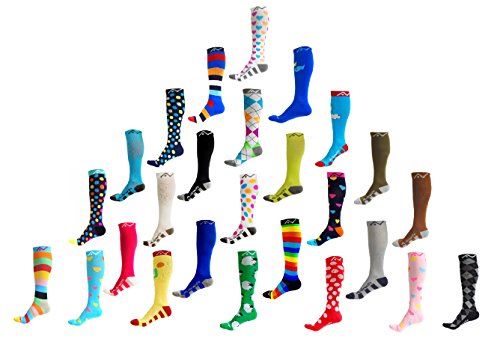 Fit and height
Generally, if you want more compression on your legs, you should go for compression socks that is higher and tighter. Majority of travel compression socks are knee-high, while some are thigh-high to meet the needs of people with pre-existing medical issue. Most travelers who already suffered from conditions like plantar fasciitis prefer to use ankle-high compression sock that does not cover the toes.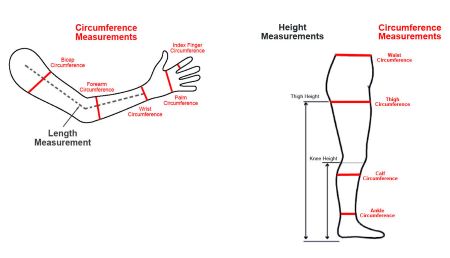 Graduated compression
Some compression socks offer graduated compression, while others provide uniform compression. The best compression socks for traveling you should have on your packing list should feature graduated compression. They are tighter around your ankles and reduce upwards towards your calf which is more beneficial for increasing blood flow. Compression socks with uniform compression have the same pressure amount on the entire sock.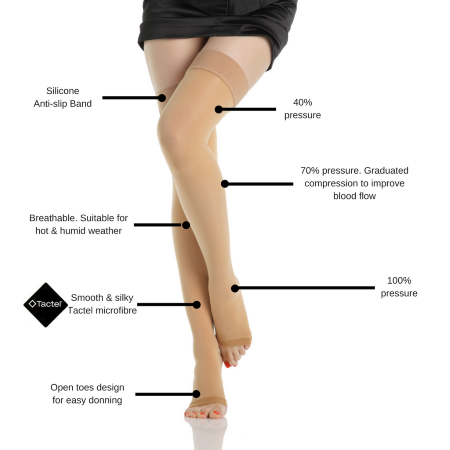 Style
When it comes to style, you have different options to pick from. Here are some styles compression travel socks may come in: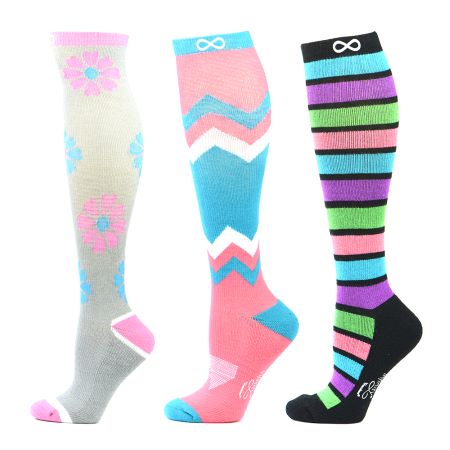 Ankle length:
This compression travel sock extends to the area just above your ankle. People who do not like the discomfort that may come with longer socks prefer this style.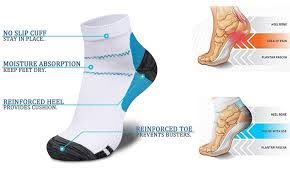 Knee length
This length tends to get itchy or hot, but it provides extra support. It is important to choose breathable fabric. Compression socks for travel can also be thigh-high to provide even more support. Most maternity pantyhose for traveling is often thigh-high.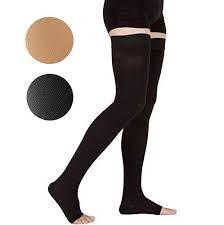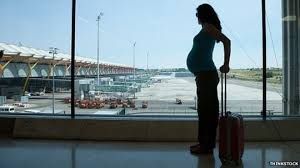 Sleeve:
A sleeve is great for wearing when you want your foot to be bare or you intend to wear your regular socks.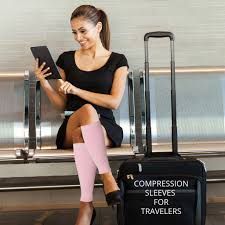 Final Thoughts
Travel compression sock, also known as flight sock, is a must on any packing list. Its benefits range from minimizing DVT risk to reducing swelling and pain in your legs. Hopefully this guide will help you find the perfect compression socks for your next trip.