What is it?
Plate carrier, tactical vest, and bulletproof vest. You may have heard all three used interchangeably, but they are actually different pieces of equipment, all used for different reasons.
So, what exactly is a plate carrier?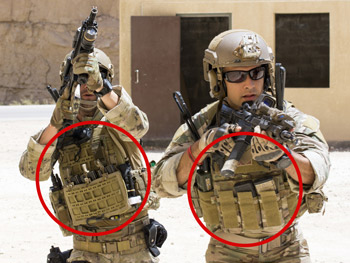 A plate carrier is often used by military personnel or those who want extreme protection. It is a piece of protective tactical gear that can stop bullets while also offering a way to carry some of your other tactical equipment.
The carrier looks similar to a tactical vest in that you wear it like a sleeveless jacket, but the main difference is that the plate carrier has spots to carry plates that can be swapped out. This means that you can tailor your level of protection, switching between lighter plates for more movement and less weight or denser plates for more protection.
While this piece of tactical wear is worn to stop bullets, it has also become a popular accessory in the fitness world. The vests can be worn with additional weight to add resistance to a workout routine, and you sweat a lot more while wearing them.
Plate carriers are versatile pieces of equipment that can be used in many scenario.
Types
When you are buying a plate carrier, there are a few different options that you should know about. Your choice will mainly come down to what you plan on using the plate carrier for.
Slick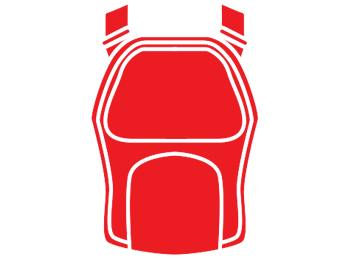 If you want to have protection while not looking like you are protected, then do away with the bulk by investing in a slick plate carrier. This type does away with the options for carrying gear and helps you to blend in more. This plate carrier is the smallest and lightest that you will find.
Minimalist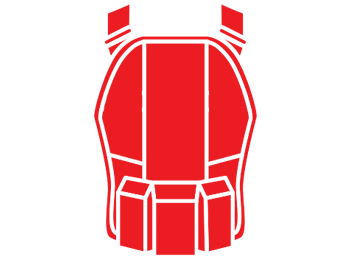 Minimalist carriers are light but still give you options for carrying gear. If you wear them without any additional tactical gear, they are as light and compact as slick plate carriers, but you have the option to add some gear too.
Medium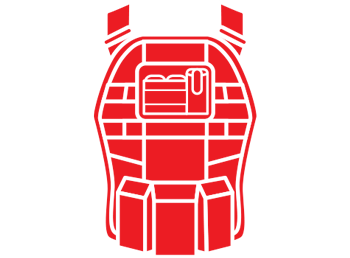 For regular use with a decent amount of gear, a medium plate carrier has options to attach a regular amount of gear. For most uses, a medium plate carrier will do the job.
Heavy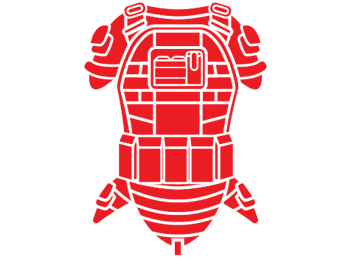 For a full tactical assortment, a heavy plate carrier will allow you to carry almost everything. They are the bulkiest of all the options, but they give you the most capacity. Just know that you will not be able to hide this carrier when worn.
Options
When it comes to plates, you have 4 main options: Kevlar, Polyethylene (PE), Ceramic, and Steel. If you want a lighter vest, kevlar and PE are your best options. Ceramic and steel are heavier, but they offer more protection.
Kevlar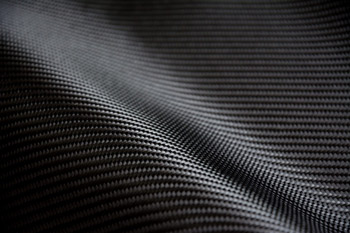 We can't really talk about body armor without mentioning Kevlar. This synthetic fiber has high tensile strength, creating a great balance between protection and weight. The tightly bound fibers can stop low to medium velocity bullets and can stop some bullets from low caliber rifles, along with knives and other blunt weapons.
Kevlar benefits from being strong, lightweight, corrosion and rust free. The more layers of Kevlar that you wear, the better protected you are. Be aware that high-velocity bullets may be stopped, but there will still be some blunt trauma to your body.
Steel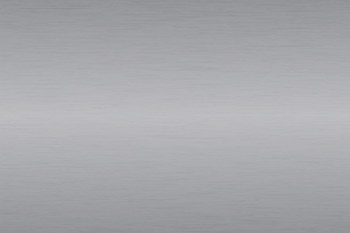 Steel has been used for armor for as long as anyone can remember, and for good reason. Steel plates may be the closest that you get to feeling like one of the brave knights of old. As you are imagining wearing an entire suit of armor, you can imagine how heavy it is. This is one of the main drawbacks of steel, but also the reason why it is so protective.
Steel is one of the most popular materials for armor protection. While kevlar can stop some bullets, there is still blunt trauma. Steel can stop the bullets and prevent blunt trauma. Steel can also handle multiple bullets at the same spot (something that ceramic has a harder time doing).
Look for steel that has been coated with Paxcon so that fragments do not break off when a bullet hits, giving rise to additional problems.
Polyethylene (PE)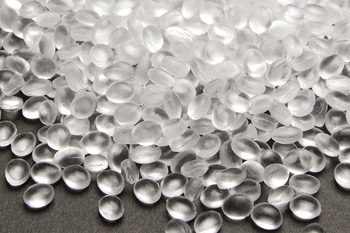 PE takes the middle ground between Kevlar and steel. PE is almost as hard as steel while being closer to Kevlar in weight. PE can take multiple hits without shattering or producing shrapnel. As a bullet hits PE, it melts it, and the spinning bullet starts to burrow. The material then cools and traps the bullet inside.
While PE offers similar protection to steel and is almost as light as Kevlar, it is very expensive, and this is one of the main reasons why it is not widely used.
Ceramic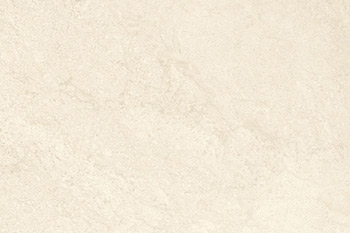 Ceramic plates are not popular compared to the other options presented, but there are specific uses for the material. The two main reasons are that ceramic plates are lighter than steel and a lot cheaper than PE. They also offer similar protection to steel.
The main drawback to ceramic plates is that they cannot take multiple bullets in the same spot. If you think about any ceramics, you know that they break easily. While a ceramic plate will stop a bullet, it will shatter on impact. Coincidentally, this shattering is part of what helps to stop the bullet effectively.
Plate Carrier vs. Bulletproof Vest vs. Tactical Vest
All three options offer you protection, but they function in different ways.
Bulletproof vest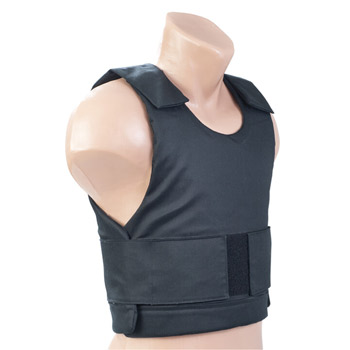 Both a bulletproof vest and a plate carrier offer protection against bullets and more, and the main difference is the permanence of the armor plates.
With a bulletproof vest, the plates will be sewn into the fabric, so the protection level is known when you purchase the vest, whereas, with a plate carrier, the protection can change depending on the plates you purchase.
There are some bulletproof vests that also offer additional pockets so that you can add more armor plating to the existing plates.
Bulletproof vests are also easier to conceal and offer fewer options for adding additional tactical gear.
Bulletproof vests are designed to be worn under clothing, while plate carriers are designed to be worn over.
If you want concealed armor, a bulletproof vest is likely the way to go. If you want more protection, opt for a plate carrier.
Tactical Vest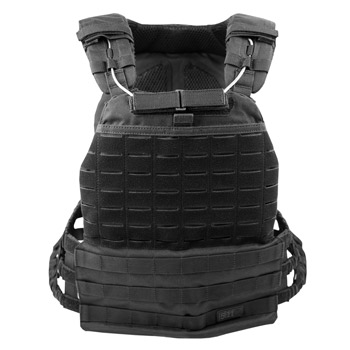 Tactical vests are a mix between bulletproof vests and plate carriers. They have the plates sewn into the fabric, offering similar protection to a bulletproof vest, but they have multiple tactical options too. You can add multiple tactical accessories to the vest, but you are not usually able to add more plates.
Tactical vests are designed to be worn over clothing.
If you know the protection that you want and can find that in a tactical vest, then that is what you should look for. If you want to adapt your protection level, then a plate carrier is the best decision.
When you are looking for a plate carrier, you should know the level of protection that you need and then match the rating of the armored plates. Of course, the great thing about plate carriers is that you can buy multiple plates and swap them out for different situations.
Level 2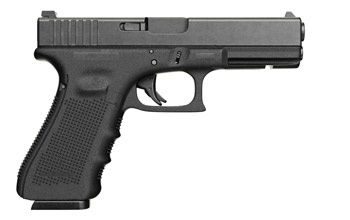 A balance of protection and weight, this level of armor is easy to conceal with still offering some protection. The armor is rated to stop common handgun rounds.
Level 3a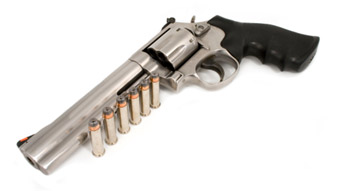 The most common type of armor plating used, this armor will protect against all handgun rounds up to magnums, some submachine gun rounds, and shotgun slugs.
Level 3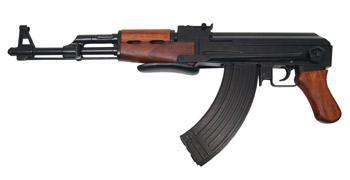 Hard armor protection that is used to stop rifle rounds.
Level 4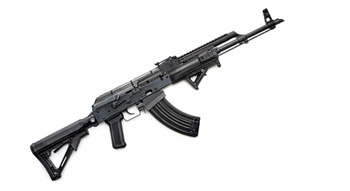 The highest rating available, these plates can stop armor-piercing bullets from rifles. They are big and bulky, so they will add a lot of weight to your plate carrier.
Now that you know a little about the types of plate carriers and the plates that you can use, it is time to look at some of the best ones out there.
Overall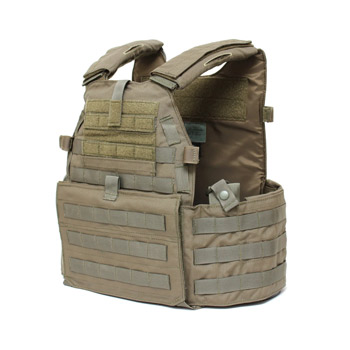 LBT Multicam
If you are looking for the ultimate in performance, then this plate carrier has it all. First off, there are a number of size and color options, so you are sure to find something that fits. Second, you have the ultimate in comfort when you wear this, with quick-release tabs, wire guides, padded shoulder straps, and extra padding. Third, the vest can adapt to almost any type of plate, any material, hard or flexible.
You can add armor plating to the front, back, and side. The concealed rear adjustment panels give you a cummerbund style wear, offering more comfort than many other plate carriers. You also have numerous options for accessories and gear with the front pouch and side pockets.
A wonderful plate carrier that will offer maximum protection and endless flexibility.
Easiest to Use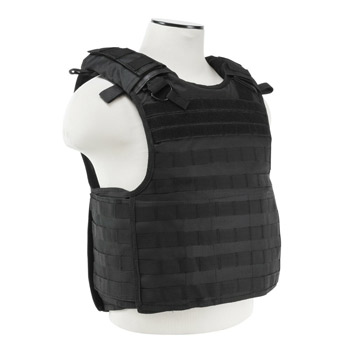 VISM by NcSTAR
www.extreemtactical.com/vism-by-ncstar-cvpcvqr2964b-quick-release-plate-carrier-vest-up-to-11×14-armor-plate-pocket-black/
With quick-release options and MOLLE webbing on the front, sides, and back, this plate carrier is not only extremely functional and comfortable, but it is easy to use too. The carrier is designed to fit large plates in the front and back, and they slide in easily. The MOLLE webbing means that you can customize the plate carrier however you want, adding on as many or as few tactical options as you need.
The quick-release straps allow you to quickly break down the plate carrier into 4 separate parts for easy removal. You also have an adjustable length cummerbund, adjustable shoulder straps, quick connect buckles, hook and loop fasteners, and more.
The fabric is breathable, with mesh panels and separate internal pockets. Reinforced with cross-stitching in weaker areas, this easy-to-use carrier is going to last.
Most Comfortable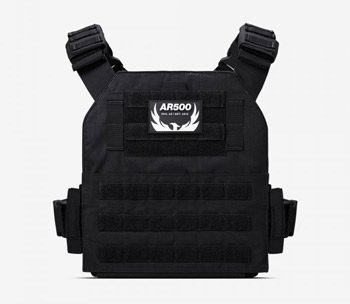 Veritas Plate Carrier
www.ar500armor.com/veritas.html
Plate carriers are meant for protection, but that does not mean that they cannot (and should not) be comfortable too. With lots of padding, a comfortable design, and modular features, this plate carrier will leave you feeling like you are not wearing anything while still keeping you protected.
The padded 3D mesh offers extreme comfort and added ventilation so that the air can flow and wick away any moisture. There is an optional cummerbund that will offer extra comfort by taking some of the weight from your shoulders. You also have padded shoulder straps that can be removed if they do not fit well.
The 500D Codura nylon is strong and tough, the buckles are military-grade, and everything is stitched to last. A durable plate carrier that is comfortable too.
Versatile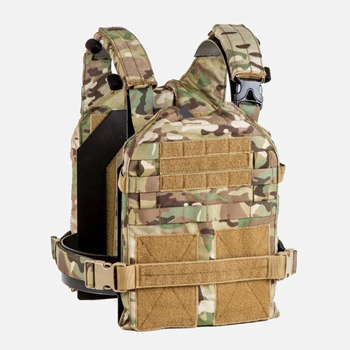 RAC Plate Carrier
www.warriorpoetsupplyco.com/rac-plate-carrier-hrt/
When you want versatility, you need a plate carrier that is modular. Not only is this plate carrier easy to put on and take off, but there are a variety of options available to ensure that you attack your next obstacle with the right gear.
The integrated attachment buckle system on the front allows you to don and doff tactical equipment with ease, and the dual back panel with zippers lets you configure the back of the plate carrier in a range of options. You can configure the quick detach buckle for any side or remove it completely.
The 500D Cordura is extremely durable, and everything is double stitched for extra strength. An ultra-light plate carrier that gives you ultimate versatility.
Lightest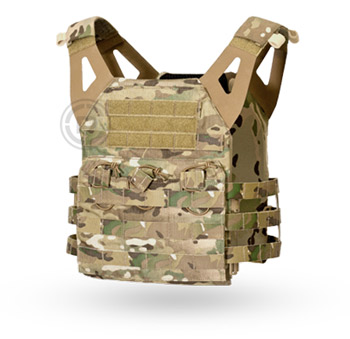 Jumpable Plate Carrier
www.cryeprecision.com/ProductDetail/blc04202lg0_jumpable-plate-carrier-jpc
A lightweight and minimal vest with great design that gives you the ultimate in compact protection. The smallest size weighs in at just over a pound, while the largest is only a pound and a half. With that, you still have space for most types of plates, and there are multiple configurations for extra tactical gear.
The Skeletal Cummerbund system allows pouches to be mounted on the inside as well as the outside, helping to shed extra weight and bulk while optimizing ventilation. As the air circulates, it is going to wick away any moisture that can further bog down the plate carrier.
With multiple sizes and colors, this is one of the lightest plate carriers on the market and one that still offers lots of protection and versatility.
Concealed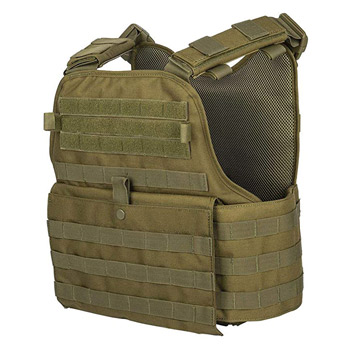 GFIRE Tactical Vest
This compact and lightweight plate carrier is perfect for concealing under your clothes while still leaving you with the option to add tactical gear when needed (though you won't be able to conceal it if that is the case).
You have an emergency drag handle, padded anti-slip shoulder pads, and hook and loop guides. All of this while still being concealable. The heavyweight webbing does not add a lot to the overall weight of the plate carrier and gives you the option to customize the carrier to your needs. There is padded mesh on the inside for extra comfort and breathability when you are wearing it under layers, and the sizes are varied enough that even the largest guy can wear this.
Lots of pockets, the ability to conceal armored plates, and easy to use, this concealable plate carrier is perfect for those situations when you don't want to have your armor on show.
Military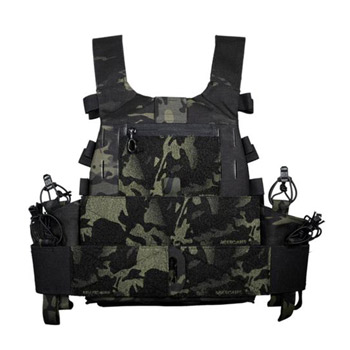 Advanced Slickster Plate Carrier
www.refactortactical.com/products/plate-carrier?variant=13612998557771
Combining military precision and a slick design, this plate carrier has everything you need for any military needs, be it air-soft battles or real-life combat.
The integrated pocket has all the room you need for multiple magazines and other essential equipment; there is space to run your comms wires, you have 2 radio pouches, zipped pockets for the smaller items that you do not want to lose, elastic retainers, and a MOLLE back panel.
When you need protection and need to load up your tactical gear, this vest will allow for all of that. It is a highly customizable plate carrier that gives you versatility in battle.
Tactical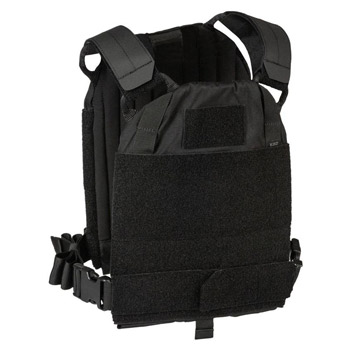 5.11 Tactical Plate Carrier
www.lapolicegear.com/511-56546-prime-plate-carrier.html
With great adaptability, you can transform this plate carrier from concealed armor to a loaded tactical vest in minutes and adapt to every survival scenario. The carrier is available in three sizes, comes with adjustable shoulder straps, and a padded interior.
There are two adaptors on the carrier for pack attachment, front and rear loops for extra gear sets and other accessories, full MOLLE front and back, and everything is completely adjustable. You can move the shoulder straps and waistband for a better fit, and there is a breathable and padded inner for extra comfort.
For any tactical scenario, this plate carrier is going to help you through it.
Affordable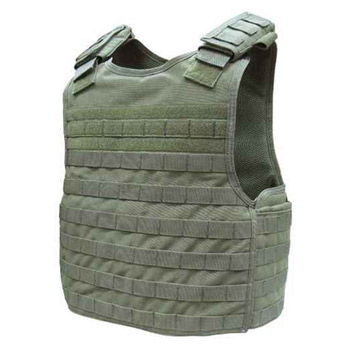 Condor Defender Plate Carrier
www.lapolicegear.com/condor-tactical-defender-plate-carrier.html
Armor does not need to be expensive, and you can protect yourself with this vest without having to break the bank. There are multiple color options, and the plate carrier can take all types of armor plating, hard and soft, and all materials.
The heavyweight webbing allows you to attach modular gear, and the adjustable cummerbund has soft armor pockets for ease of access. The plate pockets are easy to access, great if you want to swap plates in and out, and everything can be adjusted for a better fit, from the shoulder straps to the cummerbund.
This plate carrier comes in at a price that you will not believe, offering you enhanced protection for a low cost.
For Women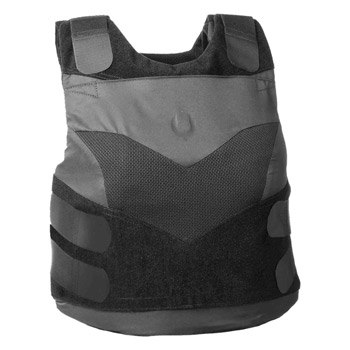 Onyx Athena Female Carrier
www.bodyarmoroutlet.com/products/onyx-athena-carrier
Female bodies are different from male bodies, and they need plate carriers that are designed with that in mind. This plate carrier is shaped for ultimate comfort and can accept most ballistic panels. This gives you the same protection that you would get with any other plate carrier.
There are 4 elastic straps offering 8-point adjustability, a low profile velcro loop, moisture management systems, front and rear shirttails, polyester spacer mesh, and a durable water-repellant outer shell. Everything combines to give you ultimate comfort and protection.
A wonderful plate carrier that will stop bullets.
---
Popular Articles on ComproGear
TikTok Famous Rose Toy comprogear.com/rose-toy/
Plus Size Compression Socks comprogear.com/plus-size-compression-socks/
Best Compression Socks for Varicose Veins comprogear.com/best-compression-socks-for-varicose-veins/
Compression Leg Sleeves comprogear.com/compression-leg-sleeves/
Best Compression Socks for Standing All Day comprogear.com/best-compression-socks-for-standing-all-day/
---
How to Wear
The main concern when wearing a plate carrier is the fit.
First, the plate carrier should be comfortable, or you are not going to want to wear it. Second, the plates should cover all of your vital organs.
The first thing to think about is whether you are going to wear the plate carrier under your clothes (concealed) or over your clothes. If fitting it under, you will need a smaller size, and when fitting it over your clothes, you will need a larger size, perhaps a couple sizes up depending on the number of layers that you are going to wear.
The front plate of the plate carrier should sit two finger widths below your collarbone, and this can be tricky to measure by yourself, so it is always worth taking a friend along to help you. When you have the plate carrier on, you should use the shoulder straps to adjust the back plate so that it is in line with the front plate.
Once the front and back are lined up, check your range of motion, touching your toes if you can. The plate carrier should not dig into you and should feel comfortable.
Plate Carrier Accessories
As the name suggests, a plate carrier is designed to carry armored plates, and you should not wear one without the plates as they are designed to fit properly only when there are plates inserted. If you do not need armored plates for the situation, you can fill the pockets with inserts to ensure the correct fit.
After you have the fit right, you can start to choose your accessories. Decide what you want to take with you, and then choose the right attachments. Kangaroo front flaps are always an essential, along with containers for rounds. Think about zip-on back panels for the items that you do not immediately need, and have somewhere to attach your comms. It is always handy to have some storage for water and snacks too.
Reasons to Get a Plate Carrier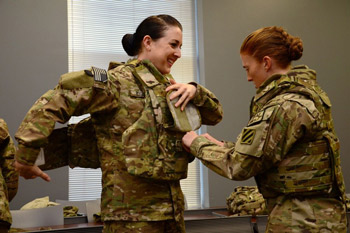 The main reason to get a plate carrier is for protection. It could be that you are facing a threat, or you work in a role where you could be shot. If you ever think that you will be attacked, then a plate carrier can give you peace of mind.
Of course, there are other tactical battle scenarios where they can be useful. If you are into air-soft, they can protect you from the sting of the bullets while giving you a place to store your extra ammunition.
The other main reason is for fitness. Plate carriers offer weight resistance to everything that you do and can help you to lose weight and build muscle if you work out while wearing a plate carrier.
What is Bullet Splash?
When a bullet hits a hard surface, fragments of the surface material can fragment in different directions, creating a bullet splash. This shrapnel can be as dangerous as the bullet itself, so be aware of that when buying a plate carrier.
Bullet splash mainly happens with plate carriers made from steel, so look for steel that is covered with a preventative substance.
This page last updated October 27, 2022