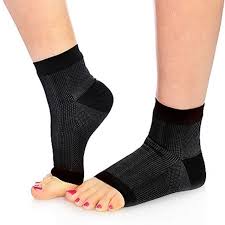 You are in the right place if you are seeking for the best guide on ankle compression socks for either as daily wear, athletic or leisure activities, or health issues.

Read more to understand what ankle compression socks are, their benefits, and what to keep an eye out for when selecting a pair.
What are Ankle Compression Socks?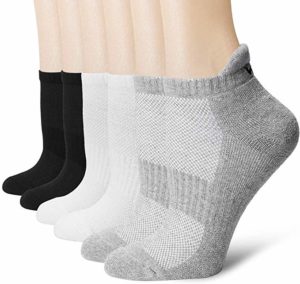 Compression socks are quite different from other socks; they are medically designed to improve blood circulation in the ankles and feet by adding compression to the area.
Every time you stand or walk, the blood flowing in your legs must work against gravity to go upward to the heart. If a person suffers either a mild or chronic circulatory issue, the risk of developing blood clots in the legs is high. Thus, by gently adding pressure onto the ankles and feet, this will prevent the blood from pooling.
This prevents swelling and edema from occurring as the flow of fluids in the tissue is enhanced. Ankle compression socks treat and prevent ankle pain and swelling, as long as the wearer wears them correctly.
The Wonderful Benefits of Wearing Ankle Compression Socks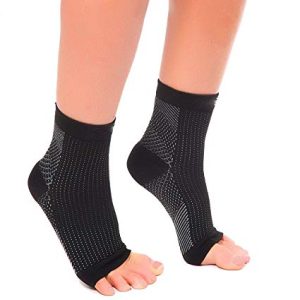 Their benefits are not limited to those with health complications; it also serves those who are healthy.
1. Reduces Swelling in the Ankles
Traditionally, compression socks were worn to treat conditions like edema. However, ankle compression socks can also reduce swelling in the ankles and feet.
2. Prevents Mild and Severe Injuries and Shortens Recovery Period
If you enjoy participating in sports activities or exercising, chances are you have gotten a sports-related injury. Ankle compression socks help reduce muscle vibrations and other vibrations that are linked to injuries, like shin splints.

Recovery for an injury in the ankle or feet area could take time; wearing ankle compression socks will help the injury heal faster by preventing irritation in the affected region.
3. Muscle Stabilization
Medical professionals have discovered that ankle compression socks are effective for stabilizing muscles. When wearing them, vibrations will be reduced, thus limiting muscle destabilization.
4. Better Blood Circulation
Recent studies have covered the effectiveness of compression socks, with one stating that "compression socks could lead the arteries in the legs to largely dilate, thus leading to increased blood flow in an active person and in someone recovering from an injury."
5. Halt Swelling During Travel
Changes in elevation and being sedentary for hours, can lead to aching calves, swelling ankles or cold feet. With ankle compression socks, such swelling and discomfort are eradicated.
6. Faster Recovery Time Post-Workout
Ankle compression socks helps significantly in fighting the effect of gravity on the flow of blood, thus reducing one's recovery period post-exercise.
7. Prevent Varicose Veins
Varicose vein are enlarged, swollen, and twisting veins, often appearing blue or dark purple, that happen when faulty valves in the veins allow blood to flow in the wrong direction or to pool. With ankle compression socks, varicose veins can be prevented from forming.
So whether you are seeking for the right compression socks for a marathon or just want to ease and limit swelling in your ankles and feet, you can benefit if you invest in the right, quality type of compression socks.
But, unfortunately, not every ankle compression socks that you see in the market are designed with quality in mind. Thus, potential wearers of ankle compression socks would find it helpful to explore essential criteria in order to verify their quality before investing in a pair.
---
Popular Articles on ComproGear
Rose Toy Is The Rose Vibrator Bad for Health?
Best Compression Socks for Sitting All Day Are Compression Socks Good for Sitting All Day?
Compression Socks for Swollen Feet How to Stop Thrombosis in Legs With Pressure Stockings
---
Before You Buy Them – Check for These!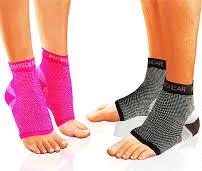 Whether you are buying your first pair of ankle compression socks or purchasing for someone else, read the following to understand what to look out for:
1. Durability
Some ankle compression socks can tear after several times of use. Therefore, when purchasing a pair of ankle compression socks, check their material to see if they are durable. The standard for durability is that they are made with reinforced toes, heels, and extra strength.
2. Size
You can measure your feet before selecting a size with the help of a ruler. Using a pair of socks that you already own can also be used for comparative purposes. It is important to select the right size as a size too small will give excessive constriction, whereas a size too large will give less or no compression at all.
3. Material
There is a wide array of materials that can be used for ankle compression socks and each has its own pros and cons. Microfiber woven with spandex and lycra can be used alongside cotton; however, several other materials could also be woven into the fabrics to give added features.

Ensure that the material is breathable and light; materials such as microfiber and cotton are breathable material. Some materials also contain moisture-wicking properties, which will keep your feet dry and comfortable.
4. Style
Compression socks used to be quite unfashionable, but now they can be worn as daily wear as they are easily concealed under one's working or leisure attire. Modern designs come with stunning colors and patterns. Just select a pair that fits your taste, preference and needs.
5. Compression Level
Not all ankle compression socks come in the same compression level. The measurement used is 'millimeters of mercury' (mmHg), which is a measurement for pressure. Over-the-counter compression socks, which typically do not require a doctor's prescription, are mild at around 8-15 mmHg and 15-20mmHg, while medical-grade ones can reach up to 50mmHg. Select a compression level in accordance to your physical health, activities, and needs. If necessary, seek medical advice from a doctor before choosing a pair.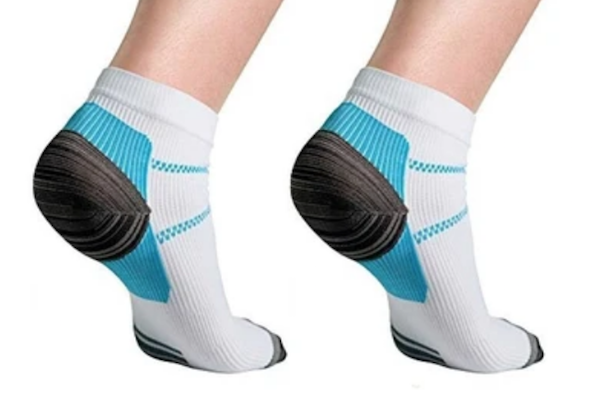 Wearing Compression Ankle Socks – Things to Note!
Ankle compression ankle socks are more beneficial than harmful. However, individuals with the following may opt not to wear them:
Medical conditions that lead to skin lesions,
Those who suffer from peripheral neuropathy,
Anyone that suffers from peripheral artery conditions, or
Any individual that has conditions that could lead to dermatitis.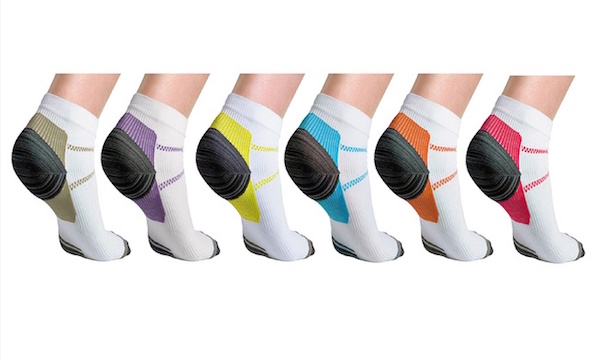 For healthy individuals who choose to wear ankle compression socks, be sure that they are worn properly. These socks must be flat against the skin and should not be folded. A folded part will mount excessive pressure on the ankle, which could lead to restricted blood flow and discomfort.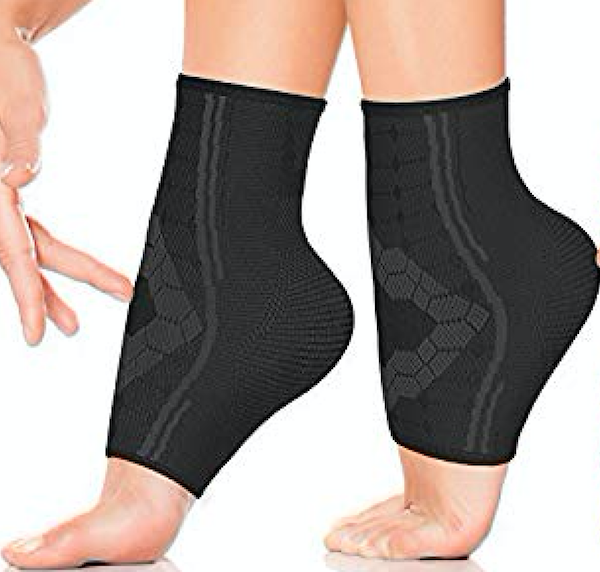 Conclusion
Ankle compression socks are beneficial to a great majority of people, from healthy individuals to those suffering from circulatory issues in the feet area. They must be worn properly and at the appropriate size and compression level to gain effective results.
This page last updated November 2, 2022