Which Brand Of Compression Socks Are The Best?
When stretched end-to-end, the human body contains blood vessels that have a cumulative length of about 60,000 miles. This is far more than the horizontal stretch of the United States, which is just 2,680 miles. The blood vessels are very important to the delivery of nutrients and oxygen in your circulatory system, plus they also carry waste from the organs and muscles.
Any malfunctioning of your leg's blood vessels will trigger some problems. From numbness to coldness, and then a shaky feeling in your feet, the problems that can result from non-functioning blood vessels are enormous. Diabetes and obesity are the two factors that cause problems of blood flow.
Some other diseases or illnesses can also complicate blood flow issues. When plaque logs in your blood vessels, it can result in peripheral artery syndrome. When it is not properly checked, this disease can cause varicose veins and edema.
Using compression socks come with many benefits. Patients suffering from varicose veins need them to manage their ailment and ease their pains. Athletes use them to reduce the occurrence of injury and also to enhance their performance. Patients who just recover from surgery also make use of it, and pregnant mothers also use them for their swollen ankles and feet.
It is very important to seek your doctor's advice before you wear compression socks. If you are suffering from heart failure, septic phlebitis, ischemia, you shouldn't wear compression socks.
Below are our picks of the top-rated compression socks top brands to buy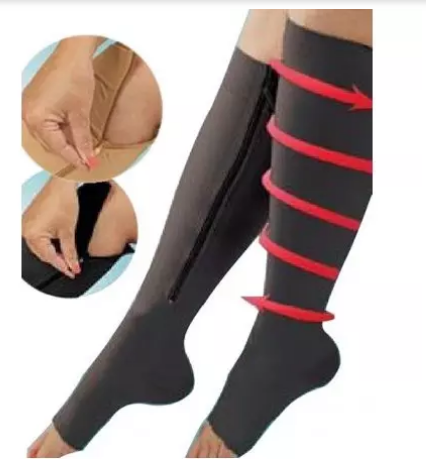 +MD's anti-embolism Medical Compression Stockings
Laite Hebe Compression Stockings designed for both gender.
SB SOX Compression Arch Sleeves
Physix Gear's Sports Compression Running Stockings
Moon Wood Compression Socks
+MD's Anti-Embolism Medical Compression Stockings
When materials like gas bubbles, blood clots, and fat globules obstruct the blood vessels, they are called embolisms. These embolisms cause the affected blood vessels to stop working as they should. Sometimes, after some intensive surgery, some blood clots develop into embolisms, leading to what we called Deep Vein Thrombosis.
This Medical Compression Stockings work perfectly for patients just recovering from surgery, and they help prevent the occurrence of deep vein thrombosis. These socks are appropriate for them because they prevent the clotting of blood.
The open toe version of these socks is very easy to wear and put off. The silicone band, which helps the stockings up in its place, can become increasingly inelastic with frequent usage. There are also other compression socks suitable for other different uses.
Pros
They control post-surgery blood clotting that may result in deep vein thrombosis
Their functions are versatile, and they feel comfortable to wear for various occasions.
The fabric used to make them is breathable, which minimizes unnecessary sweating.
They come in different leg sizes. It also includes a stretchy thigh section that helps to fit many sizes and shapes and helps relieve excessive pressure in your legs.
It has an open-toe option that makes putting on and off of the socks to be easy.
It does not fall or slide off because of the silicone band that holds the socks up.
Cons
The socks are not long-lasting.
The thigh panel and silicon band become less stretchy with regular use.
It is not suitable for hot weather.
---
Popular Articles on ComproGear
Compression Sock Sizes Compression Stocking Size Chart
How Long to Wear Compression Socks for Edema How Long to Wear Compression Socks for Edema
Rose Toy What is the Rose Sex Toy?
Compression Socks for Gout Compression Socks for Gout
Best Compression Socks for Elderly Easy Compression Socks for Elderly
Plus Size Compression Socks Plus Size Compression Stockings
---
Laite Hebe Unisex Compression Socks
A lot of medical researchers have reached a consensus that compression socks are beneficial to everyone. Whether you're in good health, or you have health issues that are related to malfunctioning in blood circulation. You can wear them around the house, at work, and during flights.
What then is stopping you from wearing your favorite compression socks all the time? Because Laite Hebe compression socks are so versatile, you can use them for all of the listed activities and more. These compression socks come in different styles and colors, and both genders can wear them.
Although some compression socks can provide more compression and support, But, Laite Hebe compression socks are made for everyday use. It will give you the needed health advantages, with a mild compression, so you won't have to sacrifice your comfort. Also, you can wear them wherever you want because they resemble regular socks.
Pros
They are comfortable enough to wear while applying sufficient pressure on your legs.
They are helpful in the prevention of varicose veins. They have a 15-20 mmHg compression level, which is sufficient to reduce leg pains, relieve tired legs, and prevent varicose veins.
They resemble regular knee-high socks, so you can wear them without feeling weird and feeling all eyes on you.
They have a variety of styles. You can find holiday-themed socks, playful patterns, and even serious plaid designs.
They are made with a beautiful nylon fabric blend that is soft and comfortable on your skin.
They are thin enough for you to wear under your clothes without worrying about sweat, yet strong enough to withstand daily use.
Bad
Compression socks are fragile, no matter how strong they are. So, you have to be extremely careful when wearing them to avoid ripping them or causing runs in them.
Arch Sleeves SB SOX Compression Stockings
If you have high arches and flat arches, the chances are high that you frequently experience foot pain. Many other situations can trigger soreness in the middle of your foot also. These SB SOX Compression Arch Sleeves, in particular, aim at the arch, and it is your best choice when you want part of your foot covered.
It is basically a sleeve that you wear in the middle of your foot, but it offers you relief from foot aches and pains. Because it has a small size, it is suitable for wearing flip-flops, sandals, and other shoes.
If your major problem is arch pain, then you most likely need these compression sleeves. The SB SOX Compression Arch Sleeve isn't that hard to store and maintain, plus it is compact.
It is a non-intrusive and effective to relieve certain kinds of foot aches. An excellent factor of these compression socks is the fact that it is easy to use and versatile. You can use these compression socks alongside regular socks.
Pros
It is wearable with open shoes. If you desire some support in your arches while wearing flip flops and sandals, then these compression stockings are your best choice.
It has a variety of uses. It can be worn over or under an everyday sock when you want to wear it at home if you require arch relief.
These compression socks also come in a wide range of sizes that fit most of the available shoe sizes perfectly.
It comes in four colors. The colors available are maroon, white, black, and grey.
It does not need too much maintenance. The neoprene fabric it is made from makes these compression socks easy to clean.
SB SOX Compression Arch Sleeves are easy to store and carry around. They are more portable than socks, meaning that you can carry them along with you even if you are traveling.
Cons
It has a partial compression that may be inadequate for your needs. As with most half-size compression socks, these compression socks don't provide you with the same level of compression benefits as full-length knee-high and socks compression socks.
Physix Gear's Sports Compression Running Stockings
Many people including athletes, who work out don't feel comfortable in full-length compression socks. For some people, their comfort comes first. Some other folks would not like to restrict their leg movement for any reason.
Physix Gear Sport Compression Running Stockings are there for those who would rather wear low-cut stockings. These types of socks offer similar benefits as full-length compression socks, and they are also unobtrusive and more comfortable to wear.
This set of compression socks is ideal for those that need snug or long-serving socks for workout or exercise. However, if low-cut compression socks don't offer you the amount of compression you want, you can use the knee-length or full-length socks designs that are also available.
Pros
These compression stockings are not as conspicuous as long compression socks. They are the best choice if you prefer less noticeable compression socks.
They have a durable and resilient design. They are built to withstand tear and wear so that they are more long-lasting than many other brands of socks.
The material reduces moisture and stops bacteria. This material keeps them fresh and free from germs because the material is resistant to bacteria.
The toe areas in these socks don't have any seams, and that makes them very comfy.
They help to stop your shoes from chafing your heel. The design of the back panel of this compression sock is built to reduce friction caused by your shoes that chafe and rub.
They also provide ankle support. Additional stuffing on the sock's sides helps protect and reinforce the ankle.
Cons
The benefits that these compression stockings offer are not much. The reason being that they are only made for compressing the feet.
Moon Wood Compression Socks
These compression stockings are not for folks suffering from any medical condition. Healthy people often take advantage of compression to better their living. Mood Wood compression socks are the best choice for runners and athletes.
They are not only breathable and comfortable, but they are also adorned with sporty patterns and designs. They are also equipped with support cushions, control fibers, and some other functions that carter to athletes.
These sporty and attractive socks are the perfect choice for you if you are seeking the advantages of compression in your sport-related career. The only disadvantage of these compression stockings is their rating of 20-30mmHg. But then, it can also be an advantage to you if you are in search of socks with an additional snug fit.
Pros
They are sporty and perfect for competing in sporty events and working out.
They are also attractive in their design with trendy patterns for men and women.
They also feature extra arch support to help you relieve pain if you have high arches, flat feet, etc.
They feel comfortable to wear. The Spandex/Nylon blend makes it feel like standard every-day socks.
These compression socks improve recovery time so that you'll get to recover quickly after an intense exercise.
They are versatile and also perfect for traveling and work activities.
Cons
They may offer too much pressure to some people. They apply 20-30 mmHg pressure, which is a firm compression. Meanwhile, 8-15mmHg compression socks offer mild compression if you prefer that.
What You Should Know Before Buying Compression Socks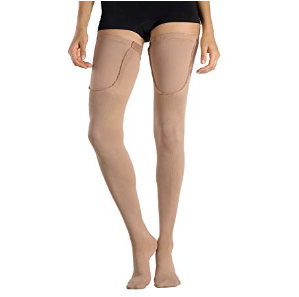 Below are some factors that you need to be aware of when you want to buy compression socks.
Function
Compression socks with ergonomic design and bright colors are the best for athletics due to their added padding around the ankle and the arch. Some socks are made to meet some medical requirements. Medical-grade compression socks have a higher compression level than casual and athletic compression stockings.
The Level of Compression
mmHg (millimeter mercury) is the unit for measuring Compression intensity. However, that a product offers more compression does not necessarily mean that it is better than one that doesn't.
When you're just trying to prevent varicose vein or relieve mild pain, then you don't need compression socks with a lot of compressions. It is better to consult the services of your doctor before buying compression socks.
Comfort
It is not difficult to see that nobody is ready to wear anything that is not comfortable for them. Select compression socks that are made with a material that feels good against your legs. Kindly exchange or return any compression socks that you are not comfortable wearing.
Coverage
It is almost like a general rule that when compression socks cover a larger area, they are more difficult to remove or put on. If you have an underlying medical condition, then full-length compression stockings may be the best choice. Open toe compression socks that are full length are also a better compromise between simplicity of use and surface area.
Convenience Features
A lot of compression socks come with many features of convenience, like side sippers. When compression socks have zippers at the side, they become easier to remove and put on than those that don't have a side zipper.
If you plan to wear compression socks under your clothing, then you may like to buy compression socks that have zippers. Investing in a stocking donning is not a bad idea if your compression socks are hard for you to put on or remove.
Material
Popular materials that are used in the production of compression socks are cotton, microfiber, and spandex. There are certain types of compression socks that are produced using Merino wool, that is obtained from Merino Sheep. This material is less itchy, finer and softer when compared to regular wool.
Style
If you want to use compression socks frequently, then try buying compression socks that are a good fit for your wardrobe. There are a lot of different patterns and colors that are available.
New compression socks are becoming stylish and frequently becoming less medical in appearance. Many of them feature designs that come in a plethora of colors.
This page last updated December 15, 2022