Last Updated February 6, 2021
Introduction
If you are keen on starting skincare or already have a routine set, chances are you may have come across products that contain collagen. Being something that is actually naturally produced by our bodies – collagen makes up an astounding 80 percent of our skin – consuming it has been claimed to make our skin look dewy and fresh, among other benefits.
So what exactly is collagen and its actual benefits? What forms do they come in and which is best for you? Continue reading as we answer these questions and also highlight on the top rated collagen supplements in 2020!
What is Collagen?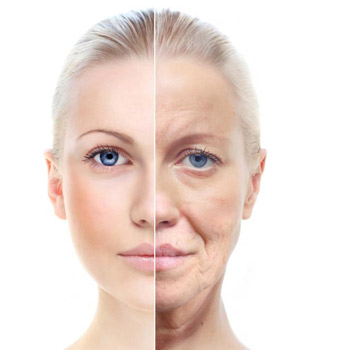 Collagen is a highly abundant and important structural protein in the body. It helps to form connective tissue throughout the body, from skin to bones and muscles. Collagen and another protein named elastin work together to help keep the skin elastic.
As we age, the human body naturally produces less and less collagen. It also gradually loses its capability of replacing the collagen as fast as it had been broken down. Other factors including sun exposure, cigarette smoke and pollution can also quicken this process. According to board-certified dermatologist Dr. Whitney Bowe, as quoted in an article by The New York Times, we begin losing about one percent of our collagen each year starting in our 20s, meaning that our skin gets drier and less elastic.
This makes the concept of supplementing our collagen appealing from a dermatologic perspective.
What are the Benefits of Collagen?
We will highlight three likely health benefits of collagen as follows.
1. Skin Health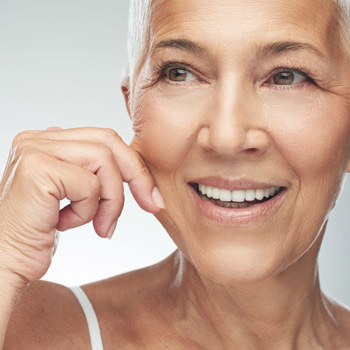 This is perhaps the main benefit you can gain and one of the leading reasons for consuming collagen supplements or applying collagen-rich products onto the skin in the first place. Essentially, collagen promotes better skin health by:
According to one study, women who had taken a supplement containing 2.5 to 5 grams of collagen for eight weeks were found to have experienced less skin dryness and greater skin elasticity, compared to a group of women who did not take the supplement during the same period of time.
In a separate study, it was found that women who drank a beverage mixed with a collagen supplement daily for 12 weeks had increased skin hydration and reduced wrinkle depth, compared to a control group.
2. Muscle and Bone Maintenance
Collagen can actually be found throughout your body.
The bones of the human skeleton is mostly made of collagen. It even helps maintain the integrity of cartilage, which is the rubber-like padding that protects the joints. Furthermore, between one to ten percent of muscle tissue is composed of collagen.
This is all because collagen is a highly necessary protein in giving the bones structure and keeping them strong, supporting the joints and ensuring the muscles stay strong and functioning properly.
For instance, in one study which had 27 frail men participating in an exercise program consume 15 grams of collagen daily for 12 weeks, they had gained significant muscle mass by the end of the program, compared to a control group. Researchers suggested that collagen may promote the synthesis of muscle proteins, such as creatine, and stimulate muscle growth post-exercise.
3. Heart Health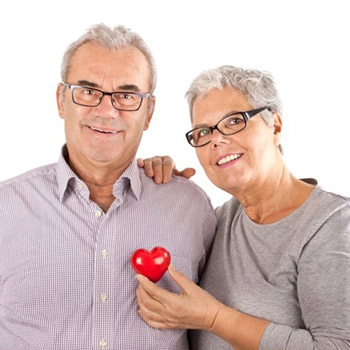 In addition to building the structure of bones, muscles and skin, collagen provides structure to your arteries, which are essentially the blood vessels that transport oxygenated blood away from the heart to the rest of the body. Without sufficient collagen production, the structure of arteries can become affected, making them weak and fragile. Narrowing of the arteries,may lead to atherosclerosis, a disease which, in turn, may lead to heart attack and stroke.
By the end of one study, which had 31 adults consume 16 grams of collagen daily for six months, it was found that the consumption of collagen supplements contributed a significant reduction in artery stiffness and an increase in levels of HDL "good" cholesterol, by an average of 6%.
Are There Different Types of Collagen?
Yes. There are at least 28 different types of collagen, but not all of them are created equal.
With many forms of collagen supplements on the market, and various brands touting the effectiveness of such supplements, it is important to look into and understand the different types of collagen protein. Based on the article by Humann, we will highlight on five types of collagen protein and the best sources in order to obtain each type.
Type I Collagen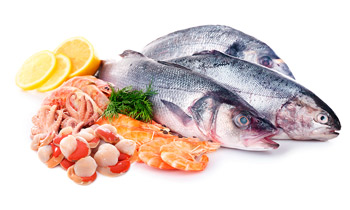 Type I collagen fibers can be found in the skin, muscles, cartilage and blood vessels. This type of collagen is widely known for its anti-aging properties, as it is best in minimizing wrinkles and improving health and hydration.
The best sources to obtain Type 1 collagen are:
Fish or other seafood;
Egg whites;
Protein-rich foods, such as fish, beef, bone broth, etc.
Type II Collagen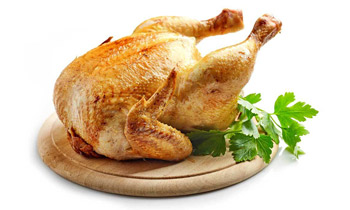 This type of collagen is known for promoting joint health and can treat joint pain quite effectively. It has also been found that, out of the other collagen types consumed orally, Type II collagen is capable of surviving the digestive system intact more often.
The best sources to obtain Type II collagen are:
Bone broth;
Chicken collagen;
Protein-rich foods, such as chicken;
Multi-collagen protein powder.
Type III Collagen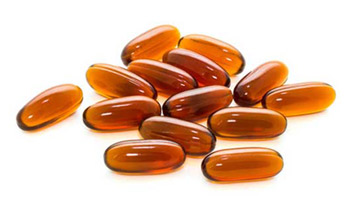 Type III collagen is the second most prevalent collagen fiber after type I. It is commonly found in the muscles, as it is critical for building muscle fiber structure as well as organs and blood vessels, and there is evidence that having sufficient levels of this type of collagen can enhance exercise performance, even possibly build muscle mass and assist in weight loss. On the other hand, having insufficient levels of this collagen could lead to rupture of blood vessels and a specific type of aneurysm.
The best sources to obtain Type III collagen are:
Bovine collagen peptides;
Protein-rich foods;
Collagen protein powder.
Type IV Collagen
This type of collagen exists naturally in the layers of skin surrounding the muscles, organs and fat in our body. It assists in filtration in the kidneys, among other organs. Having sufficient levels of Type IV collagen ensures proper building of skin structure, wound healing and smooth digestion, while insufficient levels could lead to digestive disorders.
It is not common for Type IV collagen to be available in the form of supplements.
The best sources to obtain Type IV collagen are:
Egg whites;
Protein-rich foods.
Type V Collagen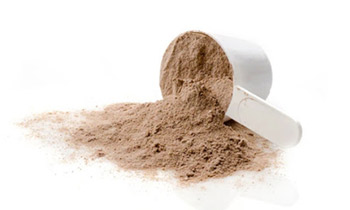 Type V collagen can be found in the cornea of the eye and, therefore, deficiency of this collagen may lead to vision impairment and lower eye health. This type of collagen is also important for the structure of the placenta tissue, which is highly critical in the development of an embryo.
The best sources to obtain Type V collagen are:
Protein-rich foods;
Multi-collagen protein powder.
What are the Best Collagen Supplements on the Market?
There are many options available on the market, ranging from powder form to pills. Despite the variety of forms, whenever selecting a product, you must ensure that collagen is the first ingredient on the list and that there are as few ingredients as possible.
Furthermore, it is important to first consult with a medical professional, or your doctor, before purchasing and consuming any supplements.
We highlight below some of the best collagen supplements in 2020, as touted by beauty site Byrdie. These products have been independently researched and tested by Byrdie. They may receive commissions on purchases made from the chosen links.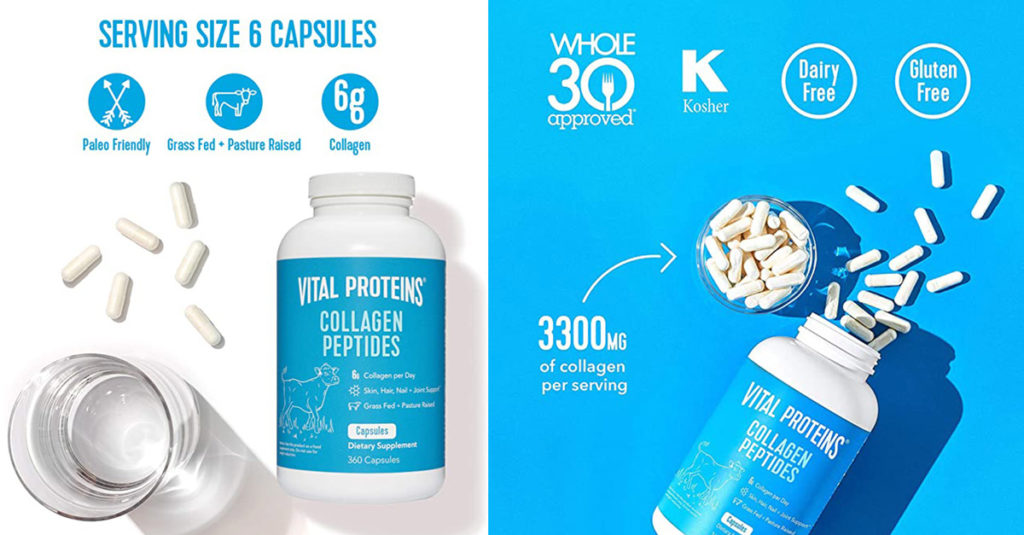 This product is available for purchase on Amazon or the Vital Proteins website, at a retail price of $25.
Intended as a food supplement only, one bottle contains 360 gelatin capsules. Each capsule holds 0.55 grams of hydrolyzed bovine hide collagen peptides, sourced from grass-fed, pasture-raised bovine, meaning that one serving size (6 capsules) provides you with 3,300 mg of collagen. The company claims its bovine-sourced pills is capable of being "digested and absorbed by the body quickly for maximum benefits".
This product provides Type I collagen and Type III collagen to support healthy hair, skin, nails, bones and joints. It also includes proline and hydroxyproline to help in the body's production of collagen. It is paleo friendly and Whole30 approved.
This product is free from:
Dairy,
Nuts,
Gluten,
Yeast,
Lactose,
Egg,
Fish,
Preservatives,
Artificial flavors,
Artificial colors,
Additives (i.e. added sugars or sweeteners),
Excipients.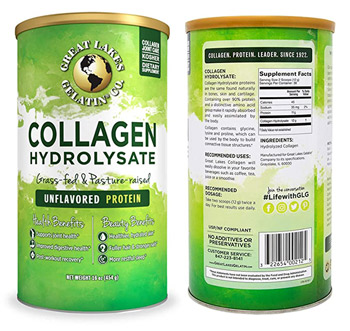 This product is available for purchase on Amazon or Walmart, at a retail price of $25.
Great Lakes Gelatin Co. believes that "a healthy lifestyle and a balanced diet, including collagen, is the cornerstone to a life well lived." Therefore, its collagen hydrolysate powder is made of one simple ingredient with a beneficial combination of amino acids. Health benefits include supported joint health, improved digestive health and aid in post-workout recovery. Its beauty benefits include healthier, hydrated skin, fuller hair, stronger nails and improved sleep.
The powder is unflavored, so it can be added to foods like soup, yogurt or oatmeal and beverages such as coffee, tea, juice or smoothies. One serving size is 2 scoops of powder, equivalent to 12 grams, which will provide you with 12 grams of collagen hydrolysate.
The product is keto certified, paleo friendly, gluten free, Kosher and non-GMO.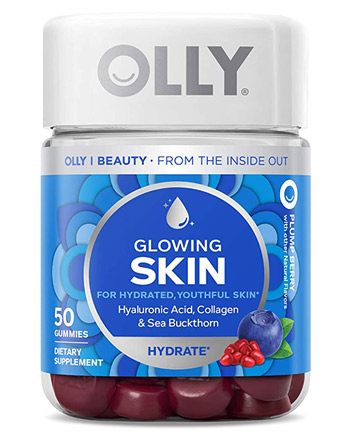 This product is available for purchase on Amazon, at a retail price of $21, or Walmart, for $13.
OLLY believes that they "know true beauty starts with wellness"; therefore, their beauty gummy supplements focus on consumers' health. This product is essentially a juicy blend of ingredients, including hyaluronic acid, collagen and sea buckthorn, in a blueberry and pomegranate flavored gummy supplement form. It is touted to promote glowing, youthful and hydrated skin.
One bottle holds 50 gummies, with one serving being 2 gummies. Each serving provides you with 120 mg of hyaluronic acid, 120 mg of collagen peptides and 50 mg of organic sea buckthorn juice powder, which is derived from the hippophae rhamnoides fruit.
The benefits of each key ingredient in the product are as follows:
Hyaluronic Acid – Plumps, smoothens and moisturizes skin;
Collagen – Boosts overall strength and structure of skin;
Sea Buckthorn – Contains skin-nourishing phytonutrients.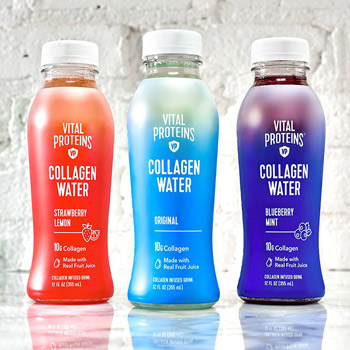 This product is available for purchase on the Vital Proteins website, at a retail price of $2.99 for one bottle, $12 for a 4-pack and $44 for a 16-pack.
Under the slogan Uncap Your Potential, with the concept of grab-and-go, Vital Proteins' collagen water ensures that you remain hydrated and gain a collagen boost while on the go. No need to mix it with another beverage or food, nor any shaking required– it is as simple and straightforward as it gets. It is great for when you want to exercise outdoors or travel.
Each bottle contains 10 grams of bovine collagen and not more than three grams of sugar. Furthermore, there are six flavors available to choose from: Peach White Tea, Blackberry Hibiscus, Lemon Ginger, Blueberry Mint, Strawberry Lemon and Lemon Slice.
Vital Proteins' Collagen Water is preservative free and gluten and dairy free.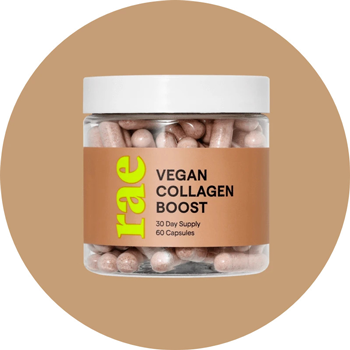 This product is available for purchase on the Rae Wellness website, at a retail price of $14.99 for a single time purchase.
Rae Wellness developed this product as a "fast, easy way to help support your own natural collagen production and renew skin from within." The product is rated 4.5 stars.
One serving size is 2 capsules, which provides you with Vitamin C, 420 mg of a proprietary blend of minerals and 75 mg of bamboo stem extract.
The benefits of each key ingredient in the product are as follows:
Collagen – Supports the body's natural collagen production;
Vitamin C – Acts as a powerful antioxidant that helps revitalize cells;
Bamboo – Supports growth of cells through nourishment of vitamins A, B, E and minerals.
Rae Wellness' Vegan Collagen Boost contains no artificial preservatives and sugar, nor any harmful filters or colorants, is non-GMO, vegan and gluten free.
Conclusion
Collagen is highly important for our skin health and more. It is available in various forms on the market, from powder to liquid to pills, which can easily be purchased online. Before purchasing and consuming any supplement, it is necessary to first consult with a doctor and select the product with the simplest ingredients, with collagen as its main component.
References