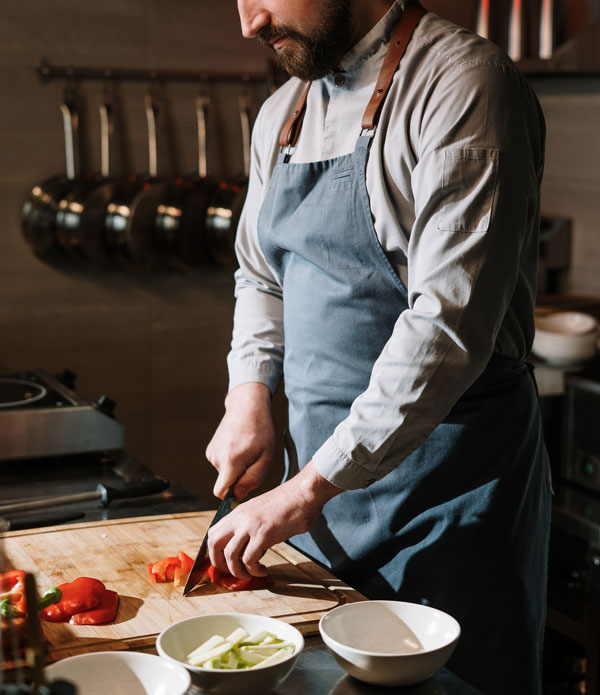 What is an Apron Used For?
Do you think they are just a frilly, decorative accessory worn by 1950s housewives?
Think again!
They are an absolute necessity for anyone who into any kind of serious cooking or grilling and not destroy their clothes in the process. Getting grease out of clothes is a pain, and it will definitely make you look sloppy. This is a super easy solution to this problem and will help you leave the right kind of impression on your guests!
And if cooking is not really your thing? This can still help you stay clean and dry when you clean, paint, or craft! Read on to learn more about which kind is best for you!
Different Types of Aprons
There are more than one type of garments, and different styles are used for different purposes.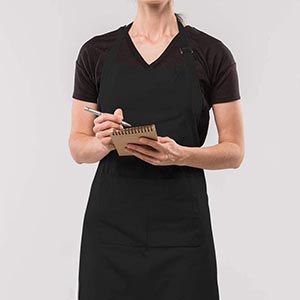 Bib Apron
Bib aprons are probably the type most people picture. They go over the head or tie behind the neck and cover from the torso to the knee. This is also typically tie in the back and may have pockets near the waist as well. Flight attendants also wear them as a part of their uniforms when serving meals.
Bib aprons are available in a wide range of patterns and materials to suit every taste. Some even have cute or funny sayings such as "Kiss the Cook" on the front. This is typically used for messy activities like cooking and painting.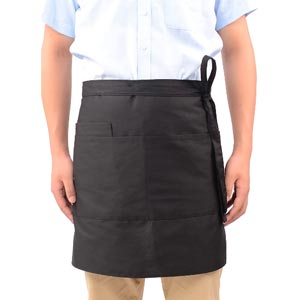 Waist Aprons
This is essential for activities that may result in messy hands but where you don't have to worry about splashes. The wait staff at restaurants often wear black waist ones as part of their uniforms. They dry their hands on them and use the pockets to carry around silverware, straws, pens, and extra napkins. Not only a wait staff but including people also wear waist aprons when they are cooking very simple meals at home.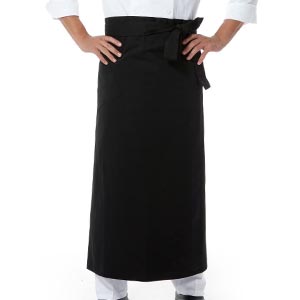 Bistro Aprons
Bistro aprons are like next-level waist type. They are often long and extend down to the ankle instead of down to the knee. Bistro aprons, like the french, are worn for the same activities as the regular waist. They are also great at keeping you dry in situations, such as bartending, where there may be spills. Like waist aprons, bistro aprons will typically have pockets for silverware, napkins, and a small notebook.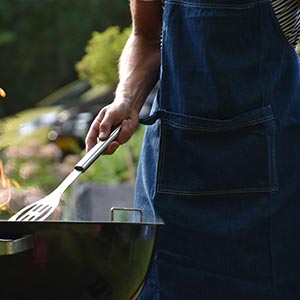 For Grilling
What do you get when you cross the length of a bistro apron with a full-coverage bib apron? You will get a grilling apron! These are typically made of thicker materials such as rubber so that you do not have to worry about getting burned by hot grease. There a variety of long apron styles to choose from that are available in Williams Sonoma – some designs have cute stripes, cartoon images or even salt bae printed on them!
A welder picks grilling style as it is also worn for high-heat crafts such as smithing and welding. These are usually made of leather and can withstand high temperatures. In fact, these are actually important piece of safety equipment! As these niche crafts rise in popularity, so do leather grilling aprons!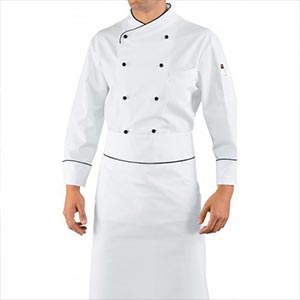 Chef Coats
If you have ever watched a competitive cooking show, you have seen the french worn chef coats! These are a kind of shirt that wraps around and has buttons in the front. The Chef's type completely covers clothing, and the double-coverage over the front of the torso keeps a chef safe from burns. The style and length of the Chef's coat can also represent a Chef's place hierarchy in a restaurant.
Best Overall Apron on the Market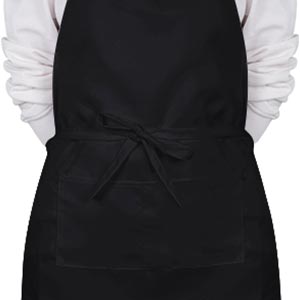 Our favorite one is the Syntus 2 Adjustable Bib Apron because it does it all! Need an apron for cooking? For cleaning? For crafting? The Syntus 2 Adjustable Bib Apron has you covered (pun intended)!
The Syntus 2 Adjustable Bib Apron is waterproof and easy to clean. It provides full coverage so grease, water, food, and paint will stay off of your clothes. The convenient design also includes pockets for your cooking utensils or craft supplies. Best of all? The Syntus 2 Adjustable Bib Apron comes in a wide variety of colors so you can still showcase your personal style! Since it comes it a two-pack, you will even have a second apron to wear while your first one is in the wash!
History
Think about how much work it is to do laundry by hand! For most of history, this was people's only option. Consequently, they tried very hard to keep their clothing and uniforms as neat as possible, and aprons were there to help!
While we usually think of aprons as an accessory for cooking, it made sense historically for people who are into a variety of trades to wear them. Blacksmiths, butchers, cobblers, barbers and women in labor all wore long aprons to keep their clothes clean and dry. A cook picks one for similar reasons, with some having embroidery with middle english literature texts printed on them or a noun that names something, such as a person, place, thing, or idea. Even children wore this called pinafores so that dirt and food would not get on their clothes when they played and ate.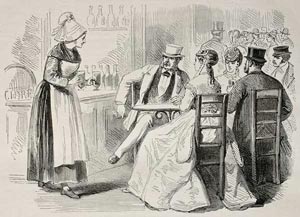 In the mid-twentieth century, as washing became a little easier, aprons came to be associated with domesticity. Housewives wore decorated aprons like those seen on the idealized matriarchs of shows like Leave it to Beaver and I Love Lucy. They became a chance to show off a sense of personal style as well.
When this ideal became dated and most families got easy access to a washer and dryer, aprons came to be seen as no fashion, unnecessary and are only for women. Most people probably still owned one, but it was likely tucked into the back of a drawer and never worn.
Now, an apron are experiencing a much-needed revival. It is no secret that the quest to become the best home cook has reached new heights as even average folks carefully research things like the best the ratio of grounds to water in their coffee. Gadgets like dehydrators and instant pots are now ubiquitous, but they were once considered niche! A hobby home chef needs to stay clean and dry so they can impress their guests with both their skills and style! With their vintage look and practicality, aprons have once again become popular with men and women of all backgrounds.
Rather than being full of ruffles and bows like their mid-century predecessors, however, modern aprons combine functionality and fashion with more modern materials, colors, and patterns.
What are Aprons Made Out Of?

Average cooking aprons can be worn over long sleeves and added as a part of your uniform. They are usually made of natural or synthetic fabrics such as chambray, cotton and linen or polyester. Garments can be easily laundered and are very lightweight for hot kitchens. Unfortunately, however, you would need several layers of fabrics to get really good protection from being burned by hot liquids.
Rubber and nylon aprons are a little bit stronger than cotton aprons. Though they don't tend to be as fashionable, decorated but they are highly essential! Rubber and nylon aprons are perfect for things like grilling because they will do more to prevent burns from hot grease and keep clothing dry when washing dishes.
The most heavy-duty aprons are made of leather. They are typically used by people engaged in crafts like welding and smithing. As these skills are making a comeback as niche hobbies, so are leather aprons.
---
Popular Articles on ComproGear
Compression Socks for Men https://comprogear.com/compression-socks-men/
Best Compression Socks for Elderly https://comprogear.com/best-compression-socks-for-elderly/
Car Air Purifier https://comprogear.com/car-air-purifier/
How Long To Wear Compression Socks For Edema https://comprogear.com/how-long-to-wear-compression-socks-for-edema/
Wide Calf Compression Socks https://comprogear.com/wide-calf-compression-socks/
What Are The Best Socks For Circulation https://comprogear.com/what-are-the-best-socks-for-circulation/
Compression Socks for Ankle Swelling https://comprogear.com/compression-socks-for-ankle-swelling/
What Level of Compression Socks Do I Need? https://comprogear.com/what-level-of-compression-socks-do-i-need/
How To Buy Compression Socks https://comprogear.com/how-to-buy-compression-socks/
Compression Stockings mmHg Chart https://comprogear.com/compression-stockings-mmhg-chart/
Best Compression Socks for Nurses https://comprogear.com/best-compression-socks-for-nurses/
---
Why Use An Apron?

Aprons are fashionable, not century-old garment and are essential! They can help keep your clothes free of grease and juices when you cook, and they can keep your shirt dry while you do prep and clean up. They can even save you from burns if you spill hot or boiling liquids. After all, the more layers between your skin and boiling liquids, the better!
Aprons also usually have pockets, which can be used to hold your cooking spoon, paintbrush, pen, or other utensils. In addition, there are a wide variety of patterns for aprons, such as blue chambray with embroidery, can even match your shoes and they are consequently a great opportunity for you to showcase your personal style. Since throwing an apron over is so easy and there are no downsides, there's no reason not to do it!
Other Uses When You Don't Cook
Is your idea of a gourmet meal microwave ramen in a single-serve cup? No worries! Wearing an apron is essential for more than just cooking!
Aprons are also incredibly essential for cleaning up around your home or apartment. They can keep your jeans bleach-free when you scrub down the walls or keep your shirt dry while you do your backed up dishes.
Aprons are also great for hobbies! Many old-fashioned crafts such as painting, candle-making, sewing, scrapbooking, and woodcarving are becoming popular again too. Aprons can ensure that you do not get paint, scraps, wax, or anything else while you learn or practice a new skill!
Depending on your favorite hobbies or your line of work, aprons can also be considered a piece of safety equipment. If you are doing any kind of welding or smithing, a thick, full-coverage apron would help prevent burns.
What are Apron Dresses?
An apron dress looks elegant and is essential that can be worn over long sleeves, a shirt and can be their own stand-alone outfit. They are great because they can be thrown over a nicer garment for easy cleaning, but they can also be worn as "play" clothes without anything underneath. Dresses can be made with embroidery and are great for hot days in the kitchen or when working outside.
For Men
Most people think of an old-fashioned garment for housewives when they think of aprons, but aprons are not just for homemakers and not just for women! Historically, men wore aprons for a variety of crafts from blacksmithing to tanning. They were even parts of some knights' uniforms!
Today, men often wear aprons for grilling, but there are also many regular cooking and crafting aprons available in men's styles- ruffles and polka dots are no longer the only available options. Solid aprons can give off a professional look for both men and women while others with simple patterns or graphics can show off a sense of personal style.
For Children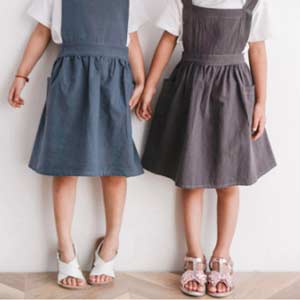 Traditional children's aprons were called pinafores. Any parent can attest to the fact that young children can find a way to make anything and everything messy! Instead of getting out a new garment every time a child ate or drank anything, played outside, or did any arts and crafts projects, parents may find a concrete solution to just put an easily cleaned pinafore over their kids' clothes or school uniform. As washing and drying became easier and children's clothing became mass-produced, pinafores were left behind.
While pinafores have not started to make a comeback (except in Alice in Wonderland costumes) mini aprons are. Any kid who enjoys painting or cooking can benefit from wearing an apron like their parents or older siblings! Since aprons are available in many sizes, there is sure to be a size to fit your budding artist or chef. Children's aprons come in a wide variety of colors and patterns like stripes or shapes for both boys and girls that can also match their shoes.
Conclusion
Aprons are back, not a century-old in terms of fashion, and they are not just for stay at home women! They are perfect for any home cook, anyone who loves to grill, and anyone who wants to try a new, messy craft. Our favorite is the Syntus 2 Bib Apron because it will keep you clean and dry while cooking, cleaning, or crafting. The two-pack means you will always have a clean apron, and the variety of available colors will keep you looking stylish!
Keep checking back because we at ComproGear plan to develop our own aprons, and we guarantee they will be the best around!
This page last updated August 5, 2022