ComproGear Makes High Quality Anti-Embolic Stockings
Click here for ComproGear AntiEmbolic Stockings —> https://comprogear.com/shop/ <—
What are They?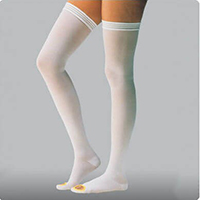 Antiembolic stockings are usually ordered routinely by many physicians for all postoperative patients!
These are elastic outfits that cover the feet and the legs. They can be knee-high or thigh-high in length. They're also referred to as TED hose.
To deliver the ideal support, the hosiery fit tightly without cutting off circulation or binding your leg.
These hosiery are designed to apply different pressure levels at different parts of your leg. The pressure level is highest at the ankle and reduces gradually towards the knee.
Differences between TED Hose and Compression Stockings
What differentiates these two types of compression garments is the medical reason to use them and the compression level.
Medical doctors order these stockings after a patient has had surgery because postoperative patients are normally in bed for a while.
Compression Socks (Standing) vs Antiembolism Stockings aka "TED Hose" (Bed Bound)
So, when you are not walking, blood is pulling in your legs, which puts you at risk for a blood clot. In this case, this hosiery helps to prevent blood clot.
You would also want to use these medical compression leggings if you have a lot of fluid in your legs like with congestive heart failure. These hosiery have a pressure level of 8-18 mmHg.
Anti-Embolism Socks are Not for Walking Around In
But TED hose garments are not suitable for people who move from one place to another, such as nurses, pregnant women, or athletes.
Ambulatory people (walking people) should wear compression support stockings, which have higher compression rating compared to TED leggings.
TED Leggings have lower compression levels because you're lying down.
Compression Socks have higher compression levels because you're standing up.
Factors to Consider
Here are the three main things you have to consider when looking for TED hose:
Style Selection – Veinous Support, Heel Design, Deep Vein Thrombosis Protection, etc…
These garments are frequently available in: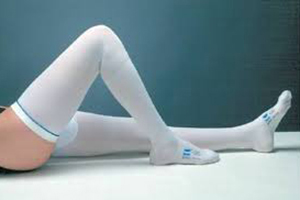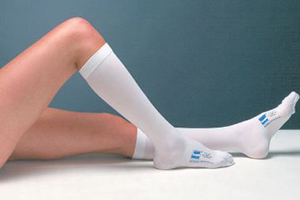 Thigh-Length with Waist Belt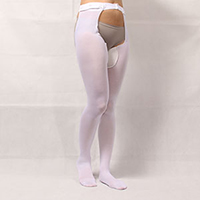 Proper Size – Reduce Blood Pooling & Avoid Deep Vein Thrombosis by Sizing Your Socks Correctly
The most important part of choosing a high quality pair is making sure they fit properly.
If they don't fit snuggly, you will not get the proper support, but if they are too tight you will not be able to get them on.
Ideally, the proper fit should feel supportive, but not painful. To get the best, you will have to take some crucial measurements of your legs.
Sizing – The Simple Procedure for Sizing Compression Stockings
Make sure you measure your leg first thing in the morning before any swelling occurs in order to get an accurate measurement. It may be easier if you can get a relative or friend to help you measure.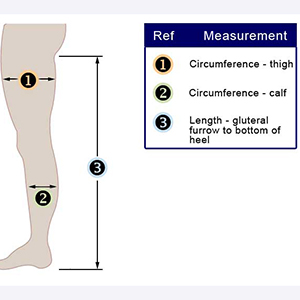 The process is simple and it involves the following steps:
To measure the correct knee length stocking, measure the perimeter of your calf at its broadest point, and your leg length from the bottom of your heel to the back of your knee.
To select a thigh-length stocking, measure the calf as for a knee-length stocking and the thigh at its broadest point.
Then stretch the tape measure from the base of your heel to your gluteal fold on your thigh to measure the length of your leg.
For accurate sizes, make sure you keep the measuring tape in a level position and note down dimensions at each point.
Compare your sizes to the sizing chart of the brand you want to buy from. We normally sell knee-high TED hose.
Ease of Application – Compression Stocking Donning Procedure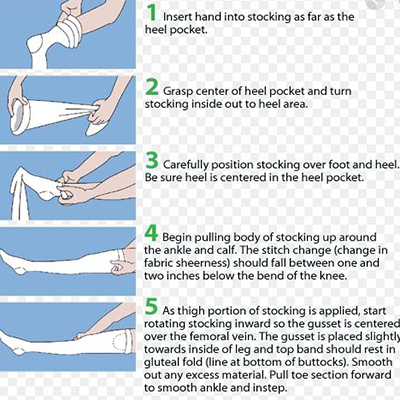 Once you have the correct size, ease of application is the next important factor. The hosiery should be easy to turn inside out down to the heel.
The leggings should be easy to slip over your toes, foot and heel. If the pair is a proper fit, you will be able to see your toes through the inspection hole.
Proper Fit is Easy to Put On
A good fitting TED hose will pull easily up your leg. It should turn itself right side out as you pull it up your leg.
The application process is usually easier if it is done by a relative or friend. Ideally, the procedure is supposed to be carried out by a nurse in a health care facility.
Special Features to Look For (Sorry, "Military Grade Socks" Don't Exist.)
The ideal pair should be a quality made compression garment designed to reduce the risk of deep vein thrombosis.
Always look for a brand that comes in a variety of sizes from extra-small to extra-large, and below knee, above knee, and above knee with waist belt styles.
The range should also be color-coded for easy size recognition with each hosiery featuring a non-constrictive ridge to minimize a risk of tourniquet.
As the Old Phrase Goes: "Size Matters"
The most preferable material is twofold microfiber thread (64 filament), which is great because it improves moisture-wicking.
This type of material also provides the stockings with a smooth and luxurious feel, reducing the potential for skin irritation.
Look for a non-compressive toe and heel because they provide additional comfort.
What's a "Toe Inspection Hole"? (Avoid Having The Procedure of Getting the Hosiery On and Off Frequently Throughout The Day. Plus help the wonderful nursing staff do their job more easily.)
Look for hosiery with an inspection hole, which allows easy inspection of toe profusion.
Depending on the brand, this opening may be on the bottom or on the top of the stocking. Most people prefer the top opening.
Also, the pair you choose should be washable (machine wash), allowing you to get rid of bodily secretions.
Contraindications When Using These Hosiery (Prevent and Reduce Complications by Following These)
First, it is ill-advisable to use these products on extremely deformed legs. This may worsen the condition. You should consult your physician to know more of your condition.
Second, do not attempt to use this hosiery before you consult a medical doctor, if you have existing DVT, arterial disorders, congestive heart failure, allergies to dyes, and skin irritation.
Third, avoid the use of these hosiery, if you have pulmonary edema or any other form of swelling in your legs. Instead, you should talk to your doctor first.
Fourth, avoid TED hose if you have any form of local leg condition that would be worsen by use of these products.
Conditions that Necessitate a Second Look Before Using TED Hose (aka Antiembolism Stockings)
Skin grafting is a procedure that involves transplanting a healthy thin slice of skin from one section of the body to another section that is injured or damaged.
This is the infiltration of subcutaneous tissue by inflammatory cells. Normally, this condition presents itself as swelling of the skin or deep induration.
This is the most common cause of pain on the bottom of the heel. It typically starts upon standing, walking, or running.
It is normally most common with the first morning steps, then may decrease as the body becomes active, but only to return after a long resting period.
This condition occurs when tissue dies because its blood supply is interrupted. Gangrene can be caused by an injury, infection, or compilation of a long-term condition that restricts blood circulation.
It most commonly occurs in the extremities of the body, including legs, toes, arms, and fingers.
This is an inflammatory skin condition, which presents itself with plaques, vesicles, papules, erythematous macules, or pruritic.
This is an infection of the dermal tissues of the limb. It results in increased blood flow to the leg, presenting with red and hot tissues, often in the shin as well as on top of the foot.
Final Thoughts about Antiembolism Stockings (Post-Surgery Patients Read This)
If you choose to buy and apply TED hose on your own without the help of a nurse, then avoid complications.
Do not guess at the ideal size
Instead you should take the correct measurements.
Do not tuck the Antiembolic Stocking material too tightly
This could increase pressure over toes and heels.
Avoid taking off the hosiery for long periods of time.
This could negatively impact efficacy. Avoid massaging reddened skin because this can cause more tissue damage.
Maintain the hosiery properly.
This improves durability. Therefore, it is recommended that you remove them once a day and inspect the condition of garment.
Check for Skin Damage Frequently.
If you suspect your skin is damaged do not depend mainly on visual signs of friction or pressure. Just remove the stockings and inspect your skin for any injuries.
Reapply the hosiery when the condition of your skin is healthy. Otherwise, consult your medical doctor for assistance on any injuries to the skin.
Buy a Quality Pair of Anti-Embolic Stockings
We're biased (because we make them) but we think ComproGear Anti-Embolism Compression Stockings are just the best!
Here's a link to look at them: