Wearing compression socks and wiggling the toes give impressive comfort. However, it's not all compression hosiery that could allow users and potential users these benefits. You already know what would, it's the toeless compression sock.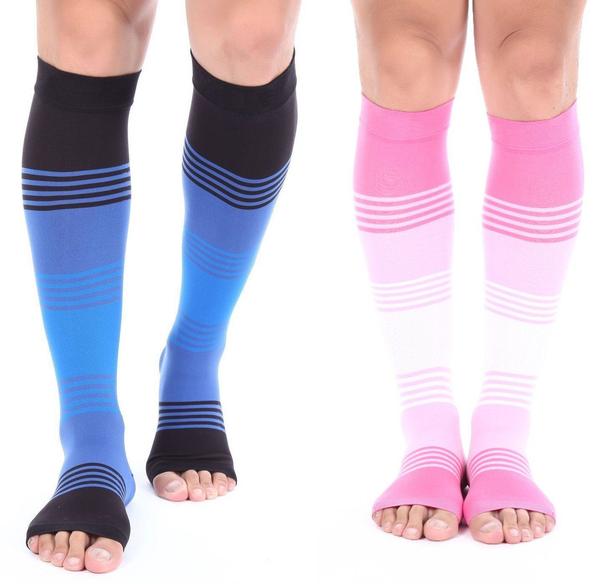 There is a vast array of toeless compression stockings in the store today. They are in varying styles; some are unisex, some aren't. For instance, there are mild support thigh-high toeless compression socks; some of these socks are for men and women; there are moderate support knee-high socks, and many more types to pick from.
But whatever you are in search of, this article will present you with the essential, best toeless compression socks you should purchase for yourself or a loved one who needs it. The list of quality and types of toeless compression socks that will be highlighted below are the highest quality available in the market. Also, they feature the right type of materials and manufacturing process that a person should be on the lookout for. So, let's begin our trip by exploring twelve (12) types of toeless compression socks.
Types of Toeless Compression Socks
This list of toeless compression hose below come with varying levels of pressure and would be dependent on your needs. Besides, they will match and fit any outfit of your choice.
1. Moderate Support Toeless Knee High Socks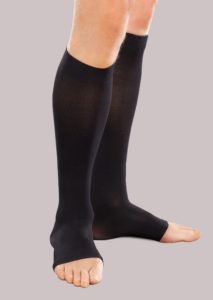 This type of toeless compression socks is well designed to enhance circulation, relieve aching legs, reduce heavy legs, and limit moderate swelling. The features you can look out for in this type of moderate support toeless compression socks include:
They have a compression level that ranges between 20-30mmHg.
They incredibly come with a tender comfort band that isn't restrictive and stays just in place.
It's designed with nylon and spandex material.
Its moisture-wicking gives coolness and users should hand wash in cold or lukewarm water with mild detergent.
2. Unisex Toeless Opaque Thigh Highs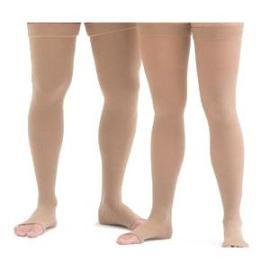 In the market, this type of toeless compression socks is the right choice. This type helps in preventing or managing from mild to chronic edema, swelling, DVT, and varicose veins. Also, it prevents moderate varicose veins, brings comfortable relief from tired, achy, and heavy legs. It features a tender, knit band that's great for everyday wear and gives extra comfort and durability.
3. Unisex Toeless Opaque Knee Highs
Made with a graduated support level ranging from 20-30mmHg. These types of toeless Compression stockings are a fantastic pick for many users. They feature ultra stretchy yarns, making it suitable to wear and remove. The lab tested true gradient compression decreases gradually nearing the top of the socks to enhance the flow of blood. It's also designed with a soft and comfortable band that isn't restrictive all day. With a moisture-wicking fiber, it provides dry coolness. Also, this type of toeless compression socks is available in a breathable material, and it's super soft. The length of availability is in long and short lengths for an incredible fit. Also, it comes with nylon and lycra. To keep cool and dry, hand wash regularly in cold and lukewarm water and in a mild detergent.
4. Moderate Toeless Anklet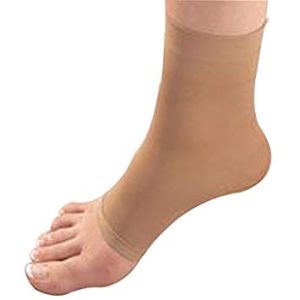 Seeking for toeless compression socks that present medium support of 20-30mmHg? You have a compression sock that will grant you the right level of pressure on your ankle. Thus, you can limit discomfort and swelling. This type of toeless compression socks is a must-pick because it offers Ankle-length socks; it comes with varying colors and designs; it has Non-slip knit-in band, made with spandex and nylon.
5. Unisex Moderate Support Toeless Knee High Socks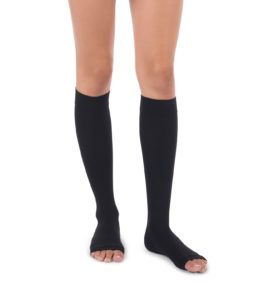 If you are a man or a woman seeking moderate open-toe knee-high stockings, you've got this to be an excellent choice. It is manufactured to enhance circulation, prevent swelling, and relieve tired, and aching legs. In using this type of compression socks, you should endeavor to use the size chart and measuring instructions in determining the best fit. It comes with a compression level of 20-30mmHg. Other features to look out for are: fashionable semi-opaque knit. It's a soft band, which is non-restrictive. It comes designed with cotton and spandex. Further, it wicks off moisture and proffers incredible support.
6. Unisex Opaque Toeless Waist Highs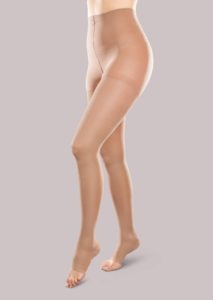 If you are seeking to relieve and prevent edema, DVT, ease fatigue and tired legs, avoid varicose vein, and leg discomfort, this is an ideal pick for you. Because it is specially designed for all these conditions. Featuring a tender knit band for pleasant all-day wear, if you want a compression level of 15-20mmHg, go for this type. Several other features include:
Ultra stretchy yarns for comfort in donning and doffing. It's lab-tested graduation promote blood flow. Its nonrestrictive knit-in waistband makes it extremely comfortable for wear. Its moisture-wicking fiber gives dry, pleasant coolness. It's super soft and breathable. It's smooth and completely durable. Length and sizes aren't a miss; It's available in both long and short lengths for your fit. You should also look out for nylon and lycra material.
7. Women Toeless Sheer Pantyhose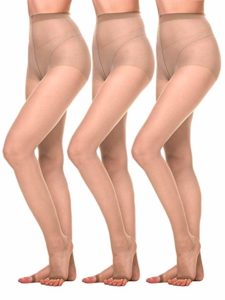 Another incredible toeless compression socks for women is this fantastic pick. They are also designed to treat moderate swelling, edema, manage and treat DVT. Also, they are effective for treating pronounced varicose veins, provide relief from heavy, fatigued, and achy legs. Also, it conveniently treats venous insufficiency. Be on the lookout for the tender, knit-in waistband that isn't restrictive. They are also designed with a high graduation level, of around 30-40mmHg. It also features include:
Ultra stretchy yarns make it easier to wear and comfortable. The graduation level is Lab-tested and would do the job of decreasing toward the top of the socks to enhance blood flow. It is also super tender and breathable. Its smooth band provides durability and comfort. If you want a flat toe seam, you will find it there. The heel and toe are reinforced for durability. It's available in long and short lengths to get the best fit. The color availability is full, and they are fashionable.
8. Open Toe Anti-Embolism Thigh High Socks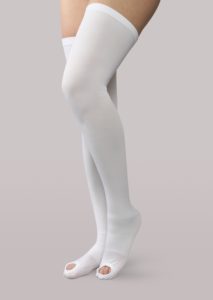 Are you in search of toeless anti-embolism socks? You've got the right pick here! These toeless socks can prevent swelling of the leg and helps in the prevention of deep venous thrombosis, which is the blood clot that happens due to prolonged bedridden or due to surgery. These toeless anti-embolism socks feature 18mmHg, which is the mean compression for an ankle size, it comes with both the blend of spandex and nylon material. With its durable material, users are advised to wash in lukewarm and cold water using a non-toxic detergent.
9. Unisex Firm Support Knee High toeless socks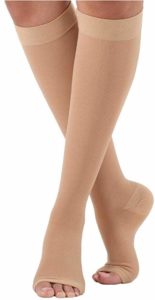 Have you been prescribed to wear only firm compression socks, and you are thinking of opting in for toeless compression stockings? This is the right pick for you! It is manufactured to enhance circulation, relieve fatigue and heavy achy, and prevent moderate swelling. Since it comes with varying sizes and lengths, a person must use the size chart and the instructions to measure the best fit and size. Other features of this toeless compression socks include:
30-40mmHg for a small ankle size, its semi-opaque knit is fashionable, it's tender and comes with a nonrestrictive band. It's also designed with spandex and nylon blend. It offers moisture-wicking features and gives incredible comfort and coolness. In caring for this type of compression socks. Always lay flat to dry after washing with cold or lukewarm water.
10. Unisex Firm Support Toeless Thigh High socks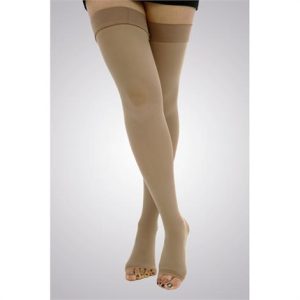 Specifically designed to prevent only moderate swelling, relieve aching and fatigued leg and blood circulation enhancement. What are other reasons you should look into these compression socks as your choice? It offers a compression level within 30-40mmHg. Its knit is semi-opaque and fashionable. It has a tender band that is nonrestrictive. Its material is designed with spandex and nylon. The incorporation of the Micro-cool process efficiently wicks off moisture, thereby giving comfort to legs. You can hand wash it accurately in cold or lukewarm water with only a mild detergent; thereafter, lay flat to dry.
11. Anti-Embolism Knee High Socks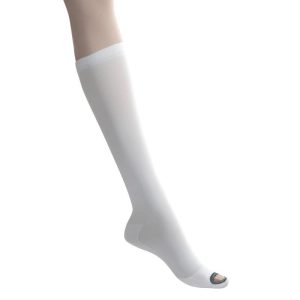 Another toeless sock for folks who are inquest for toeless compression socks. It also enhances circulation, assists in helping with deep venous thrombosis, and also brings the right comfort to the legs. It comes with the impressive features the thigh-high version came with. These include the 18mmHg compression level. It is manufactured with spandex and nylon material, and often, it is a type that's recommended by physicians. It can also be maintained by following the right guidelines for the earlier anti-embolism thigh high socks.
12. Unisex Open-toe Waist Highs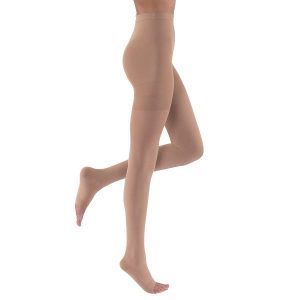 On the list of the type of toeless compression socks that you can be on the lookout for when you are making a purchase online or offline, this unisex toeless waist highs is an excellent pick. This sock is designed for the prevention of mild edema. It is intended to solve the issue of DVT, prevent and handle moderate varicose veins, provide effective relief from fatigue and achy legs. This type incredibly features a soft, knit band that makes wearing and pulling off comfortable.
The compression level is within the level of 20-30mmHg. Other features include incredibly stretchy yarns material that is quite easy to handle. The graduation is lab tested so that you can trust the graduation. Its nonrestrictive knit-in waistband is valid for comfortable all-day wear. With modern technology, it offers moisture-wicking cool max fibers that provide a cool and dry feeling on the level.
The material is opaque, super soft, and breathable. Users do not have to worry about getting their size as it comes with varying sizes and lengths.
With this complete 12 types of toeless compression socks, what's next? Or how do you match a particular level for compression with these features? These are the basic guidelines:
If you find a specific type of open-toe compression sock, note all the features that it should have and head on to search for that particular one. Apart from the fact that it will ease your selection, it will help you get just what you needed. Also, bear in mind that you must identify your right size before making your purchase. If you fail to do, you could end up getting a smaller or larger size, which its use will worsen your condition.
Besides, all these types of open-toe compression hose must not be washed with boiling water. Instead, it should be washed with lukewarm and cold water. Then, when you wash with mild detergent, always lay flat. That way, you maintain the socks and enjoy the excellent benefits that come from the use of the right, quality, and durable toeless compression socks.
As explained, these socks mentioned are going to pair well with either casual beachwear or a business suit, the list of the materials mentioned will blend well. So you have an extensive collection here. When you halt at a pharmacy, browse or search for the sizing chart, and breathe life into your legs while you don't minimize your choice.
The Bottom Line
What a complete stunner this list has been! Toeless compression stockings have become the modern style that is loved by the majority of folks. The only problem a few makes is what you've evaded by reading this piece. Keep them strictly within reach if you are making a purchase. Also, bear in mind that the approved level of compression will be the factor that will be considered in selecting the right toeless compression socks while you are in search of compression socks.
If there are concerns when you start the use, do not delay speaking with your physician. They will quickly figure out what the issue is and prescribe a better option or aids to ease the pain. Some reputable retailers sell these top-quality toeless compression socks in the market. While it would be nice to think about their year of establishment, pay real attention to their reviews. That would be the gold standard, and it will motivate you to get more quality toeless compression stockings.
This page last updated December 16, 2022