Introduction: Doctor Sock Soothers

If you are a compression socks junkie or is actively searching for the best compression socks you can find on the market for better leg health then you probably had heard of Dr. Sock Soothers, AKA Doc Socks. If you haven't heard of it before, let me intrigue you with the information I have gathered from all over the internet to give you the best insight about the infamous Doc Socks.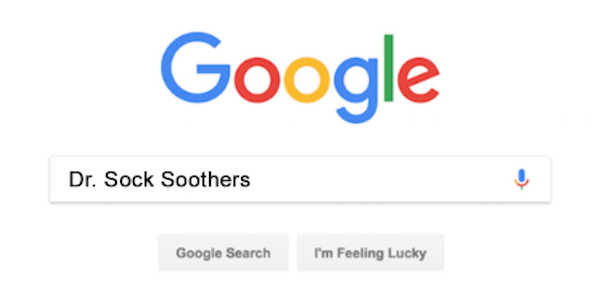 Doc Socks: SCAM?
Right off the batch, I will tell you that if you Google search "Dr. Sock Soothers" or "Doc Socks", the most relevant word you can find among the search result is, guess what? "SCAM". If you don't believe me, go ahead, have a search right now. You will know I am not exaggerating.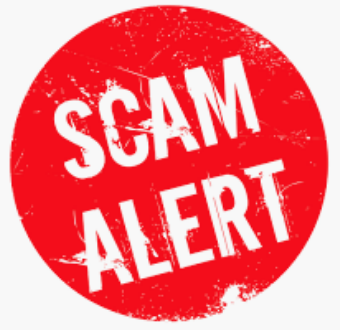 Oh, by the way, there is something worth mentioning. When someone gave me the insights and asked me to write about them, so, of course, the first thing I had to do was my research. Needless to say, within the first 30 seconds of my research, there is already a huge red flag waving and dangling in front of me, backing up the fact that Doc Socks indeed, is a scam.
The reason is simple and can't be more straight forward. I mentioned above Dr. Sock Soothers also goes by the name Doc Socks but the reason for concern is I actually didn't know these two are the same product. I've only found out until I did my research. They have two different websites under two different domains. One goes by Dr. Sock Soothers and the other one goes by Doc Socks.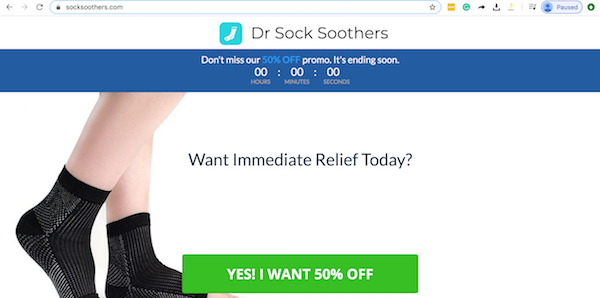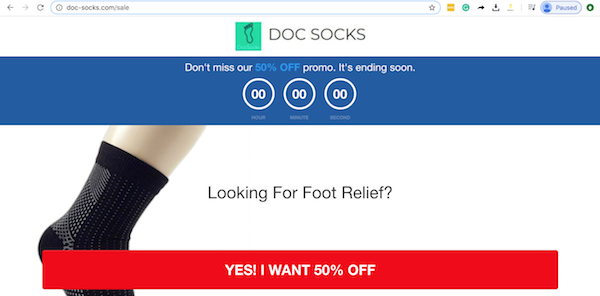 See how the layouts of the websites are completely the same with only a few differences in the use of words? Now you might think, why is that a red flag? What is the problem? Let me put it into perspective for you.
Want good quality Compression Socks? ComproGear is having a limited time sale
Doc Socks: Sinking Company
In every neighborhood, there is always a restaurant or a bar or whatever business there is that is failing. After a while, it was closed down and you heard that someone took over the business and reopen a better one instead. Had it ever cross your mind that actually no one took over? It is still the same boss, the same operation but just with a whole new outlook and name? Yes. My dear readers. I've seen this kind of gimmick a handful of times. Business owners often face difficulties in running the business successfully, especially when there is an overwhelming amount of complaints and negative reviews. So, the most straight forward way for them to escape that sinking-ship situation is to rebrand the business under another name. It could be a temporary solution but not a permanent cure.
If you have a successful business brand, will you take advantage of that brand name or market your product under another name? You know the answer. Now, you see why one product, two names struck me as a red flag?
Looking to Buy a Pair of Quality Compression Socks?
What are Doc Socks's Claims?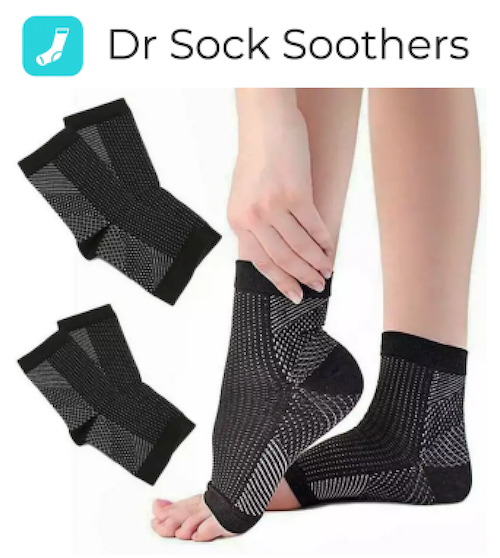 They claim themselves to be professional anti-fatigue compression sock sleeves that will:
Reduces swelling
Eases heel pain
Soothes achy feet
Boosts circulation
The Three Main Features of Doc Socks
Compression Technology
Proven to limit swelling, both for those who are on their feet a lot, and those who avoid being on their feet due to pain
Designed by a leading Podiatrist who has extensive treatment in foot pain management caused by the lack of support for arch, heel, and ankle core stability
Promotes blood circulation to heal weak veins and pathways being compromised from the aging process
Prevent Plantar Fasciitis
Create support for the plantar fascia connective tissues for heel through the underside to the toes
Naturally elevates and comforts the arch of the foot dues to dropped support from obesity, weight gain, and weight being activities
Dramatically reduces heal time for those currently with plantar fasciitis coupled with stretching, ball-rolling exercises, and helps to improve the muscles of the foot and strength
One Size Fits All
Wear with or without regular socks by simply slipping it on as a normal sock would fit
Feel the 7 targeted zones and 3 levels of compression targeted to your foot compression
Creates permeability and structural compression for hiking, running, sports activities, gym, walking, standing: leaving you feeling fatigue free all day long
Want good quality Compression Socks? ComproGear is having a limited time sale
Doc Socks- Their So-Called "Customer Testimonies"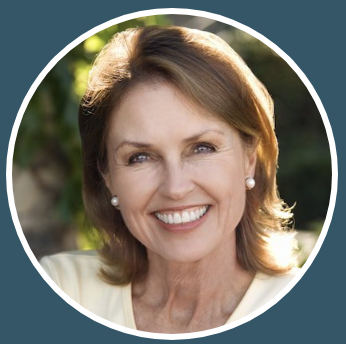 "As a parent who deals with three wild boys, you can imagine my feet are always in severe pain running around. I needed to do something about it, so I tried Doc Socks. WOW! I wish I had these on sooner! Now I have enough energy feeling fresh on my feet for ballroom dancing and yoga. The best part is, my feet don't hurt anymore. This truly is a miracle!
– Mary Hopkins from Boston, MA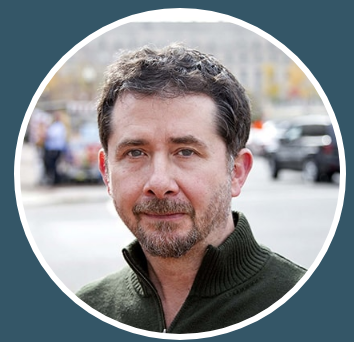 "My friends keep asking me to go play baseball, but I keep declining their invitation due to my tired and achy feet. I try to stay off my feet as much as possible because recently I gained a tremendous amount of weight and my feet are at the limits of pain. After trying on these soothers, my feet no longer are in control of my life and I am back on my feet! Thank you so much!"
– Andy Kelley from San Diego, CA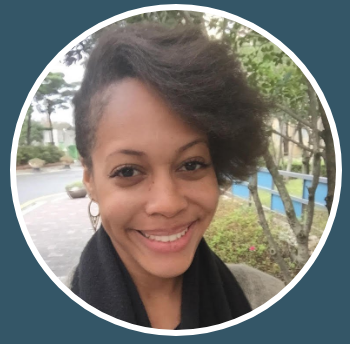 "I have had the chance to use Doc Socks for a few months now and I absolutely love it! As a high school teacher, I'm constantly on my feet in front of the classroom. My feet are never sore, and the heel pain I used to have as no longer there. I used to even developed holes in the heels of my shoes, but not anymore! I love how I am actually saving money and never have to get new shoes due to my foot issues! This product really works! LOVE IT!"
– Sandy Williams from Miami, FL
Need I to mention the amount of typo they have in their so-called customer testimonies…
What Else is on the Doctor Sock Soothers and Doc Socks Websites?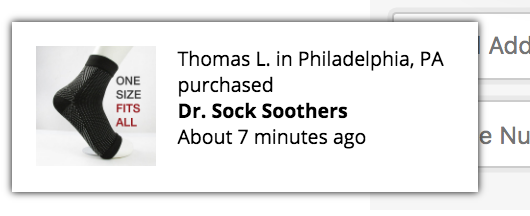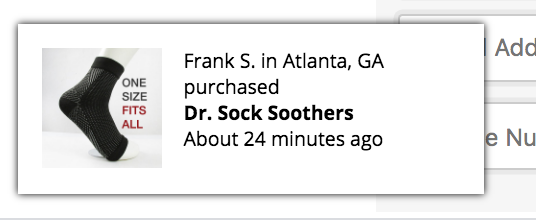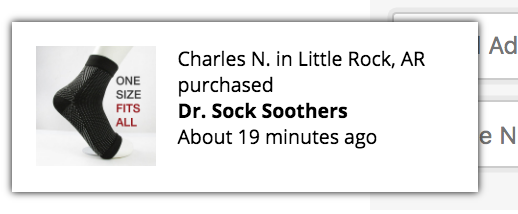 When you are on both websites, little notifications like these will constantly appear on the bottom left corner every 5 seconds. While there is no proof of whether this is real or fake, I highly doubt the authenticity of these pop-ups. It is merely a marketing play as a confidence boost for the visitors of the sites, urging them to purchase by creating an illusion of high purchase volume by other buyers.
Want good quality Compression Socks? ComproGear is having a limited time sale
Buying Process of Doc Socks

As you scroll down to the bottom of the site of Dr Sock Soothers, you will find this almost massive green button for you to click onto, taking you to their check out page directly. They are very effective in converting you into a buying customer. No left and right features on the site for you to know more about the Doc Socks, just one home page and every button visible is to send you to their checkout page.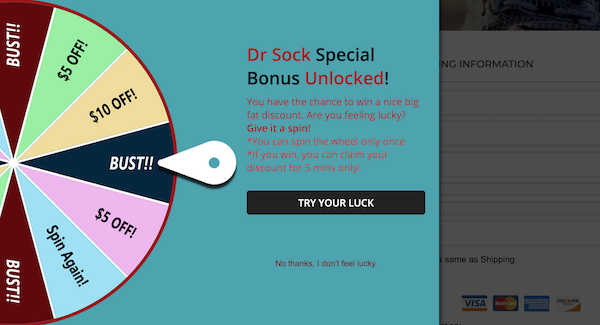 This will pop up literally 10 seconds after you land on the checkout page, urging you to "test your luck".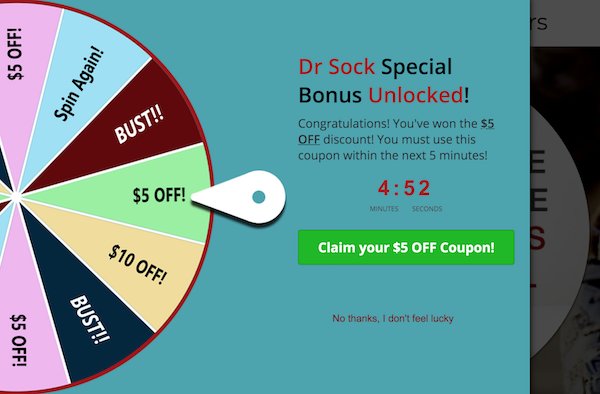 As predicted, I landed on a $5 off discount with a 5-minute timer counting down, another marketing tactic to urge the site's visitors to make a purchase.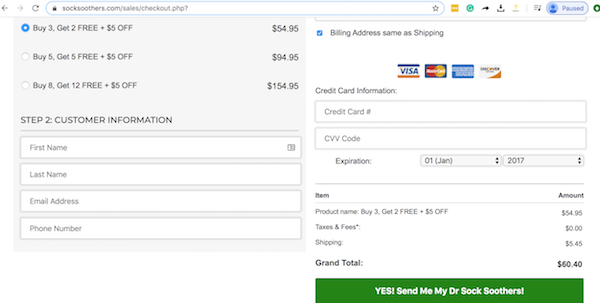 This is where I landed with the $5 discount applied automatically at the checkout page. I then selected "Buy 3, Get 2 Free + $5 Off", which brings me to to a total of $60.40 inclusive of the shipping cost for 5 pairs of their socks. (If my math is accurate)…
Looking to Buy a Pair of Compression Socks?
Now, let's look at the same process of their second purchase channel- the Doc Socks website.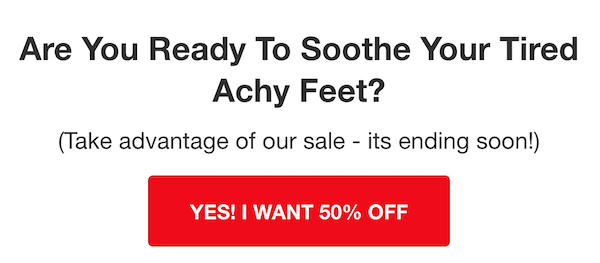 At the bottom of the page, the same call-to-action button is available in slightly different use of phrase and color, urging you to click onto it which also will bring you to the checkout page.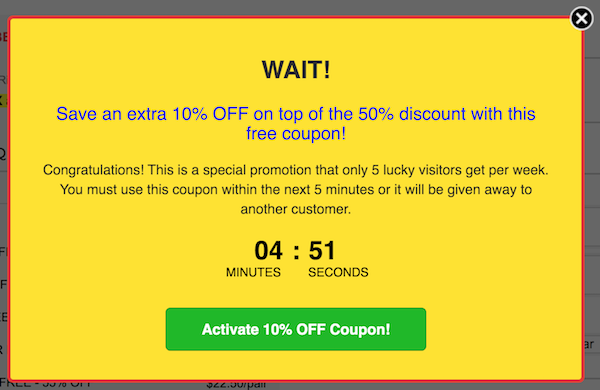 Instead of making you spin the wheel of mythicality, this discount pop-up is more straight-forward with a 10% discount off instead of a $5 discount. So, I proceeded to click onto "Activate 10% Off Coupon!".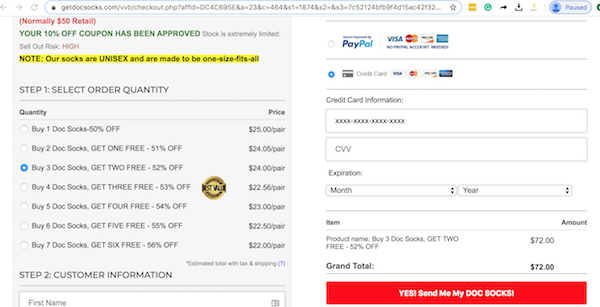 With the 10% discount being applied, it brings me to $72 inclusive of the shipping cost for 5 pairs of Doc Socks. If you compare it with the Doctor Sock Soothers site, it is much more pricey to purchase on the site of Doc Socks. $60.40 compared to $72 for the same quantity of products you are getting, almost $12 indifference. I honestly wonder why. While I could not give you a specific answer for this, I can tell you that this is another sign of an unreliable seller, whoever that is the mastermind of Dr Sock Soothers.

There is another thing worth mentioning, which is their customer support and their return policy. These three tiny buttons are at the very bottom of the website and this is what shows up if you click onto "Contact Us".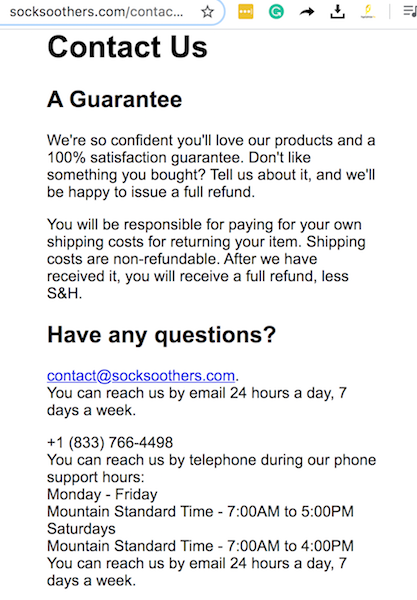 Spoiler Alert: The Money-Back Return Policy of Doc Socks is a Beep Scam!🙅
There is evidence to back this statement up, just you wait for it. 😏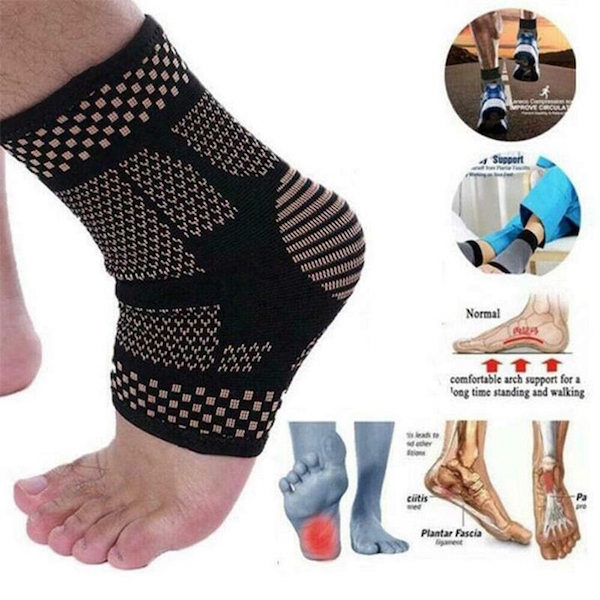 So far, what do you think of them? Good impression? Bad impression? Can't decide? Right. Because there is nothing wrong with selling products through sale-driven websites. Every one of their motives is to convert you into buying their "professional" socks but to be fair, this should be the aim of every single business. But I need to stress on one fact, the one and only fact. When you are selling a product that is directly relevant to the health of every single individual out there, you have to be a responsible seller.
Do Not make false advertisement
Do Not mislead people into buying a product they need as some sort of treatment or prevention to health-related medical conditions
Do Not claim non-existing health benefits that are beneficial to the consumers or wearers
Any seller that fails to accomplish the three "Do Not" above is essentially a fraud or a scam, whichever way you prefer to call it. It is different for sellers that are advertising amazing clothes on their sites but deliver you a raincoat instead of sellers claiming their products can cure or treat some sort of health conditions you are suffering from but have zero effect on whatever treatment they claim their products provide. Unfortunately, Doc Socks failed to adhere to the three rules of being a responsible seller and this is what their customers get in return for purchasing their socks.
Want good quality Compression Socks? ComproGear is having a limited time sale
Doc Socks: Waste of Money
One, the money you spent on purchasing their falsely advertised product is wasted when you can actually go get yourself some real effective treatments with your hard earn money. Those marketing campaigns are created to aim at your pain point with one goal and one goal only- GET YOUR MONEY.
Doc Socks: Waste of Time
Two, the time you spent on utilizing their products for a period of time to start to see the effect or therapy they claim to provide, be it 2 weeks, one month or 3 months are gone for good. The time it took for you to notice the bull crap they are selling is wasted so you are essentially prolonging your suffering of those medical conditions.
Doc Socks: Waste of Effort
Three, the effect or consequence of the wrong treatment can worsen your health condition, especially a self-prescription without the advice of professional medical personnel. You do not know the extent of the health impact it can deliver, especially a bad one. When you start to notice it, it might be too late. All those research you did for the conditions you are desperately hoping for a treatment? In the end, you settle for something that is useless and it is infuriating.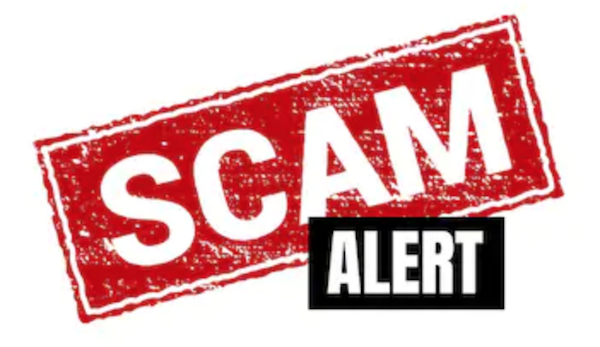 I am not writing this with the life mission to slander. I am writing with the purpose of helping everyone out there to not fall for the scam. And most importantly, every word I wrote, every claim I made, there are statements to back them up. What are they? It can't be more straight-forward. The reviews left by their own customers.
Looking to Buy a Pair of Compression Socks?
Doctor Sock Soothers Scam- Negative Reviews and Unanswered Complaints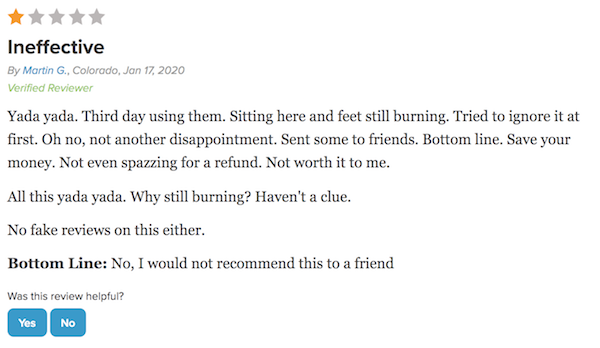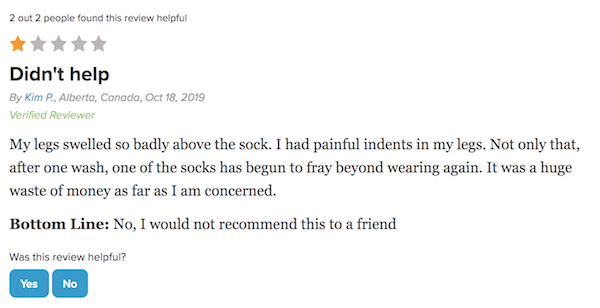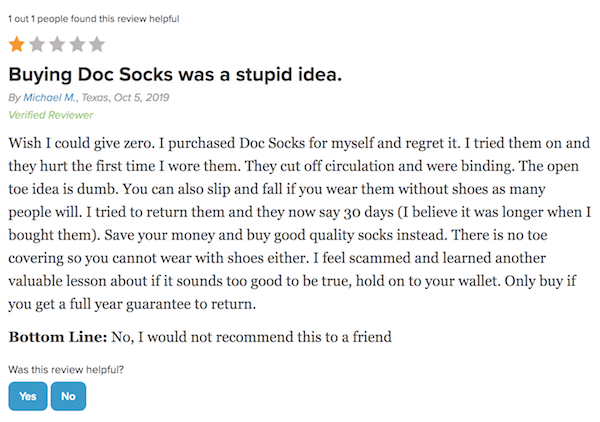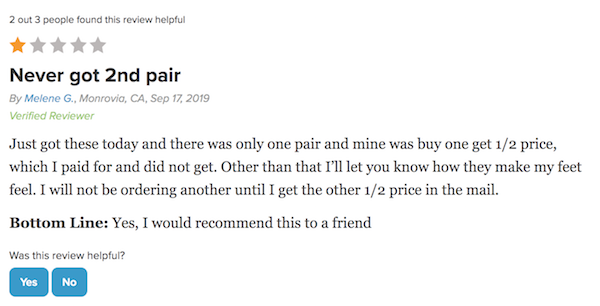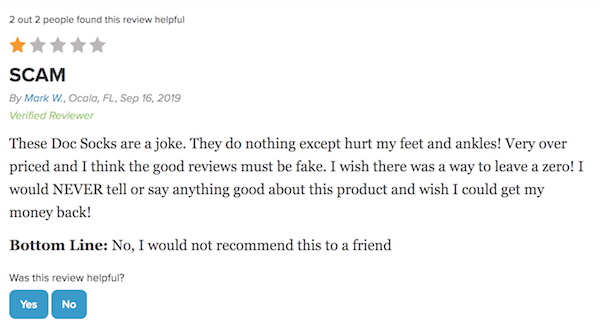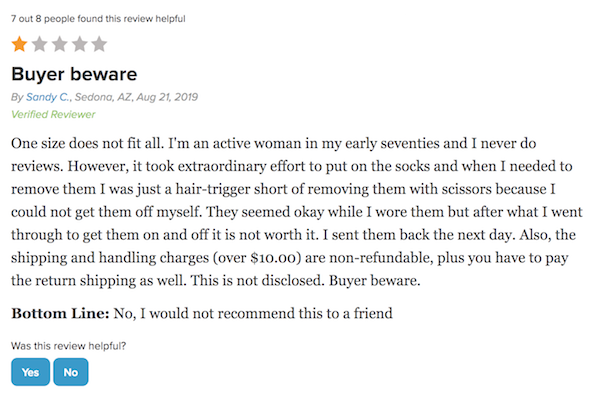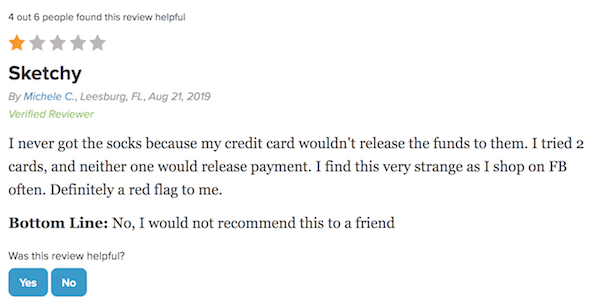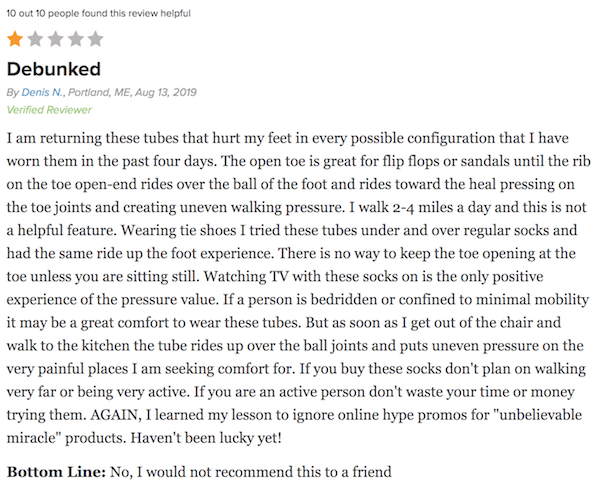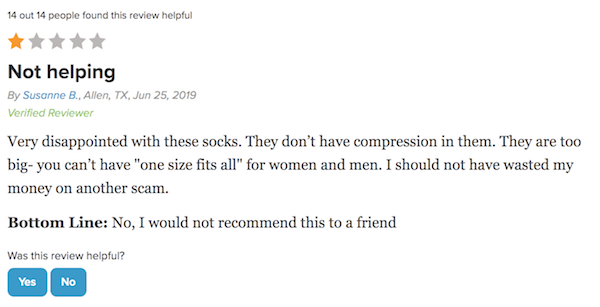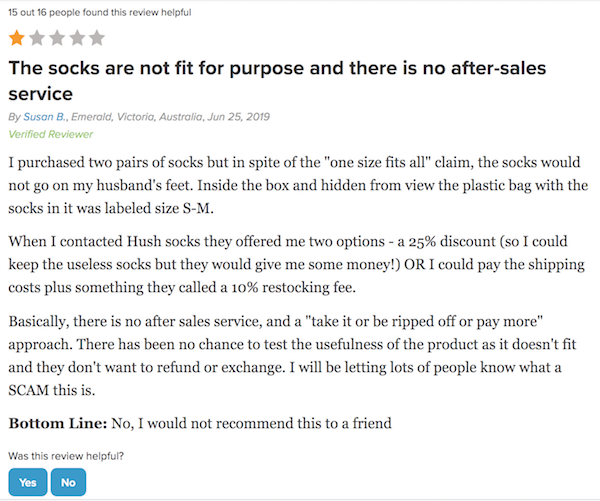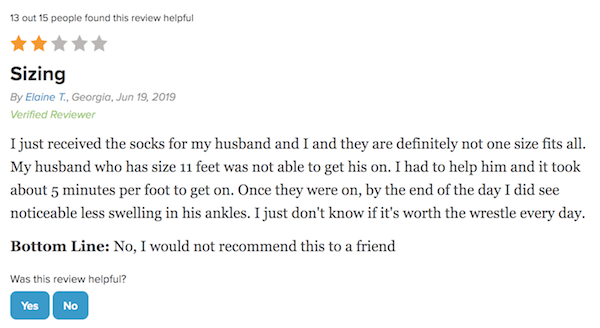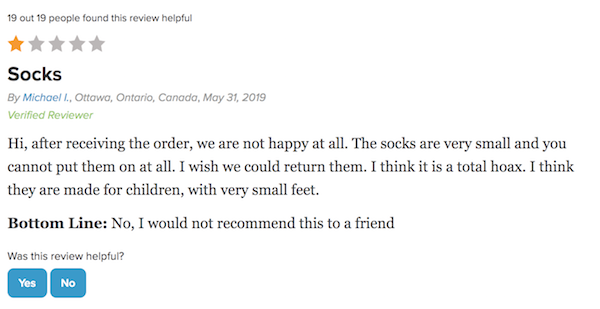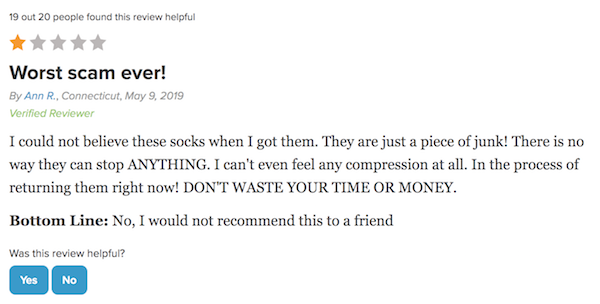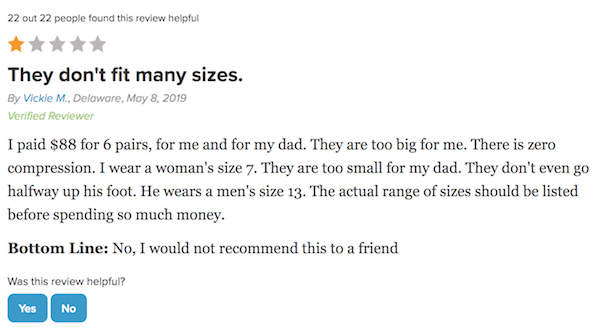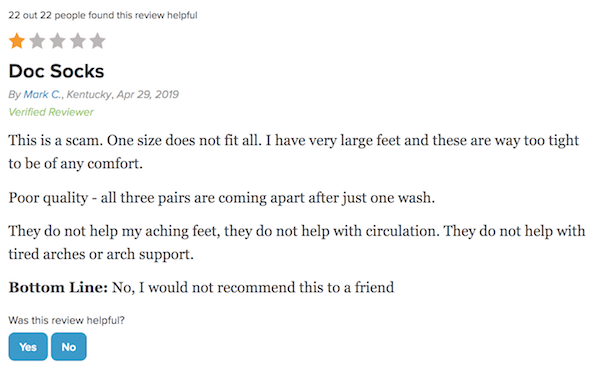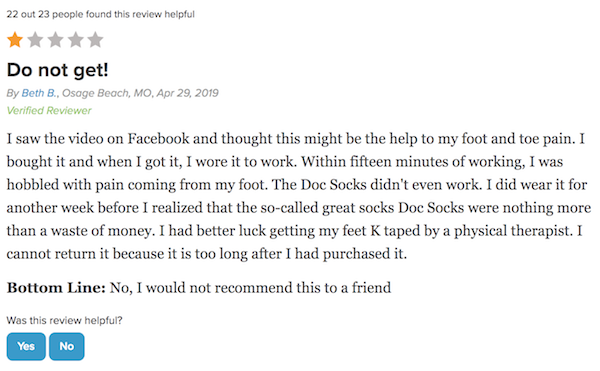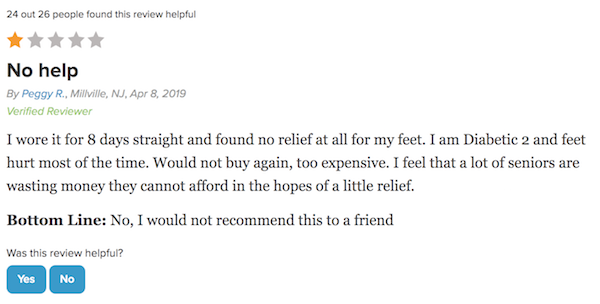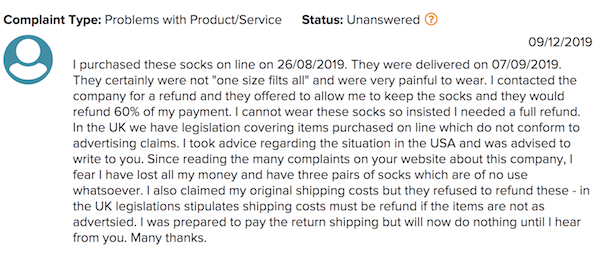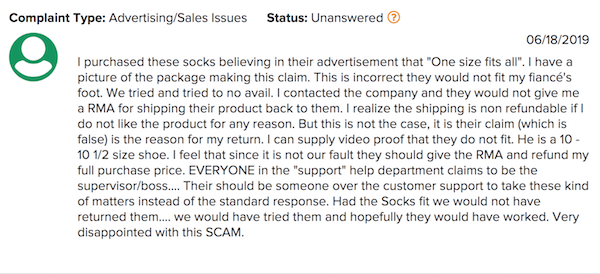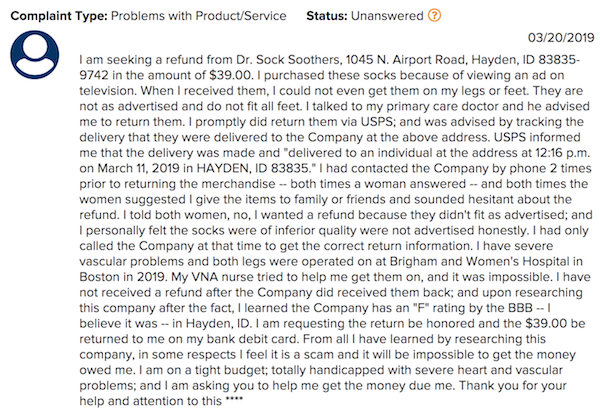 My dear readers, these are not even one-third of the complaints I found through reliable sources online. Let me summarize them for you:
One-Size-Fits-All does not work
Durability of the socks is "fragile"
Socks not received but money was charged
Customer support sucks (Literally)
Customers' cards were overcharged rather than the actual amount
Refund policy is a scam
Complaints unanswered
The complaints speak for themselves, so do you really need me to elaborate more on why they are a scam? Now you can make better choices on whether to trust Doc Socks or purchase compression socks through reliable purchase platforms.
Want good quality Compression Socks? ComproGear is having a limited time sale
A Little Education on What Compression Socks Actually Do For You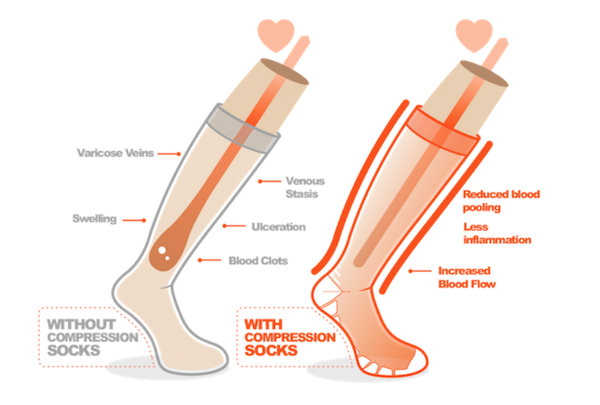 Compression socks or any other compression legwear are medical devices created and developed to treat and prevent unhealthy leg conditions. They exert compression pressure on your lower legs, calves, feet, and ankle to help push your blood upward towards your heart against gravity in order to accelerate better blood circulation. Poor blood circulation in the legs is the number one reason why mild leg conditions can manifest into severe leg diseases which could be both cosmetic and health concerns.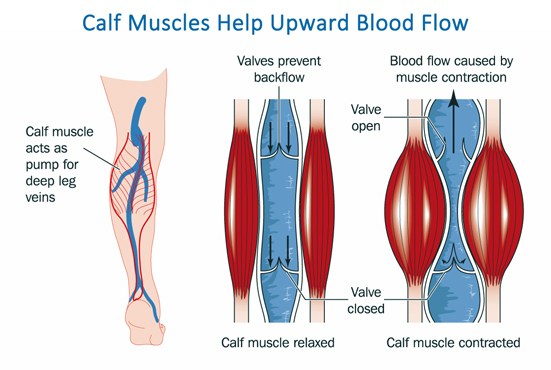 They come in 4 standard compression degrees to treat different severity of leg conditions and high compression pressure compression socks typically shall be worn under the prescription of a doctor as anything exerting the pressure of above 20 mmHg is considered as medical-grade and they can go as high as 60 mmHg. Utilizing compression socks that exert too high of pressure may cause your legs to suffocate and the consequence could be blood disruption in the lower limbs; too low of the compression pressure will not be effective in any treatment the patient is looking for.
The moral of this statement is even if there is a chance for a sock to be "One Size Fits All", there is no way on earth there is "One Compression Level Fits All". Wrongful application of compression pressure can be VERY harmful to health. This is not something you can take lightly. Blood disruption in the lower limbs can cause blood disruption to the entire body as your heart is unable to get the blood supply it needed so it is not functioning the way it should distribute oxygen and nutrients to every nuts-and-bolts of the body. This will result in many other severe health conditions that one cannot begin to imagine. Yes, my dear readers, a series of a health crisis CAN be developed with you initiating the first step of purchasing wrongful advertised compression socks.
Want good quality Compression Socks? ComproGear is having a limited time sale
Related Articles
Doctor Socks Soothers- The Closing Chapter
Do Not Let Dr Sock Soothers Take Your Money!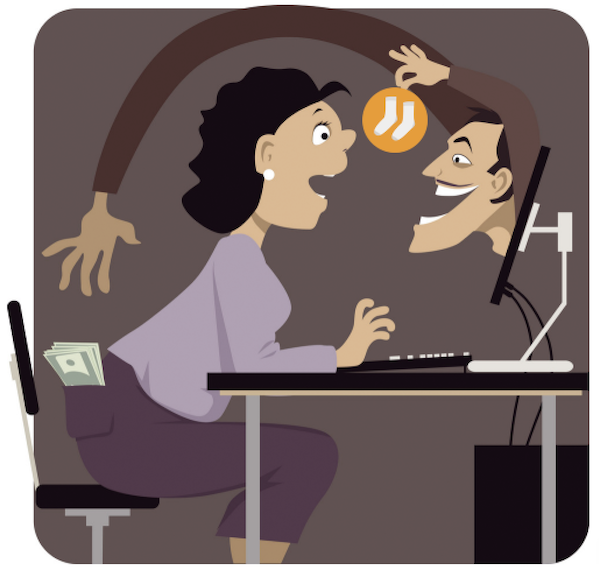 We have reached the end of the article dissecting every part of their websites and their product reviews. As I mentioned, this is not a statement of slander. I am writing with facts and evidence. It is my mission to convince you not to fall for the scam knowing they are not delivering any treatment they promoted and promised. We want you to take your leg health seriously and we know you do! So, if my article can help you to not waste money, time, and effort then it is worth my effort to write this article that is as long as my booze receipt on New Year's Eve (LOL).
Sorry! Doctor Sock Soothers! A Scam is a Scam! 💁
At the end of this article, you just need to take these 5 factors into consideration before deciding to make a purchase for a pair of Doc Socks:
They do not work
They do not have a clinical trial to back up their claims on the therapy their socks provide
Their 100% money-back guarantee policy is merely for show
They practice shady rebilling to their customers' credit card
Their customer support is as good as "non-existent"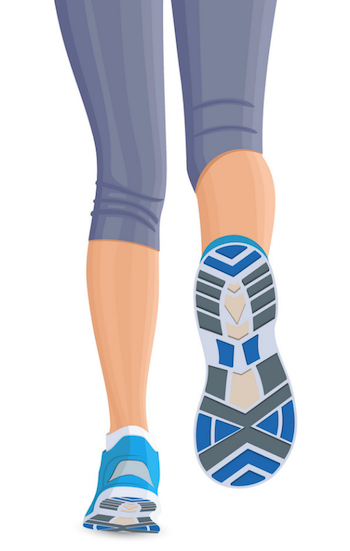 Last but not least, if you are looking for alternatives to help with blood circulation in the lower extremities or to simply ease the achiness and swelling of the feet and legs, visit our store at Comprogear.com. Browse through our collection of high quality compression socks with even funky patterns to fit your fashion desire! Most importantly, we REALLY practice honest money-back guarantee policy with ZERO hassle for our beloved customers! It is absolutely our mission to help every individual in the world out there to achieve better leg health and we cannot be more thrilled to be a part of your journey to wonderful leg health! Happy feet, happy life!
Looking to Buy a Pair of Quality Compression Socks?