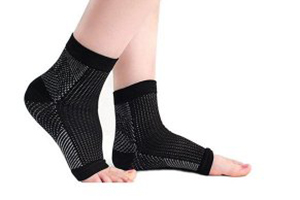 Sock Soothers (aka SockSoothers) and compression ankle support socks look similar, but is the Sock Soothers brand just as good as any other compression socks? It seems that Dr. Sock Soothers has been receiving backlash from customers regarding sizing, quality and refunds. As consumers, it can be difficult to know if you can trust a brand or their product. Are Sock Soothers really worth your money?
After reviewing the pros, cons and customer feedback, ComproGear is offering this honest look at Sock Soothers.
What Are Sock Soothers?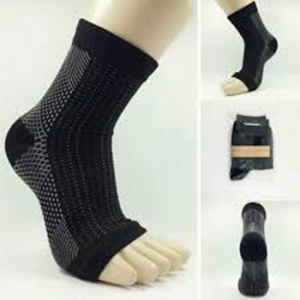 Sock Soothers, or Doc Socks, are a brand of ankle compression socks designed to provide relief to people who must stand a lot or who suffer from medical conditions. Dr.Sock Soothers claims their socks do exactly what any good ankle compression sock would do.
By design, Doc Socks don't cover the entire foot. Just like an ankle compression sock, the hem of the sock ends either just below or just above the ankle bone. The toes are left uncovered. This is similar to most athletic compression socks of ankle height.
Sock Soothers are sold as a one-size-fits-all product. The material the sock is composed of is not posted on their website, but it appears to have a stretch to it.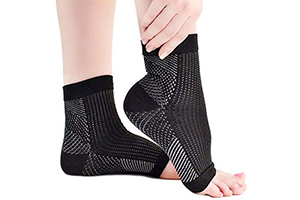 According to Dr. Sock Soothers, you'll experience the impressive anti-fatigue properties of your pair of Doc Socks. They will alleviate achy feet, heel pain and swelling. They should also boost circulation to the lower extremities.
Each Sock Soother support garment is said to have three intensities of targeted compression across seven zones of the foot. This combination is believed to offer breathable support for your feet and can be used during activities like running, hiking or work or to treat plantar fascia.
What Are Compression Ankle Support Socks?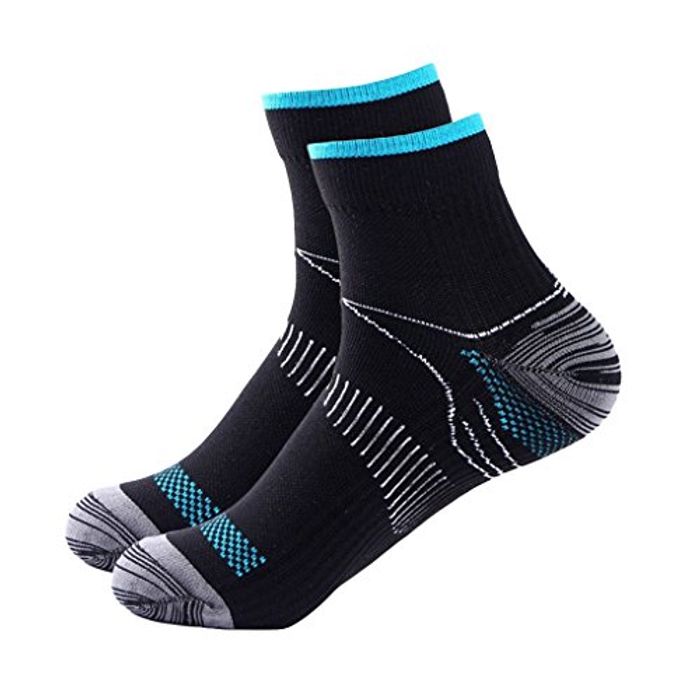 Compression ankle support socks are a compression garment made of a firm but flexible material. ComproGear uses a combination of nylon and elastane. Ankle support socks fit closely to the foot, gently compressing the tissues and veins of the wearer's foot.
This gentle yet firm pressure helps improve blood circulation throughout the area, which comes with many benefits. Just like Doc Socks, an ankle-height compression sock will end just above or just below the ankle bone.
Compression ankle socks come in a wide range of pressure ratings. Just as choosing the right medication is imperative to your health, so is choosing the right level of compression in a compression sock.
You can choose from a variety of features when you shop for compression ankle support socks: padded soles, closed-toe, open-toe, anti-microbial fabric, light compression, firm compression, etc.
Benefits and Features of Compression Ankle Socks
A good pair of compression ankle sleeves or socks should have the following features: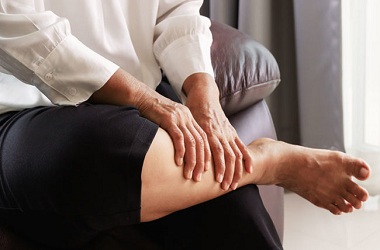 They are made of spandex-type material that fits snugly and gently.
Can be worn with or without your regular socks or hosiery.
Your compression socks should relieve discomfort while you are standing, walking, at the gym, running or hiking.
Alleviate swelling when you stand or sit for extended durations of time.
Promotes blood flow and circulation.
These socks provide effective support for your plantar fascia, toes and the underside of your toes.
They naturally and comfortably elevate the arch of your foot. This can be helpful for people struggling with carrying excess weight.
They help minimize healing time for athletes and people suffering from plantar fasciitis.
Differences Between Compression Ankle Socks and Sock Soothers
Here is a simple chart to help you understand the basic differences between Sock Soothers (Doc Socks) and compression ankle support socks:
Compression Ankle Socks

Low, Medium and High Pressure Levels
Sock Soothers

Unknown Pressure Level
Knee, Thigh and Ankle Styles

Open-Toe or Closed-Toe
Only Ankle Style

Only Open-Toe
Suitable for a Multitude of Conditions
Mainly Suitable for Conditions Around the Ankle and the Plantar Fascia
Is Sock Soothers Making Trustworthy Claims?
The Sock Soothers website certainly promises all the same features a decent pair of compression ankle socks would have. But there has been questionable business practices observed by both the public and the Better Business Bureau: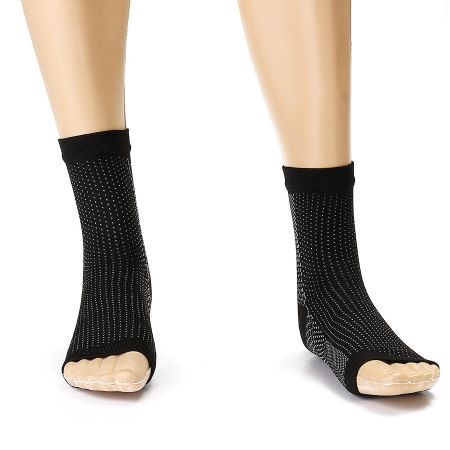 According to the Dr. Sock Soothers website, wearing a pair of their Doc Socks ankle sleeves will not only improve blood circulation, but it will also alleviate leg pain. Unfortunately, some customers found the socks added to their pain.
Sock Soothers are sold as a one-size-fits-all product, which sounds great since it eliminates the need to take measurements. However, Dr. Sock Soothers has received much negative feedback from customers who have found the socks so small that they cannot get their feet into them at all.
Three stellar customer reviews posted on both the Dr. Sock Soothers website and the Doc Socks website attest to the amazing quality of Doc Socks. But since no other reviews have been posted on the websites, the company has been suspected of posting paid reviews.
The company has also been accused of paying for suspicious third-party reviews which tout the quality of Doc Socks by using only those three reviews we just mentioned above (viewable on the Dr. Sock Soothers website).
Taking a look at reviews from customers posted on a third-party review website called Highya.com, we see that many customers feel frustrated about both the Sock Soothers product and the company's customer service.
Doc Socks by Dr. Sock Soothers have a name similar to the well-respected compression sock brand, Doc Miller Compression. This may contribute to consumer confusion at the time of purchase.
The Pros of Sock Soothers
Now let's take an honest look at the positive customer reviews of Doc Socks that have been shared across various third-party product review websites: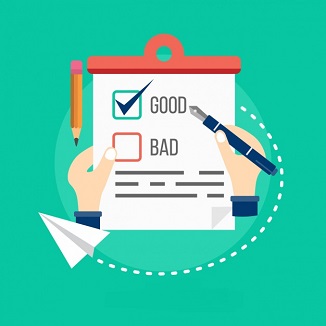 The positive customer reviews do express satisfaction with arch support and mentioned that the socks could easily be worn underneath another pair for layering if needed.
If you are able to get your Doc Socks on, then you may reap the benefits of wearing them. Please note that 21 of the 35 reviews on Highya.com gave Doc Socks just one star out of five with many of them finding the socks were too tight to get on.
Though most customers shared they struggled to get the socks on, some customers who were able to fit their pair of Doc Socks found them helpful. More female customers than male customers were able to get the socks on.
The Cons of Sock Soothers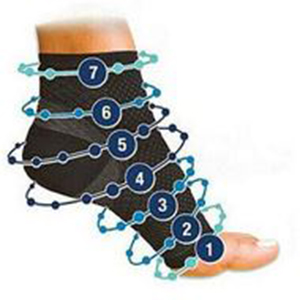 Despite a few customers having a positive experience with Sock Soothers, it is not a product that ComproGear will be carrying anytime soon. Based on most customer product reviews of Sock Soothers, buying from Doc Socks is hit and miss…but mostly miss. Here's why it may be best to find your compression socks somewhere other than Dr. Sock Soothers:
No Pressure Levels or Compression Guidelines
It is concerning that no pressure ratings are provided on the Doc Socks website. Finding the right pressure level for your compression socks is not just a matter of comfort. For customers with medical conditions, wearing the wrong compression sock may worsen the condition or allow symptoms to go unmanaged.
Possible contraindications for compression sock therapy include:
Peripheral neuropathy.
An active skin infection.
Pulmonary edema related to congestive heart failure.
Since all Sock Soothers are the same pressure rating, this may explain why so many people described the socks as "painful" to wear. The larger a person's foot size, the more intense the compression of the Doc Socks would become.
"One Size Fits All" Does Not Fit All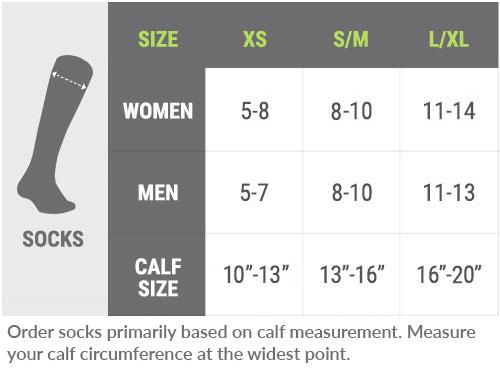 While it would be convenient to not have to think about sizing as you shop for socks, it is an important factor. Many of the Sock Soother customers voiced their frustration over not being able to get their Doc Socks on because the socks were too small.
One customer confessed it was so difficult to remove her Doc Socks that she nearly resorted to cutting the socks off her feet with scissors.
ComproGear Pro Tip: To avoid buying a pair of compression ankle socks that are either too loose or too tight, purchase from a company that offers a full range of sock sizes. Check that your shoe size and calf size corresponds correctly with the suggested sock size. See the chart for examples.
Improper Materials and Design
Customers of Sock Soothers complained of slipping due to the tightness of the Doc Soc open-toe, fraying of the fabric and unravelling of the stretchy compression fibers, leading to skin irritation.
A compression sock should be firm and will certainly be more difficult to get on than a regular sock. Unfortunately, the design of Sock Soothers makes them so challenging to get on and off that many customers abandoned wearing their Doc Socks after just one day.
You May Not Get a Refund from Sock Soothers
The reviews on ScamFinance.com suggest mixed results when it comes to getting a full refund for your purchase. Doc Socks customer reviews have also cited a "restocking fee" being charged on occasion. Note that you will need to pay for your return shipping as well, and may also not receive a refund on the original shipping.
Most troubling is that multiple customers had to ask their credit card company to get involved in order to enforce the refund from Dr. Sock Soothers:
"I, too, was scammed a few months back. They would not even talk to me. So…I put a dispute against their charges online at my credit card bank's site. My CC Company resolved it – refunded my money…" -Judy via ScamFinance.com
ScamFinance.com, BBB.org and Highya.com are filled with customer reviews just like Judy's. In addition, customers who called the 1-800 number provided by Dr. Sock Soothers found it to be an invalid phone number.
This is a frustrating situation for customers as they have lost money and are unable to communicate directly with the Doc Socks company.
Are Compression Ankle Support Socks Right for You?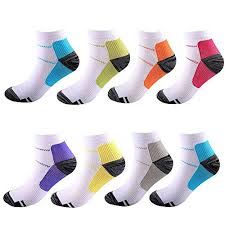 Though buying Sock Soothers may be a gamble, there are trustworthy businesses providing a great alternative: compression ankle support socks.
There are benefits to wearing the right compression sock for nearly everyone, but some conditions and symptoms are especially responsive to compression therapy. If you have diabetic neuropathy, plantar faciitis, achilles tendonitis or are a runner, you're likely to respond well to compression ankle socks.
ComproGear recommendations touching base with your physician to find out which compression level is best for you.
Diabetic Neuropathy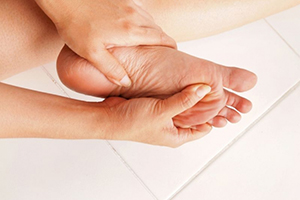 If you have diabetes and have ever felt a slight numbness or tingling in your legs, feet or toes, then you may be experiencing diabetic neuropathy. While it is recommended to avoid a high pressure compression sock if you suffer from diabetic neuropathy, a low pressure ankle sock (8mmHg-15mmHg) can help with circulation.
What is Diabetic Neuropathy? How Can a Compression Ankle Sock Help?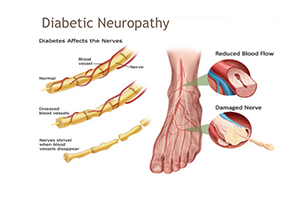 Diabetic neuropathy is a nerve disease that can affect the hands and feet. It is caused by hyperglycemia and constant high levels of blood sugar, leading to poor circulation in your feet.
High blood glucose levels damage the walls of the blood vessels in your legs. When the condition worsens, you may lose your ability to feel your feet. This is why it is important to wear only low pressure compression ankle socks with this condition, unless otherwise advised by your doctor.
Compression ankle socks can be an important preventative tool in the fight against diabetic neuropathy as they maintain healthy circulation.
Common Symptoms of Diabetic Neuropathy
One of the most reported symptoms of this condition is the lack of sensation in the feet. This can cause serious problems, as injuries can go unnoticed. The untreated injury may lead to infection and, in the worse cases, ulceration of the foot. This may call for foot reconstruction or amputation.
Your best line of defence is to act pre-emptively and seek medical advice if you are having the following symptoms simultaneously:
Increased rate of your heart beat.
Vision problems, including double vision.
Numbness or tingling in the legs and feet.
Electric-shock-like pain in the feet and legs.
Decreased or excessive sweating.
Suffering from muscle wasting or weakness.
Burning sensation in the feet during the night.
Poor feet coordination when walking.
Care Options for Diabetic Neuropathy
If you have diabetes, protecting and caring for your feet is an important step to living a healthy life with your illness. In combination with your compression ankle socks, there are a few other adjustments you can make to feel more comfortable:
Wear High and Wide Box-Toe Shoes.
Optimal shoe wear for people with diabetic neuropathy will include a soft sole and a wide toe. The shoe shape must accommodate the widened forefoot common in diabetics. A shoe with a widened toe will serve to minimize rubbing against the foot.
Try Orthotics.
An orthotic can provide arch support and help alleviate foot pain. Alternatively, you could try an over-the-counter insole for your shoes to increase comfort during walking. A great insole design will feature a u-shaped heel cup to support and stabilize your foot. This helps to prevent friction and sliding during long distance walking or high impact activities.
Choose an Open-Toe Compression Sock.
Open-toe compression socks allow you to easily check the circulation in your feet. Your toes will also have more freedom to move with less pressure on them, which may be preferable if you suffer from neuropathy.
Plantar Fasciitis and Compression Socks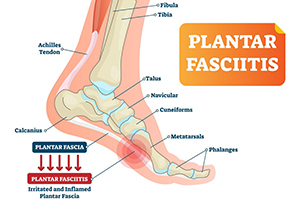 The word plantar refers to the sole of your foot. Fasciitis refers to inflammation. Planter fasciitis is the inflammation of the bands of fibrous soft tissue of your foot that run along the bottom of the foot.
Typically, you'll feel the pain in your heel area first thing in the morning or after a duration of long rest.
Plantar fasciitis is common in high impact sports such as running, jumping and dancing. It is also common in people with flat feet.
Symptoms of Plantar Fasciitis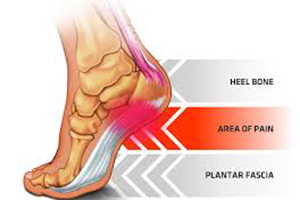 The first sign that you may have plantar fasciitis is sharp pain at the base of your heel. The pain pattern may be worse when you are exerting more pressure on the plantar fascia, such as when climbing steep stairs.
A second common sign is this unique pain pattern: pain when you get up in the morning and pain when you put weight on your foot. After walking for ten or fifteen minutes, you may notice the pain fade. However, the pain tends to return later in the day.
The third symptom of plantar fasciitis is the inability to bend your toes completely on the affected foot.
How to Manage Plantar Fasciitis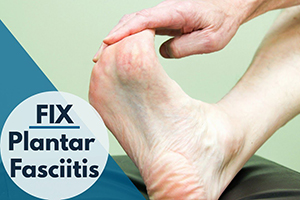 Providing additional support to your plantar fascia by wearing a quality pair of compression ankle socks is a good first step. You can also supplement your compression therapy in several ways.
Stretching and icing have been proven to be beneficial for self-treatment at home. Stretch first thing in the morning or after a duration of long rest.
If a physiotherapist has provided you with daily exercises, wear your compression socks or supportive sneakers as you do these exercises. The trick here is to make sure that you perform your exercises in a slow, relaxed motion. You don't want to strain yourself or bounce.
These techniques are can be very effective when used alongside your compression ankle socks:
Rest: If you don't rest your body and feet, it is unlikely you will have the chance to heal.
Tape the Foot: You can try taping your foot to relieve your symptoms. Ask your physiotherapist how you can tape your own foot at home.
Cold Therapy: You can enhance the effectiveness of your compression socks by first applying cold or ice. This technique helps to reduce inflammation and pain. You can do this regularly throughout your day when you are at home. We recommend a minimum of ten minutes every hour to successfully alleviate symptoms.
Wear Comfortable Shoes (Wide Toe Box Shoes): Flat-soled or hard shoes may make plantar fasciitis worse. Running or training shoes are normally more comfortable and likely to reduce symptoms of plantar fasciitis.
Avoid Walking in Bare Feet: This usually increases the strain on the bottom of your heels, making the condition worse. Instead, you should wear a pair of high quality compression socks.
Wear a Heel Pad: If your heel is in pain and you have to be on your feet, then wearing an insert or a gel heel pad may protect the area and relieve symptoms.
Stretching Exercise: Stretch the calf muscles and the plantar fascia at the back of the leg. You can also roll a ball under the sole of the foot to help stretch and massage the plantar fascia.
Wear Orthotic Insoles: You can enhance the performance of your compression socks by wearing orthotic insoles. They are especially important for people who over pronate or have flat feet. These insoles help to correct the motion of your foot and prevent pain from returning.
Use a Night Splint: You can wear this as you sleep to prevent your feet from tightening up overnight.
Runners Prone to Rolled Ankles Benefit from Compression Socks
Rolled or twisted ankles are feared by trail runners. In most cases, a momentary lapse in concentration, simple lack of coordination, slippery mud, a shaded divot or a misstep is all that it takes to cause an ankle to roll or twist. Depending on the severity, a rolled or twisted ankle can lead to broken bones, ligament and tendon damage, swelling or muscle tears.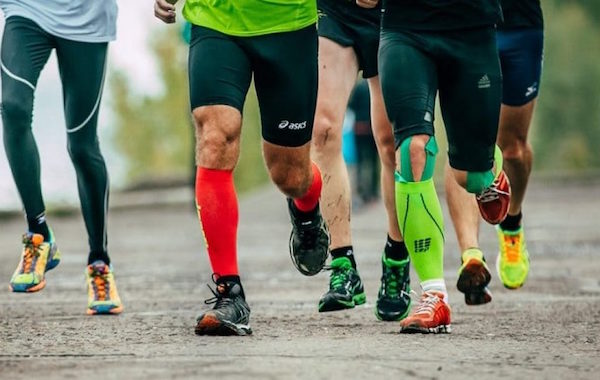 If the roll or twist leads to substantial swelling and pain, it is always a good idea to consult a physical therapist to determine the gravity of the injury. The most ideal treatment for ankle problems (twisted or rolled) is to avoid them by strengthening your muscles that support the ankle and work on the flexibility of the ankle area through stretching.
You can effectively support your ankle muscles by wearing compression socks. Preferably, you should wear your compression socks with trail shoes if you are susceptible to ankle rolls and twists. You can also include special ankle taping techniques. The best person to teach you ankle taping is a physical therapist or a trainer.
Achilles Tendinitis and Compression Ankle Socks
This is a common condition amongst athletes. Achilles tendinitis occurs in the Achilles tendon, about two to six centimeters above the tendon's attachment to the heel. This condition may get better with rest, but when you stand and start using your feet, the pain begins again.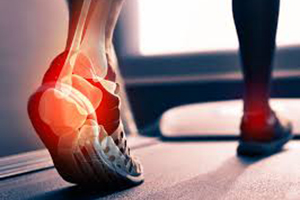 Achilles tendinitis appears to be caused by overloading the tendons. You may develop profoundly debilitating tendon issues if your Achilles tendinitis is not properly treated.
Compression ankle socks are just one of the tools you can use to prevent and recover from Achilles tendinitis. The firm support of the compression sock fabric braces the ankle, tendon and arch to reduce the incidence of injury.
You will also benefit from improved circulation from wearing compression socks which will speed up the healing process for you.

Alternative Interventions for Achilles Tendon Pain
In addition to wearing a quality pair of compression socks, you can supplement your daily care with the following supports:
Physiotherapy
A physiotherapist can help you manage Achilles tendinitis by teaching you daily exercises and stretches to increase strength in the tendon. This is a safe way to improve your tendon's load tolerance.
Cross-Fiber Friction Massage
You can give yourself a cross-fiber friction massage at home by rubbing and gently pinching in on either side of your tendon. Initially, it may feel sore, so start massaging lightly and then increase the firmness of the massage over time.
Cold Therapy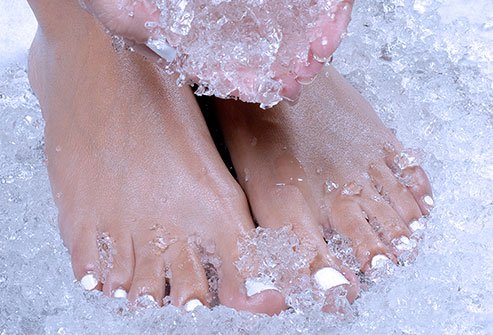 If your tendon is badly injured and inflamed, ice and elevate the injured foot:
Ice the tendon as soon as you become aware of swelling or pain in the area.
Ice the tendon for 10-15 minutes. This may need to be done as often as twice an hour if your injury is severe.
Maintain an icing routine for 72 hours.
See your physician if the injury is initially severe or if the pain continues for more than 72 hours.
Quality Compression Ankle Support Socks
Take care of your feet and your health by wearing only quality compression wear. Compression ankle support socks are a great option for anyone looking for a durable, effective and comfortable solution to foot and leg symptoms.
This page last updated May 16, 2022