Introduction of "The Socks"

Doc Socks, the ultimate compression socks. Yes? No? NOOOOOOOOO! That is one good way to start off the article. First of all, have you heard of Doc Socks? If yes, you are probably an active seeker for compression legwear and you most probably have heard of the ocean of negative complaints their users left for them. I mean, complaints of one after another. But, if you have not heard of Doc Socks before and you are in the middle of seeking for a pair of compression socks, you have come to the right place. In this article, I will dissect each and every part of Doc Socks for you to gain some insights so you can make a decision on whether to purchase Doc Socks if you stumble into their website. Yes, readers! This will be the most helpful Doc Socks guide for you!
Let's talk doc socks compression socks …
What are They?
Their Website
Doc Socks has a very straight-forward website in terms of its layout and its call-to-action buttons. The website itself only comes with one home page and one check out page (excluding the terms & conditions, privacy policy pages, etc.). It is very obvious from the outlook of the site that it's a sale driven website and every button and feature built are to convert every visitor into a buying customer. How do I know that? Because every button you can click onto is to direct you to their check out page. Not to mention the big, bright 50% discount button with a timer to urge you to act on the purchase before it's too late!
As you scroll down towards the end of the site, there is another call-to-action button to direct you to their checkout page. I mean, their drive to sell is not to be underestimated. Now, let me make one point clear, the 50% discount is merely a marketing play where they mark up the price and put a discount on it. It is a common sale tactic practiced by millions of business owners and vendors. So, their 50% discount is technically there all year long. Do not be moved by the 50% discount! Next on, let's move to what Doc Socks claim themselves to be or to do.
Their Claims
As seen on the website of Doc Socks, Doc Socks claims themselves to be "Professional Anti Fatigue Compression Sock Sleeves" that REDUCES SWELLING, EASES HEEL PAIN, SOOTHES ACHY FEET, AND BOOSTS CIRCULATION.
COMPRESSION TECHNOLOGY
Proven to limit swelling, both for those on who are on their feet a lot, and those who avoid being on their feet due to pain
Designed by a leading Podiatrist who has extensive treatment in foot pain management caused by the lack of support for arch, heel, and ankle core stability
Promotes blood circulation to help weak veins and pathways being compromised from the aging process
PREVENT PLANTAR FASCIITIS
Create support for the plantar fascia connective tissues for heel through the underside to the toes
Naturally elevates and comforts the arch of the foot dues to dropped support from obesity, weight gain, and weight-bearing activities
Dramatically reduces heal time for those currently with plantar fasciitis coupled with stretching, ball-rolling exercises, and helps to improve the muscles of the doot and strength
ONE SIZE FITS ALL
Wear with or without regular socks by simply slipping it on as a normal sock would fit
Feel the targeted zones and 3 levels of compression targeted to your foot compression
Creates permeability and structural compression for hiking, running, sports activities, gym, walking, standing; leaving you feeling fatigue free all day long
"Customer" Testimonials



Those are the claims of Doc Socks that you can find on the Doc Socks website itself. First of all, let's all agree that their so-called "customer testimonies" are fabricated to create an illusion that their magical compression socks cover all audience base in terms of its utility- mums, sports enthusiasts, teachers (heavy manual labors), etc. Did I mention the number of typos that occurred in the customer testimonies? Go have a look for yourself.
Doc Socks Price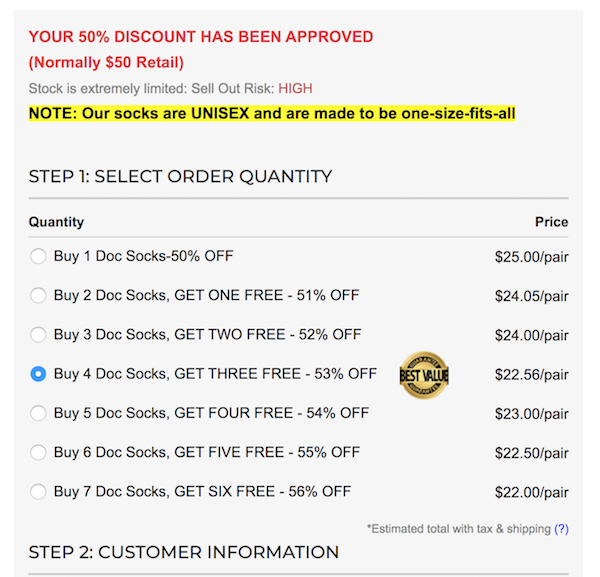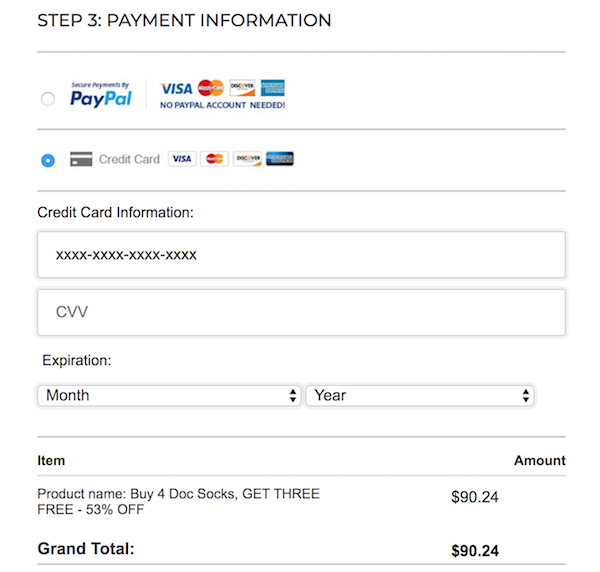 When you get to the check out page, you are presented with the quantities of socks you can select on purchasing, which the higher the quantity, the more discount you are entitled to get. Also, with every second pair you purchase, you get a pair free on top of the discount. Ultimately, it brings me to $90.24 for 7 pairs of Doc Socks upon check out with 3 pairs being free.
Doc Socks Complaint and Negative Reviews
Ladies and gentlemen, we have reached the essence of the article- the negative reviews and complaints Doc Socks had received. The reviews and complaints speak for themselves, so, say no more and let's jump right into it!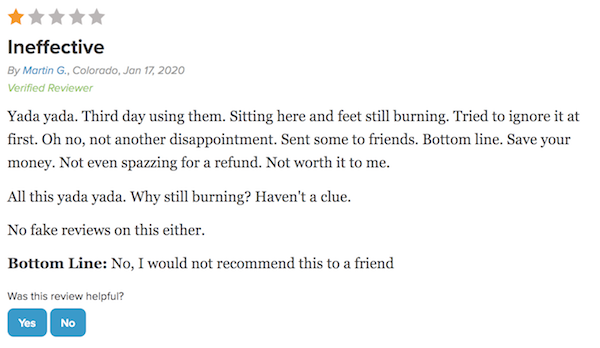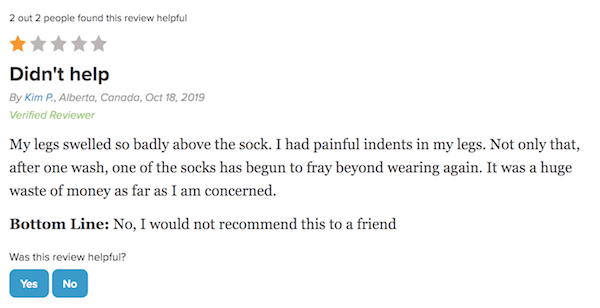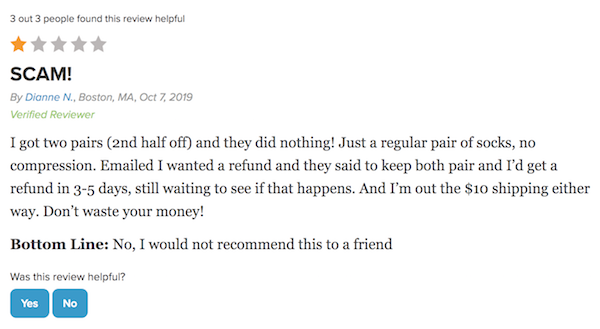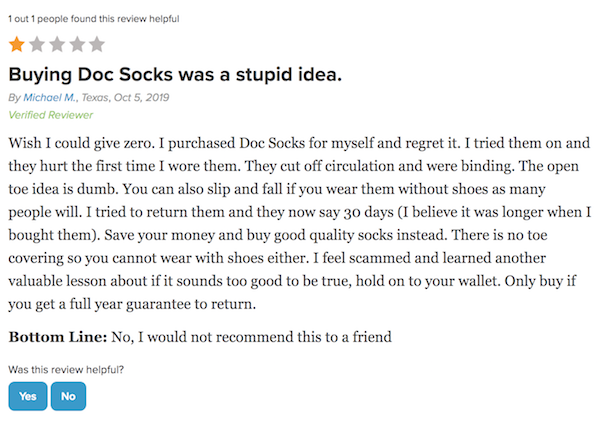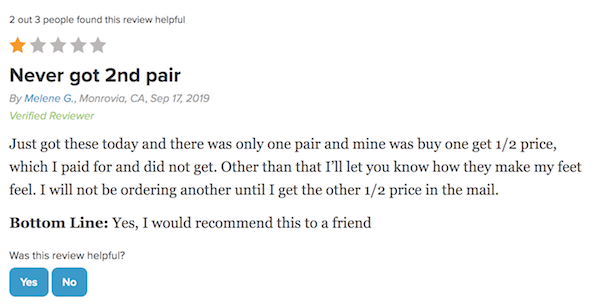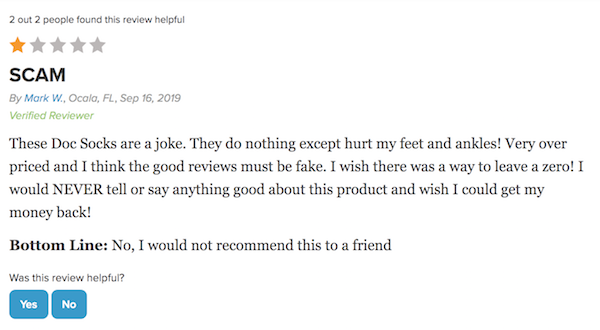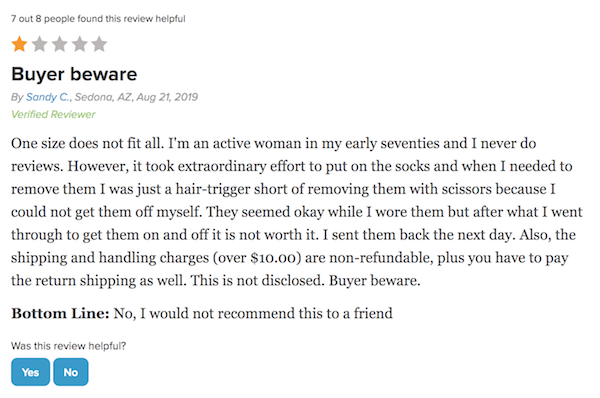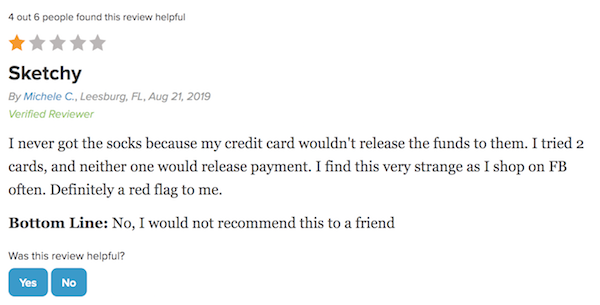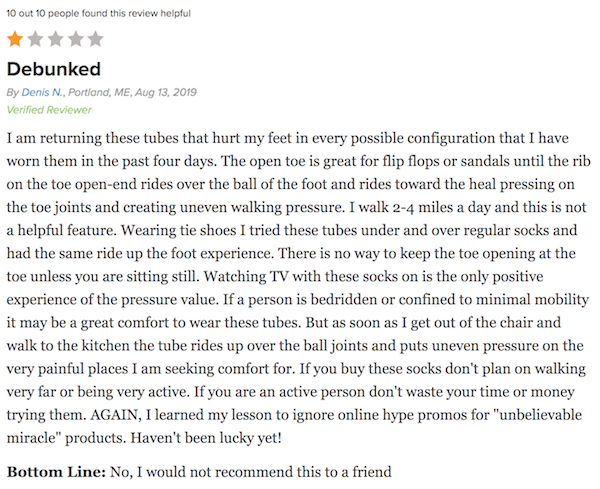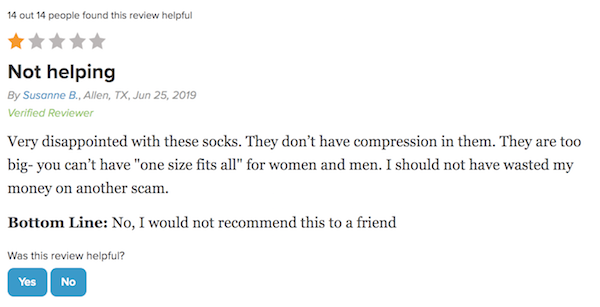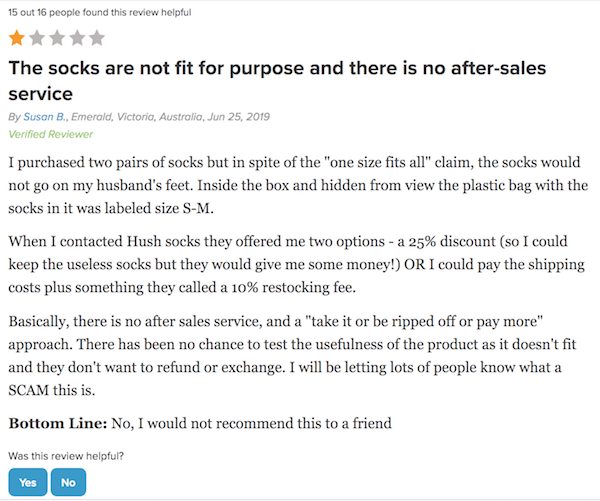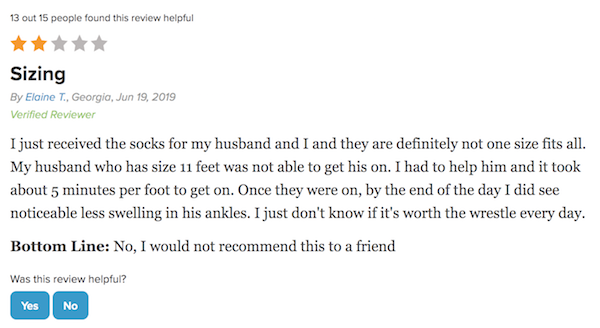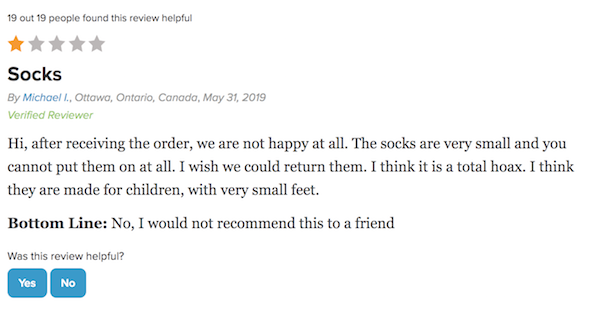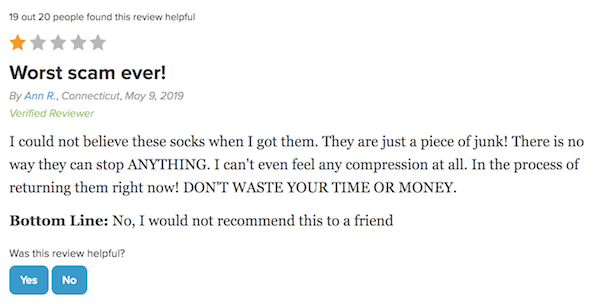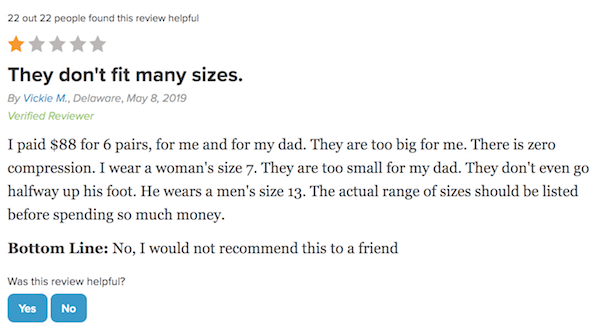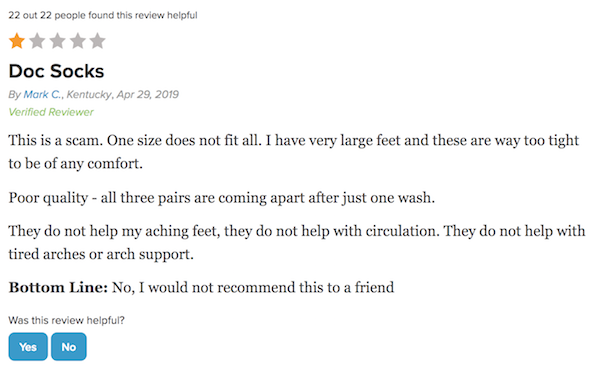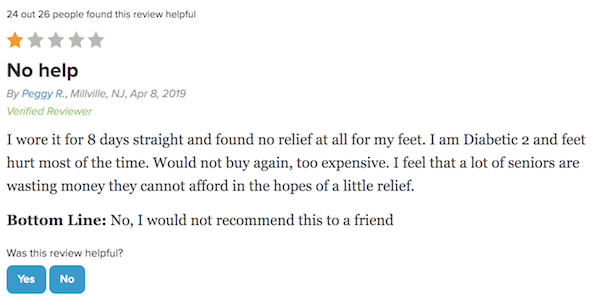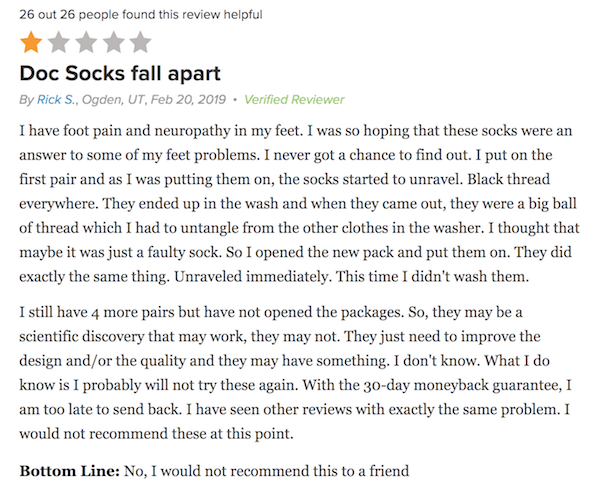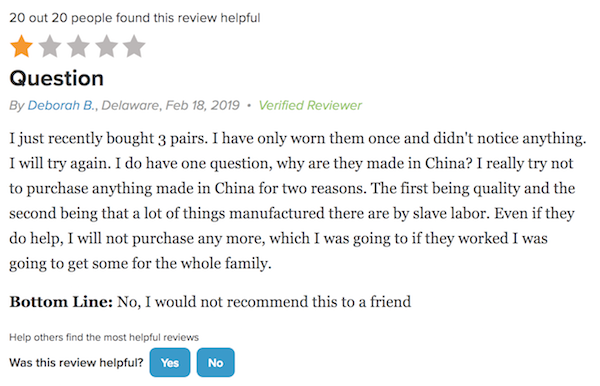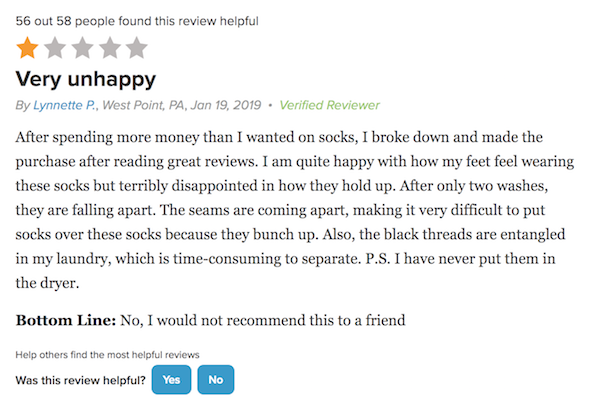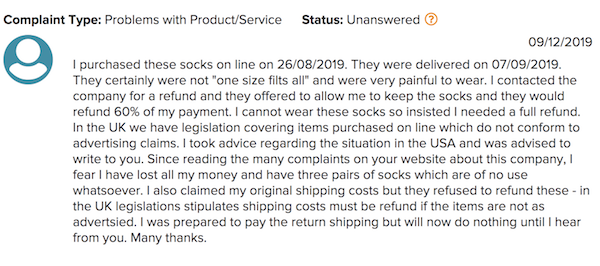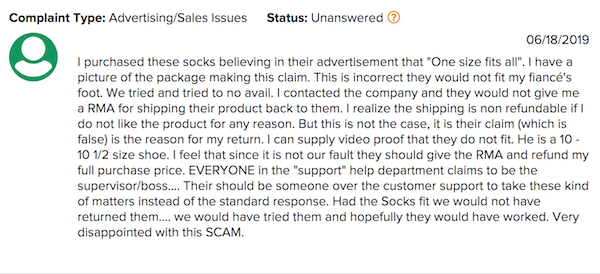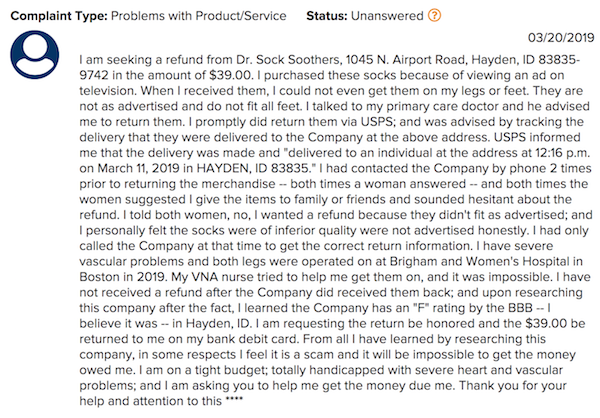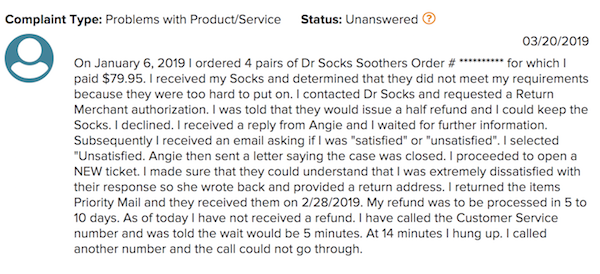 If you have read through all the complaints and product reviews, they should be pretty helpful for you to decide whether or not Doc Socks is trustworthy. Also, they are not even one-third of the negative reviews I can find available on the internet! Let's address the factors that contributed to these negative product reviews and complaints.
1. One Size Fits All? No, they don't!
Do you believe the same pair of socks can provide a perfect fit for the range of XXS to XXL? Does it sound possible to you? Nope. That is what their users are reflecting in the reviews. But there is a more important fact that I need to stress. While one size may magically fit all, one compression level DOES NOT fit all.
The Right Compression Legwear is Proven Helpful in Accelerating Blood Flow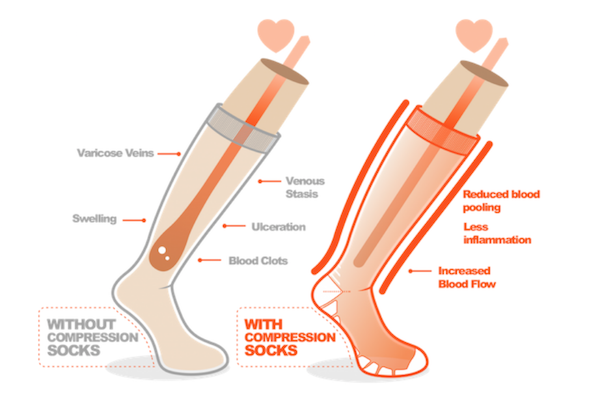 I had stressed the fact of purchasing compression socks with the right amount of compression pressure is the key to the right compression therapy in my other articles. Why? Because compression socks are actually medical devices developed and proven to be helpful in combating and preventing unhealthy leg diseases. They exert pressure on your lower legs, from your feet to your ankles, then your calves to below your knee, even your thigh depending on what length of socks you go for (knee high or thigh high). This distribution of pressure on your lower extremities helps promote better blood flow and at the same time helps push your blood towards your heart against to pull of gravity. They are known to relieve pain and swelling in the ankles as well as the feet and provide you with the comfort of healthy blood flow, which will solve your achy feet problem! I can write a longer list of how the right compression leg wear can send good impacts to your health but let's bring the wheel back to Doc Socks.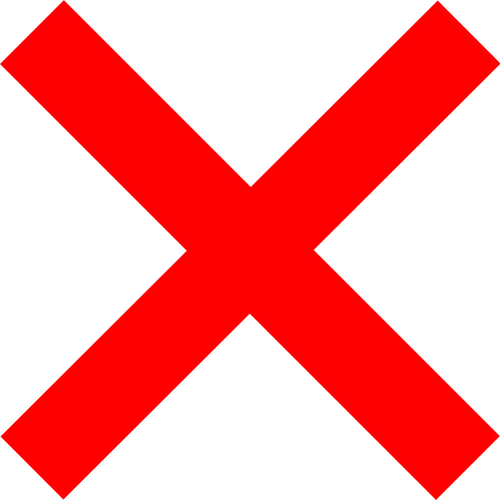 So, while all their negative reviews and complaints are reflected upon the falsely advertised "One Size Fits All" feature (do not fall for it of course), the bottom line is Doc Socks is essentially claiming their one pair of compression sock sleeves are suitable for every single individual in the world, regardless of the health condition and leg symptoms. The ultimate conclusion- One Compression Level Fits All? HELL NO!
2. The durability of their products is the opposite of strong
Many of the comments/complaints are focused on the durability of Doc Socks, which a lot of the users claimed that Doc Socks "fall apart" after one wash. It is a pain in the ass to purchase a pair of socks of over $20 a pair just to have them worn one time and have to throw them into the bin! Yes, it is frustrating from the head to the bottom of your feet! Not to mention the number of complaints they received about the difficulties of putting on and removing Doc Socks.
3. Money was taken but socks went MIA
A percentage of their customers are left with the concerns of not getting their socks delivered after their cards are charged. I have not used the word scam up till this point but if this is not a scam? Then what is? So, when you have a problem with a purchase you made on an E-commerce site, what do you do? You contact their customer support in order to solve whatever problems you encountered, missing delivery, etc. Well, this brings us to number 4.
4. Customer support is non-existent
Nothing drives me more nuts when I failed to contact the customer support of whatever service or company I am trying to get to. I mean, what is the point of setting up the customer support hotline or email if they are just going to be left unattended? I once tried to contact a world-renowned company that has a branch at Brunei due to some due diligence work I need verification. I tried every number listed on their website and I called for 3 straight days and no one ever picked up the phone. At that moment, I can feel the volcano started to form on my head and smoke was coming out of my ears. I bet that was how every customer of Doc Socks felt when they were trying to reach their customer support. The only difference between my experience and them was, I didn't make a purchase and my hard-earned money wasn't charged. Their customer support is almost as good as non-existent. This is a huge red flag when it comes to purchasing anything online.
5. Customers' cards were overcharged and auto-billing was performed without authority
A few of the complaints were made because their cards were overcharged instead of the actual amount and some even filed complaints that Doc Socks performed auto-billing without cause and authority of the customers. This again is another proof of scam and is borderline breaching the federal law. This will need to have you to take action on contacting your bank for a refund and report that as a scam, which will result in you canceling your card and making a new one. Does it really worth the hassle? I say not.
6. Their refund policy is a scam
One of the biggest concerns among all complaints and negative reviews is their refund policy, which is merely created for show. They planted a refund policy that looks and sounds great on the website to act as insurance for the customers so they would feel secure in order to convert them into buying those socks. As expected, they are not as honest as they claimed to be. While some customers claimed they received a 60% refund under the conditions of wear-and-tear in the socks, the rest had no luck in getting their refund. I mean, you first have to be able to reach their customer support, right? In order for you to get a refund. 😂
7. Complaints left unanswered
The 6 concerns above are infuriating enough but the worst one is have your complaints unanswered. Bottom line unacceptable. I do not need to elaborate more on this one.
---
Popular Articles on ComproGear
Best Compression Socks for Edema Best Compression Socks for Water Retention
Best Compression Socks for Varicose Veins Best Options for Spider Veins
Best Compression Socks for Nurses Anti-Embolism Stockings
Compression Leg Sleeves Medical Compression Sleeves for Legs
Graduated Compression Leggings Graduated Compression Tights
---
The Conclusion of Purchasing Doc Socks
Don't be the one that buys these socks!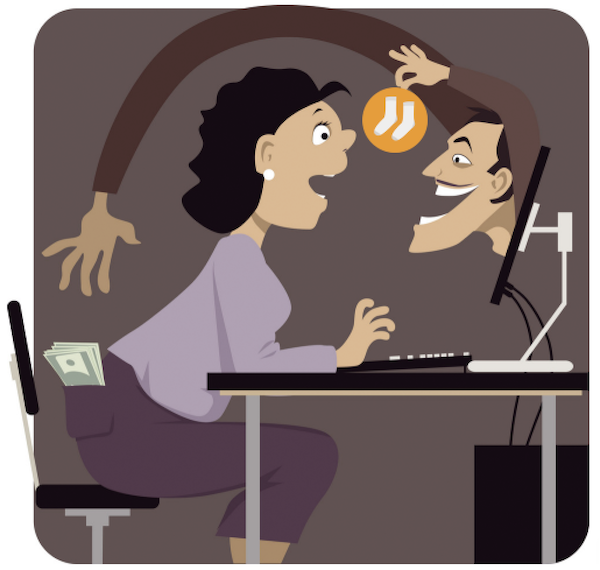 Finally, let me walk you through on how it feels like to purchase Doc Socks. You make a purchase that you might or might not receive your socks and you might or might not get over-charged on your card. Second, being the lucky bunch, you received your Doc Socks and can't wait to put them on only to find they are too small and difficult to put on. Then, you spent 45 minutes to put them on, struggled to find comfort in the therapy they promised to provide and you eventually managed to remove them after 45 minutes of battling with the socks. You threw them into the washing machine then only to find them tore apart after one wash. As angry as you are, you picked up the phone to contact the helpful customer support you hope to reach and get a refund but only to get the response of "please try again later" from the other side of the phone.
After listening to "please try again later" a thousand times, you find yourself throwing the phone at the wall because no one answered after your 98th try. You proceeded to write them an email instead with a few swear words in your email because you are as mad as you can be at that point only to have your email unanswered. You then have this emotion of anger boiling, so you leave 1-star reviews and complaints at every review site you can find (you wish you can leave negative 10 stars instead). You felt that justice was done after the 50 negative product reviews you left. A month later, just when you have moved on from Doc Socks and forgot about them, you get a notification from your bank that your card is charged with X amount of dollars by Doc Socks.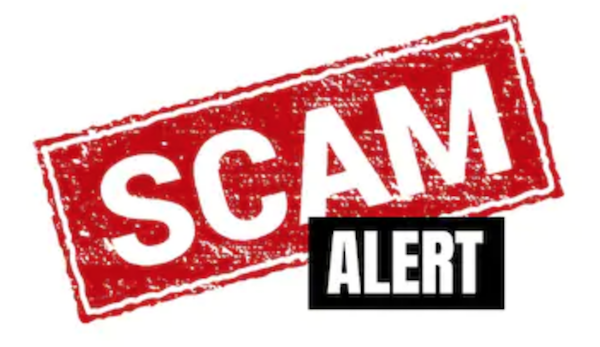 Yes. That will most probably be your buying experience or user experience should you decide to make a purchase at Doc Socks. There is nothing special about those socks and the user experience sucks! They are bottom line a scam, to say the least! Now, if you ask me, I really don't want to be a part of that process even if they cost nothing.
On the other hand, if you need a pair of these socks to assist you in achieving better leg health, visit our store, Comprogear. Browse through our high-quality socks and most importantly, we practice 100% money-back refund guarantee policy! So, please head over to our site and have a look inside. I'm sure you can find something that can accommodate your needs!
This page last updated January 1, 2023