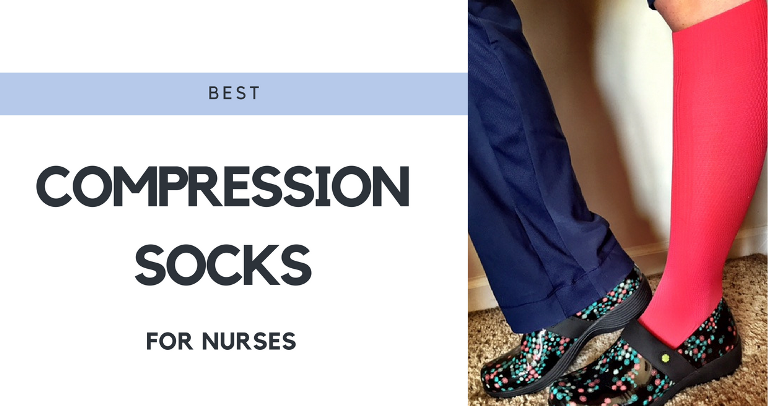 As a nurse, you might have wondered: "What are the best compression socks for nurses?" This question might have been asked because numerous nursing compression socks purchased by many nurses quickly wear out and managing them well looks like a herculean task. As one of the common questions among nurses that wear compression socks, even if you've had trouble getting the best compression socks, you don't have to worry again!
In this article, we will examine qualities to look forward to as you head to a local pharmacy to purchase one for yourself or a friend. Also, as a conviction, I'll add comments from fellow nurses who have purchased compression socks based on these qualities that have been considered.
Purchasing quality compression socks is one thing; wearing it and managing it well is another thing. Therefore, I'll also reveal tips to note so you can wear a quality compression sock well.
What is the Best Compression Stockings for Nurses?
A nurse outfit isn't complete without compression socks since they help in taking vital care of their legs. Purchasing a compression that will add to your soreness isn't pleasant at all. After all, you bought the compression sock to prevent and alleviate discomfort.
Undoubtedly, quality compression socks would enhance oxygen flow, blood circulation, thereby getting rid of lactic acid off from depositing in the muscles. In addition, they limit leg swelling, varicose and spider veins.
In choosing the best type of compression socks, several factors need to be considered. The right choice is dependent on your specific requirements and needs. Therefore, a particular pair of compression stockings would function well for you if it's your very need.
key factors to look out for when choosing the best compression
Below are four key factors to look out for when choosing the best compression.
Material. This marks the first factor to consider when choosing compression socks. There are different materials you can pick from. For instance, you can find some compression socks made of rubber, spandex, and lycra. Your choice of material is essential.
Comfort Level. As a nurse, where you work matters in your choice of compression socks. Do you work in a humid or hot region? Or you work in a dry and cold area? Your territory will affect your choice of selection, ultimately impacting your comfort level. For example, if you are in a hot zone, you would only be required to consider a material that is antimicrobial and breathable.
Compression Level. The level of compression matters a lot! For example, the level of compression starts from the minimum compressed to maximum compressed. It's possible to find extra-firm, light, firm, and moderate compression socks in the market. If all you desire is just comfort, just head on for the light compression socks; however, if you suffer from varicose and spider veins or you want to prevent them, acquire extra-firm or firm ones.
Size or Length. Compression socks are also available concerning size and length. There are socks up to knee-length, while there are some up to thigh length, and in fact, some compression socks are designed to offer a full range. If you noticed that your complete leg suffers varicose veins, discomfort, or pain in the joint, head on for a full-length or thigh-length compression socks. But if your condition isn't acute, knee-length socks will guarantee the level of comfort you desire.
Now that we've considered the factors, let's examine the types that are specific for nurses. I'll be highlighting six types that you can choose from.
6 types of compression socks you can choose from
1. Stretchy Nylon Socks. The fantastic thing about this type of compression socks is that they are made from 100% nylon. As a high-quality compression stocking, these socks make a massive choice for nurses who work long days on their feet. Buyers who go for this type of material have enormously skyrocketed their popularity. And several reputable nurses have spoken favorably about these socks. The fabric is odor-resistant and very comfy. And impressively, buyers can get them in varying colors.
Let's hear from a nurse who purchased this fabric: "I'm always on night duty, and I've had countless vascular surgery as a result of varicose veins, which has led to severe pain and swelling. I've sometimes purchased costly thigh-high compression socks. These types often roll halfway during the night. Then, I spoke with my doctor, and he advised that I tried stretchy nylon socks, in obedience to his advice, I did! My new experience was far beyond the one I had in the past. It made a huge difference! It doesn't only prevent my leg from swelling; it solves the pain I often have. Guess what I did? I ordered for me! Amazingly, this type of socks is available in varying sizes, from small to extra large size."
2. Lightweight Compression Socks. This is a compression sock that is made simply for Nurses. And the fabric it's designed with blends amazingly with its lightweight component. Plenty of nurses often purchase this type. A few nurses noted that being lightweight, it is pretty easy to slide off and on and presents a high level of comfort that isn't too constricting or excessively tight. Another incredible thing about this type of compression socks is that the material is highly breathable, odor-fighting, and anti-bacterial. This means that a nurse's feet will at all times be dry and stay fresh. A nurse from one region comments about the benefits she got from this particular type of compression socks, let's hear her:
"I'm a nurse, and for 11-13 hours, I stand on my feet. Then I heard of purchasing a lightweight compression! I didn't regret buying these compression socks; they are by far better than the ones my colleagues once bought. My legs don't feel exhausted as they used to. Also, the consistent itching that I sometimes feel is gone. Thus, I'm recommending that fellow nurses should look for this feature in a compression sock and purchase. Then, I'll add that if you are buying, you don't have to worry about your sex, because these designs are unisex, and they purchase body requirement. A lot of nurses will cherish that! Finally, this is available in sizes ranging from small or medium to large and extra-large."
3. Budget-Friendly Compression Socks. Most nurses who ask, what is the best compression stockings for nurses are sometimes on a budget or just desire compression socks that will last long for a whole week of strenuous work. This particular compression sock will fill your needs. This budget-friendly compression socks also offer incredible options. From breath-ability to comfort and blood circulation enhancement. These types of socks are often made with nylon blended with elastane and polyester for comfortable stretch and durability. Besides, they are moisture-wicking and are also anti-bacterial. Another nurse has dropped her comment about these types of socks.
"Budget-friendly socks are incredible and amazing! I work 12 hours on my feet in a hospital consistently. But when I started wearing budget-friendly socks that are made of nylon and elastane, I didn't feel any fatigue anymore. And I'm insisting, these are a must-buy for nurses and those who desire excellent support. I seriously love it! You, too, should. Why you need not worry about size availability, they are available from small to medium-large and extra-large sizes."
4. An Excellent one For Sweaty legs. Nurses with sweaty feet can have tremendous relief from purchasing compression socks that come with this incredible benefit. They are top-grades also. Being moisture-wicking, they are specifically designed to dry off sweat from your skin and transmit it to the outer layer of the fabric where evaporation can rapidly happen. Interestingly, stockings of this mode are made from lycra, nylon, and merino wool. With this soft material, it is highly stretchy and dries up quickly. Another fantastic thing about socks of these types is that apart from using it at the hospital, you can use them for outdoor activities like hiking, backpacking, and other outdoor endeavors. So you can be sure that on weekends when you are off, you can have fun with these socks. See how a nurse describes these types of socks:
"As a nurse, spending 12-13 hours standing on my feet in a single shift is sure strenuous. Without compression socks that lessen leg pains, working under such conditions would definitely lead to many unpleasant moments. These types of socks have helped me tremendously. It comes in a variety of colors. And I purchase 7 pairs to avoid repeating a pair every day. These socks obviously come with great benefits. Don't miss out on it!"
5. Temperature Control and Daily Comfort Compression Socks. Nurses should seek for compression socks that offer and maintain a valuable level of temperature. Whether it is cold or hot, you have the privilege to let your feet stay comfortable due to its features. The comfort derived from a compression sock will allow a nurse to perform duties well, he or she will stay energized and get maximum support for legs.
6. Graduated Compression, Snug fit, and Fashionable. Making the last point to answer the question: what is the best compression stockings for nurses? Compression socks that are equipped with accurate graduation are adorable. It is this level of compression that relieves nurses from the discomfort they could feel. Snug fit compression socks are also great, offer a fantastic level of compression, and provides instant comfort in the leg region. Fashionable and trendy compression socks are also a requirement. The raw materials used in manufacturing these have been tested to be of high performance and excellent quality.
With these six types of socks a nurse can pick from, you have the guide in your hands! Nevertheless, there are a few things that will make wearing quality compression stockings easy and makes it last longer. Just take the following points below.
---
Popular Articles on ComproGear
Compression Socks for Gout Prevent Blood Clots With Varicose Veins Socks
---
How to Wear Quality Compression stockings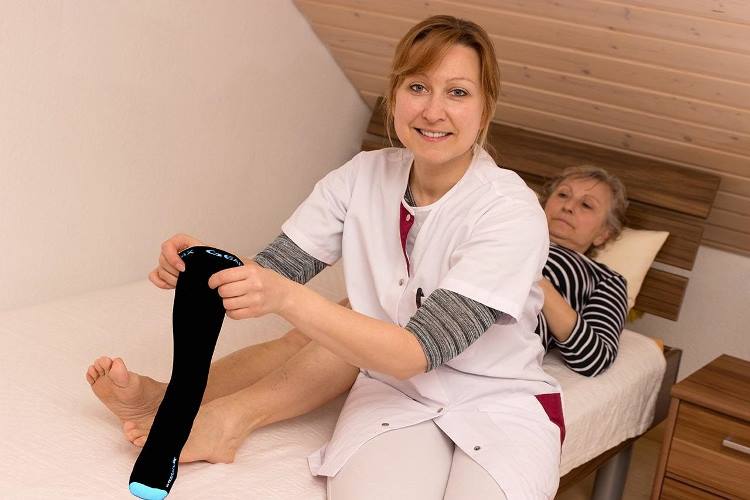 As discussed above, compression socks come in varying sizes, colors, lengths, materials, and compression levels. And this makes it possible for nurses to pick from a variety of options that will fit their health conditions and aesthetics needs.
Before you start to pick a particular compression sock, your legs will have to be measured to be sure that you are going with the exact stockings for your size. As a nurse, these shouldn't be strange to you; after all, it's the duty of a nurse to check if a fit is proper for a patient or not. So, what are the wearing criteria? Let's explore them below:
Wear them on both legs. This is essential if you want even effect, or if both legs are affected. However, you can wear one leg if it's the only one affected.
Wear compression socks during the day, and before you sleep at night, pull them off. Also, first thing in the morning, wear them.
When purchasing compression socks, request for at least two stockings if you will be wearing them on the two legs. That means, when you wear one pair of socks, you can wash and dry the other.
When it's time to wash, hand wash stockings at a degree not more than 40°c, because that's the comfortable temperature for the socks and your hand.
Do not sundry, keep them far away from heat, only keep in a cool and dry place.
Finally, continually monitor your progress, even though you are a nurse. Measure your leg and replace your socks every 5-6 months.
Conclusion
When it comes to acquiring compression socks, there is nothing as impressive as getting a quality pair for yourself. It relieves you of your complications and does not add further pain. As we've analyzed all the essential elements to look out when choosing the right size of compression stockings, from the factors to consider to the types, and how you can manage the pairs you've got, you can be stunned at how long-lasting and pleasant they will feel and look after months of usage. Nevertheless, if you've sometimes had complications from wearing the wrong type of compression socks, consult your physician before trying another type.
This page last updated December 15, 2022