Thigh high compression socks are worn by both men and women from all walks of life: runners, nurses, patients… the list goes on.
Offering even more compression coverage than knee-highs, thigh-high pressure socks are an important part of recovering from surgery or preventing varicose veins.
And when it comes to blood clot prevention, thigh-high compression socks are your best bet.
If you're unsure how to choose a pair of compression socks for yourself, read on.
We'll break down the benefits of wearing above-the-knee compression socks and explore a variety of style options on the market.
What Are Thigh-High Compression Socks?
Thigh-high compression hose extends beyond your knees, reaching the mid-thigh. Some wearers prefer the way thigh highs make their legs look and feel. If you've found knee-high pressure socks to be uncomfortable, you may prefer thigh highs.
Thigh-high stockings can be made from thinner material that is sheer like pantyhose or a thicker fabric like a Nylon sock. Since they have a larger area of coverage than knee-high compression socks, they must be fitted carefully to ensure effectiveness and comfort.
If your doctor has recommended you wear graduated pressure socks, then over-the-knee compression socks can provide the toe to thigh graduation you need. The level of pressure you choose for your thigh-high compression socks will depend on the medical ailment you need assistance with.
ComproGear has created thigh-high compression stockings with just the right combination of stretch and pressure to meet your needs. Common ailments treated with thigh-high pressure socks include varicose veins, swelling of the feet and ankles, muscle fatigue, lymphedema and deep vein thrombosis (DVT).
Thigh-High Compression Sock Styles
Thigh-high pressure socks may be the most comfortable choice of compression garments out there, even for active lifestyles. They come in many styles, it's just a matter of choosing the style that works for you.
Here are the most common styles available for thigh-highs:
Open-Toe Thigh Highs
The open-toe style of compression thigh highs is perfect for those who prefer keeping their toes free. The toeless design allows for improved air flow, the ability to wear flip flop sandals and the freedom to wiggle your toes.
As an added bonus, these socks are easier to put on and take off than a full-foot thigh high.
Closed-Toe Thigh Highs
If you walk a lot or must wear shoes throughout the day, full-foot thigh highs are a great option. Closed-toe thigh-high compression socks can make it easier to slip on your footwear over your stockings because of the smooth, slick fabric.
Footless Thigh-High Compression Socks
Footless thigh-high compression stockings may also be referred to as compression sleeves. These stockings start just above the ankle and extend to the middle of the thigh.
If you wear heels or prefer to wear a regular sock inside of your footwear, footless compression socks are a good option.
Though they only apply pressure between the ankle and thigh, all styles of compression socks direct the most compression to these regions rather than the foot anyways.
Are Thigh-High Compression Stockings Gender-Specific?
Traditionally, thigh highs were once marketed only as a women's fashion item. But compression thigh highs aim to relieve medical conditions and leg pain in both men and women.
Athletes, patients, and workers in particular physical jobs now use thigh highs as a way to manage pain and prevent injuries.
The sizing for thigh-high compression socks may be gender-specific, so be sure you are purchasing the right size. There are even wide calf compression socks and extra wide calf compression socks and compression socks for obese legs.
Thigh-High Socks for Men
There are a few groups of men who regularly wear thigh-high compression socks:
Men with Medical Conditions
Thigh-high compression is ideal for men whose medical complications are active above their calf.
Perhaps there is swelling in the knee or they have a history of blood clots. Varicose veins can also appear around or above the knee.
Male Athletes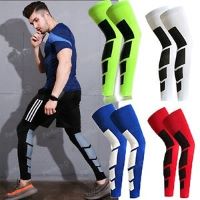 Runners and triathletes are frequent patrons at ComproGear.
Athletes regularly use thigh-high compression sleeves to aid with blood flow and temperature regulation. Thigh-high compression socks can be worn before training or as a recovery tool afterward.
Wearing these socks can reduce your risk of developing injuries such as plantar fasciitis or shin splints.
Workers Who Stand All Day
Persons that must stand for extended periods of time are prone to having pain in their legs and feet. Medical staff, tradesmen and retail personnel can all benefit from thigh-high compression socks for this reason.
A pressure sock with a reinforced arch may be especially helpful in pain prevention.
Thigh-High Socks for Women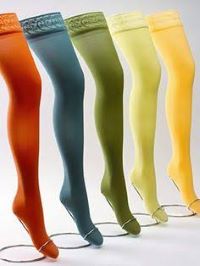 Women's thigh-high compression socks offer full-leg gradient compression to help treat poor circulation issues as well as symptoms of venous diseases.
For women who dislike pantyhose because of its sheer fabric, thigh-high socks made of a combination of nylon and Lycra are available.
Often times, women wear thigh-highs for similar reasons to their male counterparts: for workouts, for medical purposes and for long days on their feet.
There are a couple of additional reasons women may consider thigh-high compression socks over knee-highs:
Beauty and Cosmetic Considerations
Doctors recommend wearing thigh-high compression stockings if you are recovering from sclerotherapy.
Sclerotherapy is a cosmetic procedure used to remove varicose veins; compression hosiery supports the veins as they heal and can prevent varicose veins from reforming.
In addition, many women prefer a thigh-high sock because its form-fitting design accentuates the legs. A heavier or darker fabric can also be used to hide scars, veins or skin blemishes.
Styling Considerations
Thigh-high compression hosiery can be worn discreetly under pants or with a skirt instead of regular pantyhose.
Since they cover most of the leg, thigh-highs have a more formal appearance than knee-high compression socks.
Thigh-high compression socks for women are available in a wider array of colors than men's socks. In general, they are designed with current style trends in mind. The fabrics are meant to be very soft, durable and breathable to accommodate long days of wear.
Choosing Compression Levels for Thigh-High Stockings
Just like your blood pressure level, the compression level of your socks is measured in millimeters of mercury (mmHg). As a general rule, the more severe your medical condition, the higher the compression needed.
Lower compression levels are suitable for relieving mild swelling and mild fatigue of the legs. Higher compression levels will be prescribed for people with more pressing health conditions.
Your compression thigh-high stockings should be able to meet your individual needs. If you have therapeutic requirements or are unsure which compression level is best for you, it is important to consult your healthcare provider.
Higher pressure compression socks are only available with a prescription. You will be able to purchase socks with a rating of 30mmHg and below from the ComproGear shop without a doctor's note.
The most common compression levels available are:
8-15mmHg
15-20mmHg
20-30mmHg
30-40mmHg
40-50mmHg
Choosing the right level of compression for your thigh-high compression stockings is the key to their effectiveness and comfort. ComproGear offers compression socks in a variety of sizes to help support you in your journey to health.
Who Can Benefit from Thigh-High Compression Socks?
So many people can benefit from wearing thigh highs. Let's take a look at some of the reasons thigh-high pressure stockings may be right for you:
Prevention of varicose veins.
Recovery from sclerotherapy.
Prevention of deep vein thrombosis.
Preventing light-headedness while standing.
Maintaining muscle warmth before a workout.
Faster post-workout recovery due to improved circulation.
Benefits of Wearing Thigh-High Compression Socks
Although wearing thigh-high compression stockings can take some commitment, there are many benefits to be had. Here are some of the perks of wearing thigh-high pressure socks:
Extra Warmth During Cool Weather
Thigh-high compression hose can be particularly handy in the autumn and winter season when the weather is chilly.
These compression socks add an extra layer of warmth while still allowing your skin to breathe.
Thigh highs are also more convenient than tights or long johns, as they do not need to be taken off to use the restroom.
You may find them preferable to a pair of pantyhose, too, since there will be no waistband cutting into your midsection.
They Work with Any Outfit
One of the best things about thigh-high compression sleeves is that they come in all different cuts and styles.
Most of these socks are made of fabric thin enough to be worn under a pair of slacks without bunching up. They could be worn with your skirt or dress rather than wearing pantyhose.
An open-toe pair of compression hose works with a pair of flip flops during the summer and a footless pair is ideal for workouts or sports.
With so many color options available, you can easily match your compression socks with your outfit. A formal color or pattern would be suitable for the office while a nude stocking can work with nearly any outfit.
Full-Leg Pressure Application
Sometimes ankle and knee-high compression hose just won't cut it. But thigh-high socks can enhance your circulation to reduce your risk of blood clots throughout the entire leg. This is why it is crucial for people recovering from surgery to wear pressure socks as a preventative measure.
A low-pressure graduated thigh high can also be beneficial for patients who are bedridden.
Since a lack of activity can increase the risk of blood clots and DVT, light compression applied with knee-high hose will maintain healthy blood circulation.
Improved Performance for Athletes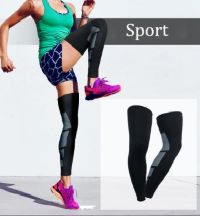 If you are an athlete, there are a couple of compression options available to you in the form of performance athletic socks.
Knee-high compression socks equipped with a pillowed sole to absorb impact during workouts are a great option if you wear sneakers with less shock absorption. For athletes, this feature helps to absorb impact when running or working out.
Alternatively, you could try a footless compression sleeve paired with your workout shorts and your regular ankle socks.
Compression hose can enable faster recovery after your workout by enhancing blood circulation to the muscles. You'll be able to stay agile and be ready for the next workout without the need for extended periods of rest.
Treats Swelling Above the Knee
If you experience swelling in your thighs or above the knee, a thigh-high compression sock will be needed to properly treat the upper leg. While a knee-high or ankle sock may be effective in preventing swelling in the feet and calves, full-leg compression is needed for a swollen knee or thigh.
Manages Varicose and Spider Veins
Spider veins and varicose veins behind the knees are common. These conditions can occur across the thigh as well and require compression to be properly treated.
Rather than opting for surgery, irregularities of the veins can be prevented and managed by wearing thigh-high pressure sleeves.
Sometimes varicose veins become so severe that surgery is the only option. Your doctor will ask you to wear thigh-high compression hosiery after the surgery to provide support to the veins as you recover from the procedure.
For Treating a Variety of Health Issues
People can develop many health issues in the legs and feet. Thigh-high compression stockings aim to provide relief from:
Tired and heavy legs.
Stasis ulcers on the legs.
Edema affecting the entire leg.
Venous diseases affecting the feet and upper leg.
Medical socks for swollen feet can be key to helping solve these problems.
Features Your Thigh-High Compression Socks Should Have
When choosing thigh-high compression socks, be mindful of features that will make your socks comfortable and effective. You may enjoy the following qualities in your socks:
Moisture-wicking fibers.
Anti-microbial properties.
Lightweight and breathable.
Padded soles, heels, and toes.
Durable fabric made of nylon and Spandex.
How to Don Thigh-High Pressure Socks
Because of the length of thigh-high stockings, donning them can be a bit of a struggle. However, once you've got them on, the benefits will be numerous.
If you have trouble putting on your socks or taking them off, these tips can help:
Put on your compression socks first thing in the morning, before getting out of bed. This is when you will have the least amount of swelling in your legs and feet.
Apply some cornstarch or baby powder to your legs to aid the donning process. The powder will help your thigh highs slip on smoothly.
Roll down the sock to the heel then insert your foot into it. Unroll the sock over your leg slowly, pulling it up gently.
After unrolling the sock to its full length, smooth it out to ensure there is no bunching.
If you still find it difficult to put on or take off the socks, try a donning device like gloves or a Foot Slip.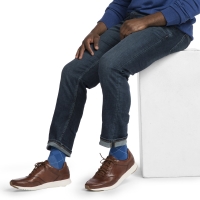 Conclusion
The main function of thigh-high compression socks is to provide comfortable compression across the whole leg.
ComproGear offers compression socks in different styles, sizes and pressure ratings to meet your compression needs.
Browse through our selection to find your own perfect pair.
This page last updated December 10, 2022