ComproGear is a clothing company that specially designs socks and stockings to help in reducing the build-up of lactic acid that forms in the body after exercise and progress lymphatic drainage.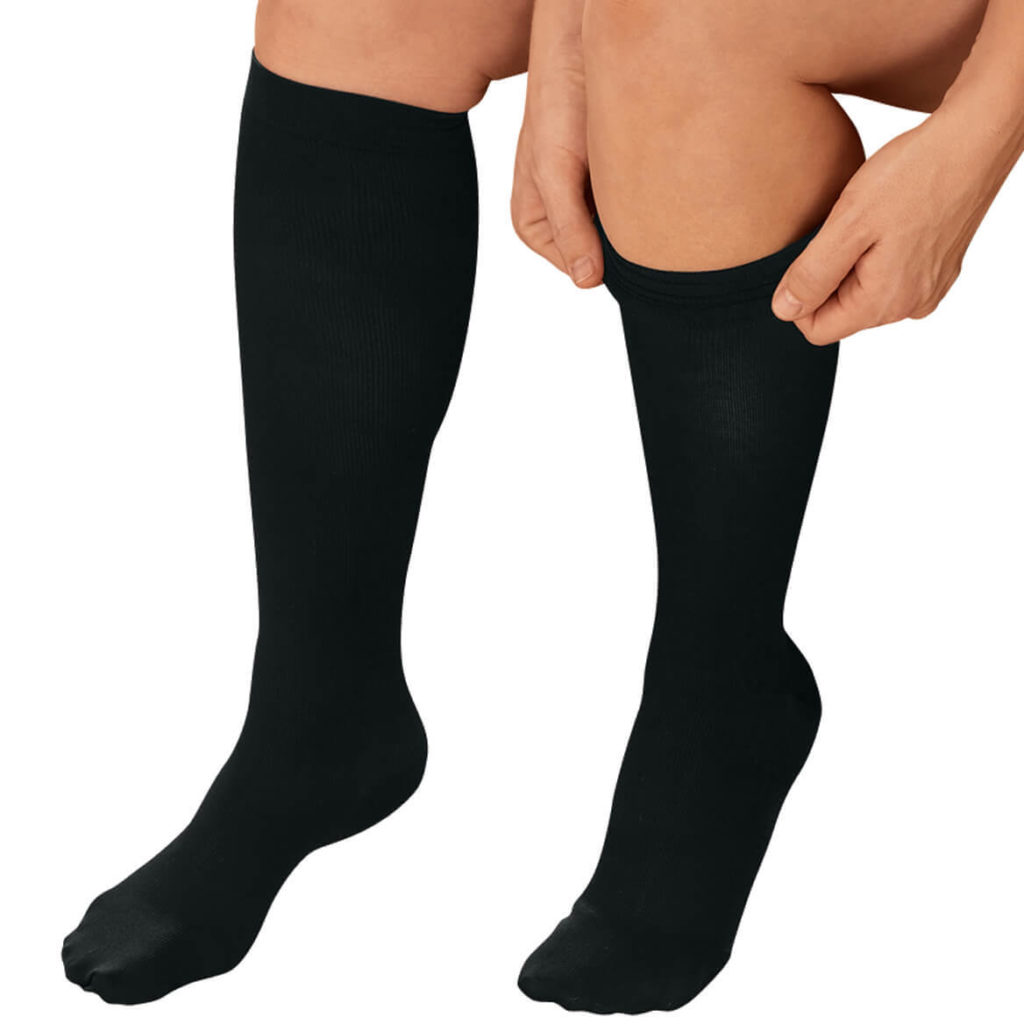 These compression stockings are elastic and stretchable socks that gentle wrap around your leg.
These socks help improve the flow of blood from the legs up to your heart by applying mild pressure to the ankles and legs.
In addition to this, these compression socks also help in plummeting swelling and lessen the pain that usually happens after exercise or any other fatigue.
Many folks tend to wear these compression socks due to a few common reasons, that is to provide comfort and to help in sports by reducing muscle pain and preventing other serious injuries.
Let's talk light compression stockings:
Buying Guide:
Finding the perfect fit for your stockings must be your top priority to ensure comfort and that they are according to your requirements. For whatever purposes you require, let us help you make sure you buy the right type.
Types:
There are mainly three different types of these compression stocking:
Graduated compression stockings
Anti-embolism stockings
Nonmedical support hosiery
Graduated Compression Stockings:
The graduated compression stockings have their own specialty as these are usually tighter around the ankle and gradually loosen as you move up towards the leg. These stockings have been designed specially to meet certain aspects and ensure comfort level according to medical recommendations.
The graduated compression stockings also require professional fittings according to the size and compression around the user's ankle and leg. These are also available in the form that ends slightly below the knee to help improve blood flow and swelling in the lower leg.
Some of these extend up to the thighs as well. This helps in reducing blood pooling in the legs and soreness under the thighs. For usage, we recommend you visit a professional first and seek their advice.
Anti-embolism Stockings:
The anti-embolism stockings help in reducing the chance of blood clotting which occurs in a deep vein of your body. These are a lot like the graduated stockings as they also provide a gradient level of compression although it is a lot less tight. This type is design especially for people who are unable to walk or cause any source of movement in their legs for blood flow. The anti-embolism stockings provide a compression enough to ensure the flow of blood. In addition to this, it helps in reducing blood clots in the veins due to no movement.
Before using this, we recommend you visit a doctor or a professional for proper advice.
Nonmedical Support Hosiery:
The nonmedical support hosiery does not require some sort of professional advice. They are in use by almost everyone who tends to reduce swelling and other aches.
These do not have a tight compression as the level of compression is the same throughout, making it uniform. That means that these stockings have a lot less pressure on the leg as compared to the other two types.
If you consider yourself medically fit with only aches and swelling problems, with no other health issue, these nonmedical stockings are what we recommend. One can easily find them anywhere, including your local pharmacy or medical stores and even online.
Personalization:
Some companies provide you with a few touches of personalization. This includes a choice of color-here you can choose your desired color of stockings if you require a specific one.
They also include a full length as well as knee-length stockings which fully cover, or a little above the ankle.
Now that is all your choice. Feel free to be open and get what you find comfortable because comfort is our priority now isn't it?
Looking at The Side Effects:
After you have a proper subscription and have talked to a professional, make sure that you regularly check in case of side effects which could be the following:
Your skin is allergic to the fabric.
Improper use can lead to nerve damages.
Skin irritation or redness are symptoms that the socks don't fit properly.
You may have an infection.
Best Results:
Everyone wants what's best for them, right? These compression socks may seem helpful, which they are, but they also need proper care. For starters, you should be sure to use the stockings as recommended or advised by a professional. We also recommend that your legs should be dry whenever you put on these socks as oily or wet legs may cause difficulty.
You should also change your stockings after every six months or less but not more as it can lead to other side effects which can harm your legs.
Products:
ComproGear provides you with a wide range of variety for the types of these compression socks. All of these are of a special design, made for the customer's ease and requirements, making sure that the needs of the customers are fulfilled every time. They also provide us with a wide range of personalization, which includes how we want our products, in which color, size, and sometimes its lengths.
To provide you with the idea of the products of this company, ComproGear, a few of them are mentioned below along with every detail you need. Let's get to them!
1. Compression Socks:
These compression socks provide you with all the looks, and not just looks, these are a lot more worth your money because of their benefits. Apart from the looks, they are one of the best-rated products with 20-30mmHG of graduated compression. These are the types of graduated compression stockings and provide you with all the benefits. This graduated compression socks help improve blood flow. Unlike other normal socks, these are specially designed to be comfortable enough that you can easily wear them for over 15 hours without any difficulty! Great isn't that?
Your legs are the most important part of your body as they carry almost your entire body weight which increases while running. There can also be a gradual decrease in blood flow when we sit and you might often experience that as well. You feel a weird sensation like pricking of needles if you've been sitting for way too long causing your legs to go sore as well. This, sometimes also leads to leg swellings. With the use of these, you can easily avoid all these troubles giving your legs the same level of comfort as they provide you in walking and other tasks during the day.
With this, you can improve blood circulation, find relief from sore and swelled legs. These are usually in preference by nurses and people who tend to have very long plane flights which require sitting in the same place that leads to sore legs.
Doctors also advise the use of these socks to pregnant women in order to relive them for swellings and other leg aches that come along during the process.
These are perfect for every type of person, for every type of activity, be it running, cycling, traveling and many more which can cause aches and sore legs.
Quality and Pricing:
ComproGear ensures and guarantees the comfort of these socks as 100%. They provide the customer with excellent quality fabric and other techniques that make these socks the most comfortable ones that you will not even want to take off.
For this product the company provides only one color, which is a bummer, we know. However, the Onyx Black also gives a very classy look, stylish enough, so you can wear them everywhere with ease. The price for these usually ranges up to $40-$50 and trust us, it's totally worth it!
2. ComproGear Compression Socks:
These are another product of the ComproGear company which is almost like the above mentioned. This helps reduces the lactic acid that builds up after exercise as well as improves the flow of blood.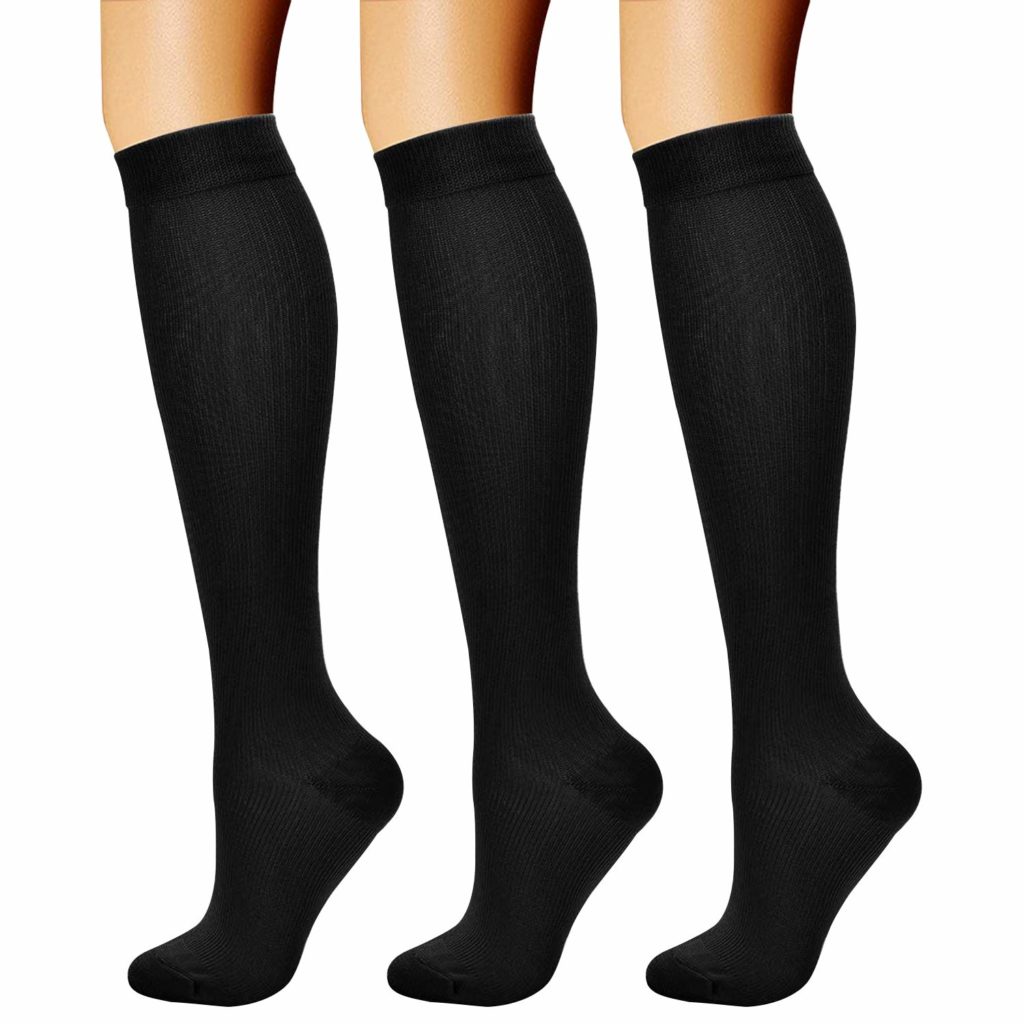 With these, you can free yourself from all the unwanted swelling that is usually caused by a lot of exercises. We tend to recommend these for pregnant women fighting swellings and body aches. With these, they can easily be relieved from sore and swollen legs. These are also the best for people with diabetes, who tend to travel a lot, people having 12-hour long work shifts which require constant sitting or standing.
With these compression socks from ComproGear get ready to be free from all this. It will help you fight all sorts of aches and improve your blood flow, reducing the blood clots as well.
ComproGear makes these socks not only beneficial for the legs but also provides a stylish look for its customers. This in return helps them wear it all the time or much less if they want to.
The company also provides a money-back guarantee in case you change your mind or don't exactly like them that much.
For this, the company also provides the Onyx Black color, for both men and women with the price generally ranging from $40 or above. That totally depends on the quality or type whichever you prefer.
3. ComproGear Ankle Sleeve Socks:
ComproGear, for its customers, introduces us with a product used to relieve foot pain. The company provides us with these ankle socks which helps in reducing foot swellings as well as aches with its uniform compression on the foot. This also helps in healing injuries very fast. In addition to this, it also helps in improving blood circulations, relieving aches.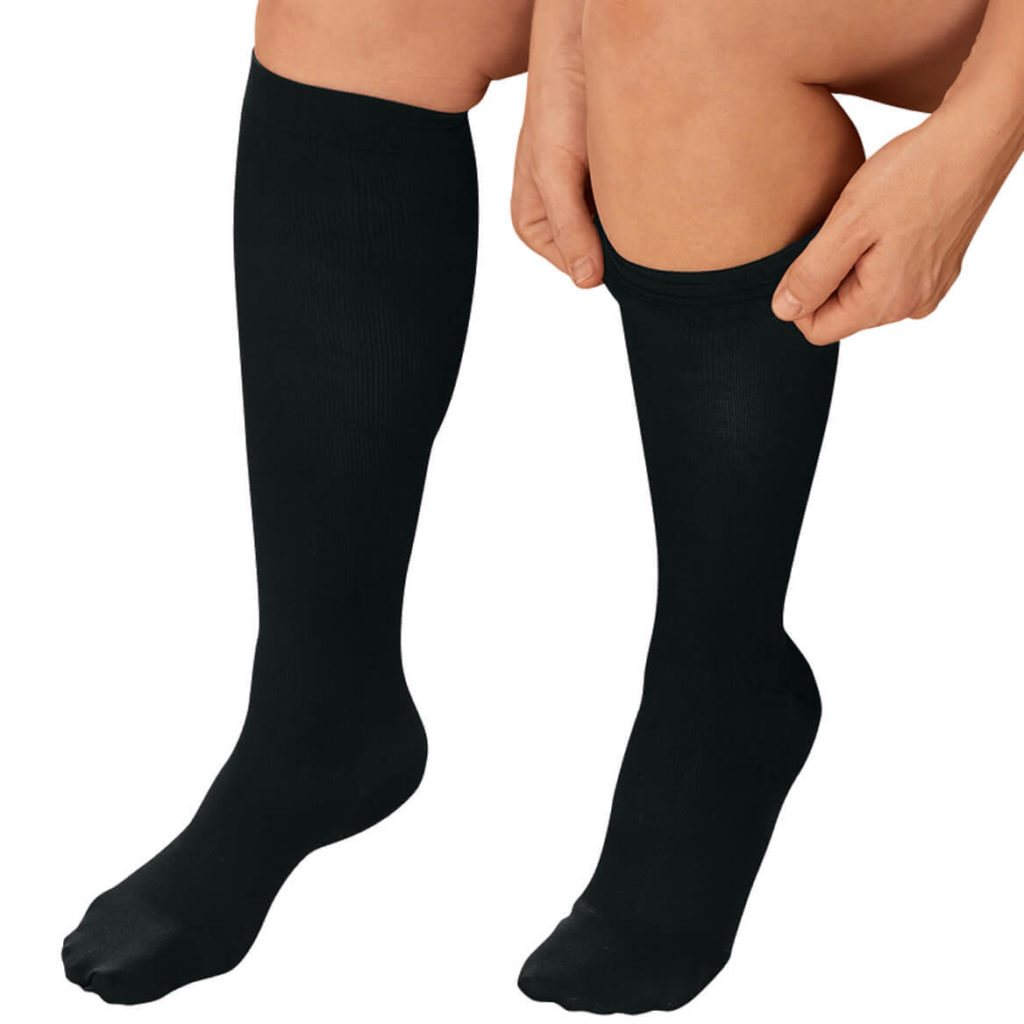 The company along with this ensures guarantee that their product is worth your money. And that it helps in relieving all sorts of aches.
The thing which will attract you all is that this product comes with three-color personalization-which include, Black, Grey, and Pink. Amazing isn't it? Now you can get the color of your own choice and rock those compression socks and do a lot more. The price ranges usually from $15-$30 on this product.
4. ComproGear Calf Sleeve:
Shin splints are the pain that occurs along the shin bone due to excessive workout or exercise on the muscles. This usually impacts the lower part of your leg. But fear not! ComproGear provides you with their amazing product, specially designed to relieve shin splints.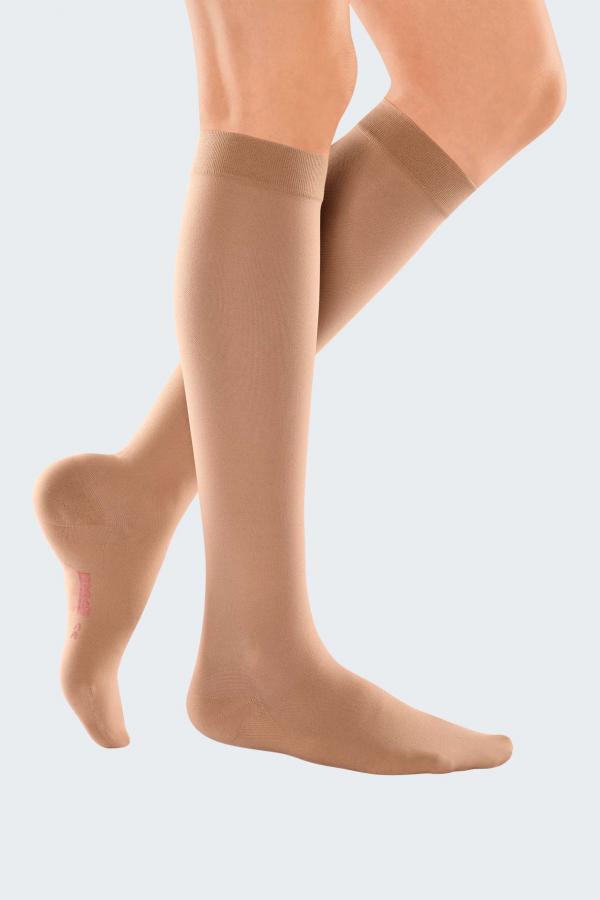 If you spend a lot of time standing or get sore legs due to a lot of work out. Or if you tend to have aches in your lower leg, then this is the best product for you.
This calf sleeve helps in removing cramps, increasing blood flow. It has gradual compression of up to 40% and helps you fight all sorts of swelling and aches. Thus makes it a lot easier for you to continue your job or workout with ease.
The calf sleeve is specially designed with the unique fabric that makes it stand out. Athletes require a lot of support to their calf and shin muscles in order to allow them to run faster and comfortably. In addition to this, the fabric used for this product makes your legs sweat-free which, we must say is an amazing advancement, therefore making it a lot more comfortable to work or run in.
Just as the rest, the company provides you with a 100% guarantee to ensure your satisfaction making it totally worth it!
Final Conclusion:
For the final analysis, we really recommend these compression socks as they provide us ease on a whole new level. If you suffer from sore legs, aching lower legs or even unwanted swellings, this is the best product for you. ComproGear provides its customers with guaranteed and reliable products, each specially and carefully designed for all types of users.
With its special design, it helps to prevent all types of issues and helps in increasing blood flow. It gives your legs the same level of comfort they provide you during your day. Now they deserve that don't they?
ComproGear is by far the best company for compression garments, helping you improve and keep your legs healthy. In addition to this, ComproGear provides you with a stylish look making your stockings good to go.
This page last updated January 7, 2022