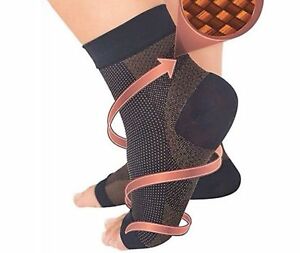 Are aching feet giving you the blues? Perhaps you have been told that you have a chronic foot condition, such as plantar fasciitis, or your feet occasionally hurt because of long days sitting or standing. The pain can be unbearable! Fortunately, you don't have to depend on surgery or costly medications. Millions of sufferers relieve their swollen, throbbing feet—compression socks.

Compression socks are a cost-effective solution. This customer guide will show you the benefits of the different styles of compression footwear and reveal the four best foot compression sleeve products on the market.
Want to Stop Leg Swelling Now?

ComproGear Compression Socks are designed to stop swelling instantly!

Click the button below to see the lineup of ComproGear Compression Socks:
What are Compression Socks?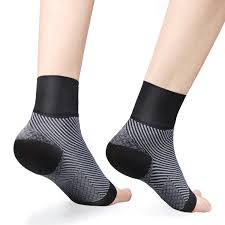 The term compression socks refers to a group of footwear that may include stockings, sleeves, or knee-highs. Often, these supportive socks are made from nylon and spandex. Regardless of the style or material, the goal of compression footwear is to promote circulation and leg health. The fabric exerts varying degrees of pressure on the feet, legs, and thighs. Each style focuses on a different part of your leg to help it function optimally.

Athletes, people recovering from surgery or injury, and those who spend extended periods sitting or standing frequently wear compression gear. Compression socks are also beneficial for individuals who want to limit swelling and protect their legs from abrasions and minor cuts.
What are the Benefits of Wearing Compression Socks?
Doctors recommend compression sleeves and socks to enhance blood flow in the leg muscles and improve recovery from various activities. Other wearers, suffering from everyday aches and swelling or wishing to avoid similar issues, have noticed positive results, such as better joint stabilization, improved circulation, better stamina, and elevated energy levels. Here are some of the most common reasons why people wear compression socks:
To limit the risk of varicose veins
Varicose and spider veins result when valves malfunction and an abnormal collection of blood pools in the veins. The excess blood causes the veins to swell and cause pain. Compression socks and sleeves boost the flow of blood by preventing too much blood from collecting in a specific area. Therefore, they reduce the risk and symptoms of varicose veins. If you are suffering from varicose veins or you have swollen feet, consider investing in compression footwear.
To treat lymphedema
Lymphedema occurs when the lymphatic system is blocked. The body isn't able to drain excess water and protein from the system. The excess lymph fluids result in mild swelling of the arms and the legs, which can lead to infection. If left untreated, lymphedema slows down the speed of tissue recovery. Compression sleeves can help to limit the risk of lymphedema by pushing lymph fluid in the right direction.

To limit the risk of post-thrombotic syndrome
Post-thrombotic syndrome, or PTS, happens when veins don't work properly. Patients with PTS experience blood clots, excessive swelling, itchiness, and pains in their legs. Some also experience skin discoloration, ulcers, and varicose veins. Wearing accessories like foot compression sleeves reduces the risk of developing this dangerous condition. When used consistently, compression socks can also aid in the recovery process for those who already have PTS.

Should I Wear Compression Socks with My Running Shoes?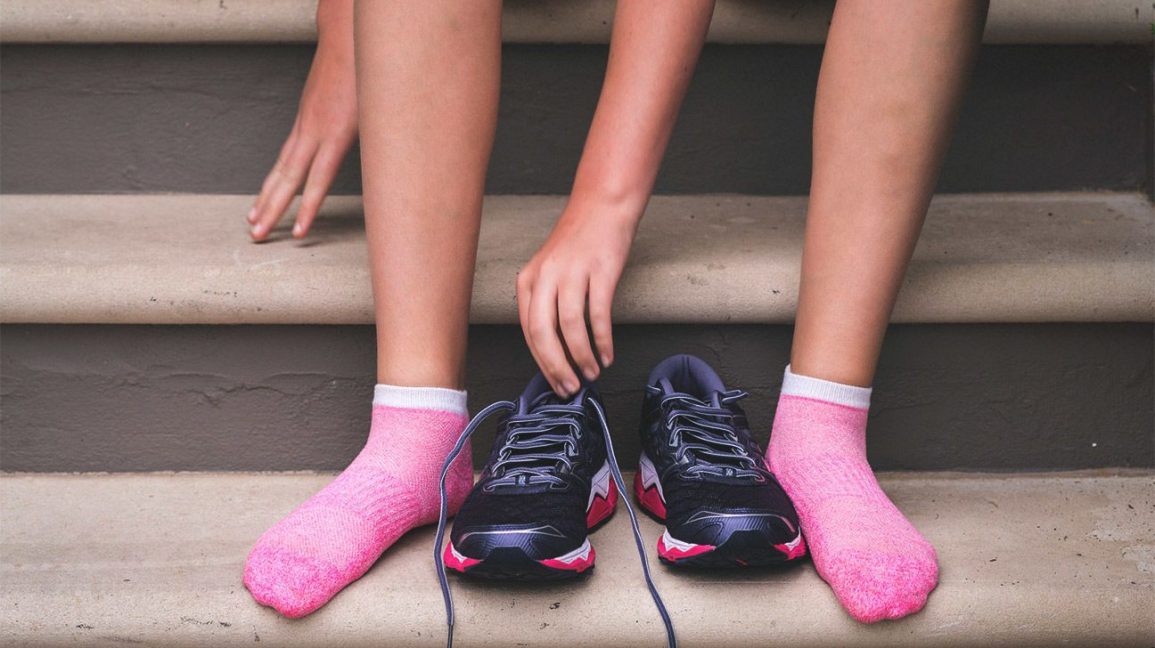 Different Types of Foot Compression Sleeves
Yes, leg compression socks may help lower your lactate concentration and speed up the recovery. To maximize performance and avoid fatigue, athletes pair leg sleeves or socks with their running shoes. Here's why:
To treat tired, aching feet
People who use compression sleeves have discovered that these enhance blood circulation, providing a soothing effect on fatigued legs.
To limit swelling
Foot compression sleeves are essential for limiting swelling in the legs and feet region. They help people to endure long periods of standing or even sitting. Foot sleeves are always a good option for active people who suffer from poor circulation.
Want to Stop Leg Swelling Now?

ComproGear Compression Socks are designed to stop swelling instantly!

Click the button below to see the lineup of ComproGear Compression Socks:
Styles of Compression Footwear
Compression sleeves look like socks without the foot section. They focus on ankle and calf circulation. Here are the most common types of sleeves:
Calf Compression Sleeves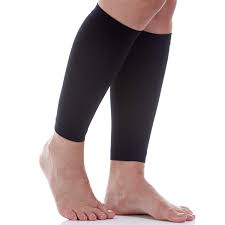 Calf compression sleeves are tube-shaped accessories meant to be worn on the lower half of the leg. Calf compression socks should start above the ankle and end beneath the knee. Fitness enthusiasts, pregnant women, those recovering from a leg trauma, and others who want to avoid or relieve swollen calf muscles often opt for this style.
Ankle Compression Sleeves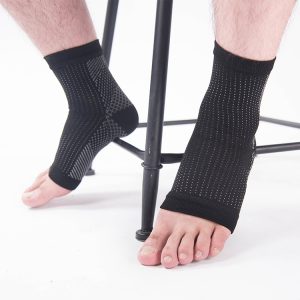 As the name suggests, ankle compression sleeves apply pressure to the region above the ankle bone. Ankle sleeves leave the toes exposed. The design provides relief for plantar fasciitis, relieves tension, and supports weak ankles. Athletes prefer this style because, while they play sports, the sleeves give support but don't restrict movement. Ankle sleeves can take the place of regular socks or be worn as an addition to them. They are durable and comfortable.
Knee Compression Sleeves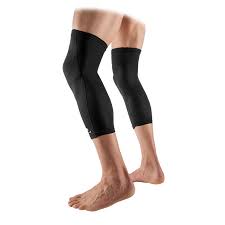 If you need to enhance blood flow or stabilize muscles supporting your knees, knee compression sleeves are the best style for you. This type of sleeve will provide support for knee movements, such as those that involve jumping or squatting. Knee compression sleeves help football players, runners, hurdlers, and other athletes to avoid knee-related injuries.
Knee compression sleeves come in various styles, including:
Closed Knee: Closed-knee sleeves (shown in the image) cover the whole knee area. Among the leg sleeves, these are the most popular and offer the fullest area of compression.
Open Knee: Open-knee Sleeves have a small circular opening at the knee. The opening allows air to move freely and makes it easy to inspect your knee whenever necessary.
Padded Knee: Padded-knee sleeves typically feature thick materials for additional support and superior knee protection during strenuous movement. Padded knee sleeves are excellent for vigorous exercise and workout routines, competitive sports, and jobs that require you to rest the weight of your body on your knee.
In general, compression sleeves are unisex. They can be bought in pairs or as a standalone piece. Also, sizes vary, so be sure to check the measurements of the sleeves before you complete a purchase. Read the terms and policies before you place an order.
Want to Stop Leg Swelling Now?

ComproGear Compression Socks are designed to stop swelling instantly!

Click the button below to see the lineup of ComproGear Compression Socks:
Other Factors to Consider
Compression socks and sleeves are available in a variety of styles and colors. Of course, you will want to select a pair that fits your needs. A few things to consider when considering which foot compression socks to buy:
The Price
A few moments of searching online will reveal that the prices of compression socks and sleeves vary wildly. Expensive socks aren't always well-made, and buyers are often disappointed when ridiculously low-priced socks turn out to be of laughable quality. The best way to know if the price is worth it is to look at the material.
Materials
Speaking of material, most quality compression socks are made of either nylon and spandex. These fabrics will not damage your feet and last for months. Take the weather into consideration when making your selection. Choose warmer, sturdier fabrics for winter days and lighter, breathable fabrics for the summer heat.

Size
Size matters! The majority of compression footwear comes in various sizes. Most companies provide sizing charts to help you figure out which size fits you. Your compression socks will not necessarily be the same size as your everyday socks. Use a tape measure to get the most accurate size.
Comfort
Always select fabrics that are perfect for winter days, and breathing in the summer heat.
Compression
Target the part of your body that you want to compress when you select your style. The unit of measurement for the strength of compression is mmHg. The larger the number, the stronger the compression.
Brand
The importance of choosing a reputable brand can't be overemphasized! Below I'll review some styles from one of the highest-rated brands on the market.
The Best Foot Compression Socks
If you would prefer a sock instead of a sleeve, the market is full of options. Knee-high compression socks are increasingly popular in recent years. Designers are now releasing new designs that appeal to modern users. However, not all manufacturers offer a wide selection. Besides being well-made and affordable, Comprogear socks come with attractive colors and patterns and offer styles in all the standard compression levels. Here are the best four that I've found:

1. Comprogear Savory Blue Socks – Knee-High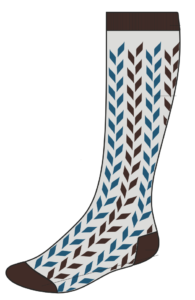 Comprogear Savory Blue socks have a compression range of 20-30mmHg. The gender-neutral design works with business and casual attire. The thoughtful material design is no coincidence! Comprogear designers choose a fabric blend of 35% spandex and 65% nylon to maximize breathability. Comprogear manufactured these socks to fit legs snugly. They are suitable for all-day use.

2. Comprogear Sunset Stripe Socks- Knee-High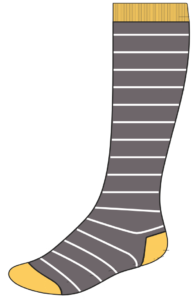 The Sunset stripe design is one of the bestsellers. Available at compression level 20-30 mmHg, you can be confident that they can relieve most circulation issues. You will enjoy the premium comfort and guaranteed breathability of the material—35% elastane and 65% nylon. This style is also easy to take on and off.
3. Comprogear Mountain Blue Socks- Knee-High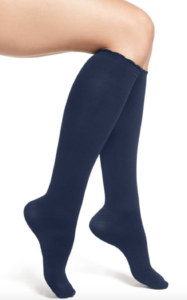 In addition to the appeal of the beautiful dark blue color, Mountain Blue Comprogear socks feel great against your skin. Designed with a standard level of compression (20-30 mmHg,) the material composition gives incredible durability and reliable comfort. The nylon-spandex blend makes these socks super breathable inside your shoes. If you've been looking for socks to match your professional wear, this style is an ideal pick.
4. Comprogear Onyx Black Socks- Knee-High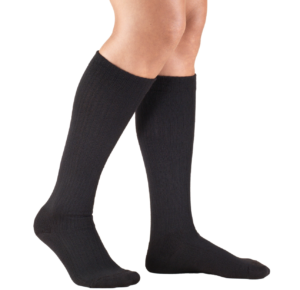 Everybody needs a pair of black socks in their wardrobe. The allure of this design is the incredible health benefits. Your feet will thank you for picking a pair of socks that looks so nice and feel so good!
Which of these four styles of compression socks interests you the most? If you have chosen your favorite pair, let's talk about why Comprogear socks are a good value for the money.
Want to Stop Leg Swelling Now?

ComproGear Compression Socks are designed to stop swelling instantly!

Click the button below to see the lineup of ComproGear Compression Socks:
The Comprogear Advantage
100% Guarantee Policy. Each knee-high foot compression sock at Comprogear is fully backed up with a 100% guarantee. For example, if your Comprogear socks don't fit you properly, you can exchange them for another pair in the right size.
Return Policy. If you aren't satisfied with your product, you can return them for a full refund.
To help you find the ideal size, Comprogear provides free sizing charts so you can compare your measurements to their sizes before you place your order.
Conclusion
Just because you have to wear a compression sock for a leg condition doesn't mean you want sacrifice style. Say no to ugly socks forever and place your order now for an attractive sock or sleeve via one of the links above!
Want to Stop Leg Swelling Now?

ComproGear Compression Socks are designed to stop swelling instantly!

Click the button below to see the lineup of ComproGear Compression Socks:
This page last updated October 25, 2022