Last Updated April 19, 2021
The comfort of one's bedding is sometimes synonymous to the quality of sleep they get at night. What goes on top of your mattress, sheets and pillows is as important as everything else. If you are one to find it difficult to get some shut eye despite how tired your body feels, perhaps it may be useful to own a duvet.
What is a duvet, you ask? Continue reading to learn more!
What is a Duvet?
In the United States, a duvet is sometimes referred to as a comforter. However, the two are slightly different– we will get to distinguishing them in a different section of this article.
A duvet is essentially a type of bedding that is somewhat a soft flat 'bag' filled with down, feathers, wool or a synthetic alternative. This filling tends to be very light and fluffy, making it an effective thermal insulator and, therefore, are great for keeping the user warm without having to use extra blankets and bedding.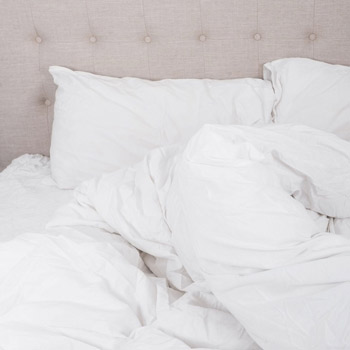 What is the History of the Duvet?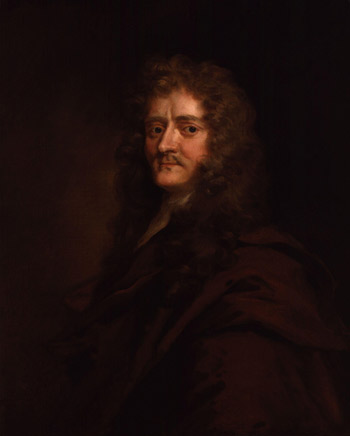 Duvets initially had difficulty being sold to the mass market. Firstly, it was uncommon. Secondly, they have not always been cheap.
The invention of the duvet dates back to 1689, where diplomat and merchant Paul Rycant had visited Hamburg, Germany at the time and slept under stuffed coverings. He had sent bags of elderdown, complete with instructions on how to make the duvet, to his friends in England, as well as tried to sell the product, which the latter failed due to goose or duck down being quite expensive and the idea of filling one's bed, or blanket, with such down was completely foreign to the people.
The duvets did reach the UK over time albeit was still regarded as an expensive niche product.
In 1841, The Times featured an advertisement for the "elderdown quilt or duvet" and, in the 1950s, the renowned department store Harrods began selling duvets. However, it was not until when interior design chain Habitat opened in 1964 did duvets hit mass market. As Habitat promoted it as a convenience product which allowed users to make a bed in around 10 minutes and was sold initially as the "continental quilt".
Later in 1972, The Times featured duvets again, only this time addressing its high cost in a 'special' offer: "There is no getting away from the fact that our continental quilts, offered today to readers of the Times, are quite expensive." This was because the duvets, being filled with duck and goose down, cost £19.95 for a single and £24.95 for a double; this is equivalent to £252 and £315 respectively today.
Why is it Called a Duvet?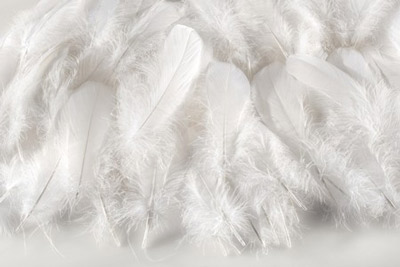 The word 'duvet' is of French origin, meaning "down" as in the first feathering of young birds. Down is basically the area beneath the outer covering of feathers, which can be found near the belly of ducks or geese.
'Duvet' first came around in the English language around 1759, when Samuel Johnson used the word in one of The Idler series of essays.
What is the Difference Between a Duvet, a Duvet Cover and a Comforter?

As mentioned previously, a duvet is a type of bedding that is stuffed with down or other materials that provide warmth to the user.
On the other hand, a duvet cover is equivalent to a pillowcase for your pillow; it protects the duvet from dirt and liquid. It comes in a variety of colors, prints and styles, are made up of various types of materials such as cotton, linen or silk, and can come enclosed with buttons or a zipper to keep the duvet in place.
A comforter generally comes with lesser stuffing than duvets do, and feels flatter than a duvet. However, it is still possible to find a comforter that is filled with down, or other stuffing as traditional duvets, but there tends to still be lesser fiberfill. As a result, during cold seasons, a comforter is usually paired with a blanket. Lastly, they do not have a separate cover like a duvet does and, therefore, are used with a top sheet to maintain hygiene between the user and the comforter.
Why Should I Use a Duvet Instead of a Comforter?
Duvets are easy to maintain and does not require frequent cleaning. This is thanks to how they are tucked away inside another fabric, making it less likely to get dirty. It is likely that you will need to wash its cover, rather than the duvet itself, more frequently. Duvet covers are easily machine washable. On the other hand, comforters need to be machine washed or dry cleaned.
The extra fiberfill in duvets keeps the user feeling nice and toasty when it is wrapped around them, making it effective for cold winter months. Comforters lack in this aspect, as they have less fiberfill and feel flatter.
What are the Best Duvets on the Market?
Most of the following duvets have been recommended by buying guide site Ideal Home, in which they have tested and picked the best duvets based on its price range, level of comfort, overall quality, design, convenience and tog rating- this measures the ability of a duvet, without a duvet cover, to trap air. Basically, the higher the tog means that the duvet is more capable of trapping air and, therefore, making it warmer for the user.
1. Best Duvet Overall – Luxury Hungarian Goose Down and Feather Duvet by The White Company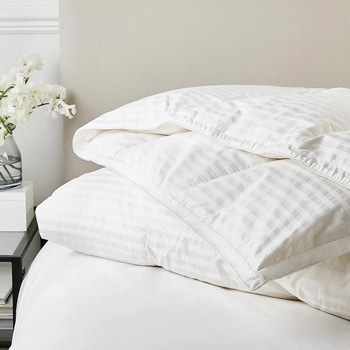 Ideal Home gave a rating of 5 out of 5 stars for this product. It costs £175 for a double.
The highlighted features of this duvet that made it rank the best overall are its lightness, even distribution of feathers, softness and luxury feel at an affordable price.
The duvet is available at three tog ratings: 4.5; 10.5 and 13.5. The range of tog ratings allows you to have one suited for summer and another for winter.
One feature that was appreciated was how the duvet included buttons and buttonholes around the edge which allowed it to be combined with another duvet of the same or heavier weight.
2. Best Value and Best Allergic Protection Duvet – Allergy Protection Duvet by Slumberdown
Ideal Home gave a rating of 4.5 out of 5 stars for this product. It costs £22 for a single.
What ensures that this duvet protects its user from developing a severe runny nose and frequently sneezing or other allergic reactions is that has received an Allergy UK Seal of Approval.
The product itself is a 10.5 tog double duvet that is made of 100% pure cotton and consists of a synthetic material for filling, which makes it light but ensures you stay warm.
3. Best Temperature-Regulating Duvet – Temperature Regulating Duvet by COHOME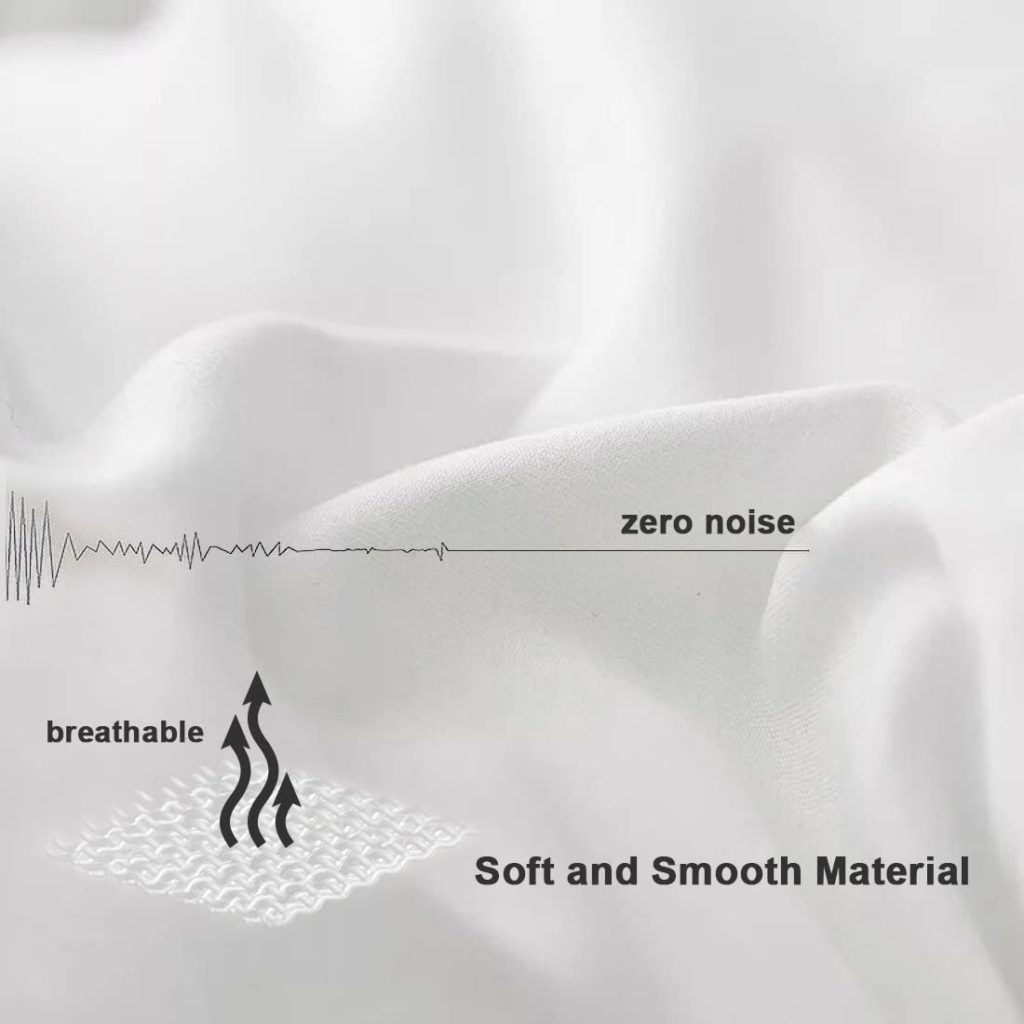 COHOME has a rating of 4.6 out of 5 stars for this product on Amazon. It costs $39.99 for a queen.
If you are concerned that having a duvet may make you feel too hot and uncomfortable while resting in bed, this duvet is the solution. Its highlighted feature is its hi-tech temperature regulator which is uniquely designed to absorb heat from the user's body when they are too warm and release it when they are too cool. The breathable fabric is meant to ventilate to provide comfort all through the night. The comforter is also designed to be used without a cover if the extra layers are too much.
Furthermore, the entire thing is machine washable and can be tumbled dry, making it convenient to clean at a moment's notice.
4. Best Winter Season Duvet – Airmax Duvet by Silentnight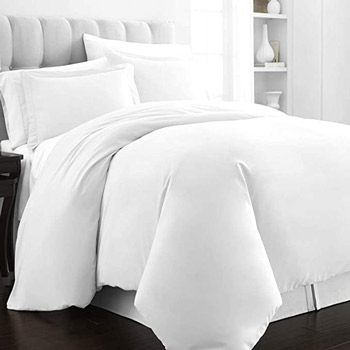 Ideal Home gave a rating of 4.5 out of 5 stars for this product. It costs £38.27 for a double.
This duvet is available in tog 10.5 tog and 13.5 tog for colder nights. What allows it to provide warmth while maintaining airflow is its 100% hollow fiber interior, micro fiber exterior and specially constructed airmesh walls.
Conclusion
Duvets are a great bedding accessory that can keep you warm and comfortable which, in turn, can help improve your sleep at night. Although historically expensive, they are relatively affordable nowadays, and filled with down or alternatives such as synthetic material, typically lightweight and come in a variety of designs and patterns to also add some flair to your bed.
References
"What's the difference between a duvet, duvet cover, and a comforter?," The Southshore Blog, 2020, https://southshorefinelinens.com/blogs/southshoreblog/whats-the-difference-between-a-duvet-duvet-cover-and-a-comforter
"What is a Duvet? Duvet vs. Comforter," Amerisleep, 2020, https://amerisleep.com/blog/what-is-a-duvet/
"Almost 300 years without a duvet," BBC News, 2015, https://www.bbc.com/news/magazine-34848546
"Before Going Down the Duvet vs. Comforter Rabbit Hole, Read This," Cosmopolitan, 2020, https://www.cosmopolitan.com/lifestyle/a27496283/duvet-vs-comforter/
"Best duvets for a comfortable and cosy night's sleep – from light summer to heavier winter options," Ideal Home, 2020, https://www.idealhome.co.uk/buying-guide-reviews/best-duvets-224921