Why You Need an Air Purifier
Just because we can't always see the toxins in the air around us, doesn't mean they aren't there. Smoke, smog, mold, mildew, and dust can find their way in your house or your office, and then ultimately, your lungs.
Obviously, none of these things are good for you or your loved ones, especially if you have allergies or asthma.
Fortunately, air purifiers can quickly and easily address this problem, sucking in the pollution and spitting out clean and fresh air for you and your family.
But in order to continuously get the freshest air quality, you need run your air filter most of the time. This is why having a quiet air purifier is best.
There are a lot of different air purifiers on the market, so how do you know which one is best?
Well, fortunately, we took some time to sort through them. We wanted to find one that worked, was affordable, and didn't make a ton of noise.
---
Best Overall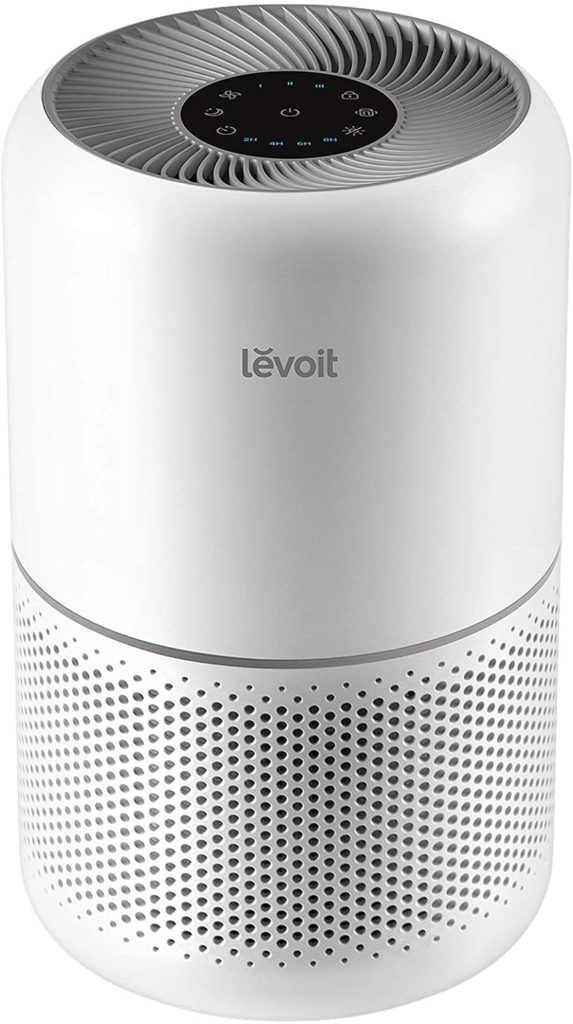 This sleek, quiet air purifier ticks all the boxes. Its three-stage filtration system gets rid of 99.97% of all particles larger than 0.3 microns. The LEVOIT air purifier is also great because it has a "pre-filter" to capture larger pollutants (like pet hair and dust mites), which helps extend the filter's life. This air purifier also includes an activated charcoal filter that is especially great at trapping odors and stenches. Its operations are almost completely silent, too!
While the LEVOIT air purifier is a fantastic way to get clean air, it does not come with any fancy bells and whistles or a UV light. It is made for a medium-sized room, so you might need more than one for especially large living spaces.
Most users find that this particular air filter is sturdy and does its job well!
Runner Up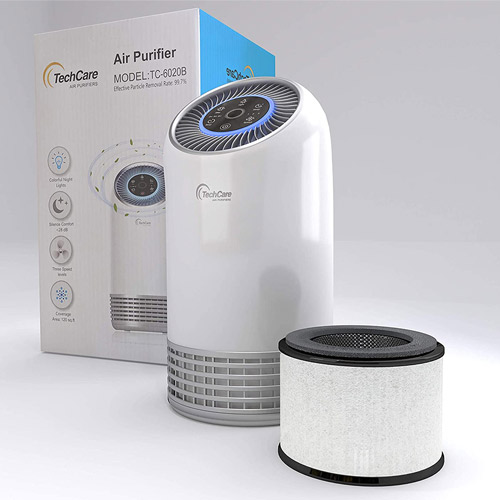 The TechCare air purifier has three stages of filtration so that you know your air is clean! The smart technology in this purifier also lets you know when the filter needs to be cleaned, so you can have confidence that it is working well. And, if that's not enough, TechCare is so confident that they include a 2-year warranty with the product.
This is also a doubly quiet air purifier. You can set it to silent, or you can turn it on a "white noise" setting to drown out traffic or your downstairs neighbors.
Really, the only downside is that the TechCare purifier does not have a UV light!
Because of the white noise and silent settings, many people love to use this filter in the bedroom to help with sleep. It also improves sleep by improving the air quality!
Best Budget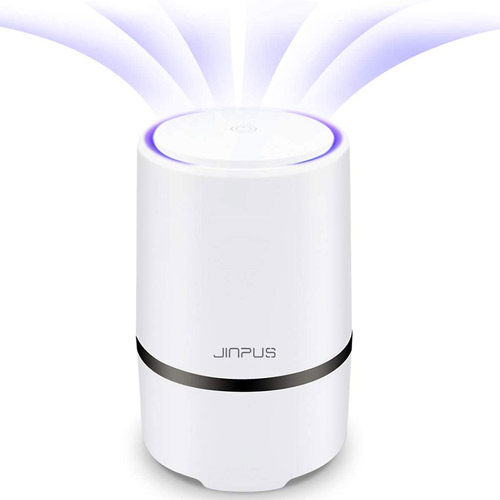 This is a high-quality air purifier at a bargain price. The Jinpus air filter is easy to use, super quiet, and highly effective. The main downside is that it is meant for smaller spaces. If you need an air filter NOW, but cannot get one at a higher price point, we would advise using this one in the spaces you go to the most. Small offices, bedrooms, and dorm rooms are good places to start.
Another downside is that the Jinpus does not have a UV light for viruses and bacteria or an activated carbon filter for strong odors.
Despite its small size and low price point, most users like that the Jinpus helps with allergies and smoke.
Best for Asthma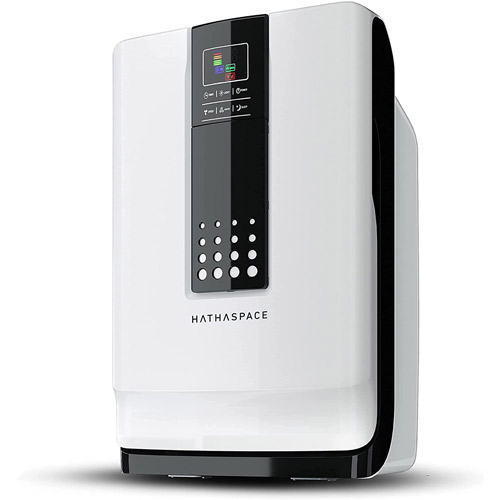 Hathaspace Smart True HEPA Air Purifier
The Hathaspace air purifier has a five-step system to ensure you have the cleanest air possible. It is designed for medium-large spaces of up to 350 square feet. This air purifier is great for people who have allergies because it eliminates odors, filters the air, and then sanitizes the air.
Hathaspace also includes a two-year warranty on this product.
Many people like using this for strange smells and to help with pet dander that makes breathing uncomfortable.
Best for Allergies and Pets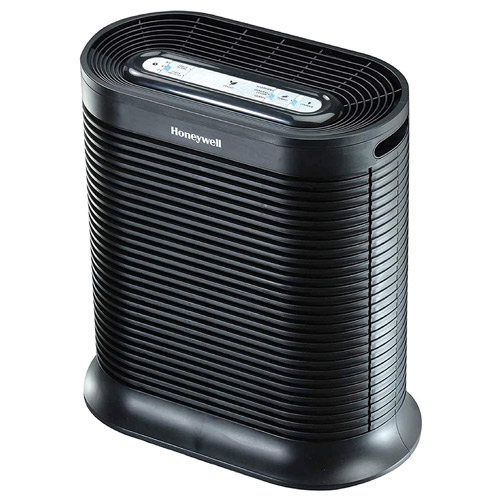 Honeywell HPA200 True HEPA Allergen Remover
Honeywell is a familiar name in appliances, and their air purifier does have a slightly higher price point. This filter is great, though, because it keeps the air moving and filters an entire medium to large room up to five times per hour. This means that pesky pollen, dander, and other allergens will not stick around for long! In particular, it is helpful when your filter is working regularly and your pet is shedding regularly!
This filter does include a pre-filter for large particles, but it does not, unfortunately, have a UV light. Honeywell does include an impressive five-year warranty though!
Most users agree it was worth the extra money to get allergen-free air from the Honeywell air purifier.
Best for Cigarette Smoke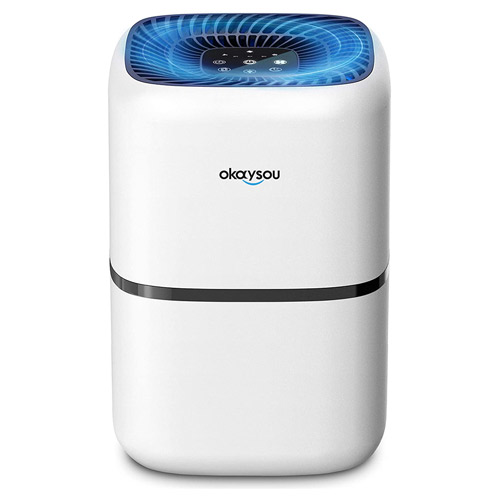 Okaysou AirMic4s Medical Grade Air Purifier
This unique air purifier can be customized depending on what you need it for. One filter is made for pets and allergens, another for bacteria, another for toxins, and a fourth for odors. Its medical-grade HEPA filter is designed to trap both pollutants and harmful gases in the air. This makes it perfect for clearing the air of cigarette smoke.
Of course, the best bet is to stop smoking. The next best thing, however, is the Okaysou filter. This super silent air purifier also has a five-year warranty, so you know you are getting a good value.
Most users found it to be very quiet and very effective, though some found it hard to get replacement filters.
Best Portable
HomeZens Portable Plug In Air Purifier
You can plug this small air purifier into any outlet and start cleaning the room immediately. It uses only a UV light that kills pollutants, so you don't need to regularly change a filter. The HomeZens purifier is also relatively inexpensive.
Many reviewers used this unit in their bathroom to good results. They also liked how easy it was to replace the UV light.
Overall, this air purifier is great for small spaces or for use when traveling. After all, staying with relatives who have pets, a moldy basement, or a smoker in the house can be a pain if you are not used to that. Using a portable air purifier is an easy way to breathe better and enjoy your time with family and friends.
Best for Large Rooms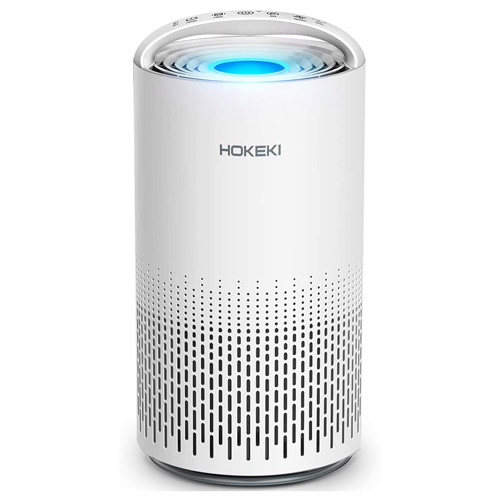 The Hokeki air filter does it all! Its 5-step filtration system makes the air clean and eliminates odors too. It is also designed for large spaces. This means it can ensure you have fresh air in your large office, finished basement, or large open-concept living space.
This air purifier also includes a sleep mode where it emits virtually no noise. You'll forget it's even on!
Another nice feature of the Hokeki air purifier is its smart technology. It senses the air quality, displays a measurement of it, and then adjusts its cleaning level accordingly. A unique memory function allows it to remember settings, like timer preferences, so you don't have to reprogram it every time you start it up.
The only real downside is that the Hokeki air filter does not have a UV light for germs.
Reviewers enjoyed this air purifier because it was effective no matter the size of the room.
Best for Small Spaces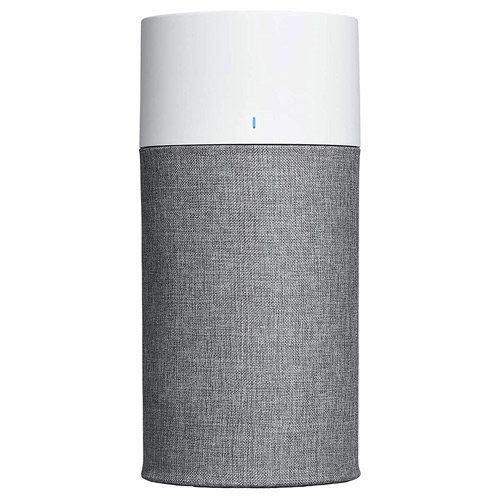 This air filter is small but mighty! It is specially designed to keep air circulating in small rooms like bathrooms, small kitchens, and nurseries.
Blueair boasts that their HEPAsilent technology goes over and above a normal HEPA filter to remove 99.97% of particles as small as 0.1 microns. It is also super silent and energy efficient.
Many reviewers have used this air purifier to get rid of smoke smells that have soaked into the walls of small spaces like closets, bedrooms, and home offices. It is very effective at what it does!
Unfortunately, even though it is designed for small spaces, the Blueair air purifier is quite large and can take up a lot of room. It is also on the pricier side for a small space filter.
Coolest Looking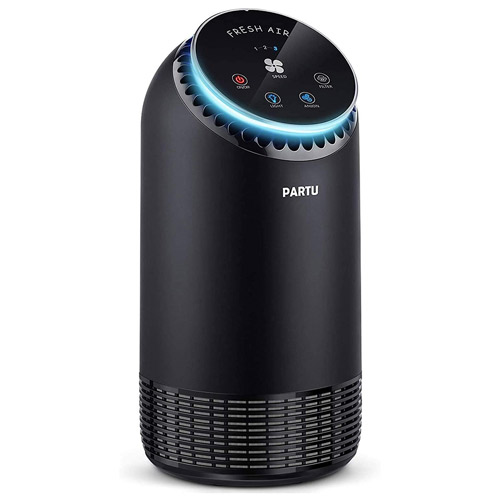 The Partu HEPA air filter is not just an air purifier. Its also includes 7 changeable, mood-enhancing night light colors. That is, you get a light show while the filter cleans your air.
In addition to the night light, the Partu air purifier is also super quiet. This means you can use it in your bedroom to sleep peacefully.
Most people are surprised by the quality this air filter offers for the price point!
---
Popular Articles on ComproGear
What Level of Compression Socks Do I Need? Compression Stocking Levels
---
Do Quiet Air Filters Work Just As Well As Regular Air Purifiers?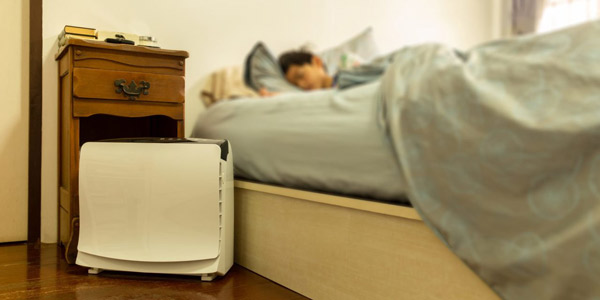 Just because you can't hear it, doesn't mean it's not working!
Quiet air filters do indeed work just as well as regular air purifiers. In fact, in some cases, they work even better.
Since their noise isn't bothersome, people tend to leave the quiet air purifiers running longer. That right there means more filtered air!
If you are looking for a purifier for a bedroom, you don't want to worry about a noisy machine waking you up. This makes quiet air filters especially great for kids' rooms and nurseries.
Quiet air filters are also great for offices. After all, noisy machines can be distracting and leave a bad impression on clients.
How to Choose the Best Quiet Air Purifiers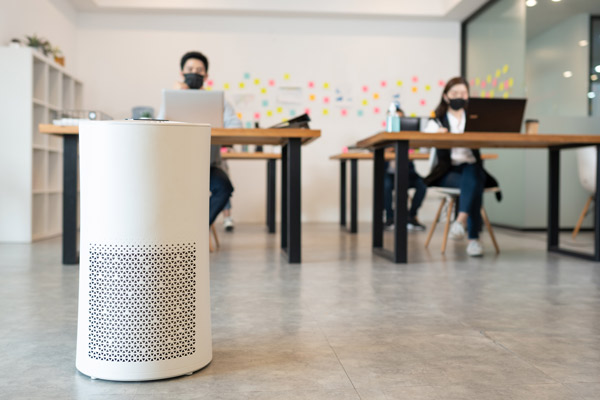 A quick Google search for "air purifier" or "air filter" is going to turn back thousands and thousands of results. How do you know which filter is best for you and your family?
That answer, of course, depends on why you need an air filter. Do you want to live peacefully with your pup despite an allergy? Are you trying to get rid of your roommate's cigarette stench? Do you have a moldy basement?
Your answer also depends on the size of your house and the room you intend to use an air purifier in. A large, open floor plan living space in a house with multiple pets will need a different filter than a college dorm room in a smoggy city.
You should also read reviews before making any purchase. As always, you want to make sure you are getting a high-quality air filter that will not break and will do its job! After all, an air purifier is generally a sizeable investment, and your good health depends on it!
Other Features You Should Look For
When comparing filters, consider the following: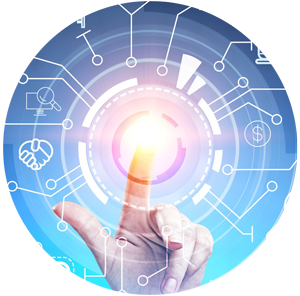 Smart Technology: There are two main ways that air purifiers use smart technology. First, some are compatible with smart speakers like Amazon Alexa. This means that you can ask your smart speaker to turn your air purifier on and off.
Some air purifiers also have smart sensors that give you feedback about the quality of the air in your space. Some will do this by displaying different light colors. For example, green may mean good air quality, while red means poor air quality. Others are more precise and can display the EPA air quality index for your room.
If your air purifier does both, you can also ask your smart speaker about the air quality in your room.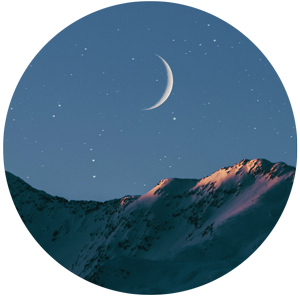 Night Light: If you wake up sneezing and want to turn on your air purifier or check the air quality, having a night light helps! The night light makes it easy to find and operate the air purifier at any time of day. In some cases, the color of the light will also change with air quality.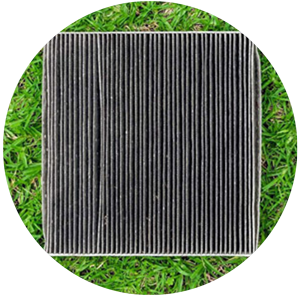 Type of Filter: There are several different types of filters on air purifiers. The most common ones are HEPA (High-efficiency particulate). Others include UV light, activated carbon, ionizing, and electrostatic. These all work in a different way.
HEPA filters include many layers of materials such as fiberglass that trap particles. Typically, they get over 99.97%+ of particles in the air larger than 0.3 micrometers (or 0.3 microns). That means 99.97% of particles larger than 3/10,000 millimeters in size.
Ionizing filters can cause problems for some people because, in a sense, they "condition" the air. Rather than removing particles, they sanitize them. This often leaves unwanted byproducts. Electrostatic filters work in a similar way and are also not the best for most people. If your product does condition air, make sure it does not emit ozone.
Activated carbon works kind of like flypaper. It absorbs unwanted particles and is great at eliminating odors. It is not, however, as efficient as a HEPA filter.
UV filters often kill viruses and bacteria. The best filters generally combine this with the particle-trapping power of HEPA filters and odor eliminating powers of activated carbon.
Remote Control: Sometimes you want to put your air filter in a place that is hard to reach so that the kids or dog don't get into it. This unfortunately makes it difficult to get to when you need to change the setting. If you can't operate your air purifier with voice commands, remote controls are the next best thing.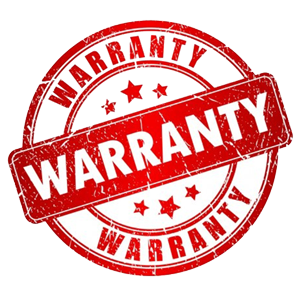 Warranty: What's the best way to know that a company stands by its product? A free warranty. Since air filters are a decent-sized investment, make sure yours includes at least a 1-2 year warranty. Some may even include them for as long as 5 years!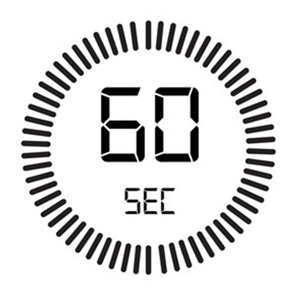 Timer: Although you can keep your air purifier going 24/7, some people prefer to just run it in cycles. Automatic timers can help you with this.
Extras: White noise machines, clocks, color-changing lights, fans… some air filters work as more than one appliance, saving you space!
---
FAQ: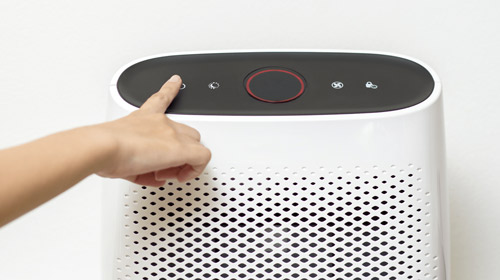 What Do Air Purifiers Do?
Air purifiers get rid of toxins in the air. Some do this by trapping particles (HEPA filters and activated carbon filters), some do this by killing germs (UV light). Others ionize particles in the air to "sanitize" it.
Do Air Purifiers Really Work?
Yes! Air purifiers really can make a huge difference in indoor air quality. In particular, methods that trap particles and kill germs are especially effective.
Do HEPA Filters Really Make a Difference?
HEPA filters capture 99.97% of particles larger than 3/10,000ths of a millimeter (0.3 microns) in size. For reference, the smallest items we can see without any magnifiers is about 1/10th of a millimeter. These particles are over 300 times smaller than anything we can see with our eyes!
For reference:
Pollen is usually 15-200 microns in diameter.
Pet dander is 2.5 microns.
Mold spores are 4-20 microns.
Air that is free of these compounds is going to be much healthier for you and your family.
Can Air Purifiers Capture the Coronavirus?
Coronavirus particles range in size from 0.06 to 1.4 microns. That is, some particles are larger than 0.3 microns and some are smaller. Keep in mind that HEPA filters can still help with particles smaller than 0.3 microns, but the efficiency declines as particle size decreases.
Some air purifiers also include UV lights, which are designed to kill bacteria and viruses, including COVID-19. Most air purifiers also keep air in an enclosed space circulating.
The bottom line?
Air purifiers can certainly help with capturing coronavirus particles in the air. They should NOT, however, be used as a substitute for masks, frequent sanitizing, and social distancing. Air filters will work best in conjunction with these other options. They might be especially beneficial in an office setting where clients and customers come and go.
Can Air Purifiers Help With Wildfire Smoke?
Yes! Just as air purifiers can help with cigarette smoke, they can help reduce and eliminate wildfire smoke.
Unfortunately, even if you do not live in an area prone to wildfires, distant blazes can still have a negative effect on your home's air quality. For example, in 2020, California experienced record-breaking wildfires. Yet, cities as far away as New York and DC had hazy skies for days because of them.
If wildfires, even distant ones, are making it hard to breathe in your home or office, consider adding an air purifier to help.
Do Air Purifiers Help Stop Odors?
Unfortunately, odors can be both annoying and embarrassing. Air purifiers can help. This is because odors are often caused by small particles that get trapped in air filters. Sometimes, however, odors are not in the air. They may cling to wallpaper or paint, furniture, and carpets. In these cases, persistent odors may need additional mitigation efforts such as professional carpet cleaning services or a new coat of paint.
How Long Should You Keep an Air Purifier On?
Air purifiers work best when they are left on all of the time. This is especially true if you are using them to battle consistently present pollutants such as pet dander or mold in a basement. If you are just using them to clear the air after your chain-smoking friend visits or using them for spring allergies, you can probably get away with using your air purifier on an as-needed basis.
How Often Do You Need to Replace the Filters?
This depends on how often you use your air purifier and how polluted your air is! For everyday use, you will probably end up replacing your air filter every 3-6 months. If you just use it seasonally or to eliminate pet dander after babysitting your sister's dog for a week, you can probably get away with changing it every 1-2 years. Most manufacturers will tell you how often to change it. In some cases, purifiers enhanced with smart technology may even tell you when the filter needs replacing.
Where Can You Purchase Replacement Filters?
Where else besides the internet?
You can typically buy a replacement filter in the same place you bought the air purifier itself. You can also visit the manufacturer's website to order directly from them.
What If I Put a Furnace Filter on a Box Fan? Does It Work?
You may have seen DIY videos that show you how to attach a furnace filter to a regular box fan. They claim that this works just as well as an air purifier.
If only that were true!
This set up could theoretically work in a pinch, but it is probably more trouble than it is worth.
For starters, you will probably need to put your fan on high to get the best results. This is going to be much, much louder than a quiet air purifier.
Then, you need to find an air filter that is exactly the same dimensions as your box fan and attach them.
This loud contraption is now a fire hazard because it can easily overheat. While newer box fans will shut off before that happens, it still means they will regularly stop running as your fan cools down. At this point, you will need to go restart it.
Box fan/filter combos also do not filter larger spaces. You'll need a different one for every room in the house. If you have a large, open living space, you will probably need more than one of these loud filters.
It is much easier to just invest in a high-quality air filter. If finances are a concern, consider our budget recommendation listed above.
Are Quiet Air Purifiers Worth It?

Yes!
If you value your health and that of your family, you will value clean air. To free your home or office of noxious pollutants such as smoke, dust, pollen, dander, viruses, and more, invest in a high-quality air purifier. This will help you breathe easy knowing your family is breathing easy.
This page last updated December 15, 2022