Compression socks are amazing! How about those with large calves, can they benefit from compression socks? Those with muscular calves often ask this question. The answer to this pertinent question is "yes" there are compression socks for large calves.
If you have large or muscular calves and ankles, you might have observed that most compression socks are not made for with you in mind. The reason is quite simple, the socks could be very uncomfortable with the extra bulk of your wide calf.
However, this should not discourage you from using compression socks, you just need extra care while choosing the best-fit compression socks for comfort. We have reviewed some of the best wide calf compression stockings for your use. Read further as we reveal the best compression socks for wide calves in the market.
Best Compression Socks for Large Calves
Rockay Vigor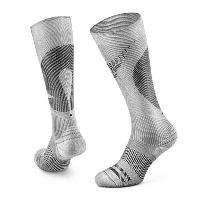 Vigor is a new sock line by Rockay, a company with a special focus on quality. Even though it was initially meant for distance running, Vigor comfortably fills all the checkboxes serving any purpose that requires compression socks. The graduated compression is highly effective and will accurately keep the flow of blood flawless.
However, it has a big issue; it doesn't fit for everyone. It's quite understandable, though, because there isn't an exact blueprint when making clothing that is 100% universal because all bodies aren't similar, yet durable differs from company to company. Well, interestingly, Rockay topped the chart and performed better than the majority of the larger calves in the market, thus giving it a regular fit all around.
This regular fit is quite essential since the primary need of a compressor is to provide consistent compression throughout. The midfoot area is held by the compression arch support molded into the socks. For maximum comfort, Rockay's Vigor tops the list.
Advanced Orthopedics Men's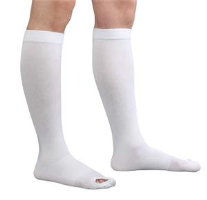 Lightweight and thin, superior orthopedics socks can be worn anytime. This makes it a pretty comfortable dress style sock and one of the best compression socks. Made of a spandex blend and nylon, advanced Orthopedics men's are designed with a top comfort band that will not bind up the leg, which ensures a moderate compression level.
Providing users with a 30-40mmHg of graduated compression, it delivers a prime level of medical-grade compression produced to reduce water build-up and lactic acid. It provides a continuous message to the lower limbs while it discharges more nutrients and oxygen. With its flexible and responsive fabrics, it can accommodate bigger calf muscles.
Users of Advanced Orthopedics Men's sock can enjoy a reasonable level of space within the toe area regardless of the graduation on the compression. With a non-binding top band, the sock is kept in place all day. It's impressive to know that with its exotic function, it comes at a comfortable price, yet it will accommodate anyone. Finally, it comes with an appealing dress style, which makes it ideal for all situations.
Pro Compression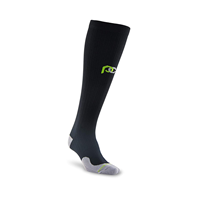 If you desire a healthy blood flow to combat fatigue and enhance quick recovery, you'd need to invest in these pro compression marathon socks. It also gives both tendons and muscles sufficient support to discard inflammation and soreness. With its moisture control, feet will be kept dry and pleasant during each activity. Also, with its graduated compression at the best level, your feet will experience comfort.
It is specially designed for long-distance runners with larger calves, which makes its design highly flexible and responsive as it is made from a mixture of 8% spandex and 92% nylon. With the provision of 20-30 mmHg of graduated compression, users can get immediate relief to ankle pain, and plantar fasciitis pain.
Well ventilated, it's breathable and rid of sweat and overheating. Users shouldn't worry about bacteria and viruses because it comes designed with antibacterial and antistatic property to provide comfort level of the sock. With comfort, there wouldn't be a burden wearing it.
3XL TruForm 8865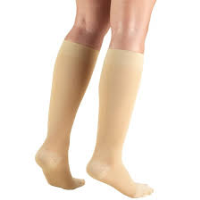 Suitable for men and women, this durable 3XL TruForm 8865 provides sufficient medical support. Made of a durable knit product with 20-30 mmHg of graduated compression, the soft tip of the sock will sufficiently constrict the user's leg when worn.
With its defined heel, it makes one of the best compression socks that can fit better and give roomy comfort to the toe providing a perfect relief for sensitive feet. The design is fitting for folks who habitually sit and stand for long, pregnant women, and those recovering after surgery. For certainty, this sock will enhance circulation.
The design is made from nylon and lightweight, flexible and highly responsive. Thus, individuals with large calves are not to worry since it delivers an overall level of graduated compression, making it an excellent tool for treating pain from plantar fasciitis and progressive ankle ailments.
Mojo Recovery and Performance.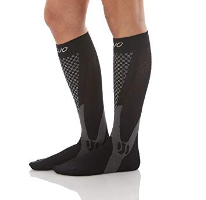 Regarded as one of the best compressor socks sellers, it provides elegance and aesthetic design. With Mojo Recovery and performance, you can enter a gym center with style as it forms part of everyday life. With realistic graduated compression technology designed with it, it is highly possible to slide into an athletic-looking sock. This design will enhance the blood circulation in legs while you engage in any sport of your choice.
With the provision of 20-30mmHg of graduated compression, users can be provided with immediate relief from plantar fasciitis, Achilles pain, shin, and ankle. Its aim is to get rid of lactic acid and speed up blood supply to bring in oxygen and nutrients. There are supportive padding around the midfoot, heel, and ankles that provide an advanced level of comfort and support.
Very flexible, it's easy to stretch to entertain larger calves. With a lightweight fabric design, it is made for reasonable temperature control and excellent ventilation. The design of the toe provides a very comfortable fit that will not cause any abrasion or friction. Undeniably, it is a well-contoured sock that is capable of working with any shoe style and fits in properly.
Criteria for Choosing the Best Compression Socks for Wide Calves
The Socks Comfort
The first thing to do when you want to take the utmost care of your legs and feet are getting comfortable socks. On our list, we have some nice designs which will suit your needs perfectly. The socks are available in different lengths and sizes, therefore the first thing you need to consider is the design that best fits your lifestyle. Your feet act as a support for your whole body, holding them up, so you need socks to take care of them.
There are certain things that make socks comfortable. The first is the compression which is the main feature, and the discourse of this article.
Leg Comfort
You need a good compression to support your lower leg from cramps or contraction. These socks are made with graduated compression which is usually tight at the ankle and gradually decreases as it goes up the calf.
Compression socks give your legs comfort by providing a massage sensation as you go through your day, whether you're always on your feet or sitting down. They help to keep your legs energized and refreshed while helping you take away fatigue and soreness.
To make you more comfortable, ensure you choose socks that have the ability to wick moisture and are breathable as well. You should get socks that will help keep sweat off your skin and help you prevent odor or bacteria on your skin. You can also find some socks on our list with nice cushioned, non-constricting soles to support your tops and arches while holding it up.
Materials used to make the Compression Socks
Having socks made from good quality and durable materials is very important. Most of these socks are made from lightweight nylon which is an excellent choice because it is breathable as well as durable. It also combines spandex, a stretchable and lightweight material. It has airtight spandex yarns adding up to its durability.
Compression Socks Features
These compression socks are pretty fundamental but there are certain salient features to look out for. For instance, one of these socks has a 3D knit structure. It sounds confusing a bit but this is actually a good benefit. It gives extra features on impact absorption, thus is perfect as sportswear.
Since they are all compression socks and have similar features, you may decide to choose a brand with graduated compression. This just means that the socks are tight around the ankle area but this tends to become weaker as you get close to the knee. This sock is comfortable, energizing and helps improve blood circulation.
You might also want to get a sock that won't squeeze your toes, making them uncomfortable. Most of these brands make extra toe room space while others don't have toes at all. Take a look at the type of heel the sock has, it'll help you decide on which to go for. The heel should be fitting so it doesn't just wander to your ankle when you put on your shoes. Of course, you should also ensure that the sole of your sock is fitting with your foot size.
What to look out for
Look out for nonbinding top bands as well. This refers to the band of elastic material holding your sock up to under your knee and prevents it from falling back into your shoe. The binding should be strong enough to ensure your socks are in place and don't get in your way, but it should be non-constricting as well.
Another popular feature is the color and patterns these socks come in. Some people like more subtle colors like dark blue or grays, especially if they are for work or a formal situation. Others come in bright fun colors that match your favorite outfit for work or just give a classy fashion statement to show off your personality. It's actually nice to have a variety and make choices.
Compression Socks Ease of Use
Getting a pair of the best compression socks for large calves that are easy to use is necessary. These socks are often difficult to put on and very snug but there are a few tips to get past this. Try applying powder on your skin and ensure to situate your toes properly then pull up your socks to your knees, rolling them as you go on. We have some socks on our list with open toes to make it a bit easier.
You can easily wear compression socks if you find ones whose color matches your style. If you want to wear them to the office, you can go for subtle colors. You can as well choose one that will match your favorite workout outfit.
Compression socks can be worn easily because they give your legs a muscle massage as you go on. They are also efficient for the removal of excess water and lactic acid from your legs, keeping them comfortable. It is much easier if they are comfortable and breathable.
The durability of Compression Socks
You might wear these socks for long hours, therefore you need to get a pair that is strong and durable. They should be made with quality materials that will stand the test of time and weather a lot of use.
It is necessary for the compression socks to be able to withstand time and washing. Spandex and elastane are two great and effective materials for this purpose. You should look out for one which doesn't get weaker but has a sturdy top band capable of holding up your leg without constriction to your leg.
You may also desire a reinforcement in the heel and toe to make the sock last but it shouldn't have seams as this may cause irritation to your ties. They can have a breathable material or copper-infused material as well to prevent the growth of bacteria or fungus.
Compression
Compression socks come in various grades namely mild (8-15 mmHg), moderate (15-20 mmHg), and firm (20-30 mmHg) compression. Any compression rating above 20 is termed as a medical-grade.
Frequently Asked Questions
Various questions come to mind while deciding on the best compression socks for large calves. Below are some pertinent questions and answers.
Q: What is the benefit of wearing compression socks?
A: Compression socks have so many benefits as they help to improve blood circulation to your legs. If your work demands lots of sitting or standing, then you will find compression socks very useful.
Also, for those who recently had surgery, compression socks will be good. Because, they will likely spend more time in bed, thereby helping with swelling or DVT.
Q: When shouldn't I wear compression socks?
A: Compression socks should not be worn if you have nerve damage on the leg, dermatitis or issues with skin sensitivity. They should not be worn by those with peripheral arterial disease, infection, or any related disease.
Q: Can I wear compression socks to bed?
A: Ideally, compression socks should not be worn to bed; it should be taken off before bedtime and worn in the morning, except for any underlying health condition. The main reason for wearing compression socks is to stimulate blood circulation. Therefore, working against gravity, and lying on the bed already defeats the purpose.
Q: How do I wash compression socks?
A: If you plan to use your compression socks frequently, then you may need to purchase more than a pair of socks. So, when you wash a pair you can put on the spare pair. To wash compression socks, the best method is to wash with your hand. Another method is to use the washing machine with cold water and then air dry.
Q: Are compression socks ideal for pregnancy?
A: They stop the accumulating of venous blood and can reduce the elevated heart rate for pregnant mothers. They also prevent varicose veins, thrombosis, and phlebitis.
Do you have any questions pertaining to compression socks for wide calf aside from the ones provided in this article? Kindly drop it in the comment section, we will be glad to answer your questions.
Conclusion
We have extensively reviewed five of the best compression socks for large calves. Rockay Vigor tops our list of the best compression stockings for obvious reasons and its outstanding feature. It helps users improve blood flow and reduces recovery time. Rockay Vigor's compression socks are made from recycled materials and contain midfoot arch support. If you are endowed with a huge calf, you will find Rockay Vigor as the ideal socks for your use.
Regardless of your leg or ankle size, you will definitely get the ideal compression socks on amazon or other marketplaces. Also, your choice of wide calf stockings is not confined to a particular brand; rather you should choose the type that gives you the best comfort.