Last Updated July 27, 2021
As the COVID-19 pandemic continues with no end in sight, it has become more crucial than ever to maintain your health and take precautions to prevent catching the virus, even if you have already been vaccinated. There are various ways to do so, from washing your hands routinely and using sanitizers to wearing a mask when going outdoors and avoiding crowded areas.
However, another practical method would be to own an air purifier. With the pandemic forcing us to spend more time indoors and work from home, the air at home can get stuffy or stale after a while. In cases where you need to work in the office, you may be concerned that the air surrounding you is contaminated with pollutants or other harmful particles that could potentially get you ill.
There are several kinds of air purifiers on the market, but this article will focus on air purifies for office desks.
Continue reading to learn more!
What is an Air Purifier?
Air purifiers, also known as portable air cleaners and air sanitizers, are stand-alone units that are built with air-cleaning technology that are used when minimizing sources of pollutants and diluting pollutant concentrations through ventilation with cleaner outdoor air are insufficient.
How do Air Purifiers Work?
These handy devices operate differently from essential oil diffusers and humidifiers, which add particles to indoor air. Instead, air purifiers sanitize the air from pollutants, allergens, and toxins. This is one step further from air filters, which only remove or trap certain particles.
According to Healthline, "certain versions [of air purifiers] are made with filters to trap particles as air runs through them, while others may neutralize other particles in the air without filtering them first."
Why Use an Air Purifier in Your Work Space?
A typical desk job requires one to spend at least eight hours a day working. As a result, it is important that you receive decent air quality when you are sitting in the same spot for as long to ensure you are getting enough oxygen for your body to function optimally. Your brain works hard after all, and it needs a good supply of air!
Another reason is that air purifiers can help alleviate certain respiratory symptoms or issues, such as asthma. As high concentrations of fine particles are often associated with health risks- particularly young children, the elderly and those with existing respiratory health problems- air purifiers can assist in reducing such concentrations. According to the EPA, "most air cleaner intervention studies have found statistically significant associations between the introduction and use of portable air cleaners in homes and at least one measure or marker of improved health outcome, although the improvements were typically modest."
The Top Three Air Purifiers for Office Desks
Here, we list high quality air purifiers for office desks that are frequently purchased by consumers these days. Comprogear will be releasing our own air purifiers and will update this article accordingly, so stay tuned!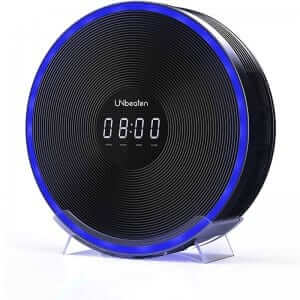 The Unbeaten Ferris 360 Air Purifier is not just an efficient air purifier, but also comes in a modern compact design which would make it look like a nice decorative piece on your office desk.
It features an antimicrobial True H13 grade HEPA filter, which is capable of capturing 99.97% of air pollutants no larger than 0.3 microns, neutralize bacteria and prevent second-degree pollution. It cleanses the air from bacteria, dust, pet dander and other airborne pollutants up to 0.3 microns.
Furthermore, its sound level is at 28 dB, which means it allows you to breathe clean air and focus on your work without any loud noise!
Pros
Has a stylish, modern design.
Has a built-in digital clock and air quality status indicator.
Operates in a quiet manner.
Capable of cleaning air up to a 200-square feet radius.
Comes with a two-year warranty and lifetime support.
Cons
Incapable of filtering odor.
The hOmeLabs Air Purifier comes with a 4-stage filtration system, that includes a True HEPA filter, Activated Carbon filter, Ionizer and UV-C light. Not only that, but its 360-degree air inlet feature enables it to withdraw and cleanse air from all sides.
The item is 6.7 x 6.7 x 7.5 inches, making it very portable, and weighs 2.9 lbs. It also has customizable fan settings, which let you choose the quieter, sleep-friendly "low" power, or max-freshness "high" power.
Pros
Capable of cleaning air up to a 50-square feet radius.
Capable of filtering odor, such as from pets and smoking.
Has a travel-sized design.
Has a filter change light indicator.
Cons
Uses filters which require routine replacement. (Depending on the type you purchase, the filter can either be used for up to 700 hours or 2,100 hours.)
Potentially loud; its sound level is not indicated on the purchase site.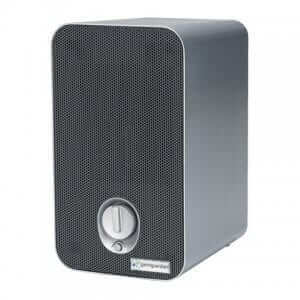 The GermGuardian AC4100 Desktop Air Purifier is a 3-in-1 desktop air purifier that comes with a pre-filter, a True HEPA filter, and an activated carbon filter.
The different filters each have their own purposes.
The pre-filter helps increase the lifespan of the True HEPA filter, filters large air particles, pet hair and dust, and reduce unwanted odors.
The True HEPA filter reduces up to 99.97% of contaminants of 0.3 microns.
The activated carbon filter also helps to reduce unwanted odors.
Pros
AHAM-verified.
Has a stylish, modern design.
Has a UV-C light that kills airborne microorganisms.
Traps allergens, dust, and pet dander with HEPA filter.
Capable of cleaning air up to a 78-square feet radius.
Cons
Emits a plastic smell.
Uses filters which require routine replacement.
Potentially loud; its sound level is not indicated on the purchase site.
Buying Guide for Air Purifiers for Office Desks
FAQ:
Q. Are air purifiers effective if put in cubicles?
A. Yes, air purifiers can still work optimally even when placed in cubicles. However, the volume of air that is withdrawn and cleansed by the air purifier will vary depending on the obstacles placed around the air purifier, as well as the distance the air purifier is capable of cleansing.
Q. How often should you change the filters?
A. This will depend entirely on the air purifier model and the frequency and duration the air purifier is used. The longer an air purifier is on, the more used its filter will be, and vice versa. Be sure to check the description of the model you are about to purchase to see how long its filter can be used and the typical replacement period and cost.
Q. What is a HEPA filter?
A. HEPA is an acronym for high-efficiency particulate air. So, a HEPA filter is used to trap airborne allergens and pollutants, and offer the highest available particle removal efficiency of fibrous media air filters for a wide range of particle sizes.
Q. What do I need to consider when looking for an air purifier?
A. As each air purifier has its own performances and technical characteristics, you should compare the filtration levels of each air purifier, because this relates to the effectiveness against domestic pollution.
Also consider the surface area treated, as it is necessary to use a device of the appropriate size for the dimensions of the area being treated to ensure optimal air cleansing.
Lastly, you will need to keep an eye out for the types of filters used and the noise level. Each filters has its own unique function and purpose, whereas you may consider one that is quiet to prevent it from distracting you during work.
Q. Are air purifiers really worth it?
A. Yes. As shown in this article, air purifiers in general provide a lot of benefits, and can improve your respiratory health. However, you need to be aware that air purifiers are not meant to be a replacement for your medications; always talk to your doctor before reducing or stopping any medications, and to also receive insights or recommendations on the type of air purifier that you need.
Conclusion
Air purifiers for office desks can be very sleek and stylish, while also boosting your health and ensuring your productivity is not affected negatively. It is important to consider various factors, such as filter types, size and area coverage, before purchasing one.
Comprogear will be releasing its own air purifier for office desks so make sure to check back here for updates!
References