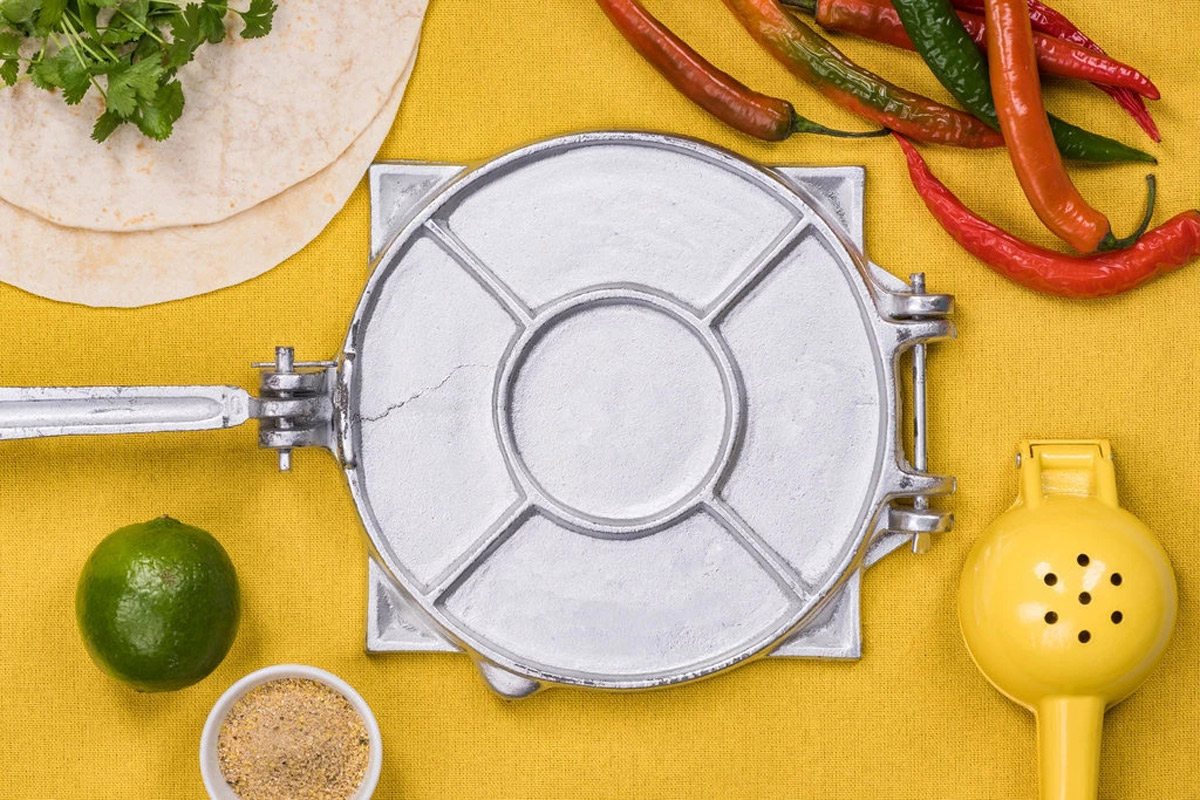 What is a Tortilla Press?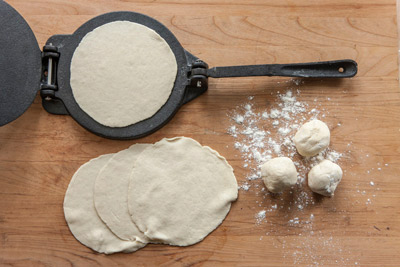 A tortilla press is precisely that, a press for making tortillas. A tortilla press or a tortilla maker is a (usually) metal tool with a base, top, and handle. The base and top are flat (sometimes with a design imprinted in them) and round and are connected with a hinge. You lift the top up with the handle, place a ball of corn or flour dough in the center, and press the top down to form a tortilla (which will then need to be baked).
Basically, a tortilla press allows you to make your own tortillas at home.
Why You Should Own a Tortilla Press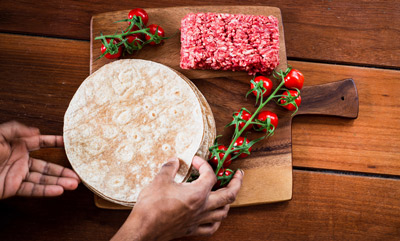 As we mentioned above, you get to make your own tortillas at home, and there are a variety of benefits that come with being able to do that.
First, you can create any type of tortilla that you want. You can make flour tortillas or corn tortillas; you can add extra herbs and spices, change the ratio, make them gluten-free, and do anything else that you can imagine.
Second, there is nothing better than a freshly-baked tortilla. Sure, you can warm store-bought ones, but they just don't compare to ones you have baked yourself. And, it is easy to make your own tortilla dough.
Third, while making your own dough is easy, it is rolling it out thin enough that is the tricky part. With a tortilla maker, you don't have to worry about that. Lift up the top, put in the dough, press down, and you have perfect tortillas every time.
Top 8 Tortilla Presses
There are so many tortilla presses out there that it can be hard to choose the right one. We have narrowed down the options to bring you 8 of the best.
Best Overall Tortilla Press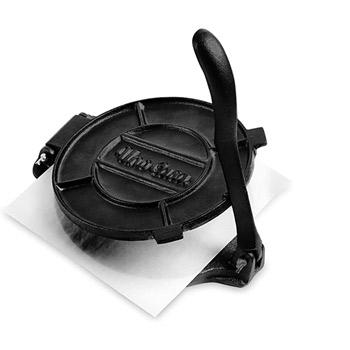 Uno Casa Cast Iron Tortilla Press
www.amazon.com/Uno-Casa-Tortilla-Press-Pre-seasoned/dp/B07H9WF6GH/
This heavy-duty case iron press is one of the best out there. The heavy cast iron will create a tight press that gives consistent tortillas every time, and the cast iron is easy to take care of and will last for as long as you do take care of it.
The 8-inch press can handle all types of tortilla and comes with 100 pieces of pre-cut parchment paper to make easy work of the process.
If you want to mix it up, there is an included recipe book, and you can use the press to make your favorite pie, tostone, dumpling, roti, empanada, and arepa recipes too.
Best Budget Tortilla Press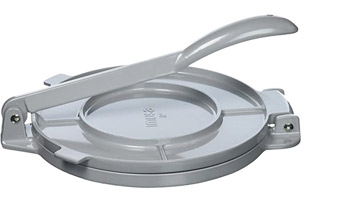 Imusa Aluminum Tortilla Press
www.amazon.com/IMUSA-MEXI-86008-Tortilla-8-Inch-Silver/dp/B006N453NQ/
This lightweight aluminum press is easy to use and easily transportable. The aluminum keeps it light while still being strong, and you can easily bring the press in and out of storage when you need it or just keep it on your counter for everyday use.
This is an 8-inch press, and the aluminum handle gives you a lot of leverage, giving you tortillas that measure up to the heavier cast-iron presses. The best thing about this press? The price! For the cost of a couple of packs or tortillas, you have your very own press.
Cast Iron Tortilla Press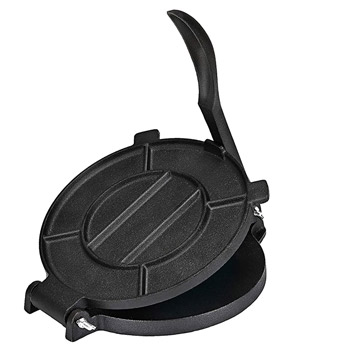 Bioexcel Cast Iron Tortilla Press
www.amazon.com/Bioexcel-8-Inch-Tortilla-Presser-Handle/dp/B075834NYW/
With a great price, this durable cast iron tortilla maker makes it easy to create your favorite tortilla recipes. The extra weight on the top and base not only add sturdiness to the press, but also helps you to get leverage for extra-thin tortillas.
The press is pre-seasoned with flax oil so that it is ready to go straight out of the box, and the handle is easily detachable for easy cleaning. Use this press for all your favorite tortilla recipes, along with patacones, arepas, quesadillas, and empanadas.
Wooden Tortilla Press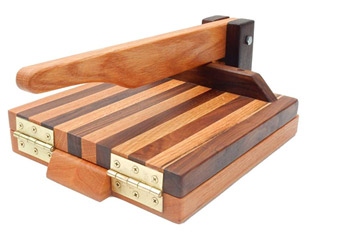 Hardwood Tortilla Press
www.amazon.com/Hardwood-Tortilla-Press-Oak-Walnut/dp/B0769D3SGS/
If you are looking for something a little different and luxurious, this oak and walnut tortilla press add luxury to your kitchen while still making excellent tortillas. The pressing surface is extra wide so that you can make 9"+ tortillas, and the wood has been treated with mineral oils for easy cleaning and maintenance.
This press will become the focal point of your kitchen.
Electric Tortilla Press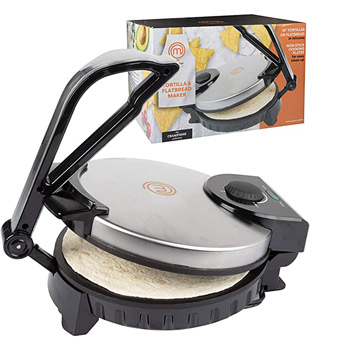 MasterChef Electric Tortilla Maker
www.amazon.com/MasterChef-Electric-Flatbread-Tortillas-Non-stick/dp/B079M462QY/
An extra-large press that can be used to create up to 10" tortillas. The best thing about an electric press is that it bakes the tortilla as you press it, saving you from completing two separate processes.
The heavyweight aluminum ensures a flat tortilla, and you can also use the device to make pitas and flatbreads. Easy to clean and use, you'll love the warm smell of baking bread.
Non-Stick Tortilla Press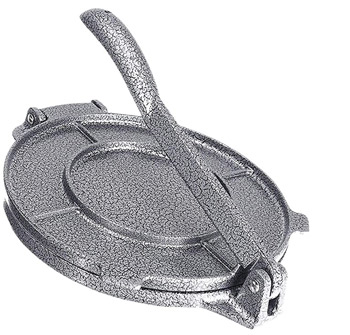 8-Inch Tortilla Press
www.amazon.com/Ctzrzyt-Tortilla-Foldable-Non-Stick-Kitchen/dp/B08LW3PJ21/
If you have had problems in the past with recipes sticking to the tortilla press, then invest in this handy little press and forget about those problems. With robust alloy for extra durability, this press will make it easy to slip out the tortilla when done.
A great all-round press that gives you lots of leverage.
Aluminum Tortilla Press
Norpro 6" Tortilla Maker
www.amazon.com/Norpro-1063-6-tortilla-maker/dp/B00004UE8E/
This lightweight aluminum press is easy to use and store and the perfect press to take with you wherever you go. The aluminum is strong and light, letting you press 6" tortillas for fun mealtimes.
A great press for all types of tortillas, but especially good for corn tortillas.
Best Looking Tortilla Press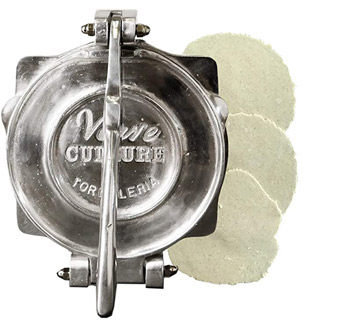 Verve Culture Tortilla Press
www.amazon.com/Verve-Tortilla-Homemade-Handmade-Aluminum/dp/B07Z6Q6XDX/
Keeping it simple, this aluminum press looks amazing. It is an extra-large tortilla press so that you can create all sizes of tortilla, and the handmade construction brings you durability and function with elegance and style.
The aluminum is 100% recycled, creating a commitment to sustainability, and is crafted by artisans outside of Mexico City. Use it to make all of your favorite tortillas.
Which Tortilla Press is Best for Flour Tortillas?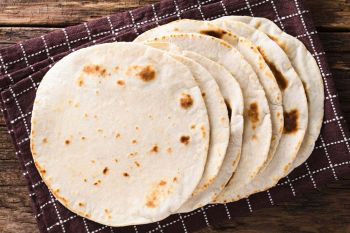 There may have been a time when you would have one type of press recommended over another, but those days are gone, and press technology has caught up. If you are making flour tortillas, you can go ahead and use almost any press (cast iron, aluminum, wood), but be sure to use some parchment (or other liners). Flour dough can get sticky, so you will have the best results if you use a layer between the tortilla and the press.
Which Tortilla Press is Best for Corn Tortillas?
If you talk to people in Mexico (and those not in Mexico), you will often be told that you need to have corn tortillas with your meal if you want an authentic Mexican experience. And, if you have corn tortillas, then cast iron is the most authentic way to go.
You should use a cast-iron press and a cast-iron pan to cook the tortilla after. Using some oil on the press should keep it from sticking, but you can use a liner if you notice that the corn tortillas are sticking often.
How to Use a Tortilla Press
The first thing to do is to make your dough. You need to start by choosing flour or corn tortillas, and you can find lots of good recipes online (and some might come with your tortilla press). Once you have your dough, you should prevent sticking. The most common way to do this is to line the tortilla press with parchment paper.
When you are ready, open the tortilla press and place the recommended amount of dough on the center of the base. Lightly press down on the dough with your thumb or palm to ensure even distribution when you use the press.
Use the handle to press down the top of the press onto the dough, and exert enough pressure to flatten the dough. Pull the lever back up and check that the tortilla is the right thickness and shape. Press down again if needed before baking and enjoying a delicious homemade tortilla.
Other Uses for a Tortilla Press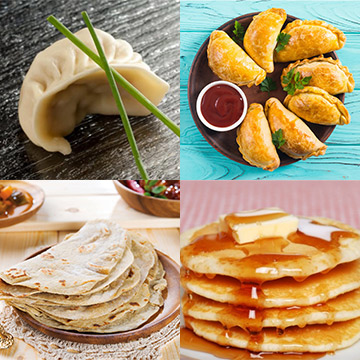 While tortilla presses are ideal for creating tortillas, there are other uses for them, mainly in the kitchen.
If you like dumplings, you can use a press to create dumpling wrappers. You can also use them to make flatbreads, roti, empanadas, pancakes, and any other flat bread. If you have recipe where you have to roll out some dough, you can use a press to take care if it.
If you want to tenderize meat, you can use the press to flatten and shape. You can even use a tortilla press in art projects, using the leverage of the press to print on paper or fabric.
We love to use a press for plain old tortillas, but don't be afraid to experiment with your new favorite toy.