Many people can't spot the variation between specific types of compression socks and stockings. When selecting the type of compression socks, there are numerous types and options available to buyers.
While some compression socks can only offer help to athletes, others are specifically designed for chronic conditions like diabetes. Since each type of compression sock functions in varying ways, it's vital to get the correct one for your needs.
If you've been trying to differentiate between the kinds of compression socks available, you have this guide to help you. This article doesn't highlight all types of compression socks available. However, by comparing TEDhose legwear to the others listed, you can spot the major difference in compression socks.
How Do Compression Socks Work?
Due to certain complications or limited movement, blood can begin to pool in the lower extremities. When that happens you can see the start of pain, clotting of blood, and swelling. Although there are medications on the market to relieve this, a lot of people are using compression socks as of recently.
The utilization of compression socks is taking place to prevent these conditions from happening. Rather than leading to the pooling of blood, compression socks are used to increase the flow of blood. There are several types of these socks on the market, but one of the primary distinctions is the compression level. The levels vary and are available from mild to extra firm.
These different levels of compression can be used to fight extensively on various issues. So, what conclusion can be reached about compression socks? It is simple! It Applies exerted pressure on the region where they are wrapped, enhancing blood flow and reducing leg pain. How about TEDhose compression socks, specifically? We'll explain that in the next section.
What are Ted Hose?
TEDhose compression socks are also referred to as TEDhose. They are anti-embolism socks that help to circulate blood in the legs effectively. These types of socks work differently from other kinds of compression socks because they exert less pressure as they move up the leg. TEDhose gradient compression uses the highest level of compression around the ankle at 18mmHg and reduces to about 8mmHg at the peak thigh.
These socks are vital for anyone who stands or sits for extended periods of time. TEDhose socks have many uses. They are primarily intended to be worn while an individual recovers from an illness or surgery that has caused the person to be bedridden for an extended length of time. Those in that situation are given a prescription for TEDhose socks to help them lessen the severity of side effects that may occur.
It is worth mentioning that TEDhose is the acronym for thromboembolism-deterrent (TED). One of the biggest functions of ulitilizing Tedhose is to address the prevention of deep vein thrombosis (DVT). Following surgery, when patients can be prone to blot clots, the prescription is given for compression socks. This helps to prevent DVT. If you've never had surgery, or you are not stationed in one place, TEDhose compression socks wouldn't be suitable for your needs. Instead, a traditional compression sock will be more suitable for you.
How Many Styles are There?
The styles of TEDhose socks differ. You can find them both in knee-high and thigh-high lengths. It is vital to ensure that you are choosing the right style for your own personal needs. The varying lengths function for different purposes. It is ultimately up to the users to select the correct type of socks they need, but it is up to your medical professional to choose the type of compression that is right for each patient. So after picking a particular style, confirm with your doctor that it will work for you.
Aside from length, they are also available in different colors. Additionally, both open and closed-toe stockings are available.
Do you think these amazing compression socks would be beneficial to you? The first step is to talk to your doctor. Your doctor may ask if you have any desired style or category you've chosen. To help you get the right answer to their question we will explore the categories of TEDhose compression socks that you can pick from in our section below.
How Many Types are There?
To help you best, in this section we outline the different types of TEDhose legwear that you can pick from. We will be detailing the four most essential categories.
Unisex TEDhose Socks/Stockings:
This category offers impressive performance. It is designed with graduated compression. This means that they are designed to enhance blood circulation via firm, balanced, and robust compression at the ankle that steadily decreases as it moves up the leg. It prevents vein disease and limits a person's chance of accumulating lactic acid.
Since it's designed to enhance performance, you can be comfortable knowing that these socks will help with faster recovery. As it provides constant compression, it prevents the clotting of blood. They are appropriate for swollen feet, leg splints, and varicose veins. Additionally, this type comes with fashionable designs made for both men and women.
These types of compression socks or stockings will help you say goodbye to ugly compression socks that are designed with rubber options. These new stockings have been revolutionized in the market. They will make your feet look slimmer, more sturdy and fashionable.
Compression Socks For Women:
This type of sock is gender-specific for women. It is designed with a comfortable and non-binding 15-20mmHg compression level and offers stretchy technology. They also come with an extra-large cuff that will prevent the sock from chafing. Also, the premium materials and reinforced seams make sure that it is durable and long-lasting even after washing. It is recommended that buyers check the sizing chart before making a purchase.
The design of this compression is more than a solution for minimizing blood clots, varicose veins, and achy legs. They are available in sleek black with colorful stripes for an elegant appearance. They are useful for a large number of people.
These types of socks have been proven to give fantastic support. They stay fresh on your leg, are breathable, and are antibacterial. They are ideal for everyday use. Finally, they are perfect for reducing fatigue and improving circulation in the leg.
TEDhose Socks/Stockings With Ultra Sheer Feature:
Another top category of TEDhose compression is the ultra-sheer feature. They increase circulation with a moderate level of compression as they fall within the range of 15-20mmHg. This type of sock is useful for post-surgery, treatment of spider veins, varicose veins, and chronic edema. They are designed with a soft blend of the non-constrictive elastic cuffs. Also, they are breathable and lightweight for all-day comfort.
Additionally, with the elastic cuff, they will stay in place without slipping, bunching, or sliding. The large elastic cuff is also nonbinding and not irritating to the user. Designed with a reinforced toe, these types are made with a mixture of nylon and spandex, the features that make it lightweight and breathable.
TEDhose Socks/Stockings With Comfort And Support:
Another category of this compression legwear you can pick from is those that come with additional, more superior quality. The graduation compression improves blood circulation via a firm and balanced compression at the ankle and steadily lessens at it moves upward. This type of progressive compression limits the buildup of lactic acid accumulation. It performs better in that blood flow moves faster and aids in a quicker recovery. It also alleviates muscle fatigue that results from physical activity or surgery. Thus, it boosts strength.
For those with a wide array of leg conditions, you can find optimal relief from the application of these stockings. It is also designed with a durable and fashionable 3D knitting, carefully stitched to provide comfort and support. While designed to be sturdy, they also provide easy doffing and donning. They can be washed occasionally without losing their compression and are intended to be anti-odor and antibacterial. This style comes in elegant colors and affords a fantastic level of comfort.
---
Popular Articles on ComproGear
How Long to Wear Compression Socks for Edema Socks for Edema
---
How to Wear TEDhose Compression Socks?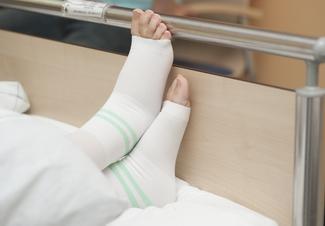 Let's face it – a blood clot can be deadly. If one was to dislodge from the blood vessel wall, it can lead to a thrombolytic clot. These types of blood clots are lethal if they get to the brain, lungs, or heart. To avoid that, a patient needs to wear the correct type of TEDhose compressions and wear them correctly. If this is done, the patient can be confident in the prevention of blood clots, pain, and swelling.
It should be known that TEDhose compression stockings are explicitly designed to be tight-fitting, so they might be a bit difficult to get on easily. Caregivers should be able to easily aid in the application. The simple care guide below will help those caring for someone who will utilize TEDhose compression socks.
Place a plastic grocery bag on foot. The bag needs to only go above the ankle level.
Place the TEDhose compression stockings over the bag, steadily gliding over the surface of the bag around the ankle and foot.
Continue to pull the stockings up the leg gently. You might have the stocking either under the knee or above the knee.
Fold back the stockings opening at the toes.
Pull the grocery bag from the foot via the opening at the toes.
Replace the opening over the tip of the toes for comfort.
And there you go! You now have the hose on the legs with less sweating. If you notice any wrinkles, smooth them to avoid discomfort.
Conclusion- TedHose Compression Socks/Stockings
TEDhose compression stockings are very essential in a person's healing process. That is one of the reasons many are prescribed to wear them by their doctor following surgery or due to medical conditions.
As you've seen, finding the right one is a very involved process. But with this guide, the task becomes easier. All that remains after reading this guide is to get yourself the recommended TEDhose compression stockings and gain immediate relief.
Do you know someone who would benefit from this guide? If so, be sure to pass it on to aid them in their journey to relief and healing.
This page last updated December 15, 2022