What comes to mind when you hear the term compression socks? Do you think sports, comfort, great looks, or compression therapy?
Why wear compression stockings?
Chronic Venous Insufficiency (CVI) and Deep Vein Thrombosis (DVT) often cause leg pain, swelling, and varicose veins. If you suffer from either of these conditions, the knee-high 20-30 mmHg compression socks are critical for your health.
Whether its compression stocking or socks, you need to know why and when to wear them. The style, material, and intended purpose are all factors that help determine which compression sleeves and socks to wear. No matter how life-changing they are, always remember to wear the right size.
Let's start by understanding the terms used to describe compression socks.
What Does 20-30 mmHg Mean?
Graduated compression socks have different compression levels. The initials mmHg stands for millimeters of mercury. 20-30 mmHg refers to the pressure exerted on the veins.
Medical experts frequently prescribe 20-30 mmHg due to its myriad of uses and health benefits. It's neither too strong, nor too weak, thus making it the most comfortable to wear all day long.
Every compression socks manufacturing company has a unique measurement chart. Also, one's calf-length size differs from person to person. You should always measure your leg size before buying a pair.
How do you measure the proper fit for knee-high compression stockings?
Ankle circumference – Measure around the narrowest point above your ankle. In case the feet are swollen, take your measurements in the morning.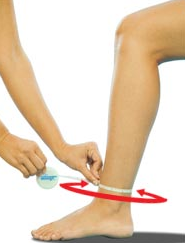 Calf circumference – Depending on the shape of your calf, ensure you measure the largest part of your calf.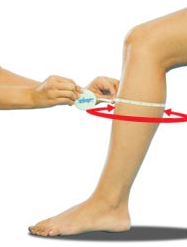 Calf length – Take the calf-length measurement while seated. Hold the tape against your ankle on the floor. Raise it until you reach directly below the bend of your knee.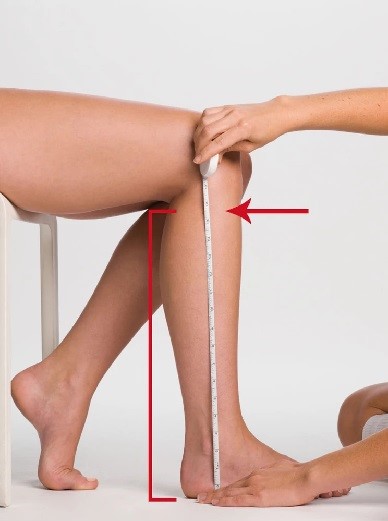 To buy the exact knee-high compression socks for men, compare your measurements with the sellers' size chart. Choose the matching sizes or the approximate.
Factors to Consider When Buying Compression Socks
Buying men's compression socks isn't as easy as you may think: unless you are buying like any other socks. Tight socks can restrict blood circulation while too loose socks are of no benefit.
Besides the doctor's prescriptions, what other factors should you consider when buying the men's knee-high compression socks?
Size
As mentioned earlier, the size of your socks is an essential factor. Compression socks that are bigger than your leg size will not apply the required pressure to the right parts. A good graduate compression should be stronger at the ankle and decrease gradually towards the knee.
Also, determine the area you want to apply compression to best select your sock size.
Material
The fabric makes the compression stockings and socks different from other socks. Among the materials used include spandex, Lycra, natural rubber, silk, microfiber, and nylon.
The best high-quality material should be elastic, breathable, durable, and have skin cooling properties. You may be allergic- so know the sock's material combinations to avoid secondary infections.
Purpose
Why do you want to buy them? Is it for comfort, varicose veins, travel, or running? When selecting compression socks, focus on the elasticity and compression of the socks. Even though many overlook comfort when buying socks, it is so important.
Brand
Some manufacturing companies are better than others, and their end products are of high quality. Others sell imitation products that will never meet buyers' needs. Buy from quality companies or accredited sellers.
Compression Socks For Men To Buy
Not every man's socks are created the same. So, read on for the best possible socks for your money.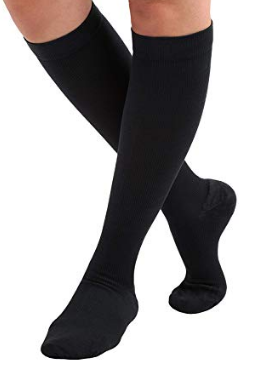 Comprogear creates our products with you at heart. We understand why you need compression socks and offer a 100% refund if you don't fall in love with them. We provide a bunch of different styles, materials, and sizes to give you the maximum health benefits.
What are the features of compression stockings?
High performance: For faster recovery, Comprogear Compression Socks aid in quick recovery by decreasing the build-up of lactic acid and maximizing lymphatic drainage.
Multifactional: Are you diabetic, athlete, frequent flyer, or a nurse? This product will perfectly fit all these purposes.
Stylish and comfortable: These stockings use soft and durable materials.
Benefits Of Wearing Knee-High Compression Socks
Knee-high compression socks are specialized elastic hosiery to compress your legs from toes to the calf. There are many benefits to wearing them like:
Contracting the calf muscles to control venous pressure and boost blood flow in the leg veins back to the heart,
Treating diseases like chronic venous insufficiency(CVI) and varicose veins,
Preventing blood clots in your legs,
Helping reduce pain after exercise,
Reducing swelling of legs.
Whereas these are positive benefits of wearing them, there are instances where compression socks can cause more harm than good. Do you know men's compression socks worn for medical purposes should be worn only after a prescription from your provider, just like medicine?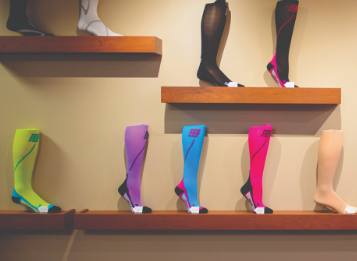 Should I Buy Men's Compression Stockings?
Absolutely! If you are having issues with circulation in your legs, buying a pair just might be the answer you are looking for. There are so many benefits to wearing compression socks, that owning a pair can truly make all the difference to your overall health.
This page last updated January 7, 2022