Interested in purchasing knee-high compression socks? Read more to help you find the perfect pair!
What are knee-high compression socks?
Knee-high compression socks are specially made garments that people wear to improve blood flow in their lower extremities. These socks have a length that reach just below one's knees.
The length of knee-high compression socks allow comfort throughout the day, lessen leg pain and swelling, and can help prevent and treat a wide array of serious medical conditions.

Doctors prescribe them to boost circulation in the legs, prevent blood from pooling in one's leg veins, provide support to the veins, and prevent the development of health issues such as venous ulcers and deep vein thrombosis.
Who can wear them?
Mostly everyone can wear compression socks.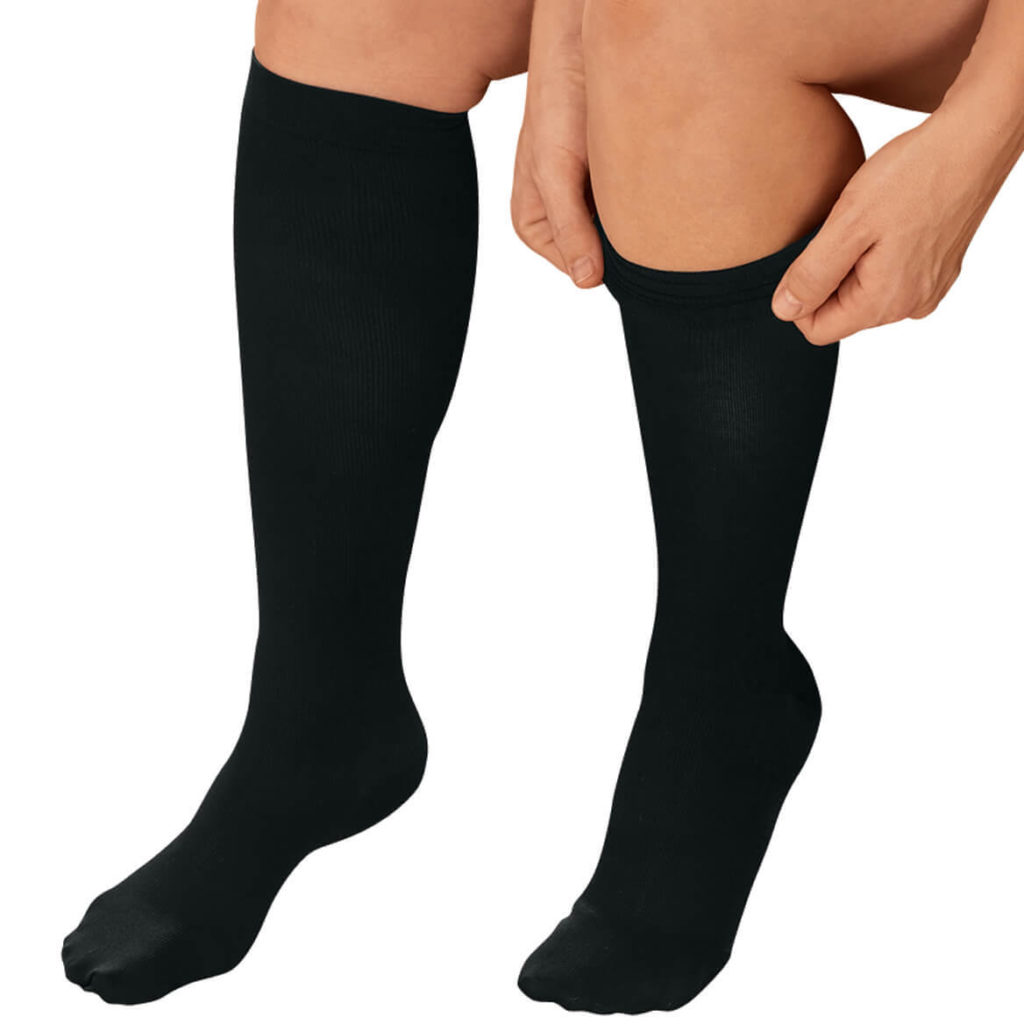 They are quite beneficial to:
Runners and other types of athletes,
Pregnant women,
The elderly,
Nurses, police, construction workers and anyone else who spends lots of time on their feet,
People recovering from surgery,
Bedridden or sedentary people,
People with medical conditions such as varicose veins, deep vein thrombosis, etc.
Knee-High Compression Socks for Men and Women
Individuals who enjoy fitness and exercising may be keen on compression socks with synthetic materials that move moisture away from their feet, and have stretchy or thin fabric that feel light on the skin. Compression socks that are too thick may feel too warm and cause sweat build-up, which could lead to itching and rashes.
Knee-high compression socks come in a variety of color and style to choose from to compliment one's outfit. For instance, neutral-colored socks with no patterns or motives on could be worn for work-related attire, whereas brightly colored socks could go with sports clothing.
What levels of compression are available?
Knee-high compression socks come in several compression levels that people can choose from, depending on their overall health, medical conditions, and reasons for needing them.

It is important to choose the compression level as recommended by your doctor or one that fits well and feels comfortable on your legs. This is to avoid issues that could range from itching on the legs to blood clotting.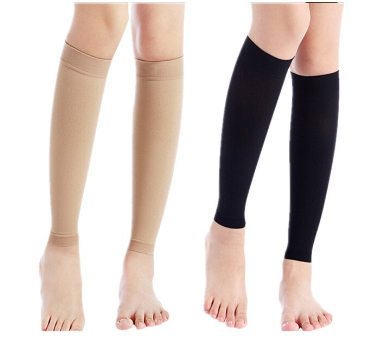 A 8-15 mmHg compression level is ideal for people with mild aches or fatigue, mild edema of the foot or ankle, prophylaxis during pregnancy, post sclerotherapy and mild varicosities.

A 15-20 mmHg compresion level is recommended for those whose legs suffer heaviness and fatigue, prophylaxis during travel or caused immobility during recovery from medical treatment, mild varicose veins with no edema or during pregnancy.

A 20-30 mmhg compression level is a good choice for individuals with varicose veins while pregnant or caused by mild edema, CVI, post-surgery, DVT, post-thrombotic syndrome or to manage a healed venous ulcer.

A 30-40 mmHg compression level is for pronounced varicoses, severe edema, recurrent or active ulcers, lymphedema or severe CVI and post-traumatic edema.

A 40-50 mmHg compression level tends to be recommended for people with severe lymphedema or severe post-thrombotic syndrome.
What types of compression socks are there?
There are three main types:

1. Graduated compression socks,
2. Anti-embolism socks, and
3. Non-medical support socks.

Before selecting a pair, first consider how your current health condition is, as each type of sock has their own particular purpose. If necessary, seek medical advice from a doctor.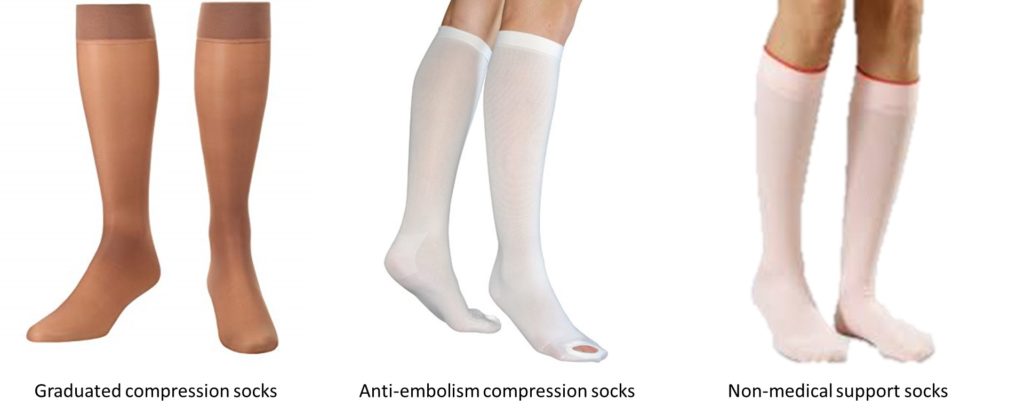 Graduated compression socks: Compression is strongest at the ankle and gradually decreases towards the top. They are suited for mobility and to meet certain length and strength medical specifications. Knee-high graduated compression socks limit peripheral edema or calf swelling from fluid buildup.
Anti-embolism compression socks: These also provide graduated compression and help reduce the chances of deep vein thrombosis.
Non-medical support socks: These do not require a medical prescription as they do not provide medical grade compression and provide support for legs that are mildly aching.
Can one pair of socks be used for multiple purposes?
Whether you are going on a long-distance trip by airplane, sitting for hours at a desk, or running on a field, you can wear a pair of knee-high compression socks throughout it all.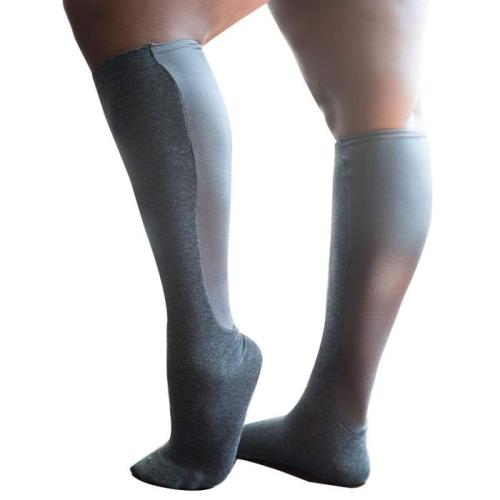 Generally, a pair of compression socks with a mild compression level (i.e. 8-15 mmHg and 15-20 mmHg) can be used universally: for daily use and any kind of activity. Knee-high compression socks can be easily worn underneath any type of clothing, be work pants or sports shorts, and are often sold in a variety of patterns or colors to add flair to one's outfit.
However, to ensure proper hygiene and foot care, it would be best to change into a clean pair after using one for a particular activity or event, especially if they had been worn for hours.
Knee-high compression socks with a greater compression level (i.e. 20-30 mmHg or higher) are classified as medical grade, in which some may be worn only under a doctor's supervision. Therefore, if you need compression socks that are in this category, it is recommended to consult with a doctor to understand under what circumstances and how long you can wear them for.
Knee-High Compression Socks for Nurses
Nursing is a profession which requires spending many hours on one's feet almost everyday. As a result, nurses are at a greater risk of suffering from leg aches, swollen feet, and more serious medical conditions, such as varicose veins or circulatory problems in their calves, ankles or feet. Knee-high compression socks are great for preventing such health issues and can help provide comfort as they work.
Knee-High Compression Socks for Aviation
Whether you are working as an airline pilot or a passenger on an airplane, traveling at great heights in a pressurized cabin for long hours can put a physical strain on the legs. Pilots may get little to no movement during the journey, which places a risk of lower blood circulation in their legs. Knee-high compression socks ensure blood circulation is maintained while also providing warmth for the feet.
Knee-High Compression Socks for Running and Other Sports
Knee-high compression socks are helpful for putting pressure on the legs which would allow blood to flow through the smaller circulatory channels in the legs and back to the heart faster. This reduces the likelihood of blood pooling in the calves, ankles, and feet. They can also help ward off injuries, improve performance, shorten recovery period, and prevent the legs and feet from feeling sore post-exercise.
What types of materials can compression socks be made of?
Compression socks can be made of a durable, washable, blend of cotton, lycra, nylon, polyester or spandex. Some are even made of quick-drying, Merino wool, or incorporate moisture-wicking materials and microfibers to deliver superior comfort and breathability.
Conclusion
Summarized, when choosing the perfect pair of knee-high compression socks, select a pair that has:
The proper size and material,
The appropriate compression level,
A color, design and style that fits one's preference.
Check out ComproGear's variety of knee-high compression socks to buy your own perfect pair today!
This page last updated January 7, 2022