You may have been hearing about the COVID-19 pandemic and that has stirred much confusion and panic across the globe. During the initial months, the contagiousness of the virus had not yet been known, such as whether it was air-borne or spread through physical contact. As time progressed, we learned that wearing a mask is absolutely vital to minimize the risk of ourselves getting infected and also to prevent unintentionally spreading the virus to others.
There are various ways to cover up your nose and mouth to filter the air you breathe without affecting your hearing, whether it is by using disposable masks, like surgical masks, or a face shield. In this article, we will be covering on hazmat masks, such as what it is and how it functions, as well as the best hazmat masks on the market.
Continue reading to learn more!
What do you need to know when it comes to biohazards?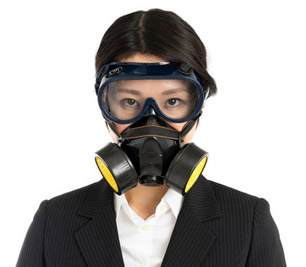 A hazmat mask can also referred to as a gas mask or face aprons/face shields.
These masks are known as "air-purifying respirators," which means they purify the air you breathe by filtering or cleaning out the chemical gases and other potentially hazardous materials or air particles.
It is essentially made up of an ergonomic facepiece or mask/face aprons and a filter or cartridge. One puts on a gas mask by using the straps that are attached to the facepiece, which help secure it to the head. When the person inhales, while having the gas mask on, air will be pulled through the filter, which is positioned inside the cartridge, or canister.
It should be noted that there are cartridges available that protect against more than one biohazard, however, there is no "all-in-one" filter that protects against all substances. Simply put, if you were to use a gas mask to protect yourself against COVID-19, using a filter which was made for a particular chemical substance will render the gas mask ineffective.
Hazmat Mask vs. Respirator: What is the Difference?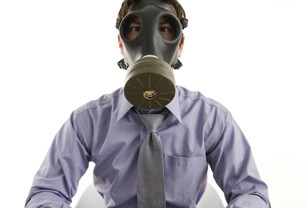 In short, hazmat masks are a type of respirator.
A respirator is "personal protective equipment that prevents the wearer from inhaling aerosols (dust, smoke, mist) as well as vapors or gases (disinfectants, anesthetic gases) that are health hazards. It also protects those who wear them from inhaling "droplets" of infectious agents." Simply put, respirators can be insulating and filtering.
Respirators consist of four woven and non-woven layers:
An outer hazmat mask layer;
A non-woven filter layer, which is usually made of non-woven polypropylene microfiber;
An acrylic backing for mask support;
And, lastly, an inner layer for facial comfort.
How are Respirators Different?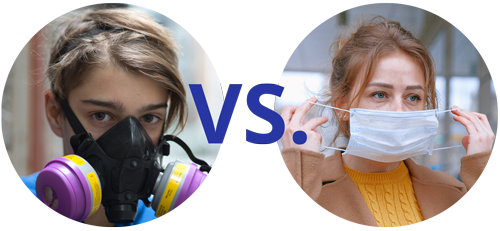 When talking about personal protective equipment, we often use the term 'mask' interchangeably (or mask aprons), whether speaking of respirators or surgical style masks. As we clarify the technical difference between a 'respirator' and a 'mask', we can also assess their effectiveness in filtering the air we breathe.
Masks are loose fitting, designed for one–way protection and generally do not have a safety rating assigned for them.
On the other hand, respirators are tight fitting, provide adequate two–way protection against biohazards (which can be done by non-valve respirators) and have a safety rating assigned.
Respirator Mask Standards & NIOSH
There are various standards set for personal protective equipment and respirators– the American standard is managed by NIOSH, which is under the US Center for Disease Control (CDC), while the European standards are maintained by CEN (European Committee for Standardization). Each NIOSH standard ranks the filter capacity of the respirator, which represents the capability of the filter to remove x% of all particles that are 0.3 microns in diameter or larger. So, if a respirator has a filter capacity of 80%, then that means it can remove 80% of all 0.3 microns-sized particles.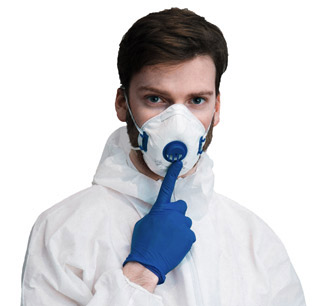 The different respirator NIOSH standards can be seen below:
FFP1 & P1 (European Standard) – At least 80%
FFP2 & P2 (European Standard) – At least 94%
N95 (American Standard) – At least 95%
N99 (American Standard) & FFP3 (European Standard) – At least 99%
P3 (European Standard) – At least 99.95%
N100 (American Standard) – At least 99.97%
In short, respirators are more effective than masks. However, that does not mean masks cannot be used! There are two studies which suggest that surgical masks are actually "comparable to N95 masks when it comes to preventing influenza illness in close contact clinical settings". They still provide protection, and that is very important amidst a pandemic. Look for NIOSH just to be sure.
---
Popular Articles on ComproGear
Super Plus Size Compression Stockings Bariatric Compression Stockings
---
What are the Types of Respirators?
Asides from hazard masks, below are some of the available kinds of respirators, as informed by the CDC.
Self-Contained Breathing Apparatus (SCBA)
This is the type of safety equipment commonly used by firefighters and other emergency response; an air tank is attached to the face shield with a flexible hose and, therefore, no filtering is actually necessary as clean air is supplied. Due to this, special training is required to use and maintain them.
Hazmat Escape Respirators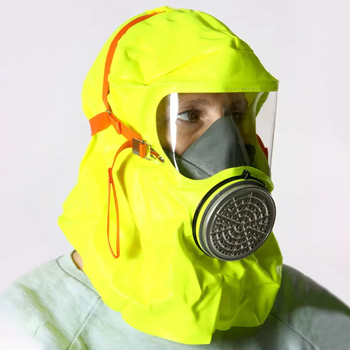 These use a hood with a neck seal instead of a neckpiece. This safety equipment typically designed for one-time use and for a short period, between 15 minutes to 1 hour. Hence, these respirators are designed to be used only in emergencies, such as escaping from a dangerous area where toxic chemicals are in the air. This hood can affect your hearing.
Hazmat Particulate Respirators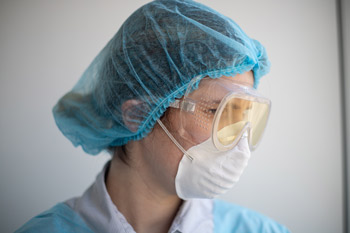 Similar to hazard masks, this is also an air-purifying respirator because they clean, or filter, particles out of the air as you breathe. One commonly known particulate respirator is the N95 mask, which is often used in hospitals to protect the user against infectious and potentially hazardous materials. Although this respirator is simple and affordable, it is the least protective of all the respirators available as it only protects against particles and are intended for low hazard situations, as no protection against chemicals, gases or vapors is provided, but does not affect hearing.
Powered Air Purifying Respirators (PAPR)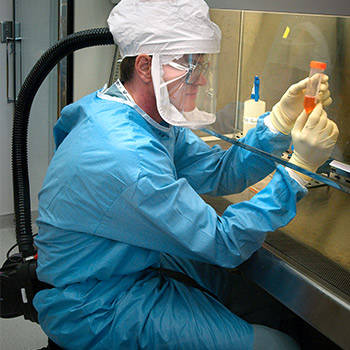 Powered air purifying respirators use a fan to power air through the filter to the user; as a result, a battery is needed to operate this respirator. It is also similar to hazard masks in terms of filters used.
Gas Mask Types
There are many types of gas masks and aprons to choose from. Here are some of the most common .
N95 Cloth Mask vs. N100
N95 cloth gas masks are the generally disposable cloth masks that we have all been hearing about recently, and can be worn for one use or used a few times before having to be disposed of. They fit tightly over the nose and mouth and can filter out large and small particles, and that includes chemical aerosols and gasses. They are for light use, so do not wear them as a gas mask when you are entering severe situations. N100 masks are similar, but they filter out 100% of particulates instead of 95%.
Half Mask Respirator
Half mask respirators are a step up from cloth gas masks and, as the name suggests, they cover half of the face (the nose and mouth). They fit tightly and also have the addition of pre-filers, filters, and cartridges to filter the air that comes into the mask, but not necessarily the air that is expelled.
Full-Face Respirator
If you are looking for safety equipment that covers your eyes too, then a full-face respirator is the way to go. There will be a clear piece that covers your eyes and allows you to see, and there will also be filters and cartridges to filter the air that you breathe. For protection against airborne hazards that can affect your eyes, these gas masks are your best choice. This mask may affect hearing if the ears are covered. These can be powered air purifying respirators and sometimes come with a hood.
SCBA Units
Self Contained Breathing Apparatus units come with their own air supply and are often powered air purifying respirators. In situations where the air cannot be filtered sufficiently by filters and cartridges in a regular gas mask, you have your own air supply. This air supply is usually attached to a full-face respirator for the ultimate in safety equipment and can affect hearing by covering ears.
Filters
Choosing the right filter is essential when using a gas mask. Here are the types of gas mask filters and what they are used for.
Brown/AX
For gases and vapors with boiling point <65C – used for the handling of toxic chemicals.
Brown/A
For gasses and vapors with boiling point >65C – hazmat filter used for the handling of chemicals and substances.
Grey/B
For non-organic gasses and vapors – for activities such as welding
Yellow/E
For sulphur dioxide and hydrogen chloride – used with cleaning hazmat products, especially acids.
Green/K
For organic and non-organic ammonia – used for all handling of ammonia and derivatives.
Black/CO
For carbon monoxide – used in firefighting situations, escape, and handling of hydrogen.
Red/Hg
For Mercury Vapor – hazmat filter used when handling chemicals.
Blue/NO
For all nitrous gases – hazmat filter used for handling gases such as nitrates and ozone.
Orange/Reaktor
For radioactive hazmat materials such as radioactive iodine and other radiation.
White/P
For larger particles – used to protect against viruses and bacteria, or when cutting, drilling, etc.
Buying Guide
There are so many gas masks out there and filters to add to them. So, which one should you use?
Hazmat Situation
The effectiveness of the gas mask depends on the situation. There is no point in investing in a personal protective equipment that will protect you from everything that can be thrown at you except for the one thing that you want protection against. Check our list of safety equipment and respirator types, along with the type of filter, to ensure that you have the right mask for the job.
Hazmat Filter
As we mentioned above, the filter is a key component of your gas mask. Make sure that you choose the right filter for the job and that you invest in a quality filter. When you do buy a filter, invest in quality. We are talking about your respiratory system, so you never want to skimp. Buy high-quality filters and ensure that you are protected.
You should also take note of the class of filters. Filters usually come in classes 1, 2, and 3. Class 3 will filter out the most particulate and class 1 the least. The downside of the higher class filters is that it makes it harder to breathe, so match the class to the type of work that you are doing.
Buy New Masks
You can often find surplus gas masks for sale online, and they may seem like a really good deal, but you never know what you are getting. Even after going through extensive checks, some damage can be overlooked, and you never know how long the mask is going to last once you buy it. Invest in new equipment that is going to protect you and have better ergonomics.
Mask Features
Outside of the actual mask type and filter, there are many additional features that you can look out for. Here are some examples that can make your life easier:
Straw assembly to allow for drinking.
Lens mount for glasses in mask.
Wide hazmat mask viewing screen for a better range of view.
Adjustors to allow for a more personalized fit.
Multiple filter ports to add different filters for more dangerous tasks.
Speaking diaphragm for better mask communication and hearing.
Ballistic resistance for tactical mask protection against weapons.
CBRN protection. CBRN protects against Chemical, biological, Radiation and Nuclear hazards.
Check for NIOSH markings or a NIOSH certification.
The Best Hazmat Equipment?
The two hazmat masks below are based on reviews conducted by Pew Pew Tactical.
Best Hazmat Mask for General Preparedness – Mestel Full Face Respirator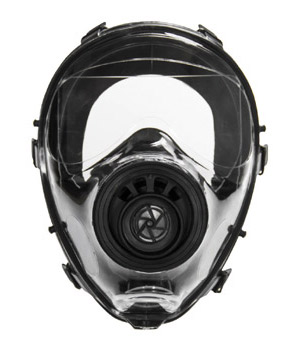 At a price of $112 (mask only), this hazmat mask was given a 4.90 out of 5 star review by readers, with a total of 254 reviews.
The original product reviewed is named Mestel Full Face SGE 150, which was the primary pick for most potential users when the product was still in stock. As the product is sold through Amazon, and that Amazon has been taking off gas masks and filters, it should be noted that sometimes the Mestil is gone or not named directly.
However, at the time, the reviewer stated that the Mestel SGE 150, and its equivalents, provides NBC protection. NBC covers all measures to defend against and prevent nuclear (N), biological (B) and chemical (C) threats and tactical hazards, as well as the ability to use regular 40-mm filters.
Currently Out of Stock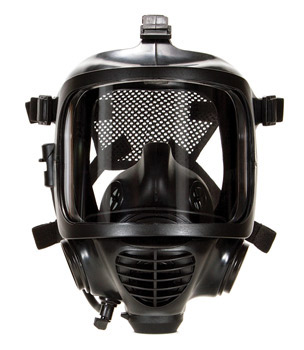 At a price of $220, the CM-6M tactical mask, manufactured in the Czech Republic, is rated for CBRN protection. CBRN means it is capable of covering all measures that NBC protection does, but goes above NBC protection by also protecting against radiation, such as from a bomb isotope fallout. This is thanks to one of its materials, butyl rubber, which is better resistant against chemical warfare agents and industrial chemicals.
It provides a full-face panoramic design with a large visor to enable a wide-angle view for the user and, as a neat feature, it comes with a drinking straw which attaches to a canteen. Furthermore, its shelf life is up to 20 years. You can use widely available NATO-standard, 40-mm filter cartridges, such as the MIRA NBC-77 SOF 40mm Filter (which costs $80) and the P3 Virus Filter (6-Pack) (which costs $150).
Conclusion
According to the CDC, it is important to remember that respiratory protection is only effective when: 1) the correct aspirator is used; 2) it is available when you need it; 3) you know when and how to put it on and take it off; and 4) you have stored it and kept it in working order. Every type of respirator comes with its own set of cautions and limitations; if it is not used correctly, it is very likely that it will not protect you and may be damaging towards your health. Therefore, a hazard mask is to be used according to its manufacturer's instructions and, if you are using one to protect yourself against the COVID-19 virus strain, ensure that its filter or cartridge is appropriate for air particles such as COVID-19.
References
"Respirator Fact Sheet," Centers for Disease Control and Prevention (CDC), https://www.cdc.gov/niosh/npptl/topics/respirators/factsheets/respfact.html
"Surgical Masks, Respirators, Face Shields: Which Masks Actually Protect Against Coronavirus?," Medical Expo E-Mag, http://emag.medicalexpo.com/which-masks-actually-protect-against-coronavirus/
"12 Best Gas Masks, Face Masks, Respirators, & Filters [Hands-On]," Pew Pew Tactical, https://www.pewpewtactical.com/best-gas-masks-respirators-filters/
This page last updated January 1, 2023