What is Collagen?
Collagen is a protein. To be more specific, collagen is the most abundant protein in your body, accounting for 30%-40% of all protein.
It is a building block of bones, skin, muscle, tendons, ligaments, blood vessels, teeth, and we could go on. If you think about those parts of your body, they are made up of different materials, such as calcium for your bones; collagen is the glue that holds it all together.
Different Collagen Types
There are 16 different types of collagen in your body, and we are not going to bore you with all of them. Let's take a look at the most common 4.
Type 1: This makes up 90% of the collagen in your body, the big hitter. Here, you'll find densely packed fibers that give structure to bones, tendons, connective tissue, fibrous cartilage, and teeth. 
Type 2: Looser fibers than type one, perfect for elasticity. You'll find this collagen in elastic cartilage, the kind that cushions your joints. 
Type 3: Collagen that supports the structure of your vital organs, muscles, and arteries. 
Type 4: Collagen in the layers of your skin, helping with filtration.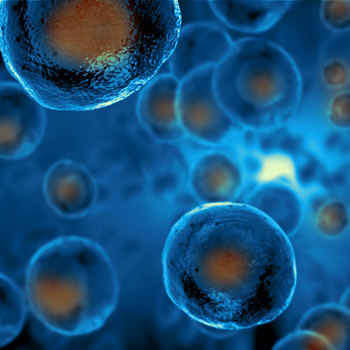 Benefits of Collagens Supplements
Collagen is an essential building block in our bodies, and we need to ensure that we have enough. While our body usually produces all that we need, it can often fall short and need a helping hand. Just as we would take vitamin C supplements to boost our immune system, we can take collagen supplements too.
Here are the benefits of having enough collagen.
Improved Skin Health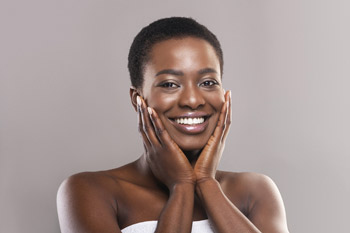 Collagen and skin go hand in hand, and not in a weird way.
The magical protein can help to strengthen your skin, adding elasticity and hydration. As you age, so does your skin, but collagen is not as readily produced, so collagen supplements are beneficial. Supplements can improve the appearance and elasticity of the skin.
And the good news is that studies have shown that taking collagen supplements can help to stimulate the natural production of collagen, further boosting the health of your skin.
Relieve Joint Pain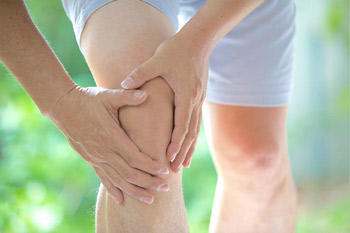 As we get older, we start to notice more aches and pains, especially in our joints. This can be caused by inflammation or the loss of cartilage.
Collagen supplements can help with the latter. When cartilage, the rubber-like material that protects your joints, starts to break down, it only means aches and pain. And the chances of degenerative diseases begin to increase.
Taking collagen supplements helps to build and strengthen cartilage, protecting your joints and lessening your pain.
Stronger Bones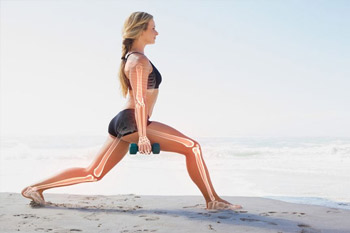 Bones have tons of collagen, giving them structure and making them strong. It makes sense then, as we age and lose collagen, that we need to find collagen from somewhere else if we want to keep our bones healthy.
If bone density gets too low, we are susceptible to conditions like osteoporosis, increasing the risk of breaks and fractures.
Collagen supplements inhibit the breakdown of bones, especially when combined with calcium.
Boost Muscle Mass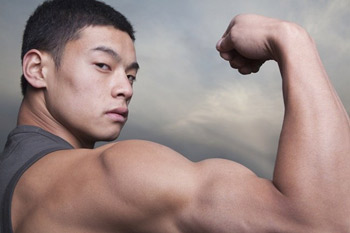 We're not talking about getting ripped here, but we are talking about having healthy muscle mass that aids mobility and strength.
Up to 10% of muscle mass is composed of collagen. This necessary protein keeps us active and healthy. As we age, you may have guessed it, the reduction in collagen also means a decrease in muscle mass.
The solution? Grab some collagen supplements.
Healthier Heart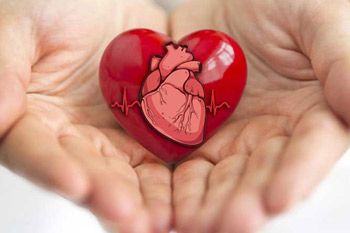 Collagen helps to build the structure of your arteries, and blood flow and healthy circulation are essential for our organs, muscles, and more. When blood can efficiently transport oxygen and nutrients, our body just works better.
If the structure starts to break down, our circulation is limited. With collagen in our bodies, we can keep our arteries healthy, our blood flowing, and improve the health of our hearts. If you lack collagen, then a supplement will address that.
---
Popular Articles on ComproGear
Best Compression Socks for Elderly How to Put on Compression Socks Elderly
---
What are Collagen Peptides?
Let's start at the beginning.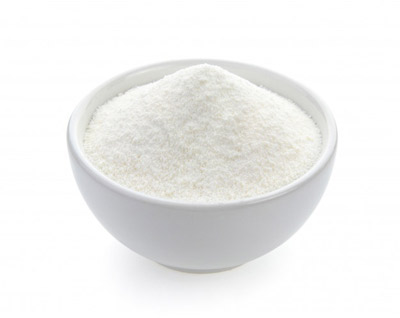 We already mentioned that collagen is the most abundant protein in our body. But, collagen is not only limited to people, animals have plenty of this protein too. And, we bet that you have tried, or at least have heard about, this animal protein.
That's right, gelatin is the processed version of collagen and is what makes jello solidify and become all jiggly.
The main problem with gelatin is that you have to dissolve it in hot water, and the main problem with jello is the added sugar, so don't go using jello as your collagen supplement.
The soluble solution is collagen peptides.
We will not go into the science of it, but you can think of collagen peptides as gelatin that can be dissolved in hot or cold water. As they do not need hot water, peptides are the perfect collagen supplement that can be used in many different supplements.
Natural Collagen Boosters
Before we get into collagen supplements and some of the best ones out there, let's take a look at some natural ways to get your collagen fix.
Aloe Vera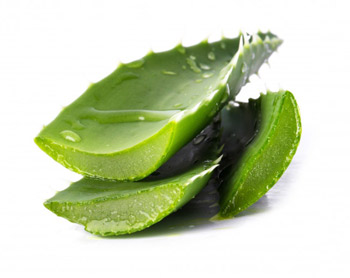 A staple for those who have spent too long in the sun, aloe vera can also increase collagen production. When applied topically or taken orally, aloe vera can stimulate cell growth and boost collagen.
We recommend adding aloe vera to your skincare routine to get the best out of it.
Vitamin C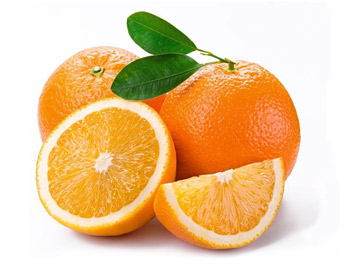 While vitamin C will not directly increase collagen, it does aid in the body's synthesis of hyaluronic acid, and that can help boost collagen production.
You can take vitamin C supplements along with collagen supplements or add more vitamin C-rich foods into your diet, like oranges, peppers, broccoli, and strawberries.
Ginseng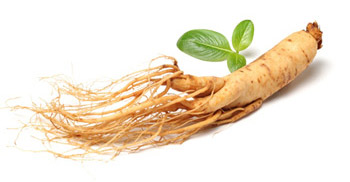 Ginseng has always been known to boost and protect the skin, and part of that may be down to its collagen-boosting properties.
To take advantage of those properties, you should indulge in some 'proper tea.' Okay, we'll leave the room, but not before recommending that you add ginseng tea into your routine.
Cilantro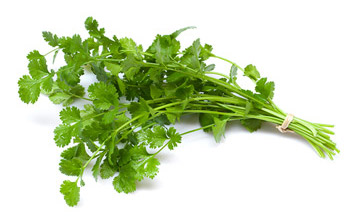 If you love guacamole, then you are in luck. Cilantro contains vitamin C, and we already talked about how that can boost your collagen levels, but it also contains linolenic acid, which has tons of antioxidants, fighting free radicals in your bloodstream.
Eat more guac or add cilantro in your salads for a flavor and collagen boost.
Algae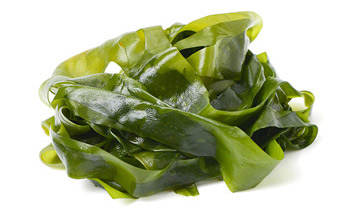 Don't go out and find your nearest pond or lake, but do go out and find algae supplements with marine plant ingredients. Seaweed is delicious, and seaweed face masks are cool and calming. Algae will actively fight against oxidation, halting the removal of collagen.
What is the Best Collagen Powder
While there are natural options for adding more collagen to your diet and routine, that is often not enough, especially as we age. If you want to add more collagen back into your life, take a look at some of the options below.
Best Overall
Vital Proteins Collagen Peptides Powder

www.amazon.com/Vital-Proteins-Pasture-Raised-Grass-Fed-Collagen/dp/B00NLR1PX0
20g of collagen powder per serving, giving you 14 servings from every container, with a handy included scoop and room in the container to store the scoop.
The collagen is sourced from grass-fed pasture-raised bovine, giving you the highest quality and ensuring that the supplement is sustainable too.
The powder is paleo-friendly and Whole30-approved, with no sugars or sweeteners. It is soluble in hot or cold liquids, making it the perfect ingredient to add to your morning coffee, tea, or smoothie.
An easily digested and absorbed collagen powder that you can easily add into your life.
Best Tasting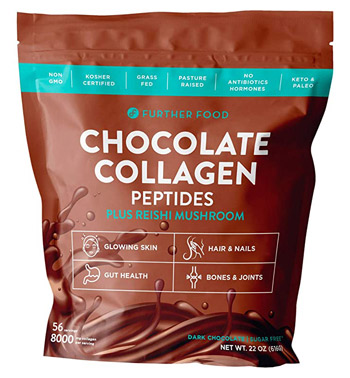 Further Food Dark Chocolate Collagen
www.amazon.com/Further-Food-Chocolate-Collagen-Hydrolyzed/dp/B086BPD1L9/
If you love chocolate, then this collagen powder will be a delicious addition to everything you eat. Add it into your smoothies, hot chocolate, coffee, pancakes, baking, and more.
With South American collagen peptides, cocoa powder, reiki mushroom, and monk fruit, this collagen powder is excellent on its own. The collagen is also grass-fed, and you can add this supplement to your keto or paleo diet.
Great tasting with skin-, hair-, gut-, bone-, and joint-boosting power.
Best Bang for Your Buck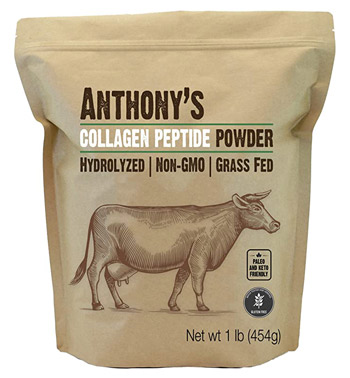 Anthony's Collagen Peptide Powder
www.amazon.com/Anthonys-Collagen-Peptide-Hydrolyzed-Friendly/dp/B071S8D69C/
Pure collagen powder with no added ingredients or sweeteners, this stripped-back supplement is as basic as they come, but that does not mean that it does not get the job done.
With 12g per serving, you have a lot of collagen powder in this 454g bag. Sourced from pasture-raised and grass-fed cattle, this unflavored powder can be added to any of your drinks or food for a collagen boost.
Best for Joints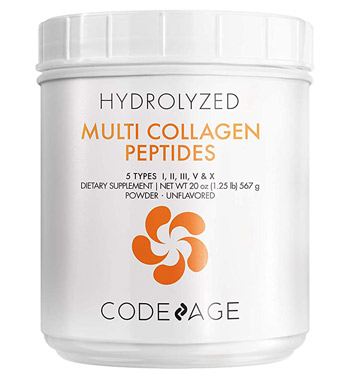 Codeage Collagen Protein Powder
www.amazon.com/Codeage-Collagen-Protein-Powder-Hydrolyzed/dp/B079NPB2X8/
An all-in-one collagen powder that is infused with bone broth for joint-boosting power. There are 5 different collagens and 18 amino acids to help get you moving and more flexible.
Being unflavored, you can add this powder into all of your drinks, baked goods, soups, salads, and more. With only 43 calories per serving and 0 carbs, this is an excellent ingredient for cooking, not adding any unwanted flavor or sugar.
2 months supply in every container.
Best Vegan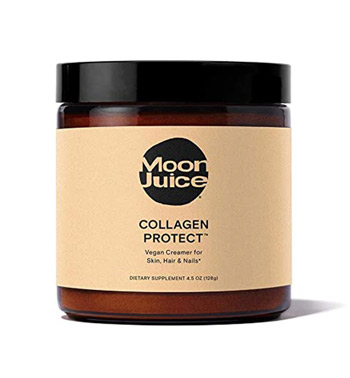 Moon Juice Collagen
www.amazon.com/Moon-Juice-Collagen-Protect-Hydration/dp/B083NBSQMX/
Just because you are vegan, that should not mean that you cannot take advantage of collagen's great benefits. With a mix of rice bran, mushrooms, and salt, this collagen booster is natural, vegan, and easy to use.
Great for soups and smoothies, this collagen powder can act as a milk substitute. Add it to your morning cereal or coffee for an a.m. collagen boost.
Recommended for skin, hair, and nails.
Best Keto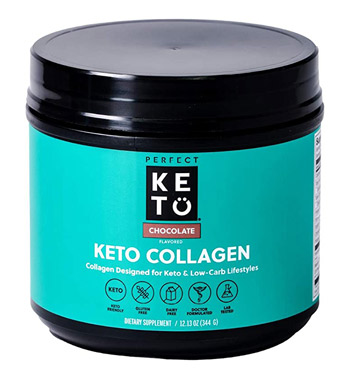 Perfect Keto Collagen Peptides
www.amazon.com/Perfect-Keto-Chocolate-Protein-Powder/dp/B072KFZ9TQ/
Being on the keto diet should not be a reason to leave out collagen, and it is not with this flavored powder. With a chocolate flavor, you can add this to anything that you would add cocoa into. Throw some into your coffee, keto shakes, sugar-free oatmeal, or unsweetened yogurt.
The powder also contains MCT oil, giving you a keto boost that other powders do not, making it a great powder to start your day.
Best for Post-Workout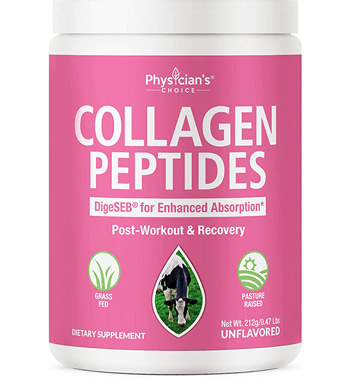 Physician's Choice Peptides Powder
www.amazon.com/Collagen-Powder-Absorption-Hydrolysate-Supplements/dp/B07BB1VV9K/
With enhanced absorption, this collagen powder is great for regeneration after your workout, helping to grow strong bones, enhance joint mobility, and give you all the benefits that collagen powder brings.
The non-GMO and grass-fed powder is unflavored, the perfect addition to your post-workout power shake. The powder is also packed with DigSEB and 14 essential amino acids that go a long way towards recovery and replenishment.
What is the Best Time of Day to Take Collagen Powder?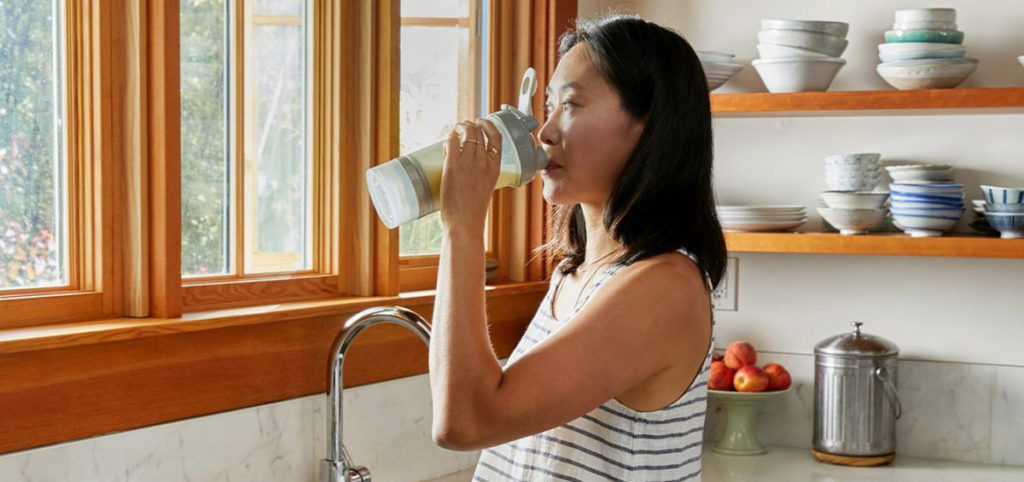 The truth is that there is no best time to take it. You decide when you want to take it and then take it. Take it in the morning, evening, or during the night, and it is still going to offer the same collagen-boosting properties.

This is excellent news, as it gives you limitless options on how to take it. You can add it into your morning coffee, blend it with your post-workout shake, add it to your soup for lunch, or bake it into your apple pie for dessert.
Decide on what works for you, and never look back.
Are There Side Effects Of Collagen Supplements?
There are currently no known side effects of taking collagen supplements. Still, we always recommend reading the important information that comes with your collagen powder so that you are not taking collagen in excess. Taking more than needed is where you may run into problems, and it is also a waste of money.
Collagen may not be beneficial when pregnant or breastfeeding, so consult the label before use.
Other Ways To Take Collagen Supplements
Collagen powder is the most versatile way to take collagen supplements, but there are other ways.
Collagen Capsules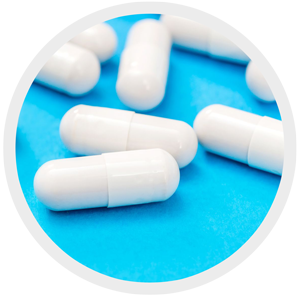 The powder is contained in a capsule instead of coming loose. On the plus side, the does is measured and ready to go, but the capsules can be big depending on the size of the dose. No need to worry about adding it to anything, though many people like the versatility that collagen powder gives as an ingredient.
Liquid Collagen
Pre-dosed and ready to drink, this is collagen in a liquid form. Not great for adding to foods, and the taste may not be to your liking, but easy to use.
Collagen Injections
Used to improve the appearance of the skin, collagen is injected directly. You can achieve immediate results, but you also have to be okay with needles.
This page last updated December 15, 2022